Craving something fresh and dynamic, OMAIR would take me on a breathtaking mission to euphoria with his highly anticipated A/S/L EP, out now on OHM Music!
---
If OMAIR is a name that you are unfamiliar with then it is time to climb forth from the rock you have been hiding under and bare witness to the man that has taken the scene by storm! Rounding out a fantastic year that has included the deliverance of mind-altering single releases like "Tonight", "Fake News" and "Dreamcatcher", OMAIR ups the ante with the production of a brilliant four-track EP, A/S/L!
There is much to celebrate as the release has come about on the same weekend that the OHM Music kingpin took the stage at EDC Orlando to do what he does best behind the decks! What's more is that we are less than a month away from the official launch of his brand new sub-label OHM Deep State, forthcoming November 30, 2018.
With all the pieces falling into their rightful place it is time to get lifted to the stars as we wrap our minds around everything OMAIR. So, turn your speakers up and join me as I find solace in the multidimensional sounds of A/S/L!
Stream OMAIR – A/S/L on Spotify:
Download or stream A/S/L on your favorite music platform!
---
In true visionary fashion, the name of the title track plucks us out of the present and drops us headfirst into an era when the Internet was just heating up.
For the older generation, the term A/S/L may stir up some interesting feelings of nostalgia. As the shorthand for Age/Sex/Location, this was a common article used within many of the first instant messaging programs and chat rooms. Dripping with security controversy surrounding the true identity of the user, this would be the perfect title as OMAIR just loves to raise eyebrows with offerings that run the line of taboo, a perfect example being the politically charged titles of "The Kingmaker" and "Fake News".
Running with the term, OMAIR has injected the past into 2018 as he unveils a gritty tech trance power pumper, not for the faint of heart! Right out of the gate my mind begins to swirl within a sea of melodic flips met with intense rises and drops. With the beat conducting my every move, my body becomes encapsulated with an energy that pulls me to the dance floor with gusto. A true testament to the fire that burns within OMAIR's soul, "A/S/L" sets the tone for the rest of the EP.
It is time to grab our boarding pass and take flight as we make our way over to the Pakistani dance floor!
Tested during OMAIR's Acadamy LA takeover, "Sunrise Over Karachi" would prove to be an instant hit as revelers went wild for this spectacular ID. With its monumental reception still lingering in the minds of all who bore witness to the unveiling, it would come as no surprise that "Sunrise Over Karachi" would find its home on OMAIR's A/S/L EP. 
It is the cultural vocal detail that leads the journey on this one and as I close my eyes I envision the sun peering over the Karachi horizon. I begin to groove and sway to the electrified rhythm. One of my favorite things about this track is the consistent drive that engages my auditory craving for something both hard-hitting and insatiably unique. As the bassline sits me under a playful pocket of melodic flow I am inspired to unleash some dance moves that I never knew were in my physical wheelhouse!
Did you think this was an EP without a little collaboration action? Well, think again, because OMAIR has brought along some friends to take us to the next level!
All aboard the rocket ship to galaxies beyond with H3 and Erika Rojas as the copilots for our next emotionally-driven adventure. You can't have a trance package without dipping into the feels, right? On "Is This Love", we are shot to the stars with an incredible uplifting aura that counters the effect of the heart-crushing lyric dished out by the stunning Erika Rojas.
A striking harmonic dissonance in Erika's voice proves to be the highlight that engages every fiber of my being. As she weaves a shadowy tale of unrequited love, I become a slave to the rhythm dished out by H3 and OMAIR. As I am transported through the wormhole, I find myself lost in a majestic power session that I refuse to come down from. Hands down, this is my favorite track of the lot and definitely in competition for my favorite track of the year!
OMAIR brings along celebrated vocalist Avari and progressive trance mood-setter Jackson Snapp to tie things up with a mic drop ending!
With Erika Rojas painting us a picture of interpersonal love on the previous track, it is Avari who jumps in to provide the yin to the yang. It is time to shake away all negativity and open up our hearts to the intrapersonal love that is embedded deep within. With a simple yet profound lyric, "Who I Am" touches on the notion that we all must love who we are no matter the outside opinions that plague our happiness and sense of self-worth.
To speak some serious truth on the matter, OMAIR and Jackson Snapp bond their out of the box creative style's to develop a tune drenched in edgy, dark undertones. Suddenly, the bassline fades to make way for the ultimate melodic crescendo, and as a smile spreads across my face, I begin to fully appreciate the power that music has had on my human psyche. It's tracks like this that make me proud to be alive in this euphoric era of dance music domination!
After a two-year EP hiatus, OMAIR has come back swinging for the fences.
If you have been following our blog for any given period of time then it should come as no surprise that the EDM Identity family, including myself, has developed a strong love for OMAIR that blossoms with each and every move that he makes. When the news arrived that OMAIR was preparing to unleash a four-track EP, I just couldn't wait to get my hands on the package.
In the wake of the release, all there is left to do is ask myself the brooding question: Was A/S/L everything that I had hoped for and more? The proof is in the pudding and I want nothing more than to shout my approval from the mountaintops!
But, as OMAIR continues to kick his career into high gear I can't help but sit back and wonder… will we see an LP in the near future? Only time will tell! For now, at least, we can hold on to the vivid sounds of A/S/L as we wait patiently to see what he dreams up for us next.
---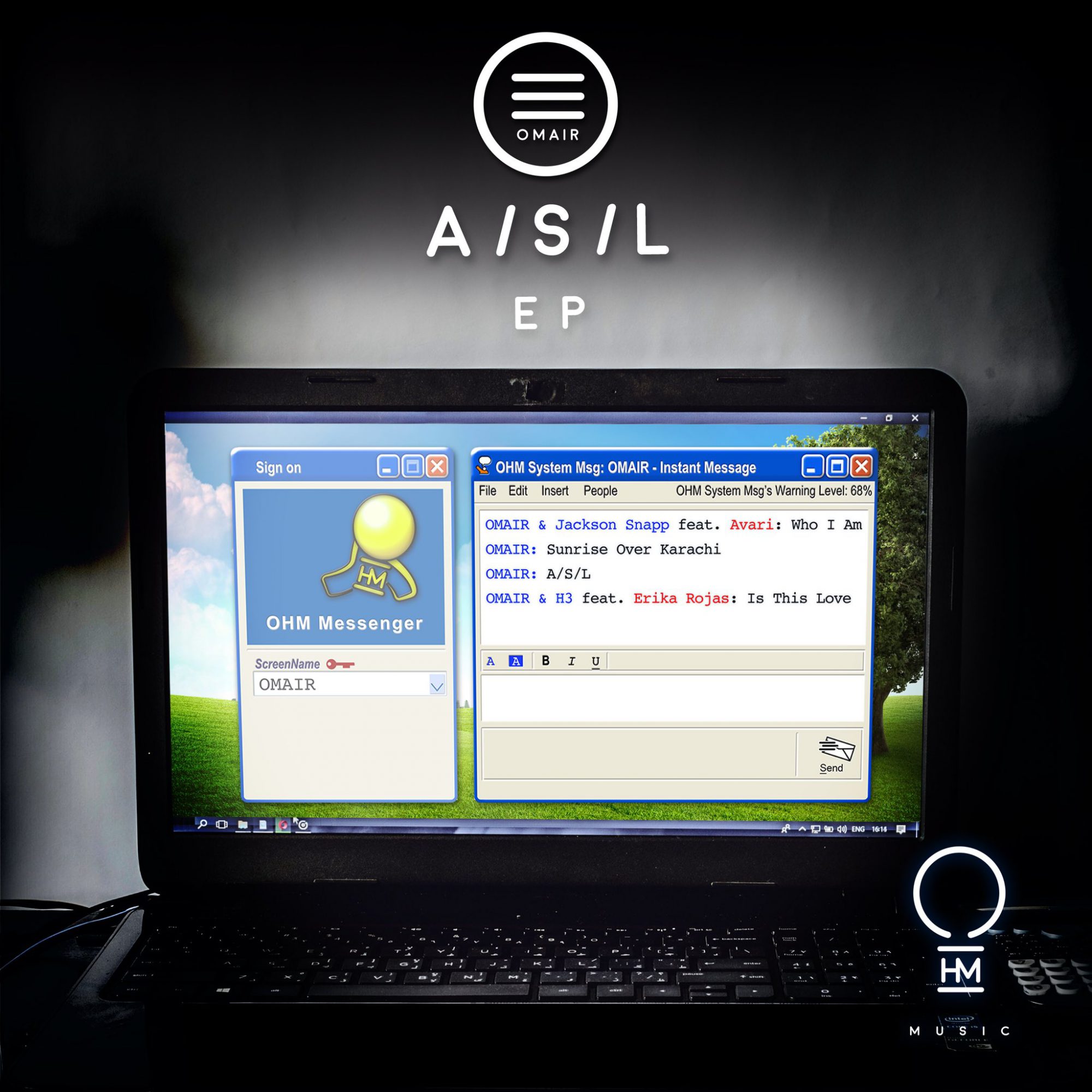 OMAIR – A/S/L EP Tracklist:
A/S/L
Sunrise Over Karachi
Is This Love
Who I Am
---
Follow OMAIR on Social Media:
Facebook | Twitter | Instagram | SoundCloud