Following the success of his vocal dance hit "Dreamcatcher" comes OMAIR's second release of 2018; the spine-tingling, twisted tech-trance track, "Fake News"! 
---
Out now on OHM Music, "Fake News" is gearing up to re-shape the game as we know it with a thematic expression of opinion that holds a strong relevance among today's political atmosphere. Using his musical platform as a basis for delivering his boundary-free vision, OMAIR laughs in the face of controversy as he delivers a musical offering that not only encourages the bodies to groove on the dance floor but also inspires a moment of clarity and reflection; an accomplishment in sound that speaks to OMAIR's multidimensional and ever-expanding musical genius.
Unless you have been living under a rock then I am sure you have been privy to the madness surrounding the "fake news" allegations that have all but consumed our time and energy on the political media front. But it is OMAIR's "Fake News" that harnesses this very real concept and breathes life into a situation that has many of us scratching our heads in astonishment.
If we travel back in time, it was OMAIR's 2017 hit "The Kingmaker" with Josh Bailey, that would set the wheels in motion, shedding a figurative light on the concept of a person or group that has great influence on a royal or political succession, without being an ideal or viable candidate (cough, cough). Today, OMAIR furthers his quest of musical freedom interlacing the infectious rhythm of "Fake News" with rousing political commentary as a nod to our controversial yet wildly relevant current state of affairs.
As "Fake News" builds the anticipation activated by a pulsating rhythmic backbone, it is through the divine balance found within a deliciously delicate and ethereal harmony that sets us up for a musical tailspin, seductively destructed into an echo of dystopian distortion. Not for the faint of heart, the wisest of us all will prepare the senses for an auditory overload that will leave the masses begging for more "Fake News"!
Watch the music video for OMAIR – "Fake News" on YouTube:
As the 2018 festival season revs up on all cylinders it is OMAIR you will want to keep on your radar!
Making his EDC Las Vegas debut next week, mark your schedule and head front and center to catch OMAIR behind the decks as he delivers the trance thunder on the QuantumVALLEY stage hosted by Dreamstate! Prepare to be whisked away into an energy soaked dimension of madness as OMAIR promises to deliver "Fake News", "Dreamcatcher", "The Kingmaker" and so many more! And as always, be sure to stay locked in with OHM Music as many more auditory treats await right around the corner!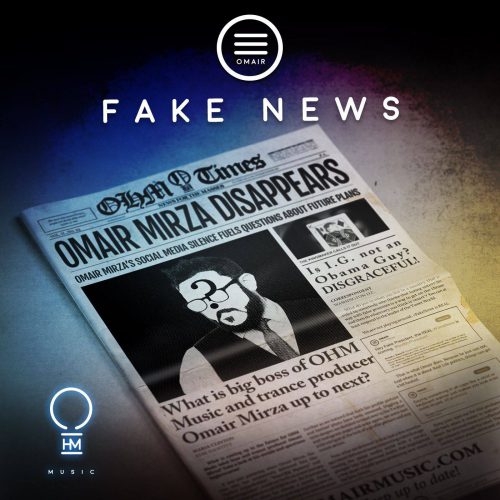 ---
Connect with OMAIR on Social Media: