Seven Lions' Chronicles: Chapter 2 provided fans with epic sets, special guests, and stunning production elements for a night to remember at Red Rocks.
---
In the midst of his The Journey II Tour, Seven Lions made a stop at the iconic Red Rocks Amphitheater on October 11 for the second chapter of his Chronicles show. The series, which brings a musical fantasy world to life, first took place in the WaMu Theater in Seattle and featured actors, vendors, artists, and art installations. For Chronicles: Chapter 2 though, the picturesque outdoor setting was selected to bring new elements to the story that continues to unfold.
Playing two sets that night, Seven Lions would give fans an opening Observatory performance to set the tone for the night, along with a headlining set to close things out properly. Announced to play with Seven Lions during Chronicles: Chapter 2 were MitiS, Jason Ross, and Kill The Noise, making this show an even more desirable one to attend for Anjuna Family members and Bassheads alike.
Despite the cold temperatures that fell upon Denver, attendees braved the weather and flocked to the venue.
Doors opened at 6pm and there was only a fifteen-minute gap between then and the start of his Observatory set. Sadly, we chose a slow-moving line and did not make it in time to hear the opening of the set. After going through security, we made it to our seats as he played "December" and "Castles in the Sky."
I love his observatory sets because they give him an outlet to play more mellow tracks and experiment outside of his traditional sound. Full of songs that wouldn't quite fit into a regular Seven Lions set, he selects some quality tracks to tap into his deeper curation skills. Many of these tunes can be found on his Observatory Spotify playlist, giving listeners a taste of a different side of Seven Lions.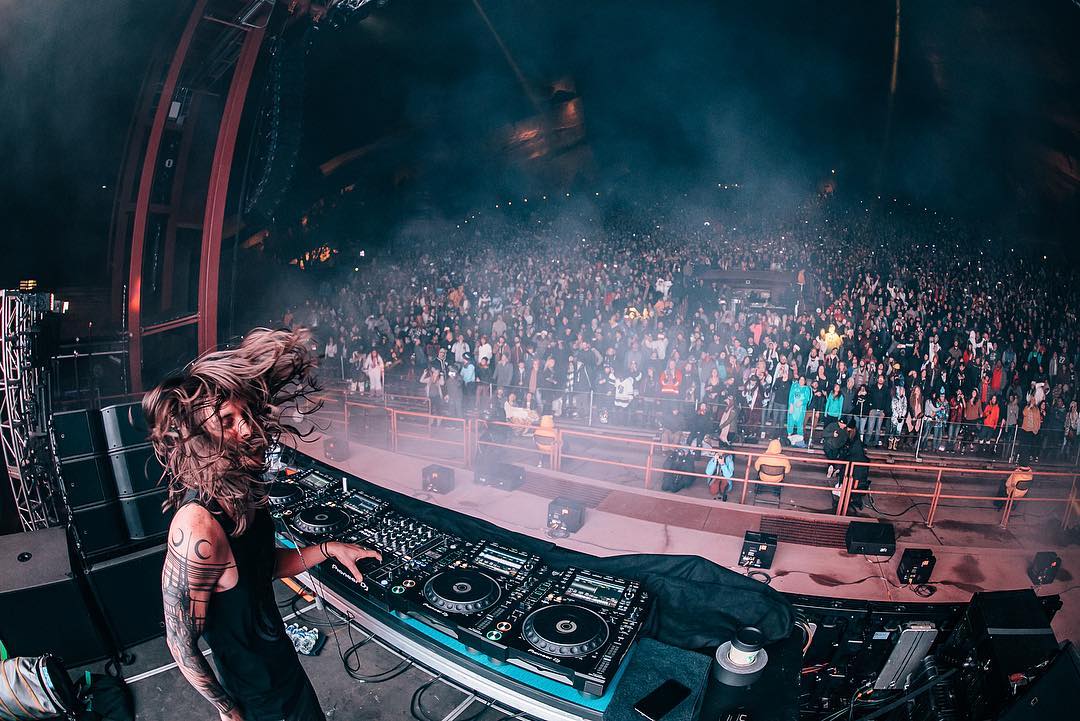 As the set winded down, MitiS took the stage and his melodic dubstep vibes filled the entire venue.
Throughout his set we were graced with a variety of his music both new and old, and I particularly enjoyed hearing "Moments" played out again by him. As more people filed into the venue, MitiS tapped into heavier dubstep sounds to close out the set with more energy. While I loved the opening part of his set, I wasn't a huge fan of the choice to change up the music style in the closing.
From there, Jason Ross took the reins and kicked off his set with "Me Tonight" before shifting to "Will We Remain?". This set brought the Anjuna vibes to Red Rocks in full force, and I could definitely hear how much Seven Lions has inspired Jason Ross to experiment with bassier side more.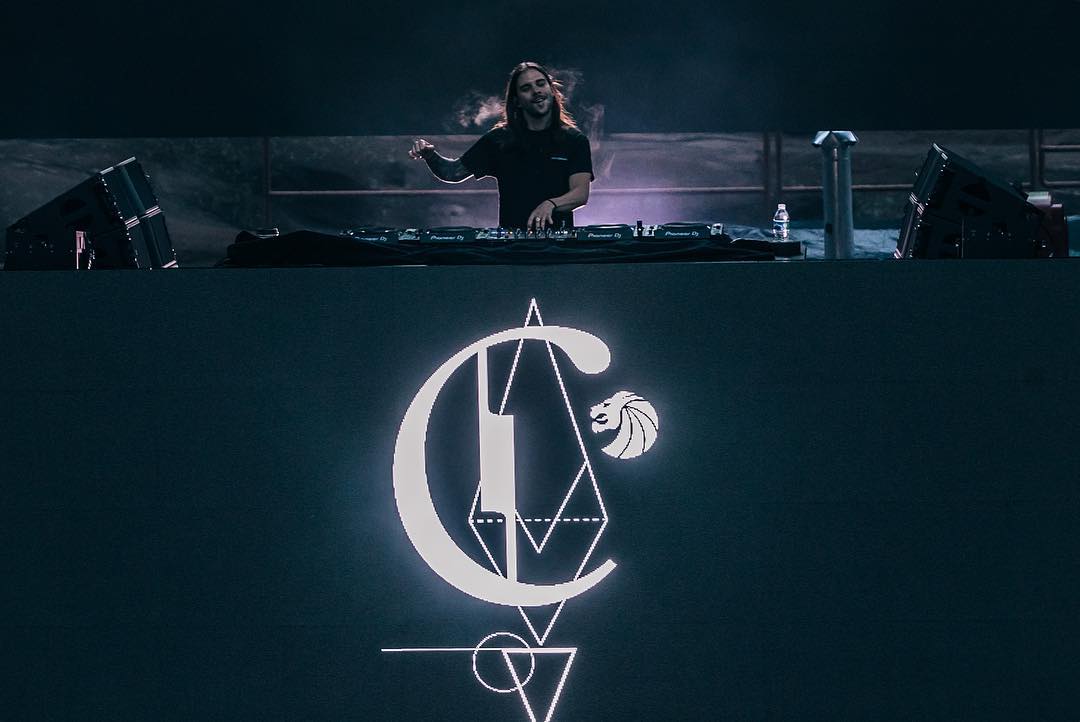 Looking to explore the venue a little, we climbed up the Red Rocks steps to check out the art installations that were brought for this edition.
Kill the Noise had just jumped on the decks to start his set and we took some time for a break and to explore the venue. We found ourselves immersed in the little fantasy world of Seven Lions, full of production elements and art that transported us to a different place. It was also nice to see that several of the performers from the first Chronicles show returned to the second iteration, and they continued to curiously interact with attendees and passed out the second chapter to the event story.
The new art piece added to the event was a massive metallic diamond firmly placed into rocks. It was another Seven Lions visual that had come to life and it was impressive due to its height and look. The artist who created it did a fantastic job and I can't wait to see the art and interactive elements expand with each new chapter of Chronicles in the future.
As Kill the Noise finished up his heavy dubstep set, it was time for the main Seven Lions set, and I was excited as ever. While the set didn't change too much from the Journey II set that I had seen prior, the stunning venue made up for it by leaving me in awe.  As the set started, Ophelia, the character from the Seven Lions Mythos, took her place on stage. We get a live moment of her recreating the visual of her reading a book as the new Seven Lions and Crystal Skies ID track started.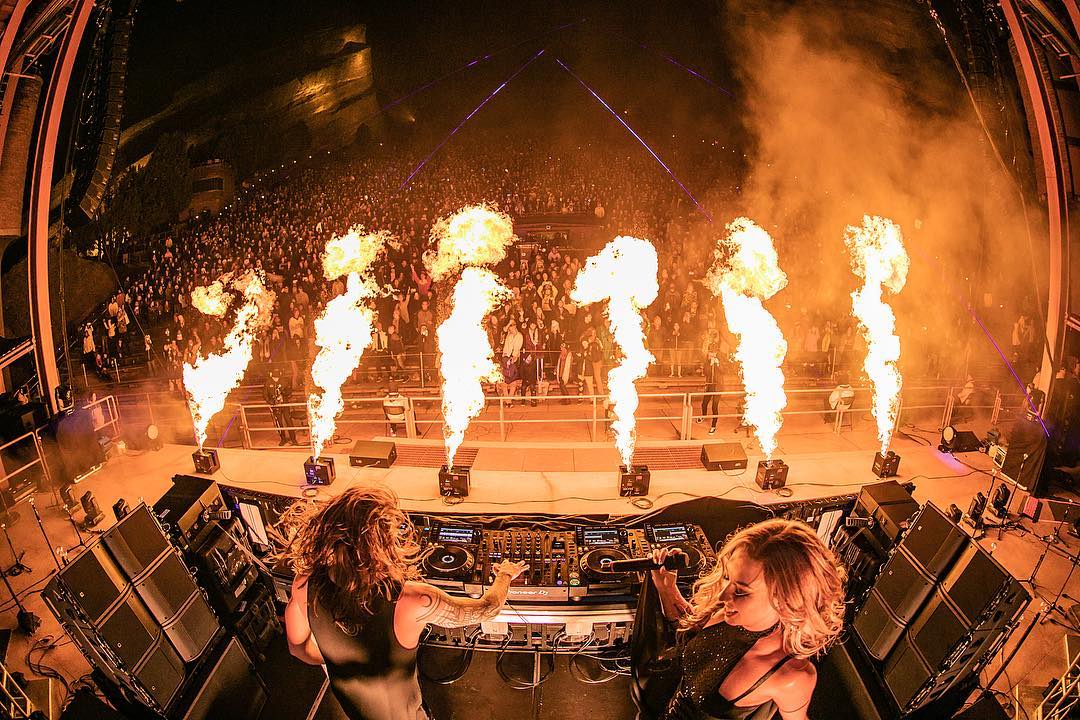 Compared to the first chapter of Chronicles, the Red Rocks set featured more bass heavy tracks that kept the crowd energized.
Though it was heavy on the bass, we still got plenty of feels as he played out tracks like "Strangers". Throughout the set, a multitude of special guests also joined him on stage to play their collaborative tracks together. HALIENE also made a surprise appearance as she sang "The End" mashed up against "Where I Won't Be Found", and stayed for one more song, "Rush Over Me".
Illenium and Said the Sky also made a surprise appearance on the decks with Seven Lions as well. A barrage of emotions filled me as I watched "Rush Over Me" for the first time live surrounded by the massive crowd that was present.
Red Rocks has a hard curfew at 11:30pm, but we still had some time left in the set, so Seven Lions played out a few more IDs including the next Jason Ross collaboration. He also had plenty of time to play an encore song, and as the music to "Horizon" started, HALIENE stepped out one final time to sing it for the first time live and to close out Chapter 2 in epic, emotional fashion.
Although the set didn't deviate much from one that I witnessed on the Journey II Tour, Seven Lions continued to bring his magical world of art and music to life at Chronicles and I was left impressed. With each chapter, we've begun to see it expand, and hopefully, it won't be long until we see a Seven Lions festival to fully immerse ourselves. Until then, I eagerly await to see what happens next with Chapter 3 of Chronicles.
---
Connect with Seven Lions on Social Media:
 Website | Facebook | Twitter | Instagram | SoundCloud | YouTube