Seven Lions' Chronicles represented his fantastical point of view with a unique lineup that featured a variety of artists in music and art. 
---
As someone who frequently attends several different music events and Seven Lions performances, this first chapter in the Chronicles shows exceeded my expectations. Held at the WaMu Theater in Seattle, WA, the first installment of the Chronicles was a magical experience I'll never forget.
I figured Seven Lions would have art installations of some sort, but I was blown away by the team of actors and actresses who brought the event to life. I loved how they interacted with attendees and that their garments were designed to be in line with a fantasy world depicted in Seven Lions' music videos. The minute I entered the room, I instantly felt transported into the world of Seven Lions. Every aspect of the Chronicles event was well organized and detailed like a smaller version of a festival.
WaMu Theater provided enough space for two large beer gardens, the art installations, a water station, and more!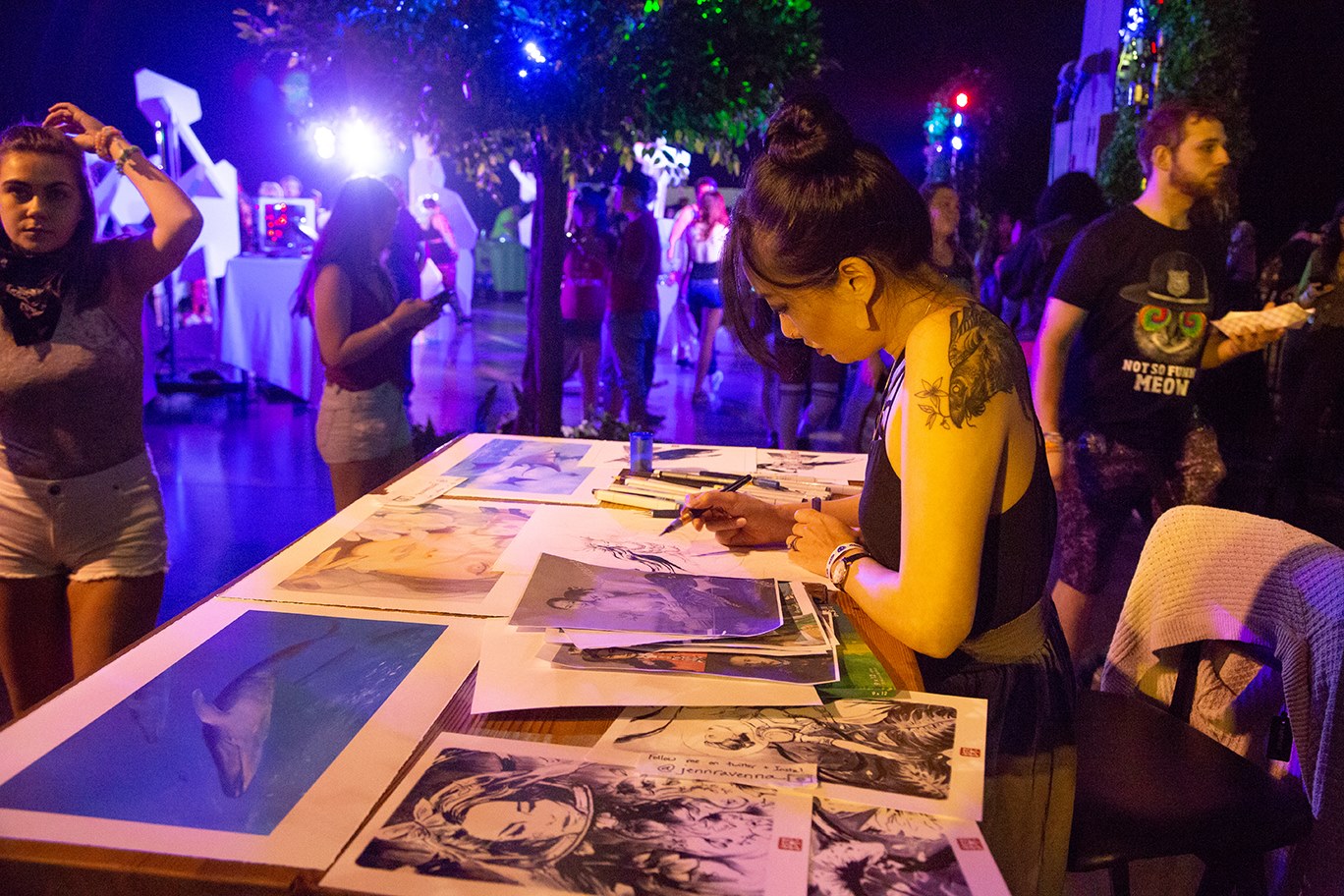 Art installations were carefully placed towards the entrance of the venue. As I walked in, I saw the obelisks that made their debut during the Journey tour back in 2016. There was an enormous book art installation that represented a scene from the "Calling You Home" lyric video. The actress from the music video made an appearance at the event as the "Ophelia" character. Other characters roamed around the event giving it a fantastical element to the night and creating a special experience.
In addition to the water station placed awkwardly near the main stage, they had water for attendees to refill. The Conscious Crew roamed around the event ensuring the safety of the attendees and providing help when needed. It was evident there was a lot of planning put into ensuring the safety of everyone involved.
The event featured local Seattle artists such as Jenn Ravenna who did live demos at the event. The artists did hand drawings as well as digital. Local vendors also attended and created almost a cool niche market near the merch table. You could purchase everything from some special crystals to LED animal ears all at one event. It was nice to see Chronicles do its part to provide a community element to be more inclusive.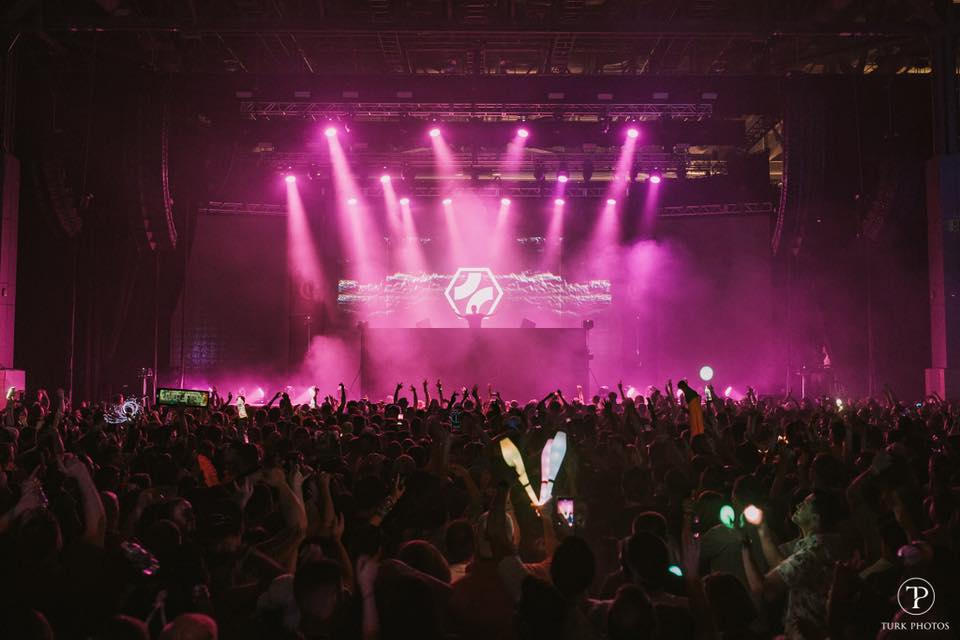 Seven Lions opened his first curated event with an Observatory set beginning a memorable night with various opening artists leading up to his closing Chronicles set. 
It's one thing to listen to an Observatory mix on SoundCloud, but Seven Lions' live Observatory set showcased another side of him. He played a variety of music that sounded different from his current style but carried the tradition of his mixing-genre ways. I gushed as he played Bassnectar's "Lights" remix that suited the mood but added that extra energy. He played the original version of "Without You My Love" which fit perfectly into this set. Finally, the set closed with a special ID remix of Lights' "Almost Had Me".
Jason Ross then stepped on the stage and showcased his signature progressive and trance style. Ross kept the energy going and played new tracks for the crowd such as his new collab with KARRA. I am a particular fan of his track "Me Tonight" with Lauren Ray and rejoiced when he played "Through It All" featuring Fiora. His placement after the Observatory set fit perfectly as each artist helped build the energy in the room.
As he finished, Liquid Soul came on to play one of the best psytrance sets I've ever heard. Thankfully, the Seattle crowd avoided cheering or chanting during the set. He also avoided playing "Great Spirit" or any psytrance track that featured chanting to which I am extremely grateful for. Liquid Soul definitely took the Chronicles crowd through the more "cosmic" sounds of psytrance.
Kill the Nose had the bassheads going as the crowd roared when he appeared at the decks. Bassheads and headbangers everywhere moved to the beats while some even moshed. Kill The Noise played a good mixture of dubstep and trap for those looking for harder sounds that night. At a glance of the artists selected to play that night, there were a variety of electronic genres that were well-represented.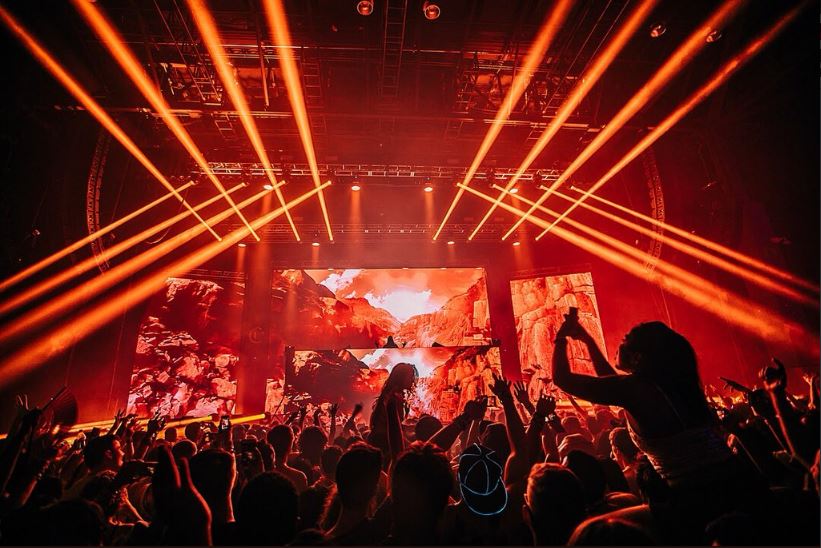 Finally, Seven Lions returned to the stage playing a Chronicles set that summed up his musical tastes. 
This was an incredible set that reminded me how much I love him as an artist and how far he has come. In the hour and a half set, he unleashed several new tracks that mixed well with his current discography. The set never felt rushed, but he did play a variety of songs that featured the sounds of happy hardcore, trance, bass, drum n bass, and dubstep.
Let's not forget the masterful visuals that sync up perfectly to his music. His visuals right-hand man, Ian Alvarez, is constantly creating new and exciting things for us to see in Seven Lions' sets. With their talents combined, the experience becomes not only a feast for our ears but eyes as well.
At the end of the night, Seven Lions left us with a beautiful remix of "Sahara Love". Everything about that remix makes me want to cry – that's how good it is. He emphasized the sound of the piano and how it worked well into the drops, how crisp Zoe Johnston's vocals sound, and how you can't help but lose yourself in the song. If you can, avoid YouTube recordings and hear this remix live.
Based on how wonderful the Chapter 1 experience was, I'll be attending the next chapter in the Chronicles series at Red Rocks. I hope he keeps the community element from Seattle by getting some local artists in Denver involved in the show and more theatrics. I look forward to seeing Chapter 2!
---
Connect with Seven Lions on Social Media:
Website | Facebook | Twitter | Instagram | Soundcloud | YouTube