Seven Lions invites you to come to see his next amazing adventure with the announcement of The Journey Part II tour. 
---
Seven Lions continues to make waves this year from starting his own music label to gracing the kineticFIELD stage at EDC Las Vegas 2018. On top of that, the first chapter of his new Chronicles event series went well and exceeded our expectations for a first-time event. Today, we received even more news from Seven Lions as he announced the dates and locations for the upcoming series this fall, The Journey II Tour!
A continuation of his previous tour back in 2016 dubbed The Journey, we can't wait to see which artists will be joining him on the massive 42-date adventure. Make sure to RSVP to the tour stop you plan on attending via Facebook for specific artists that will be announced and keep an eye out for special hints about the tour through his social media accounts.
The first Journey Tour featured large LED video screens surrounded by video-mapped diamonds that showed the fantastical artistry of his music videos and visuals, leaving us to wonder what will be in store for attendees during this edition. If you were unable to catch Seven Lions at one of his recent festival performances, be sure to grab a ticket to this tour as it will surely be one hell of an adventure.
Tickets go on sale next Wednesday, June 13, 10 AM local time via sevenlions.com/thejourney2tour. 
Watch The Journey II Tour Trailer on Facebook:
---
Seven Lions – The Journey II Tour Dates: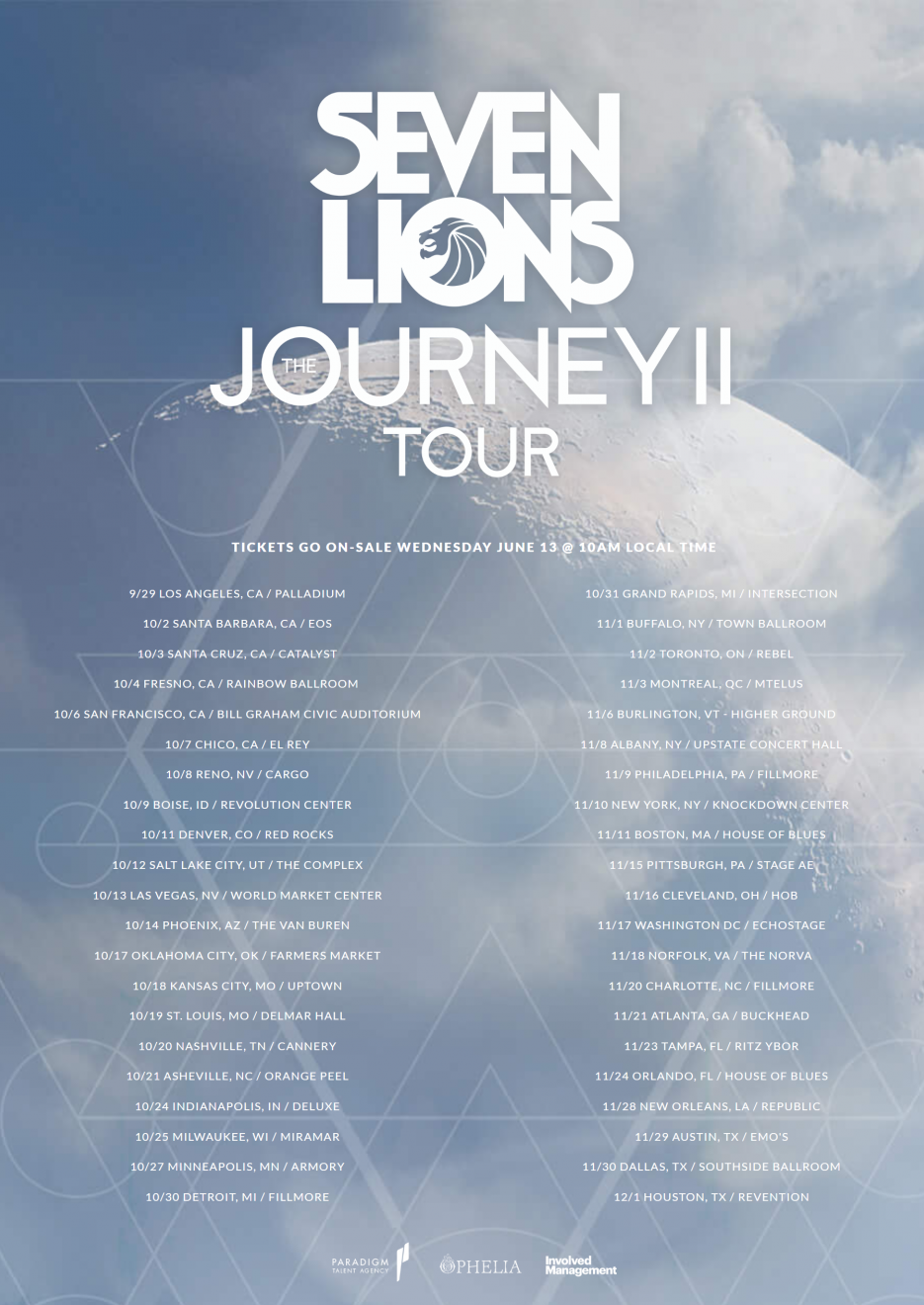 ---
Escape to The Journey II Tour in the following cities:
9/26 – Los Angeles, CA @ Palladium
10/2 – Santa Barbara, CA @ EOS
10/3 – Santa Cruz, CA @ Catalyst
10/4 – Fresno, CA @ Rainbow Ballroom
10/6 – San Francisco, CA @ Bill Graham Auditorium
10/7 – Chico, CA @ EL Rey
10/8 – Reno, NV @ Cargo
10/9 – Boise, ID @ Revolution Center
10/11 – Denver, CO @ Red Rocks
10/12 – Salt Lake City, UT @ The Complex
10/13 – Las Vegas, NV @ World Market Center
10/14 – Phoenix, AZ @ The Van Buren
10/17 – Oklahoma City, OK @Farmers Market
10/18 – Kansas City, MO @ Uptown
10/19 – Louis, MO @ Delmar Hall
10/20 – Nashville, TN @ Cannery
10/21 – Asheville, NC @ Orange Peel
10/24 – Indianapolis, IN @ Deluxe
10/25 – Milwaukee, WI @ Miramar
10/27 – Minneapolis, MN @ Armory
10/30 – Detroit, MI @ Fillmore
10/31-Grand Rapids, MI @ Intersection
11/1 – Buffalo, NY @ Town Ballroom
11/2 – Toronto, ON @ Rebel
11/3 – Montreal, QC @ MTELUS
11/6 – Burlington VT – Higher Ground
11/8 – Albany, NY @ Upstate Concert Hall
11/9 – Philadelphia, PA @ Fillmore
11/10 – New York, NY @ Knockdown Center
11/11- Boston, MA @ House of Blues
11/15 – Pittsburgh, PA @ Stage AE
11/16 – Cleveland, OH @ HOB
11/17 – Washington, DC @ Echostage
11/18 – Norfolk, VA @ The Norva
11/20 – Charlotte, NC @ Fillmore
11/21 – Atlanta, CA @ Buckhead
11/23 – Tampa, FL @ Ritz Ybor
11/24 – Orlando, FL @ House of Blues
11/28 – New Orleans, LA @Republic
11/29 – Austin, TX @ EMO's
11/30 – Dallas, TX @ Southside Ballroom
12/1 – Houston, TX @ Revention
---
Follow with Seven Lions on Social Media:
 Website | Facebook | Twitter | Instagram | SoundCloud | YouTube