Welcome to The Landing, EDM Identity's weekly post highlighting fresh tracks you may have missed!
---
In each edition of The Landing, we intend to highlight some tracks that have landed in our inbox each week that you may have missed, or perhaps shine a light on new music for you to fall in love with.
This week's edition of The Landing features fresh tracks from Dion Timmer, Pixel Terror, SNBRN & Autograf, Walker & Royce, Dombresky, and more!
Listen to some of our favorite tunes from this week and past editions in our playlist and read on for more details on the tunes added below!
The Landing || Volume 089
---
Dion Timmer releases uplifting tune "Leave" on Monstercat.
If you know me, you know Dion Timmer is one of my favorite artists of all time. With such a diverse repertoire consisting of everything between dubstep and progressive bass house, this young producer hailing from the Netherlands has surpassed all my expectations once more with his new track. "Leave" is made up of sensual chord progressions and pops of colorful synth, and has made me fall even more in love with the sounds of Dion Timmer.
Featuring beautifully soft vocals from Luma, "Leave" descends into a dreamy ensemble of delicate percussion, feather-light notes, and the gentle pulse of bass. If there was a soundtrack meant specifically for closing your eyes and crying tears of happiness, this one would top it. Check out "Leave" today, and be sure to listen to Dion Timmer's Volume 4 of his highly-acclaimed Neon Mix series! – Jayce
Download or stream "Leave" on your favorite platform!
---

Baraka drops a chill track "Well Water" on SoundCloud.
I became friends with Geoffrey Dean AKA Baraka through SoundCloud a couple of years ago and I've been following his music career since. He's a super talented jazz pianist who recently passed his Qualifying exams for his Doctorate in Jazz/Music. Not only is he mastering the piano, but he carries his talents in his electronic music production.
Blending a hybrid of harmonies and original compositions with mellow grooves and unique glitch soundscapes, each song he produces has a unique sound. "Well Water" is a super chill down-tempo track that has a slow but worthy build up and even more satisfying drop that gets your body moving. – Julia
Download or stream "Well Water" on SoundCloud!
---
Erick Morillo, Junolarc and Chris Child hypnotize my soul while "Pulling Me" directly to the dance floor.
Something has come over me and I just can't shake it! Maybe it's the sultry voice of Ora Solar that has got me craving this track like none other. Or maybe it is the sleek dark undertones and festive house rhythm that has got me hot under the collar. Whatever it is, I simply can't get enough of "Pulling Me".
Out now on Subliminal Records, Erick Morillo, Junolarc, and Chris Child have unified their talents to develop a late night stunner that is sure to be the highlight of our most debaucherous nightlife shenanigans. So, grab your family and friends, turn your speakers up to maximum volume and get ready to dive deep into the sounds of the underground. – Maria
Stream "Pulling Me" (Extended Mix) on YouTube!
---

Pixel Terror continues their onslaught of tracks in 2018 with "Machina"!

DJ duo Pixel Terror has been on a steady stream of releasing music all of 2018. Their distinctive bass-heavy sound has caught the ears of many including renowned label Monstercat that has been at the forefront of their releases including their latest tune "Machina".
On "Machina" the duo break out of their mold and release something like they have not done before. While it is still bass-heavy, the track is slowed down to a certain degree and you can really hear the quality of their sound design. You definitely want to check this one out! – James
Stream "Machina" on SoundCloud!
---
Orlando local Sloth showcases his talent by remixing Dua Lipa's "Last Dance".
Upon hearing the original version of Dua Lipa's "Last Dance", rising star Sloth knew he had to put his unique spin on the track. These vocals draw you in and you can certainly pick up on the feelings in how the music is sung. Making his debut at Sunset Music Festival this year, Sloth has shown that he definitely is one to begin recognizing in the local scene here in Florida. He'll soon be taking the stage at EDC Orlando, and I can't wait to hear him play this remix of "Last Dance" live! I'm definitely becoming a Slothaholic, are you? – Jessica
Stream "Last Dance" (Sloth Remix) on SoundCloud!
---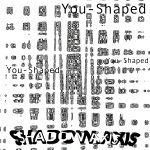 ShadowAxis' "Free" is a perfect chill track for the fall.
This new track from ShadowAxis has got me in a perfect mellow vibe, and I've only come to love it more after listening on repeat for days. Dubbed "Free", it is dominated by beautiful echoing vocals throughout, and the creative synth flares and glitchy drum line give the track a great lively feel.
Released on ShadowAxis' debut EP, You-Shaped, the entire offering ranges broadly from chill tracks like this one to darker techno and tech house styles, and is masterfully produced all the way through. This is my favorite new artist discovery of the year, and I'll be paying close attention to whatever he does next! – Dan
Stream "Free" on Spotify!
---
SNBRN and Autograf collide on their new collab "Move All Night"!
One of my all-time favorites in the house game right now; SNBRN is back, and this time he brought along Autograf as well as emerging vocalist KOLE to lay their polishing touch and smooth vocals to "Move All Night". A sexy, vocal house tune that is driven by SNBRN's signature groovy bass lines, and complex drum fills, sure to make your feet move.
According to SNBRN, "After years of planning, I finally got in the studio with Autograf and KOLE, and this is what happened!" Each artist has their moment to shine individually on this track, while coming together to create a heavy, yet refined house track good for day or night. Needless to say, the future of all three of these artists is burning bright. Fresh off an insanely successful batch of shows in Thailand, SNBRN continues to push the limits of house music around the globe.  – Logan
Stream "Move All Night" on SoundCloud or Spotify!
---

Walker & Royce finally release filthy house banger "All For The Gram" ft. Sophiegrophy
I've heard this one played out live in Walker & Royce and Chris Lake's sets for months, and it's finally released for all to enjoy! "All For The Gram" is a tech house masterpiece that shows Walker & Royce's unmatched production abilities when it comes making house bangers that absolutely go off live. Released Chris Lake's label Black Book Records, this track sounds like it would fit right in with their incredible collaborative Close Your Eyes EP.
With a captivating rolling bassline, dozens of perfectly placed samples, and Sophiegrophy's sensual vocals, this track is full of twists and turns yet comes together for a truly incredible piece of work. The beat breakdowns hit at the perfect times, making it impossible not to dance right along! Not to mention, the lyrics are hilarious and the British rapper is oh so captivating over these fire beats. You definitely have to give this one a listen. – Grace
Download or stream "All For The Gram" on SoundCloud or Spotify!
---
"Another Life" offers a tranquil paradise for your ears to drift off to!
Rüfüs Du Sol has done it again! The Australian trio released their latest studio album dubbed Solace and it's glorious. Having released singles "No Place", "Underwater", and "Lost In My Mind " ahead of the release fans have been able to get a glimpse of how the 9-track album's sound would take shape, but now we can listen to Solace as intended. In its entirety. Start to finish the album offers a wide range of emotional lyrics while the ambient and celestial sounds of Rufus make you forget you're on Earth.
One of my favorite tracks from the album is "Another Life". It is the last track and fits perfectly where it is. At 6-minutes you begin to drift off into a meditative thought as the different synths and sounds pull you into different emotional directions. The album is less dancey than their first two, but I think their creative process and intention was different with this masterpiece. Make sure you give this track and album a spin! – Zach
Stream "Another Life" on SoundCloud or Spotify. 
---
Nurko and Miles Away but their spin on Halsey's "Without Me"!
Teaming up to give Halsey's "Without Me" a moody spin, Nurko and Miles Away have made this track even more memorable, featuring layers upon layers of synthwork and larger than life drops. I was left in awe by this release and loved hearing how these two artists brought their signature styles together to make something new! – Grant
"We wanted to capture the lonely atmosphere of the original, so we focused the verses around reverb-heavy layered guitar parts. In the drop, we wanted to capture the beauty of Halsey's voice, so we made vocal chops to play the main lead in the drops."  – Nurko
Stream "Without Me" (Nurko & Miles Away Remix) on SoundCloud!
---
Dombresky releases new house anthem "Futurmastic"!
Insomnic Records has been at the forefront of some quality releases over the past few years, and this week Dombresky graced the label with a house anthem that will surely keep crowds dancing well into the night. Dubbed "Futurmastic", the track acts as a perfect bookend to the summer festival season while giving us something new to get down and dirty to during the winter months. With upcoming performances at events like Escape: Psycho Circus and EDC Orlando, we can't wait to see what he brings to the table in the coming months! – Grant
"Every time I play this song it brings a smile to my face, and I have been able to see that same reaction throughout the crowd when I play it out live. So excited for this to be out and for everyone to feel the vibe!" – Dombresky
Download or stream "Futurmastic" on your favorite platform!