EDC Las Vegas never ceases to amaze and inspire me, but this year was especially magical! 
---
Going into this year's installment of EDC Las Vegas I was uncertain what to expect. With the addition of camping and the switch from June to May, there were a lot of changes made to the festival. Thanks to some incredible planning from Insomniac, it couldn't have turned out better! Camp EDC was a hit, the weather was impeccable, and the stage production was especially impressive this year.
And, of course, you can't forget about the music! As always, the world's hottest dance artists brought their A-game for EDCLV, curating some of the heaviest, most creative sets I've heard all year. New music was aplenty as almost every artist dropped new bangers for the eager ears of EDC goers. Some of my favorite sets included Zeds Dead, Rezz, Eric Prydz, Don Diablo, Chris Lake (all three times), JAUZ, and Excision.
It seemed to be the year of bass and house music, which I was ecstatic about as they are two of my favorite genres.
Chris Lake played both the opening and closing ceremonies, kicking off the festival B2B with Chris Lorenzo and closing things out B2B with Fisher. Bass music made a huge imprint on the festival as well, with the Camp EDC opening party on Thursday night solely within the genre and Excision playing three sets throughout the weekend. We similarly saw many house and bass artists like NGHTMRE, Slander, Slushii, JAUZ, and Dombresky, take the main stage of kineticFIELD this year, showing just how popular these genres have gotten.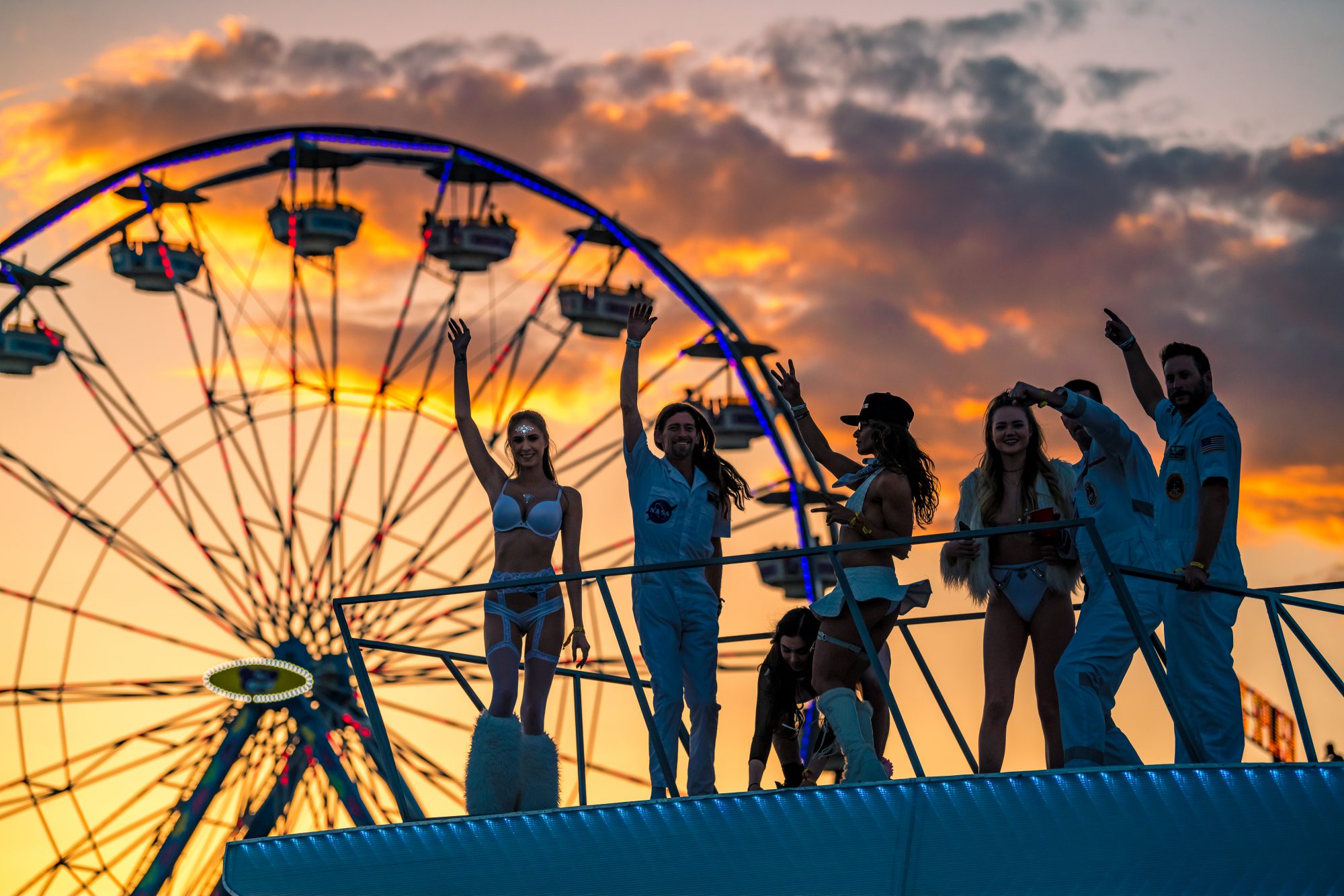 I flew into Vegas a few days early in order to get settled and have some fun on the strip during EDC Week before heading to the festival.
We caught some great vibes at the Gorgon City and CamelPhat pool party at Marquee Las Vegas on Wednesday, and it got us ready for the madness that was in store in the coming days. Thursday morning went to pick up our RV before heading to camp, and naïvely didn't expect much of a line checking into camping. And boy, were we in for a reality check.
Arriving just an hour after gates had officially opened, we got stuck in a massive line snaking around the speedway.
We waited for about six hours in line, but thanks to the RV's air conditioning and bathroom things weren't too bad. We chilled, listened to music, and made friends with some surrounding cars in the line. I personally didn't mind the wait as I'm used to having long security lines for camping festivals, and would rather feel safe inside the festival knowing that they searched everyone thoroughly. One thing I will say about the check-in process is they definitely need to put some portapotties along the road next year! The people in cars, unfortunately, had no access to bathrooms during that long wait period.
While I was sad to miss NGHTMRE and Slander playing the Camp EDC Opening Party due to the long line, we were able to live stream the set as we waited. Luckily we made it inside the campgrounds just in time to catch Habstrakt take the stage! After grabbing some drinks we ran over to the Mesa, the epicenter of camp filled with food, tents, stages, pools, and endless activities. The Mesa was already packed with ravers as we approached, surrounding the magnificent Parliament Art Car where Habstrakt or "Uncle Habby" was already shredding with his undulating bass house.
The rest of the night was filled with banging sets from G Jones and Excision B2B Dion Timmer, as well as a fun afterparty set from Bunny of Rabbit in the Moon.
G Jones played a ton of incredible unreleased otherworldly bass tracks, and Excision and Dion Timmer threw down while still saving Excision's big bangers for his circuitGROUNDS set the next night. This opening party got the campgrounds rocking and energized for what was to come!
My group got a good night's rest in the RV and woke up ready to rave! The campgrounds were already going full force with the Space Yacht pool party heating things up. We grabbed some food at one of the various food stations, offering everything from pizza to "Buddha Bowls," and sat under the shade and misters of one of the tents. From there we hit the pool party on for a few hours, enjoying the cool temperature of the pool and the lit tunes, then turned in to start getting ready for the night.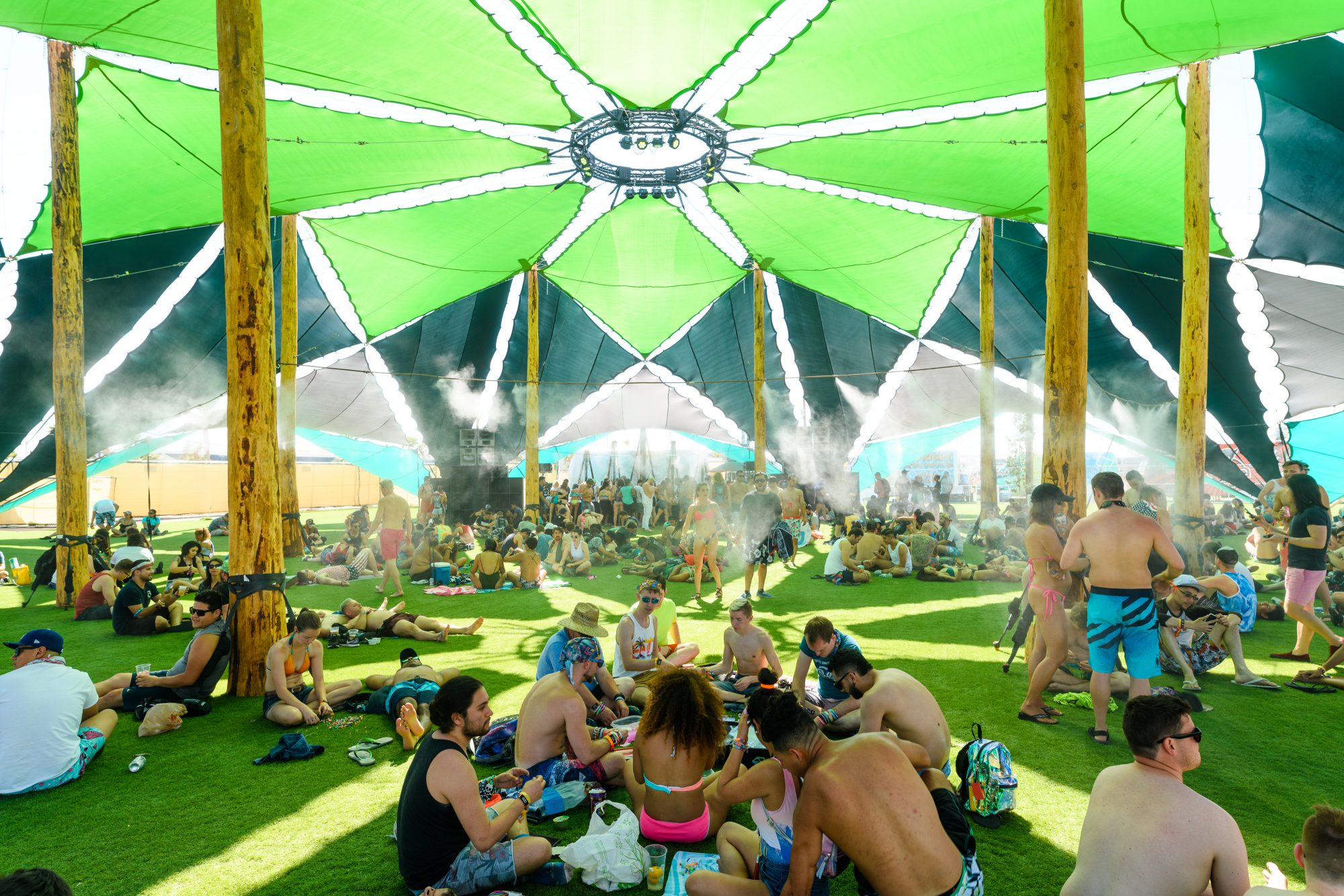 This year, Insomniac decided to open the cosmicMEADOW stage early before opening the rest of the festival at 7 pm, allowing for more daylight hours inside the festival.
We couldn't miss our dude Chris Lake opening up the festival with Chris Lorenzo, so we headed in early to catch his opening set. The place was already packed with Headliners as Chris Lake and Chris Lorenzo spun some funky house beats!
When the gates to the rest of the festival finally opened, we ran in to see the new stage designs with our own eyes. My favorites were circuitGROUNDS and kineticFIELD without a doubt, although bassPOD and quantumVALLEY were quite impressive as well!
The circuitGROUNDS stage was undeniably the most impressive production-wise to me, with massive LED screens wrapping around the stage and the DJ booth raised high so that each and every person in the crowd could see it. For artists like Eric Prydz and Rezz with dope visuals and lasers that complement their sets, circuitGROUNDS was the place to be.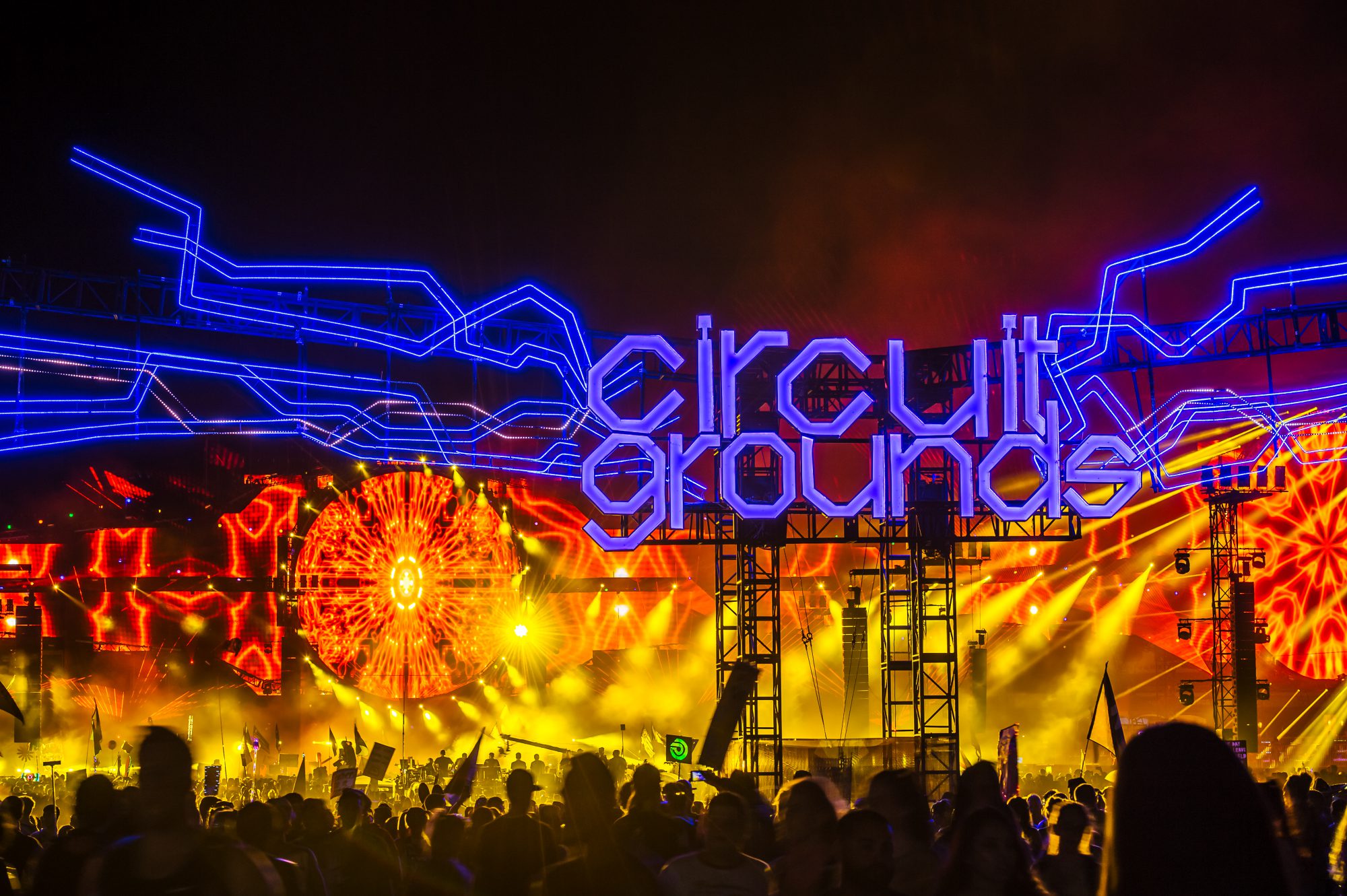 Next, we ran over to kineticFIELD, which is always the most exciting to see as the design changes so drastically from year to year.
I couldn't believe my eyes; it was absolutely amazing this year – just as beautiful as the year of the beloved cathedral stage. The theme of kineticLOVE was beautifully represented in a statue of a man and woman holding up a heart together in their hands. The stage was so detailed and artistic this year, reminding me of the elegance of Tomorrowland's stages.
The sun began to set as we danced away to Dombresky's groovy house beats at kineticFIELD. We ran up to check out the stage's VIP area, complete with a ball pit, beauty bar, hookah lounge, art, and tons of food and drink vendors. From this VIP area, you could conveniently bounce between quantumVALLEY and kineticFIELD without having to re-enter, which was a very beneficial factor.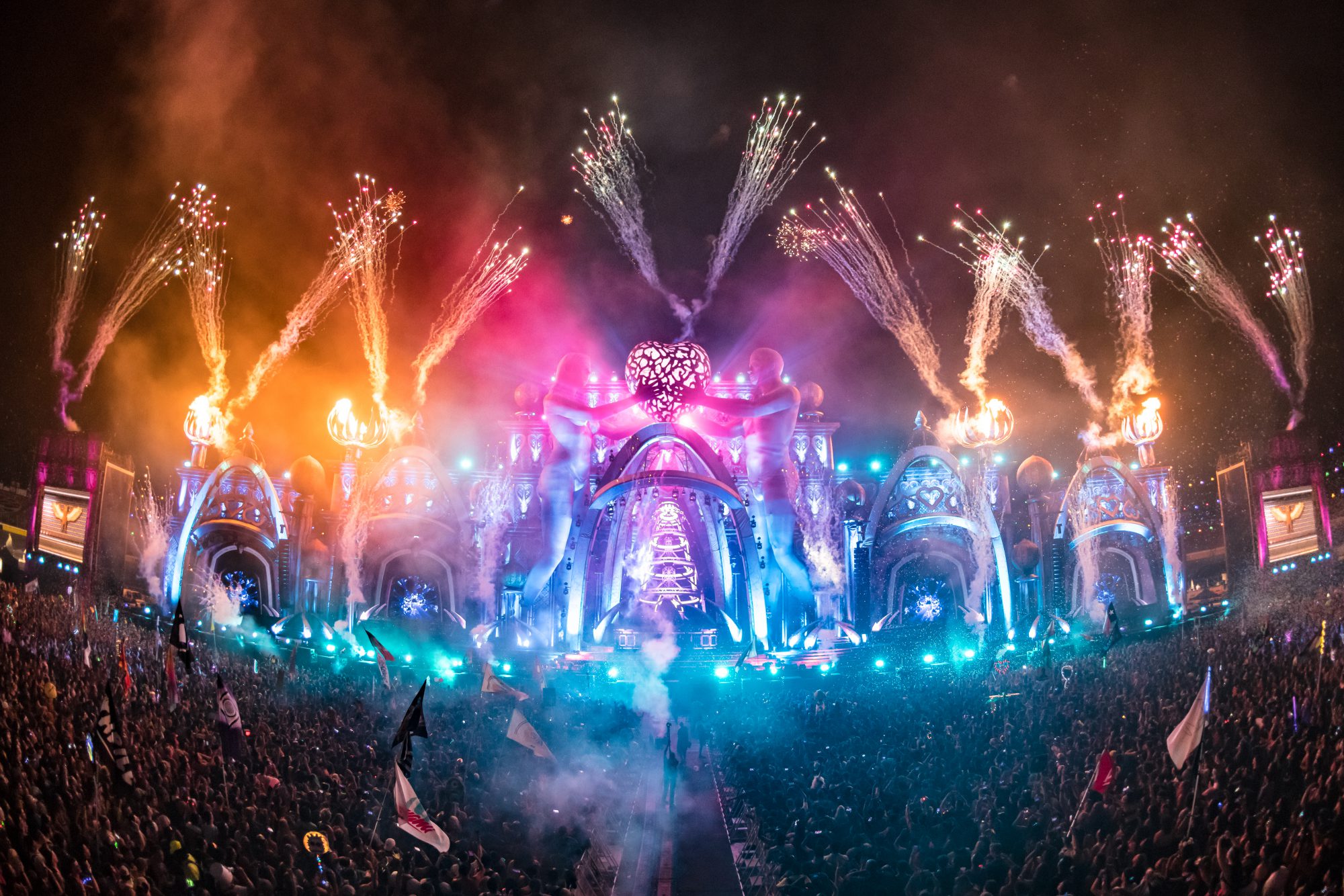 The beginning of our long twelve hour night included sets from Joyryde, Claude VonStroke, and VIRTUAL SELF.
VIRTUAL SELF was, without a doubt, our most highly anticipated set of the night as my group consisted of many huge Porter Robinson fans. I was excited for VIRTUAL SELF but, within reason, as I'd seen videos of his sets and it didn't seem to be similar to the Porter music we know and love.
The set ended up being just as I expected, a lot of hardstyle, trance, and happy hardcore beats with insanely cool production. The lasers were unbelievable and the stories told with the visuals were enticing. While the set wasn't my favorite, it was awesome to see Porter go in a different direction and follow his passion.
The nightly fireworks show went off as Porter brought his set to an epic close, and continued on as NGHTMRE and Slander (arguably my favorite artists) came out heavy with their Gud Vibrations B2B set.
Seeing the fireworks blast off as they dropped relentless insane dubstep was a sight that I won't soon forget! Unfortunately, we had to leave the craziness of Gud Vibrations and went to check out Snails smashing it at cosmicMEADOW. If you ever need a break from being on your feet, the grass and grandstands of cosmicMEADOW are a welcome luxury! We sat for a bit, resting up for the absolute mayhem that was about to be Excision's circuitGROUNDS set.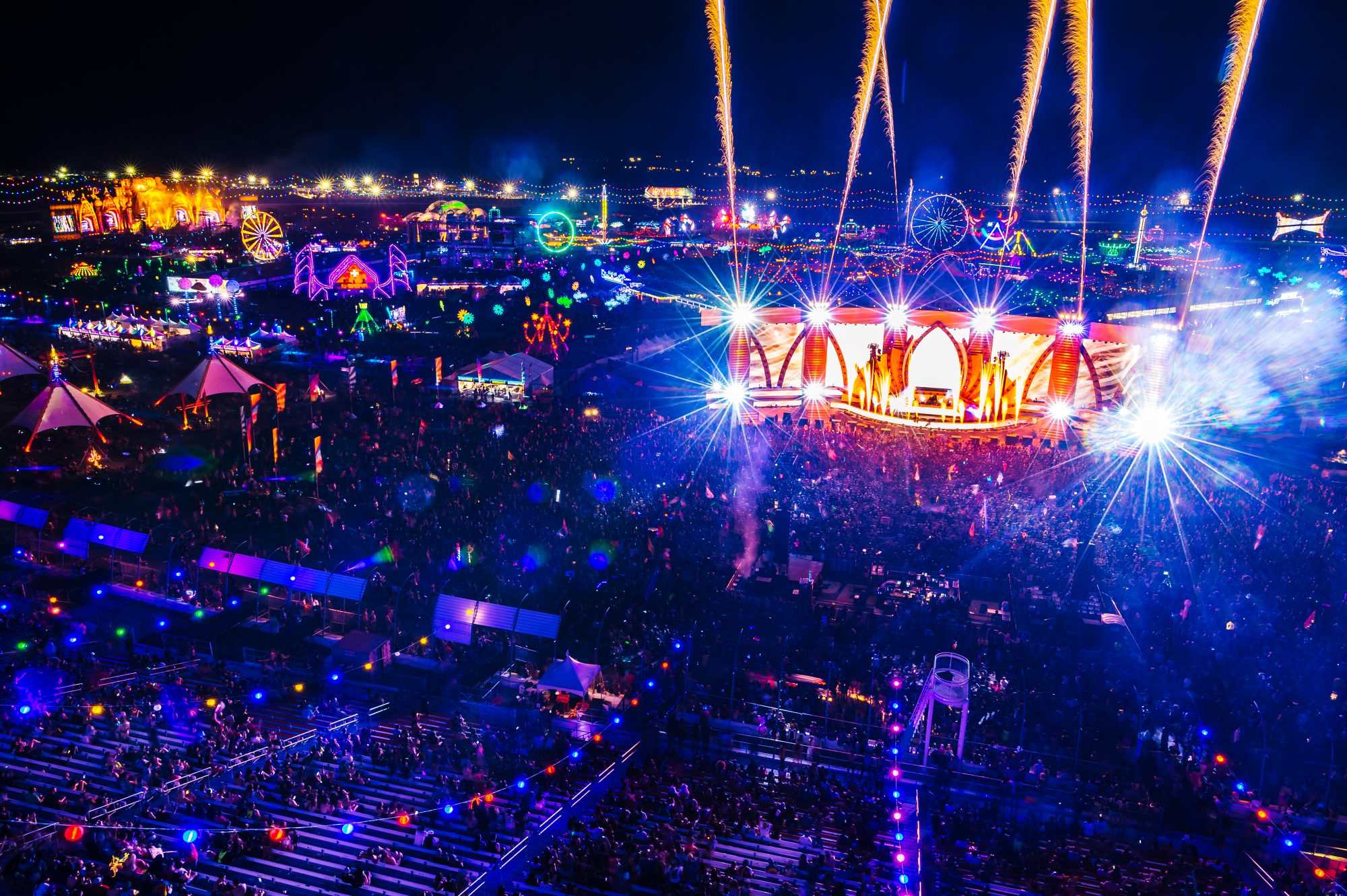 This has been a huge year for Excision, with the success of his inaugural festival Lost Lands and his Paradox tour bringing in more and more fans each day.
This was definitely apparent as there was a ginormous crowd that gathered around circuitGROUNDS as his set began, arguably the biggest crowd aside from Martin Garrix that we witnessed all weekend. Excision did not disappoint, bringing the heaviest dubstep and incendiary bass I could've imagined. We raged to "Throwin Elbows" and "G Shit" and all his other hits harder than ever, laughing as he heated up the place to a whole new level. He even played his famous "Lost Lands Intro" and brought out Illenium to play their dually beautiful and insane new track together.
The first day was filled with conflicts for me, the first being the VIRTUAL SELF and Kaskade conflict, and the second being the Cirez D, Mija, and Kaskade Strobelight Seduction conflict.
We made the executive decision to head to Kaskade's Strobelight Seduction set at the Parliament Art Car, as Kaskade's sunrise sets never fail to bring the best vibes and we are huge fans of his Strobelight Seduction album. I couldn't have asked for a more perfect morning – Kaskade played some of my absolute favorite tracks, tracks that brought me into dance music and showed me just how special this world is. As the sun rose we danced to "I'll Never Dream" and "I Remember" and a sense of calmness and bliss moved among us.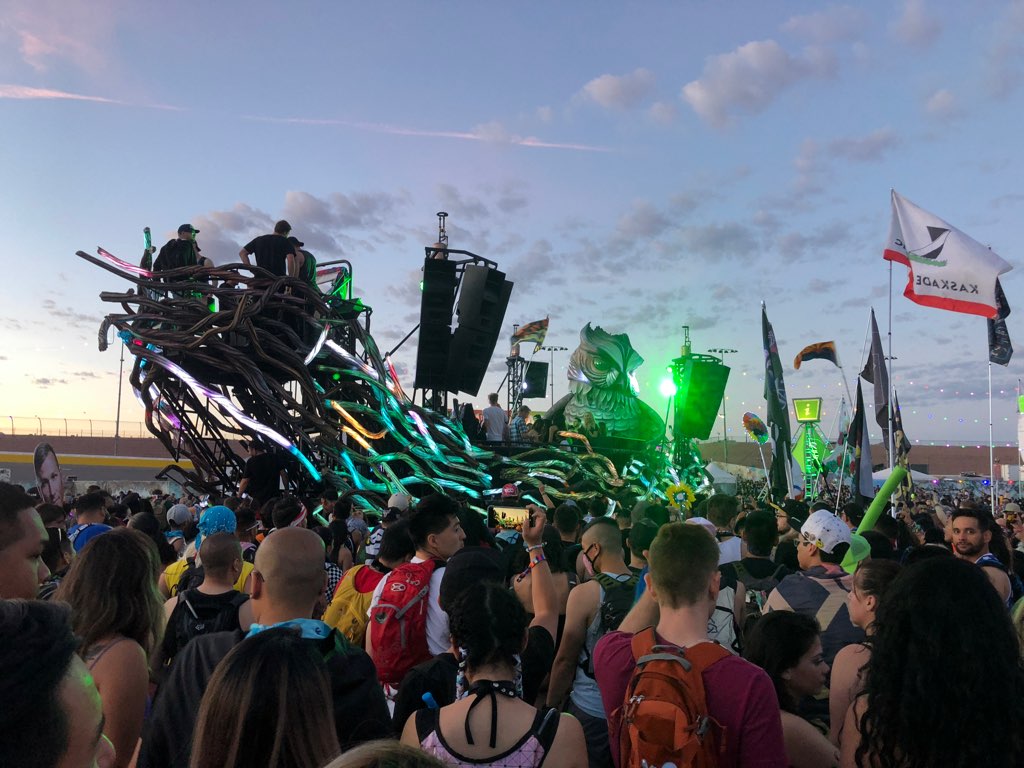 Making it to bed around 8 am, we slept for a few hours then headed back out to the Mesa to check out the pool party once again to start off day two.
On Saturday, Insomniac Records hosted the campgrounds pool stage and blessed us with hours of house music. We headed in early to the venue so we could interview UK house artist Melé and catch a bit of his funky set at neonGARDEN after.
The night really kicked off with another fire set from Chris Lake at kineticFIELD, followed by some feels from Oliver Smith and some heat from my guy JAUZ.
Chris Lake's solo set may have been my favorite, although there was a bit of trouble with the sound for a bit of his set which put a little damper on the music. Next up we checked out Dombresky once again at stereoBLOOM, the smallest but by no means the least stage of EDCLV. Insomniac Records hosted the stage this year, and its minimal production was actually very pleasing. FISHER took the stage next, moving the crowd on a whim with his infectious beats and energy he brings to the stage.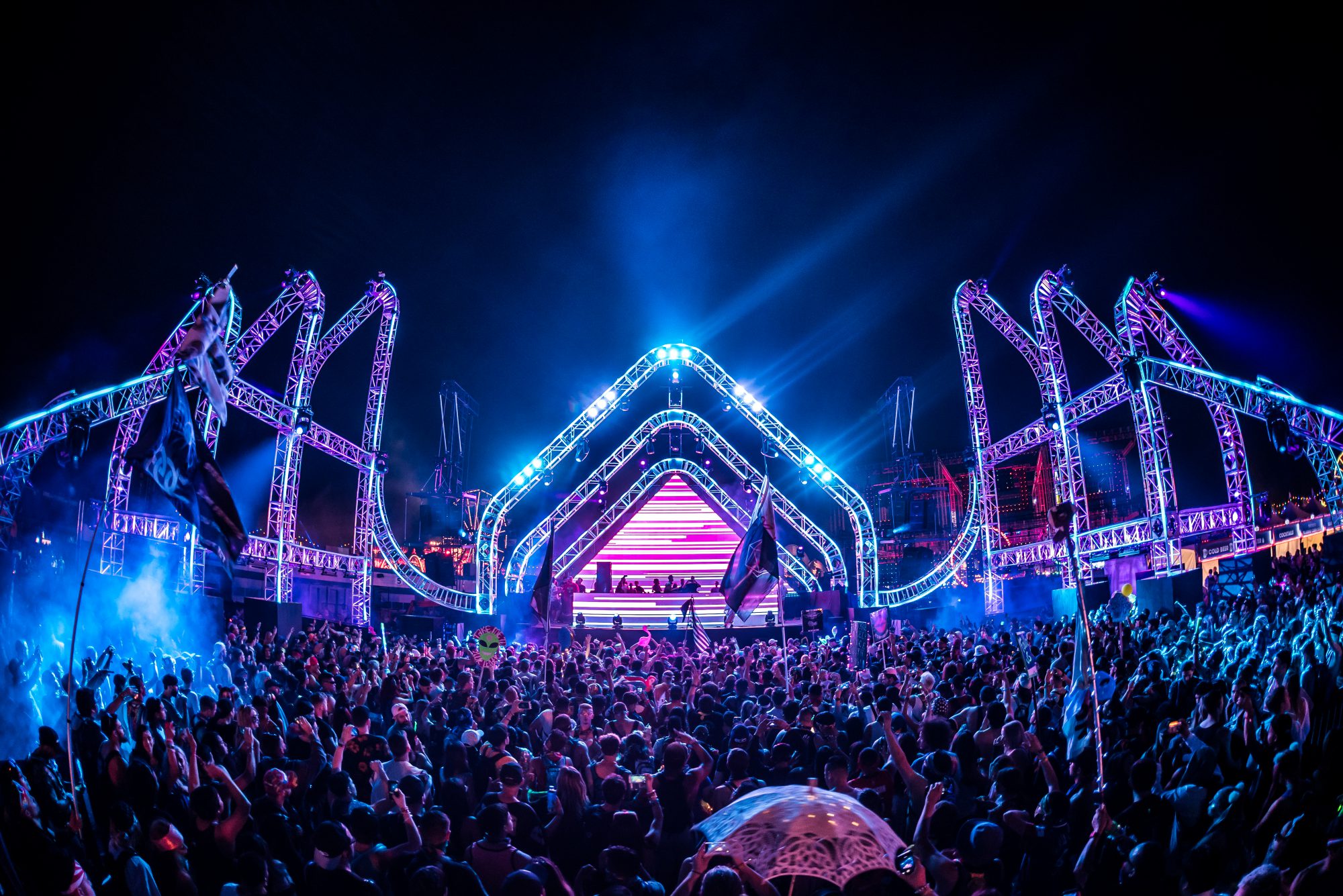 During the rest of the second night, Armin Van Buuren, Zeds Dead, and Excision graced us with unforgettable performances.
Armin van Buuren is an EDCLV staple for me, always bringing the feel-good vibes and hypnotic trance tracks. Zeds Dead was perhaps the act I was most excited for all weekend; after seeing them absolutely destroy at Hard Summer I'd been dying to see them again. They brought all the vibes to cosmicMEADOW, giving me all I'd hoped for and more with their amazingly musical yet heavy set filled with throwbacks, grimy dubstep, and dancey house music.
Excision's third set of the weekend was a detox set at bassPOD, which we'd surprisingly yet to see a set at. They'd completely redone the stage this year, keeping the robotic idea of the old stage yet redesigning into a more intergalactic feel. Excision's detox set was awesome, unleashing tons of wonky and experimental bass music that regularly wouldn't fit in his heavy sets.
Feeling the exhaustion in our bones, after chatting with hard dance queen Lady Faith we decided to call it a night and head back to camp before the sun arose. I couldn't have been happier to get so much sleep, waking up feeling like a new person ready to take on day three!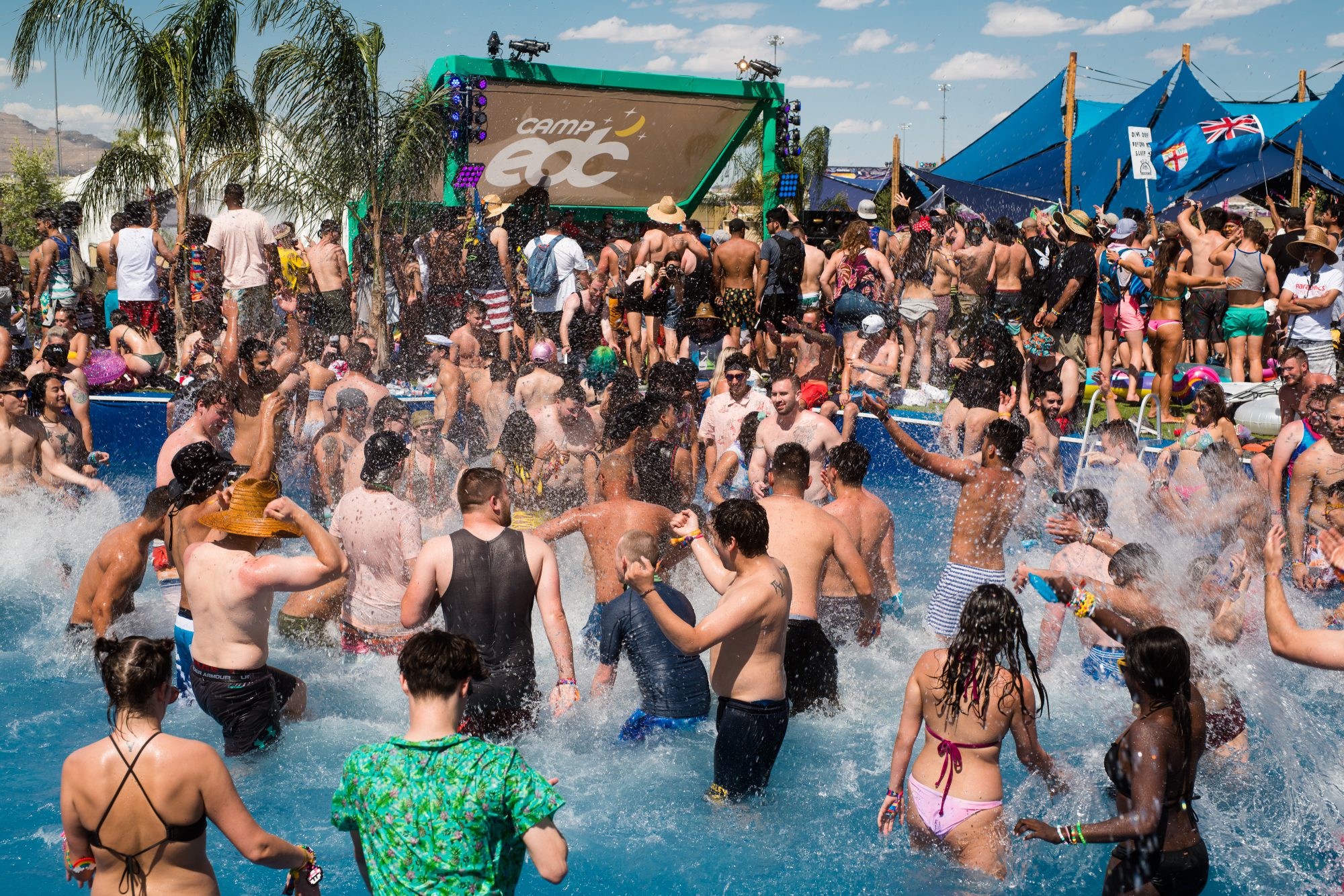 Brownies and Lemonade, who throw some of my favorite parties in LA and beyond, hosted the Camp EDC poolside stage on Sunday, so it was time to pool party hard! 
They sure brought the madness, bringing out a ton of exciting special guests including Josh Pan, Medasin, Ghastly, and many more. This was definitely my favorite day at the pool, raging with the homies as the DJs dropped banger after banger.
The third night went by way too fast as it always seems to do.
We opened up the night with Don Diablo, who made me feel like a baby raver again with his uplifting beats and house music that you can't help but shuffle to. We all agreed that if you're to see one main stage set, Don Diablo is the perfect guy to see – while he appeals to the masses he still gives you a quality set that you will thoroughly enjoy!
We posted up at circuitGROUNDS for a few hours, getting blown away by Rezz and Eric Prydz on the big screens.
Rezz, aka Space Mom, took us to another world with her trippy techno beats and hypnotic basslines. As she spun, the parade of art cars and performers began dancing down Rainbow Road in an ecstatic fashion, spreading the love of EDC as they pranced down the road.
After Rezz ended, it was time for our number one set of the night – Eric Prydz. From start to finish he was absolutely incredible, his visuals and lasers perfectly accompanying his ethereal tunes. He closed out the set in a euphoric fashion with Pryda's "Allein", leaving us all with love in our hearts and smiles on our faces. Only my second time seeing the legend, this set reminded me exactly why he is such an inspiration in the dance scene.
This bliss of Eric Prydz began to break as the main stage kids flooded in by the thousands for Martin Garrix, on next at circuitGROUNDS. We headed to the media center to catch one last night of fireworks, then closed out the night with a few more sets from k?d, The Binches, and Chris Lake B2B Fisher.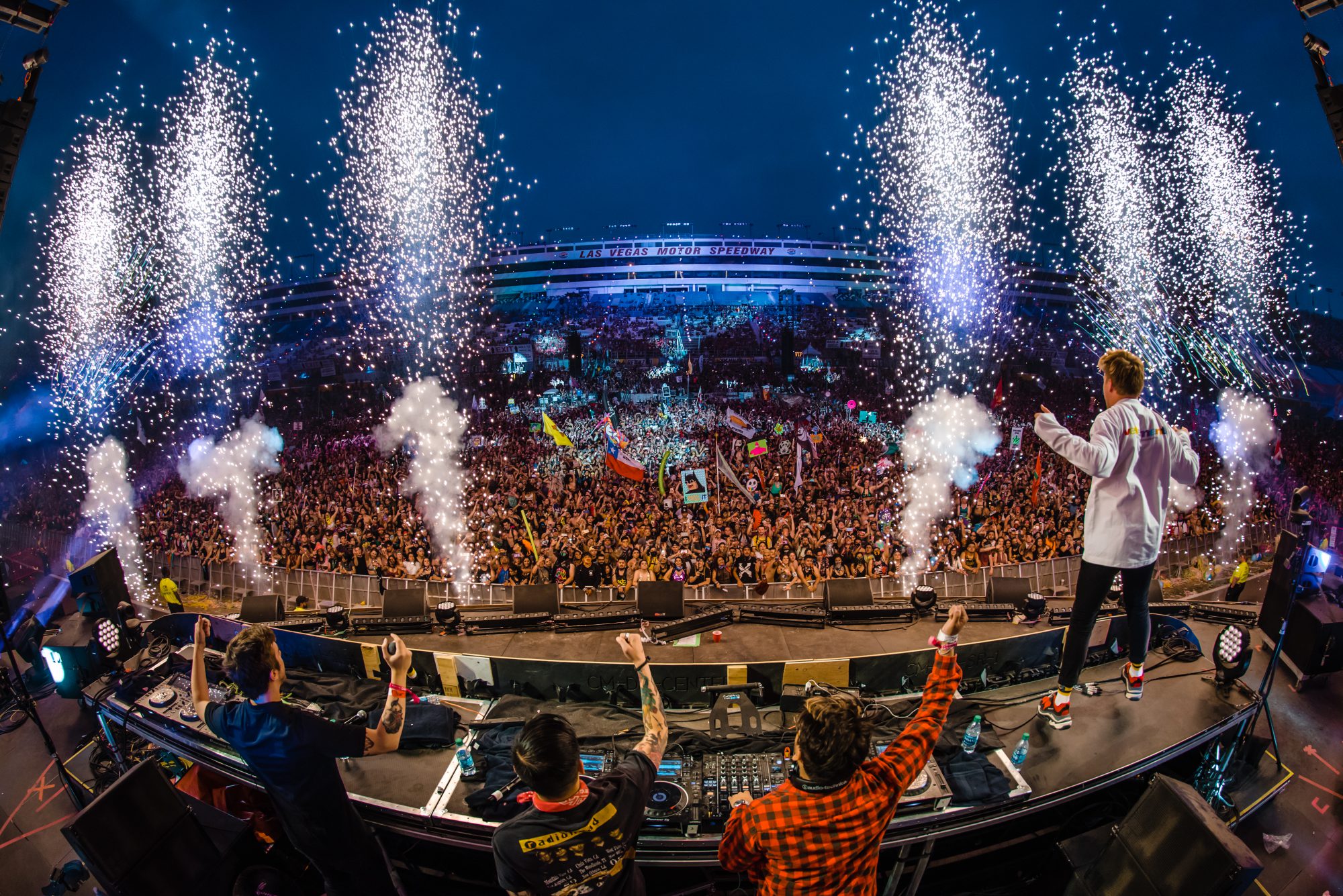 The Binches, comprised of Ookay, Kayzo, Dotcom, and Yultron, closed out cosmicMEADOW in the most lit fashion possible!
The EDM boyband raged together on stage as they played banger after banger, and even brought out Marshmello (another year of trolling, Dotcom?) for a few songs about halfway through. While it was fun to watch them having the time of their lives up there, a lot of their hard dance drops weren't exactly my style so I decided to head over to kineticFIELD to see Chris Lake b2b Fisher. I couldn't have been happier, arriving just in time to see the two of them drop "Crowd Control" as everyone went wild.
It blew my mind to see some real house artists closing kineticFIELD, as other years were hosted by more dancey or big room artists such as Galantis, Dash Berlin, and Lost Frequencies. Bravo to house music, taking over EDC! As the set came to a close, trapeze artists flying from hot air balloons began flying over the crowd – one last piece of wonder bestowed upon us from Insomniac.
While the party was over for most people, the Camp EDC Afterparty was just getting started!
My group grabbed some more drinks and headed over to The Mesa, where CamelPhat and Solardo took us on a wild ride of banging house music. Rabbit in the Moon took over after a few hours, and we even moved things over to the Wide Awake Art Car to keep the party going well into the morning. Unfortunately, a freak rainstorm came through and shut down the music, but overall it was the perfect end to the weekend.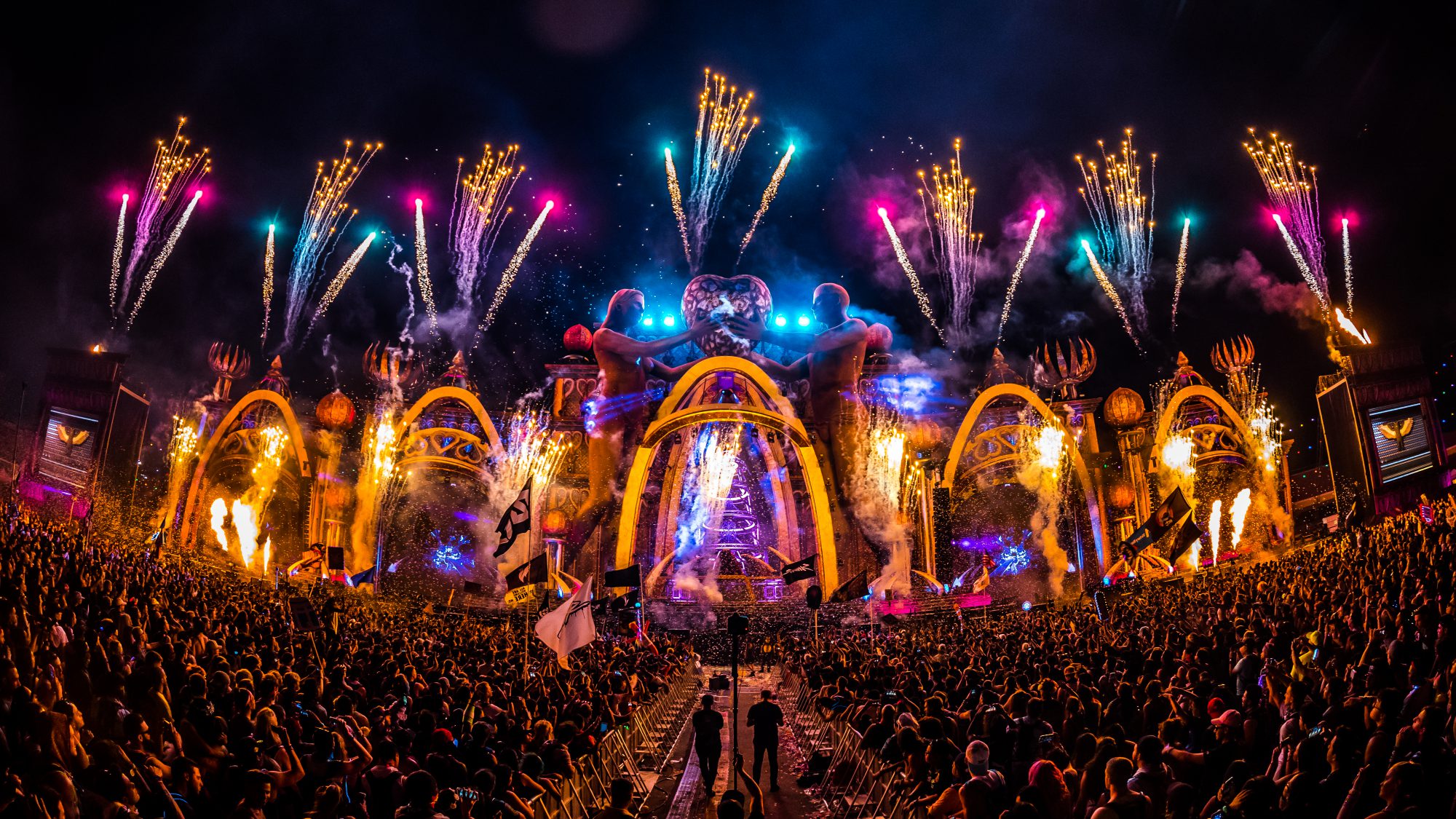 I left EDC Las Vegas 2018 feeling blessed, euphoric, and at peace, this year was fantastic.
The move from June to May granted us perfect weather, never dropping below 70 degrees and never climbing above 90 degrees while we were inside the festival. This helped keep people safe and healthy, and overall just made EDC much more enjoyable as you weren't constantly chugging water and fanning yourself at all times.
Although Camp EDC had its troubles as every first-year event does, it made EDCLV so much more enjoyable.
A few times showers or bathrooms were shut off from running out of water, but other than that there were few if any kinks. For next year, I would definitely recommend adding a few more bathrooms and opening up more security lanes for check in to make things move a little faster.
I can't stress enough how convenient camping was – I don't think I'll ever attend EDC in Las Vegas without camping again!
The ability to skip the arduous traveling to and from the festival made my entire EDCLV experience one hundred times better. While we did have a long wait to get in, it was completely worth it as we skipped and shuttle or parking lot lines. On top of that we got twice the amount of fun, since we got to experience some insane pool parties and awesome camp activities on top of all the fun inside the actual festival!
In 2017, I felt like some of the magic at EDCLV was missing for some reason, but Insomniac brought it all back with flying colors this year.
Headliners were reminded of the values of Insomniac wherever they went, keeping the PLUR, making new friends, and taking care of each other. Whether it be through billboards, Kandi, performers, or stages, each and every aspect of EDCLV all came back to the theme of kinetic love.
This year's edition of EDC Las Vegas reminded me exactly why I love this world of dance music.
It showed me once again how to truly be myself and let my light shine brightly. I can't pinpoint it on one thing, but Insomniac really outdid themselves this year when it came to restoring the magical vibes that you can only find at EDCLV. I felt just as I did five years ago when I first discovered the festival; so undeniably happy and fulfilled in this world of passionate music and incredible people. I cannot wait for next year!
So much love and thanks to Insomniac for an unforgettable year at EDC Las Vegas, see you in 2019! 
---
Connect with EDC Las Vegas on Social Media: