Seven Lions kicks off his new North American tour with more than 40 dates starting October 6th in Vancouver. If you didn't know from our recent interview, the California native has had a fantastic year so far with his Creation EP, along with worldwide festival and show stops. The Journey tour was inspired by the millions of young people who are taking it upon themselves to create their own adventures and embark on their own personal journeys of discovery.
Pre-sale tickets run through the end of day tomorrow on Ticketmaster with general tickets on sale starting Friday, July 15th. For the pre-sale password, join us on Facebook in our EDMID Friends and Family Group. You will also receive an exclusive download of the "Creation EP Remixes" before the official July 22nd release on Casablanca Records with your purchase of a pre-sale ticket.
Known for his tradition of transcending musical boundaries and creating thematic artistic works, Seven Lions' The Journey tour embraces the youthful energy and unique beauty found in all of the people and places that comprise the life journey we all find ourselves on. To help make the journey of others more positive, Seven Lions has teamed up with FCancer, a cutting-edge nonprofit organization dedicated to early detection, prevention and providing support for those affected by cancer. One dollar from every ticket purchased will be going directly to FCancer.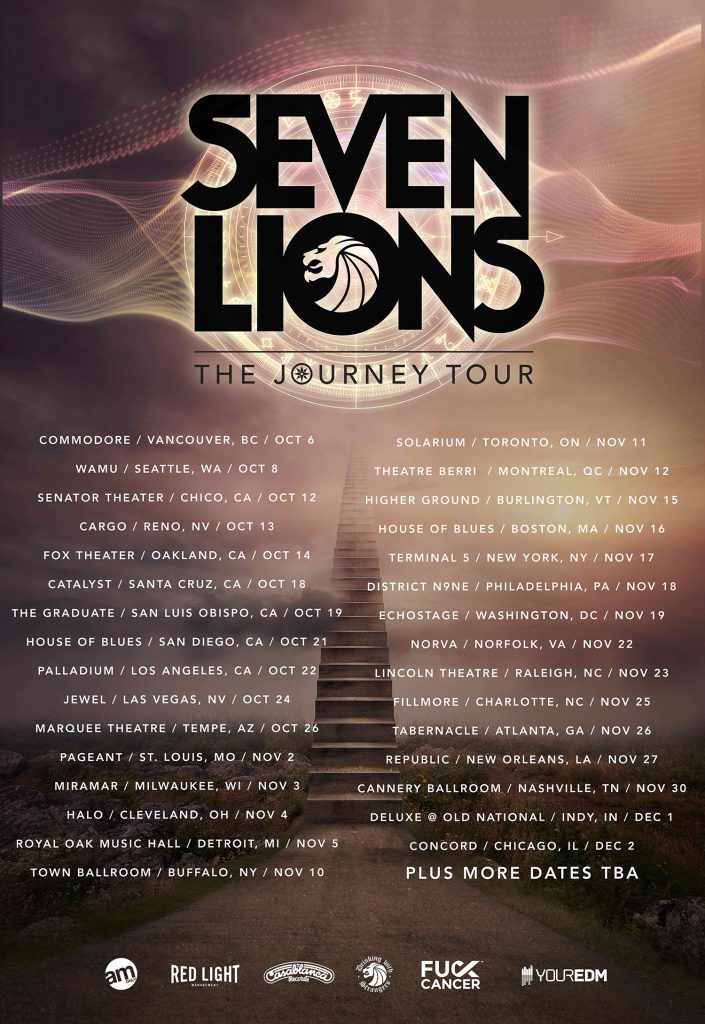 Be a part of The Journey in the following cities:
10/6 – Vancouver, BC / Commodore
10/8 – Seattle, WA / WAMU
10/12 – Chico, CA / Senator Theater
10/13 – Reno, NV / Cargo
10/14 – Oakland, CA / Fox Theater
10/18 – Santa Cruz, CA / Catalyst
10/19 – San Luis Obispo, CA / The Graduate
10/21 – San Diego, CA / House of Blues
10/22 – Los Angeles, CA / Palladium
10/24 – Las Vegas, NV / Jewel
10/26 – Tempe, AZ / Marquee Theatre
11/2 – St. Louis, MO / Pageant
11/3 – Milwaukee, WI / Miramar
11/4 – Cleveland, OH / Halo
11/5 – Detroit, MI / Royal Oak Music Hall
11/10 – Buffalo, NY / Town Ballroom
11/11 – Toronto, ON / Solarium @ Sound Academy
11/12 – Montreal, QC / Theatre Berri
11/15 – Burlington, VT / Higher Ground
11/16 – Boston, MA / House of Blues
11/17 – New York, NY / Terminal 5
11/18 – Philadelphia, PA / District N9ne
11/19 – Washington, DC / Echostage
11/22 – Norfolk, VA / Norva
11/23 – Raleigh, NC / Lincoln Theatre
11/25 – Charlotte, NC / Fillmore
11/26 – Atlanta, GA / Tabernacle
11/27 – New Orleans, LA / Republic
11/30 – Nashville, TN / Cannery
12/1 – Indianapolis, IN / Deluxe @ Old National Centre
12/2 – Chicago, IL / Concord
---
Connect with Seven Lions on Social Media:
Website | Facebook | Twitter | Instagram | SoundCloud