Welcome to The Landing, EDM Identity's weekly post highlighting fresh tracks you may have missed!
---
Since the introduction of streaming sites and mediums like Bandcamp available for artists to release on, new music is hitting us faster than ever and the abundance of releases can almost be overwhelming. We know that it is a difficult task to keep up with every artist, so we're here to assist you with some gems that "land" in our inboxes. In every edition of The Landing, we intend to highlight some tracks that you may have missed, or perhaps shine a light on new music for you to fall in love with.
This week's edition of The Landing features fresh tracks from HVDES, Le Malls, Mason Maynard, 1991, Riton & MNEK, Markus Schulz, LO'99 & The Aston Shuffle, EDX, Treasure Fingers & Vanilla Ace, Keys N Krates, L.A Women & Jasper Dietze, BORN DIRTY, & Justin Prime!
The Landing || November 12-18, 2017
---

HVDES shows she's about to dominate the scene with "Fuck My Nose Up"
HVDES – Facebook | Twitter | SoundCloud
We've been tuned into the sounds coming from HVDES for quite a while now and it has been nothing but amazing to see her grow into the amazing artist she has become. From the very beginnings of her career when we sat down with her, to this week in which she released tune "Fuck My Nose Up", it has been clear that she is primed for the spotlight.
Listen to this jaw-dropping production from her below or stream it on your favorite platform, but definitely keep her in your sights because she's ready to take over the dance music scene!
---

Le Malls crushes genre boundaries on "Touch".
Le Malls – Facebook | Twitter | SoundCloud
The young and ridiculously talented Le Malls is pulling out all the stops on his latest release "Touch", a track that came to fruition during a spontaneous studio session in London, England. Backed by Spinnin' Records and Trap City, this sexy dance floor chill session sees England-born songbird Imogen Mahdavi take the reins on vocal delivery and unleashes some seriously crunchy synths with a slow-simmering groove that will get you hot under the collar in all the right ways.
With a drive to present original productions that stand outside the normal genre boundaries, Le Malls has made it his mission to craft a sound all his own since breaking into the scene just this past year. With "Touch" we see that the future is bright for this rising dance music superstar as he achieves his mission to blur the lines of pop, future bass, and trap, rolling it all into one spectacular package of sound.
---

Riton X MNEK are going "Deeper" into House with their latest track.
Riton – Facebook | Twitter | SoundCloud
MNEK –  Facebook | Twitter
The House Gospel Choir – Facebook | Twitter
Having been a sucker for the vocal styling of MNEK, this track instantly attracted my attention. What I did not expect was to find a classic gem woven into a masterful modern House tune. "Deeper" is one part modern R&B vocals from MNEK, another part House production sensibilities.
Mixed throughout are the gospel vocals that bring a very unique flair to dance music. There is something beautifully retro about the tune – which still retains that hot modern flavor. It won't be an airplay hit, but there is a beautiful infection in the production – mixing vocals to provide true tension while progressing into uplifting moods.
Oh – and that throwback gem I mentioned – is hearing the classic vocals of Clivillés & Cole's "A Deeper Love" sung by The House Gospel Choir.  Clivillés & Cole are better known as C&C Music Factory and were a hot commodity during the 1990's dance music revolution.  Here the original version of their writing and production here.
---

Genre says what… as 1991 tries to capture us to "Mayk Yu Myne?"
1991 – Facebook | Twitter | SoundCloud
Okay, go away with your new genre titles – this is not Future anything! Pretentious genres aside, 1991's "Make Yu Myne" is both infectious and warm. This is a tune I'd expect to hear banging off the walls of summertime parties, either at hotel pools or out of a speaker at a backyard barbecue. Ironically, here it comes in the throes of the Northern Hemisphere's winter. 1991 may be known for his D&B styling more than what he delivers here but it's a warm welcome to see producers keep their sounds diverse.
---

"Groovy, baby!" – The name of the game is Angie!
Prok & Fitch – Facebook | Twitter | SoundCloud
Mason Maynard –  Facebook | Twitter | SoundCloud
Fresh off another venture into CRSSD Fest in San Diego, Tech House legends Prok & Fitch return to the market with "Angie".  While the original is a catchy piece focused on that brooding bassline groove, it is Mason Maynard's "Big Ange" remix that truly grabs the ear.
The groove here is much tighter, honed into a dance-floor destroyer.  The percussion choices accent the track's groove eloquently and the use of the vocal sample from the original just feels more appropriate for the genre.  Everything is just so well polished in this one, we just had to share it!
---

Markus Schulz unveils the Transmission 2017 theme, "The Spirit of the Warrior".
Markus Schulz – Facebook | Twitter | SoundCloud
Transmission is set to take the city of Prague to new heights on November 25 as Markus Schulz has unveiled the official theme song, "The Spirit of the Warrior". Dakota's dramatic expression of mystical sound bonds strings with orchestral drums and bold synths that ignite the soul and inspire the body to dance. This year's composition marks Markus' ninth consecutive theme in the twenty years that the event has run.
The theme also serves as the fourth single off of the forthcoming The Nine Skies album and is a clear representation of the spiritual path to enlightenment that The Nine Skies project set forth to unveil. The track is available now on multiple outlets and is just in time to get the anticipation boiling at a fever pitch for Transmission Prague 2017!
---

LO'99 and The Aston Shuffle Collaborate on this groovy late night track.
LO'99 – Facebook | Twitter | SoundCloud
The Aston Shuffle –  Facebook | Twitter | SoundCloud
Australian duo The Aston Shuffle link up with fellow countryman Lo'99 for a return to their house roots. Their track, "Birthman", is made of pure funky energy with that signature bass sound that drives most of LO'99's tracks.
The track is a great example of the diverse sounds and styles Lo'99 and The Aston Shuffle can create while still being true to their signature sounds. "Birthman" will have music enthusiasts and club goers bobbing their heads and feeling the vibes all night long.
---

EDX's latest track will be "Runnin'" in your mind all day.
EDX – Facebook | Twitter | SoundCloud
On the heels of celebrating two decades in the music industry, Swiss DJ and producer EDX dropped his beautiful new track. "Runnin'" features a smooth house bassline combined with emotional lyrics that are sure to resonate with fans. The refreshing deep house style of EDX is unmatched and it's no surprise why this electronic great has lasted in the industry for so long.
---

Treasure Fingers & Vanilla Ace are going to make you Sweat with their new EP!
Treasure Fingers – Facebook | Twitter | SoundCloud
Vanilla Ace –  Facebook | Twitter | SoundCloud 
Perfect timing: just as the winter chill sweeps over the Northern Hemisphere, Treasure Fingers & Vanilla Ace have released a brace of heavy house heaters that will warm you up from the inside out.
The first track on the EP, "Sweat", features a banging 808 drum loop paired with a hypnotic Western Asian horn melody and some slightly off-kilter synths for a tune you can't help but shuffle it out to. Not to be outdone, the chunky, driving bassline and percussion of "Crazy" take the listener on a wild ride to a time when house music reigned supreme, perfectly framing the classic piano breakdown in the middle.
Dust off your dancing shoes and get ready to go to house heaven because the Sweat EP is absolutely divine.
---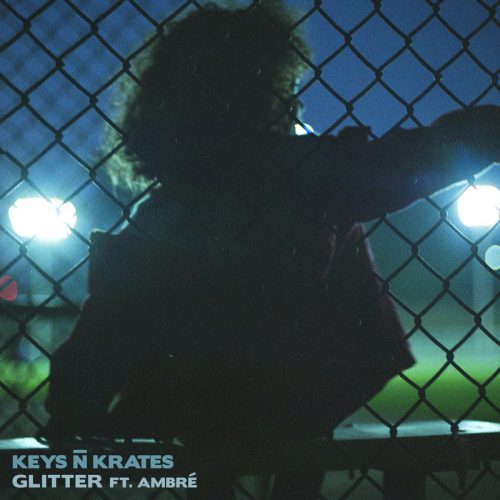 The latest from Keys N Krates will have you shining like "Glitter".
Keys N Krates – Facebook | Twitter | SoundCloud
Hailing from Toronto, Keys N Krates have long been the masters of exceptionally crafted live performances. Their newest release, "Glitter" featuring New Orléans R&B songstress Ambré, is smooth, sultry, and sensational. The track blends Ambré's alluring vocals with a downtempo groove and soaring strings that call to mind all the best parts of disco in the 70's.
Keys N Krates turntablist Jr. Flo had this to say about the track:
"We were trying to draw from music we love and grew up on like Jay Dilla, Tribe, DJ Premiere, as well as current stuff that we love like everything from Beach House to Chrome Sparks to a lot of current rap stuff. We wanted everything to sound like a sample."
Give it a spin and travel through time – you won't be disappointed.
---

BORN DIRTY is calling out to you through the "Static" on this fresh tune.
BORN DIRTY – Facebook | Twitter | SoundCloud
Coming in hot on Friday this week straight out of West London is BORN DIRTY with an absolute smasher of a tune, "Static". Already gaining support from leaders in the scene like A-Trak and Anna Lunoe, he is showing that he has what it takes to get to the next level.
With releases dotting major labels like Fool's Gold, OWSLA, Night Bass, and more, this recent tune comes on label WAY WAY for your listening pleasure today. "Static" is a track featuring a bassline and snappy percussion that will have everyone getting dirty on the dancefloor. Stream it below and tell us your thoughts in the comments!
---

L.A Women & Jasper Dietze collaborate on "Hurricane Love"
L.A Women – Facebook | Twitter | SoundCloud
Jasper Dietze – Facebook | Twitter | SoundCloud
Out now on Lowly Palace, L.A WOMEN and Jasper Dietze have collaborated on a mellow yet dancey tune that surely will make its way on playlists throughout the rest of the year. Having been released a year ago by L.A WOMEN as a pop tune, this new version of "Hurricane Love" is a melodic deep house take that leaves the listener impressed.
Jasper Dietze really put his unique twist on the pop tune and it was clear that both L.A WOMEN and Lowly Palace took notice as it became an official version this week. Read what he had to say about the track and listen to it below!
"When I first heard L.A WOMEN's original version of "Hurricane Love," I immediately knew that this was something special. I really loved the lyrics and the smooth feel of the vocal, so it was a real pleasure putting my own spin on it.''

— Jasper Dietze
---

Justin Prime works with Belle Doron on new tune "Mirror On The Wall"
Justin Prime – Facebook | Twitter | SoundCloud
Out now on Armada Trice, Justin Prime has impressed once again with the release of "Mirror On The Wall". Turning his personal hardships into a positive single that hits you right in the heartstrings, Justin has left us absolutely stunned with this release.
The lyrics written by Justin are sung by Belle Doron and backed by the piano chord-led beat that evokes emotion from start to finish. This may be one of the best tunes we've heard from Justin Prime. Read what he had to say and listen to the track below!
"These last few years, I͛ve been through some very tough times. I found it very hard to deal with certain situations and lost a part of myself in the process. I had to look within myself for quite some time to find out who I was and how I wanted to deal with that. ͚Mirror On The Wall͛ was part of that journey and I hope it can help lots of other people deal with similar situations as well."

–  Justin Prime