Get ready for a night of epic night of trance as Jordan Suckley returns to Avalon Hollywood on July 29!
---
One part tech trance, one part turntablist, and all heart, UK DJ and Producer Jordan Suckley has been making his mark for some time now. His signature tech trance sound and his rare but stunning scratching has made Suckley one of the trance artists not to miss. Aside from being a prolific artist, he's also label boss at Damaged Records and produces a radio show entitled, Damaged Radio that airs every Tuesday!
Fans of the Damaged head honcho love his flair for the dynamic. Though he's a trance artist through and through, he's a fearless experimenter. Suckley is not afraid to collaborate with hardstyle acts, such as Kutski, and will occasionally drop live scratching into his sets. The fact that he dares to go beyond expectations is what has made him a favorite amongst many trance fans.
Lately, Suckley has been seen playing some of the hottest clubs and festivals around the world. He recently played Sun Kissed Festival in Fresno, CA, Luminosity Beach Festival in The Netherlands and AIM Festival in Montreal. Now, it is time for fans in Los Angeles to have a special show of their own.
On Saturday, June 29, come out to Avalon Hollywood to catch Suckley perform a rare extended set. We are sure these 4 hours will be full of the dynamics Suckley is known for. As he rarely plays an extended set of this length in the United States, this is not one to be missed. Opening the evening up for the big show will be Randy Seidman, so make sure to arrive early and leave late!
Want to learn more about Jordan Suckley and his influences as an artist? Check out our interview with him.
Listen to the Jordan Suckley Promo Mix for  Avalon Hollywood:
---
Enter to Win A Meet & Greet with Jordan Suckley at Avalon Hollywood!
Meet and Greet with Jordan Suckley @ Avalon Hollywood

---
Jordan Suckely @ Avalon Hollywood Event Information:
Date: Saturday, July 29, 2017
Ages: 21+
Hours: 10PM – 6AM
---
Jordan Suckley @ Avalon Hollywood Event Flyer: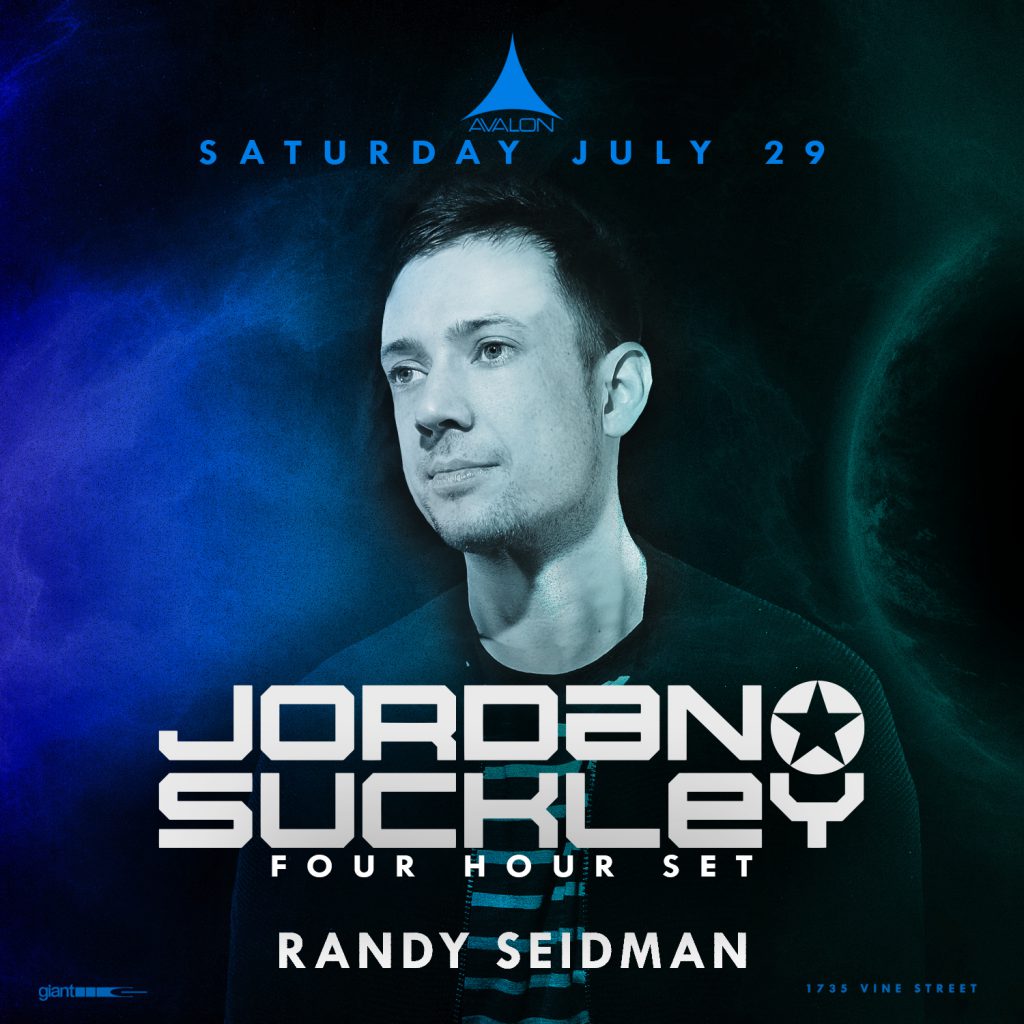 ---
About Avalon Hollywood:
AVALON is one of Hollywood's most historic landmarks. From The Beatles first West Coast performance in 1964 to ABC's hit television variety show The Hollywood Palace to Sasha's first West Coast DJ residency, the theater at Hollywood & Vine has been a show-business epicenter since opening in 1927.
---
Follow Jordan Suckley on Social Media:
Website |Facebook | SoundCloud | Twitter