Kutski shares his thoughts on the 5th anniversary of Keeping The Rave Alive, his new collaboration with Jordan Suckley, and his passion for the underground scene.
---
Kutski is one of the biggest names in the hard dance scene with his impressive technical mixing and musical versatility. In 2012, he started the 'Keeping The Rave Alive' radio show, which showcases 360 degrees of the harder styles of dance music. The 'Keeping The Rave Alive' brand is a staple in the scene branching out to hosting its own sold-out events worldwide and inspiring an album series claiming the UK's highest selling hard dance album spot.
If you're into hardstyle, hardcore, old skool rave, or hard dance, then Kutski is already a household name. Check out our interview with him and stream the teaser for his new track with Jordan Suckley, "Surveillance", below!
Make sure to catch Kutski at Avalon Hollywood on Friday, May 26 where he will be playing alongside Sylence, Mekanikal and Tye Guys.
Listen to Jordan Suckley & Kutski – Surveillance On YouTube:
---
You have excellent videos on YouTube providing fans a look inside what you do behind the decks. When did you discover your passion for technical mixing?
Right from the start to be honest! The first CD that I heard that was mixed was Hixxy's CD on the first Bonkers album. It was a three deck mix with tons of scratching. I was about 14 at the time and knew nothing about DJ'ing at all, I was listening to it and thinking I knew these tracks but they're kind of all blended together. It was at that point I knew I wanted to DJ myself and it was that technical mix that set me on my way. From there I discovered things like the DMC championships and the rest, as they say, is history!
Your upcoming collaboration with Jordan Suckley on Surveillance features a blend of Tech Trance and Oldskool Hard Trance. How did this collaboration come about?
Jordan and I have been good friends for a really long time now. We live in the same small town so we hang out a lot. As we are both technical DJ's we record a lot of DJ / scratch videos together and stuff like that, so I guess it was only a matter of time until we worked on a track together. Obviously, we have different styles we primarily produce so we had to find that middle ground that worked for us both. We both loved the classic hard trance sound, a sound that is pretty much extinct these days but had a lot in common with the current 138 hard tech-trance sound. So we wanted to explore a way to capture what it is that made the oldskool sound so great, but wrap it up in a modern way.

The Hard Dance scene seems to be close knit and banded together compared to other electronic music genres out there. Do you think there is an underlying reason for this?
I guess because it's an underground movement. You find that with anything like this, any niche scene. Fashion, sport, etc… Also, the nature of the music can be quite polarising, it's not something you kind of don't mind. If you like it, you fucking love it which is why the fans are so passionate, and obviously that generates a strong community between like-minded people.
Keeping The Rave Alive radio show features a unique blend of harder music, including your segment where you boost a track's BPM to 170 see if it sounds good. Which track shocked you the most when speeding it up?
I think it had to be the Omegatypez track "Take Me High". Until then it was just a bit of fun, but when I heard that track at 170 by accident and I genuinely thought "what is that sick UK hardcore track? I don't remember being sent this?". When I realised it was a hardstyle track pitched up I knew I was onto something, so I hit up Omegatypez to do an official 170 remix which went straight to number 1 on Beatport. I believe that's what they call a happy accident. Or a happy hardcore accident in this case lol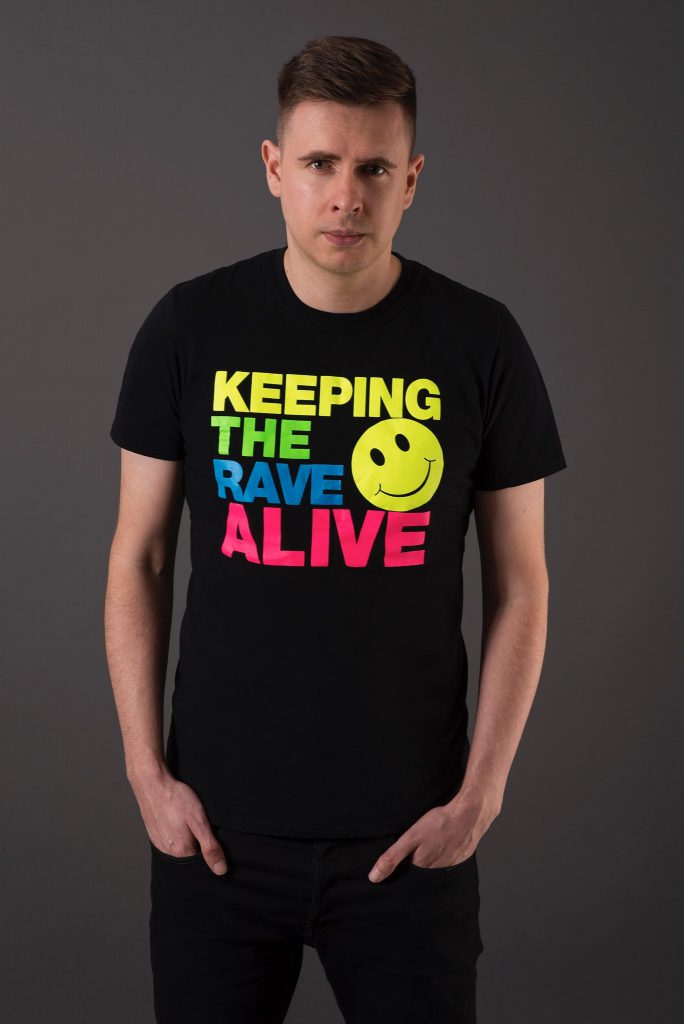 Your "Rants & Raves" episodes on YouTube are a topical show featuring music, gaming, and pop culture. Other DJs, like Armin Van Buuren, have integrated topical segments into their current show creating that old school traditional broadcast radio show. How has the daily vlogger atmosphere on YouTube affected how DJs stay relevant in the scene?
I think the days of the mysterious DJ that appears out of the shadows into the clubs, plays, then disappears off into the night again are over. Social media has changed the landscape now, people want to know about you, what you are up to, what goes on in your world outside of the clubs and what your personality is outside of music. I like to break this up though because not everyone listening to the KTRA show gives a shit about my thoughts on Wrestlemania at the weekend haha! Obviously, there is a lot of personality in the KTRA show, but it's mainly focused around the music. The vlogs are fun because it gives people a chance to see and hear some of the funny shit that happens in my life as a DJ, in the studio, and on the road, as well as a backstage look at the shows I play. Because of the nature of blogs, these are heavily edited so it only requires a few minute of people's time. The rants and raves thing is more for the die-hard fans that are interesting in hearing my views on all kinds of different subjects. I'm always excited to try different mediums and see how I can make them work for me so all this stuff is just me experimenting and seeing what I enjoy doing and what people find interesting to see.
Recently you announced you will be live video streaming Keeping The Rave Alive radio show, which recently passed its 5 year anniversary. What can fans expect and do you have anything special planned for the launch?
Haha, good question. I'm still trying to work that out myself!!! We were one of the first shows to start live streaming on Facebook, but now the bar has been raised and just looking at a static image with a prerecorded show audio isn't enough anymore. I'm still working on the technical aspect of how the live stream will exactly work, I just had a big bunch of cables delivered before I left for this tour, so I have all that to look forward to when I get back lol. Once I have that all sorted I can start thinking more about the content. But it's definitely going to be very visual and interactive for the people watching live.
You've provided legendary mixtapes over the years, including your most recent Origins Mixtape. Do you think it is important to document and preserve the sounds of past eras?
Yeah for sure. It's not like making mixes of early influential rave tracks from the late 80's is going further to my career. These things are just passion projects that I do for myself but want to share with other like-minded people who are interested. I've always been obsessive about music, reading, listening and researching as much as I can. When I find out all this stuff I find super interesting, I guess it's only natural that I would want to share it with others. I guess I'm just short of documentary making at this stage, and I'd be lying if I said that hadn't crossed my mind also haha!
With the growth of electronic music in the USA continuing to rise and mature, how has the response to faster BPM tracks changed over the past decade?
I really don't think BPM is an important a factor in the states as it is back over in Europe. Back home you could never play electro after hardstyle, or breaks after drum and bass. I think it's because we've been exposed to rigid music policies for so long, there are these unwritten rules everyone adheres to. I think in the USA it's more of an open book. People were exposed to dance music through multi-genre festivals so in general the crowd is more open minded to different styles. For me personally, this is a much more positive approach and is why I find playing in North America so exciting at the moment.
What elements, both positive and negative, of the rave scene have been lost over the years?
Can I spin the question a little and talk about the elements that haven't been lost over the years? Before the rave scene, every music scene seemed to have a social class attached to them. Punk was young white rebellious guys, reggae was primarily a black Jamaican thing, classical was for rich white people lol… I'm half joking but you know what I mean. Every genre had its stereotypes that were for the most part true. When the rave scene came along, you'd have these underground parties in warehouses with a rainbow cross-section of society. Straight black guys dancing with gay white women, all dancing with older Asians and young white punks… It was a melting pot for society were preconceptions and judgment were checked out on the way in. This all sounds very utopian I know, so just it's probably worth mentioning this was the same time ecstasy arrived on the club scene haha! Probably not a coincidence 😛 But in all seriousness I think these fundamentals have carried through over the years, and as much as mainstream media makes the rave scene out to be generally negative on society, I think society could learn a lot from the rave scene about treating others with tolerance and respect.
Finally, what video games are you playing right now?
Right now I REALLY want to play Persona 5. Persona is probably my favourite game franchise of all time, but as it's only on the PS4, I just don't have the time at home required to commit to a game like this. I'm hoping it comes out on a portable console at some point as that would be the perfect game for long haul flights. So other than that I've been playing a lot of Mario Kart and Zelda on the Nintendo Switch whilst travelling
---
Connect with Kutski:
Facebook | SoundCloud | Twitter | Website | Instagram