Join us for three days of electronic music in the Canadian outdoors thanks to AIM Experience 2017!
---
AIM (Art – Innovation – Movement) Electronic Music Festival is back in Montreal for the third year running this 14-16 of July! AIM Experience is anything but your run of the mill music festival. The event takes place in one of Canada's historic sites, Carillon National Park. This is the location where one of the earliest battles between the French colonists and the native Indians took place in 1660. Festival goers are encouraged to camp on the grounds and explore both the sights as well as the music on offer.
Speaking of music, the line-up for this year's event combines a host of world-renowned artists with local talent. Over the course of three days, attendees will have the chance to hear the best in deep house, tech house, house and progressive, and trance. The festival boasts three stages, and it is also the only allowed event in Canada to run a 32-hour marathon starting on Saturday morning and ending on Sunday afternoon. In order to provide an immersive experience, the crowd can expect cutting-edge visuals and stage design.
Outside the music performances, AIM is also proud to feature onsite workshops for artistic and educational activities. The organisation also has charity goals in mind. Among others, they provide financial help to foundations such as the Canadian AIDS Society.
Lastly, as the event takes place is one of Canada's historic places, AIM wants to minimise the impact on the environment. To this end they've build a set of rules they're adheriding to make the event as green as possible. You can read more details about this initiative on their official website linked below.
---
AIM Experience 2017 Essential Info:
Date: July 14 – July 16, 2017
Ages: 18+
Hours: Friday, July 14 from 3PM until Saturday, July 15 at 1AM, and Saturday, July 15 from 10AM until Sunday, July 16 at 6PM
Venue Address: Parc Carillon, Rue du Plein Air, St-André d'Argenteuil, QC J0V 1X0
Tickets: HERE
Facebook Event Page: HERE
Official Website: HERE
---
AIM Experience Line-up Flyer: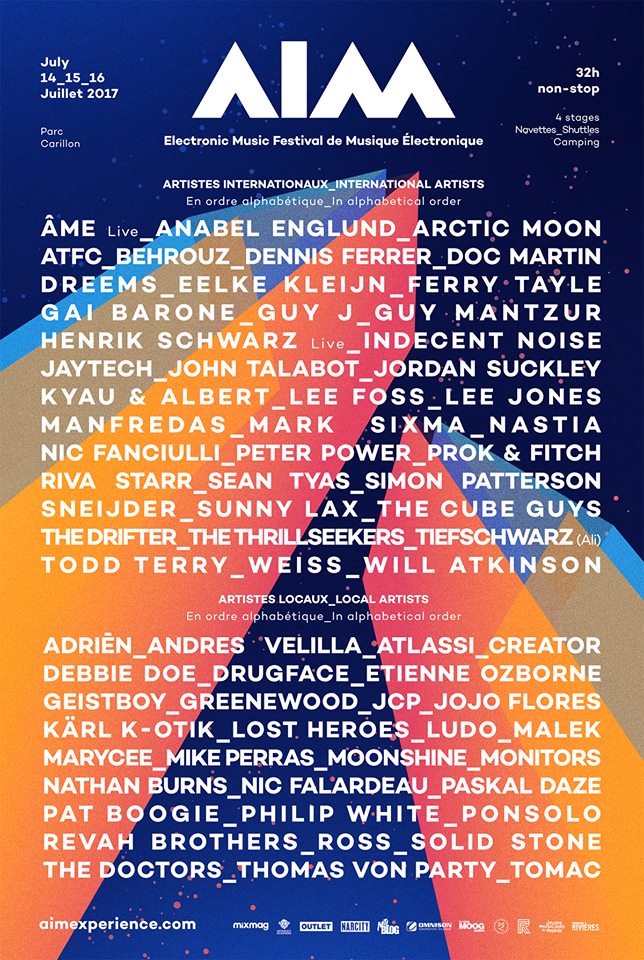 ---
Follow Montreal AIM Electronic Music Festival on Social Media