Adventure Club Talks Miami Music Week, Live Performances, & More!
---
Ever since their meteoric rise after some quality remixes and originals many years ago, Adventure Club has been one of the top duos in the electronic music scene. Loved by many in the scene, their music can be heard not just at raves and festivals, but on television shows and trailers for events as well. Their signature sound not only provides listeners with great beats but also brings out some serious vibes that draw the crowd closer to each other on a different level. I have seen this over the years at many of their sets, whether at EDC Las Vegas, an event here in San Diego, or most recently during Miami Music Week and Ultra Music Festival last month. Having just released their debut album Red // Blue for fans around the world, we wanted to chat with Christian and Leighton to see what was in store in the future, their thoughts about the events in Miami, and more. Check out the interview and listen to their set from Ultra Music Festival below!
Stream Adventure Club at Ultra Music Festival 2017 on SoundCloud:
---
I'm sitting here with Leighton and Christian from Adventure Club, before the take the stage for their party here during Miami Music Week.
Christian: I appreciate you not calling us Adventure Time…
I mean…Adventure Time is a great show…
Leighton: I actually prefer to be called Adventure Time…
Both: [Laughter]
So Miami Music Week and Ultra are definitely one of the craziest times of the year for electronic music. What's your favorite part about being in Miami during this week?
Leighton: I consider it kind of kind of like DJ Summer Week, or Summer Camp.
Christian: It's like Summer Camp for DJs…
Leighton: All your friends are here, no matter where you are on the street. You get to trade tunes, you can go back to back to back with all the DJs at different sets.
Christian: Every single Ultra we've ever played, every time we've been down in Miami for Music Week, we have bumped into Kaskade at Shake Shack. Every. Single. Time. Every year we see him we're like "Yo' we'll see you next year at Shake Shack." We're just there getting burgers, you're just always bumping into your homies, it's a blast.
It seems like everyone is down here right now.
Leighton: I love all the new music that gets showcased too. Everyone is sending out new tunes like two weeks before.
Christian: It's like a tastemaker…a trendsetter week.
Have you checked out any of the other artists this week, any shows that stuck out?
Leighton: Yeah, we checked out Boombox Cartel. Most of our favorite artists are at our showcase right now.
Your set at Ultra brought out some serious vibes and was absolutely packed. The crowd was insane. What did you think of the stage design, and what was your experience like at the festival this year?
Christian: We've played that stage before, right?
Leighton: We played the stage before and were used to the design. It's really cool when it comes to the sound dynamics for the stage.
Christian: We get a nice look at those visuals too. We kind of get it on that dome, we all get a little of that production which is fun. We had a lot of really nice moments last night, I was holding back a couple of tears here and there.
There were some serious vibes going on in the crowd.
Christian: We just felt really connected with the crowd so that was like…I had a lot of really memorable moments last night, stuff you carry with you for a while.
"Without You" is your recent track with Hunter Siegel who is also from Canada. Do you feel it's important for Canadians to stick together in the scene?
Leighton: I think it's important for all musicians to stick together. It is definitely something to be said about Canadians though.
Christian: There is some like, Canadian Bromance, that just happens.
It always seems like you guys play each other's shows and collab on tracks.
Christian: We're all so nice, you know? We don't beef. Like all Canadian artists for the most part just…
Leighton: A lot of our favorite artists are SNAILS, Loudpvck, Zeds Dead, Excision, Datsik, a lot of bass artists are from Canada.
Christian: It's crazy how much comes out of Canada.
Leighton: We got Drake and Bieber [laughs]
Christian: Drake and Biebs! [laughs]
You just released "Need Your Heart 2.0" too. What lead you to release fresh editions of older tracks?
Leighton: I think it just to show how we grow as musicians, you know?
Christian: Yeah, and like sometimes you feel like maybe you haven't explored the song enough. With the time you have away from it, you just feel like you want to put a new take on it. There's a lot of projects that once you're done and hand them in, that you feel like you still haven't fully explored it. Like we did that with Crash too, we did Crash Christian.0 and Leighton.0, it's fun to be able to take a couple of different branches within the same area. Usually, by the time a project is done, you've got 40 different versions of a song. And sometimes the one that you release finally isn't the only one that you really love, you know? We've got a couple different versions of some of the songs that were on the album that we're probably going to think about rehashing because we love the ideas that didn't make it to the cut that time.
So Red // Blue comes after many years of releases…
Leighton: We had been hinting at it for a while…
Christian: Many years of our hinted album. [laughs] It's coming out Summer Leighton0Christian4, let me tell you!
Did you prefer the album release over releasing EPs and tracks?
Leighton: In our history, we've only released one EP, and then we like to release a song as soon as it's done. We don't like sitting on music. So sitting on the body of work that was Red // Blue, that was very difficult for us.
Christian: It was very difficult, but it's just like holding off the redemption of putting music out. You're holding it off like you're saving it all up. So it's like going on a diet and then having a cheat day. Like having a full day of eating cake.
Leighton: It's just really rewarding, but it's hard.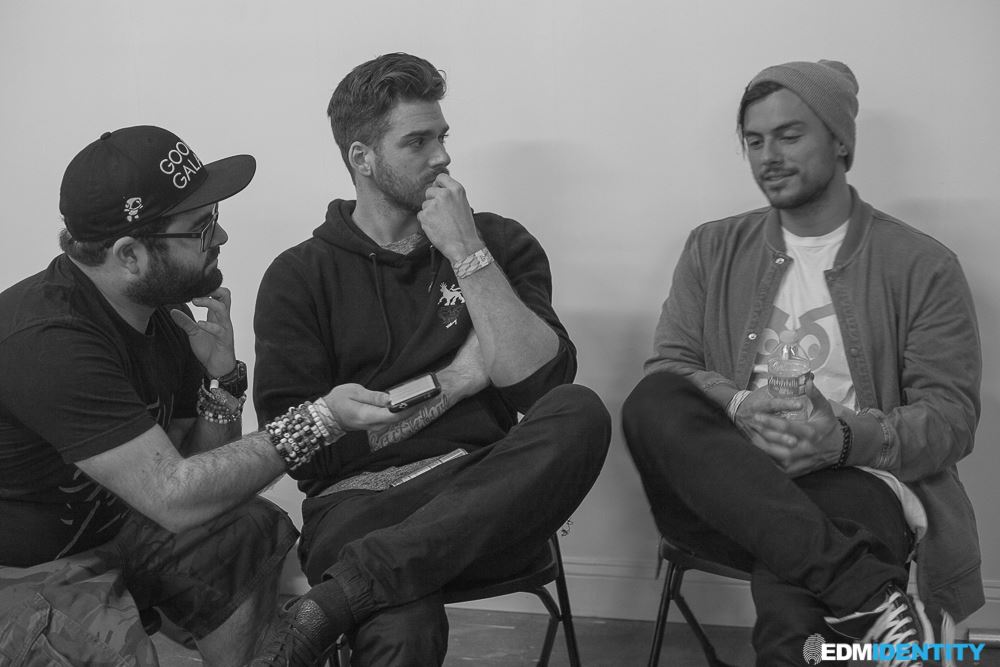 With the increase of live sets and instruments being used in the electronic music scene, will we ever see an Adventure Club Live Set happen?
Christian: I almost feel like it's bound to happen. I mean, me and Leighton talk about it a lot. We've been practicing a lot. We basically have the rig set up, we're just like trying to figure out when we want to implement it and who we want to bring on for that first launch kick-off show. I mean, Leighton, he's got a degree in piano. I grew up on blue's guitar, we're musicians from the get-go.
Leighton: We write all our songs like that.
Christian: We write the songs so like before the song even comes to life we have an acoustic or an instrumented version of it. So it just feels like a natural step for us.
I can't wait to see that! How has your history with rock music influenced your current work?
Both: [Laughter]
Leighton: Our first remixes were from our favorite rock bands, like Thrice and Brand New, and at that time no one was even coming remotely close to remixing that type of music. I think we just wanted to re-envision, reimagine their songs. I think without rock music we wouldn't be here.
Fuck Cancer is the charity you support through Electric Family. Do you plan on expanding your impact in the non-profit sector?
Leighton: Absolutely.
Christian: It's definitely just an extremely rewarding area to explore. Every time we do it we come away feeling so much better from it.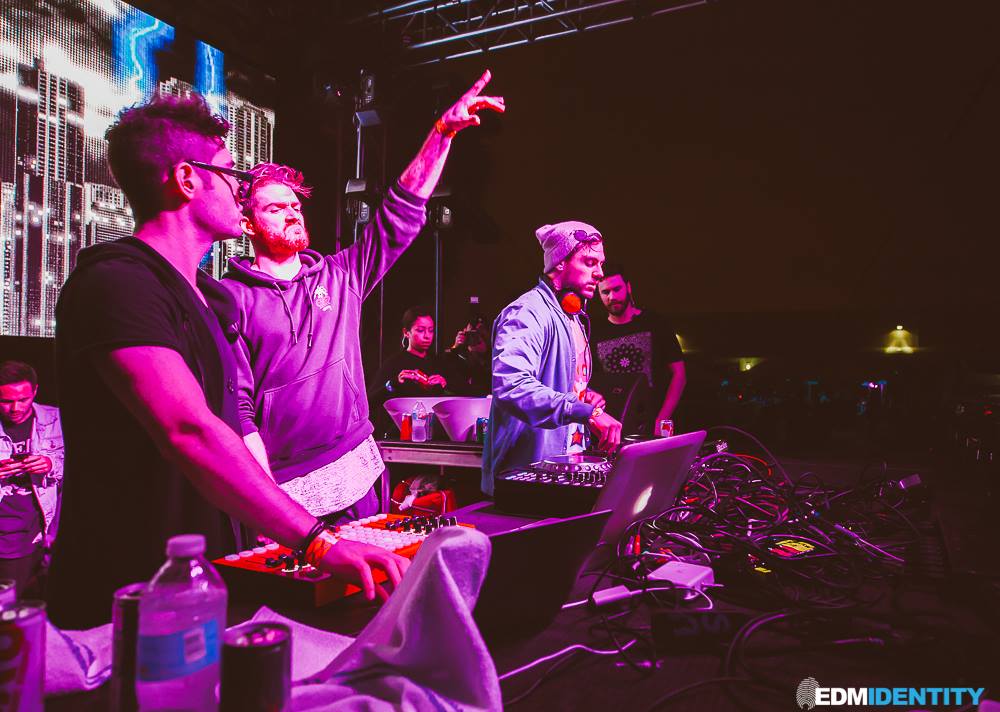 Having a busy schedule full of shows, producing music, and managing other projects, how do you guys stay happy and healthy when you're always on the go?
Christian: We've been sober for almost a year and a half now. That kind of changed the game for us. Now the minute we get home instead of recovering for a couple of days we're on the grind in the studio on day one. I think that really changed the game. Within four months, I think, of going sober, we had the album completely handed in. We've been working on music ever since we've handed it in too, so like we're sitting on a lot of stuff already. It's really cool.
Leighton: On the road, we keep each other in check. We try to keep it as clean as possible.
Christian: We'll sneak into the gym every time we can, we're definitely good influences on each other. Leighton is always putting the focus on health, so it's really easy to be healthy. We like snowball together, ya know?
Finally, is there anything special in store for Adventure Club fans in the near future? Any announcements or surprises?
Leighton: Tons of new music coming, no longer waiting for the one giant big body of work. As soon as we're done with songs they're going to come out. We got a couple of tours in the works and live shows in the works too!
Sweet! Well thanks for chatting with us!
Both: Thanks, man!
---
Connect with Adventure Club on Social Media:
Website | Facebook | Twitter | Instagram | SoundCloud | YouTube