This year, the EDM Identity Team hit Miami Music Week hard and attended quite a few epic events throughout!
---
If you haven't been yet, Miami Music Week is a must-attend for any electronic music lover out there. An unreal vibe comes down over Miami during MMW, and with so many fans and industry people all located in one area, it truly is electronic music heaven.
The massive amount of club shows, pool parties, and intimate experiences really makes it nearly impossible to navigate and decide on where you want to be and what you want to do. Nevertheless, we sat down and created a compelling list of events that we knew we had to check out ahead of time, and were proud to provide coverage for.
Related: Check out our review of Ultra Music Festival HERE!
Wednesday was our true start to Miami Music Week and we hit the ground running.
After getting settled in our hotel and making sure our phones and cameras were charged, we headed out to our first event. Early Wednesday was all about our friends at NUMGMT and their Grilled Cheese Party. I was stoked to finally meet some of the team, and their rising talent that is sure to take the scene by storm this year.
For those of you who don't know, some of the Nu Management artists who were in attendance included BONNIE X CLYDE, Nitti Gritti, and more. I absolutely loved the laid back vibe of this event, and the grilled cheese was just the icing on top of a great time. Artists, fans, and curious grilled cheese lovers all partied hard and made this event an unforgettable one.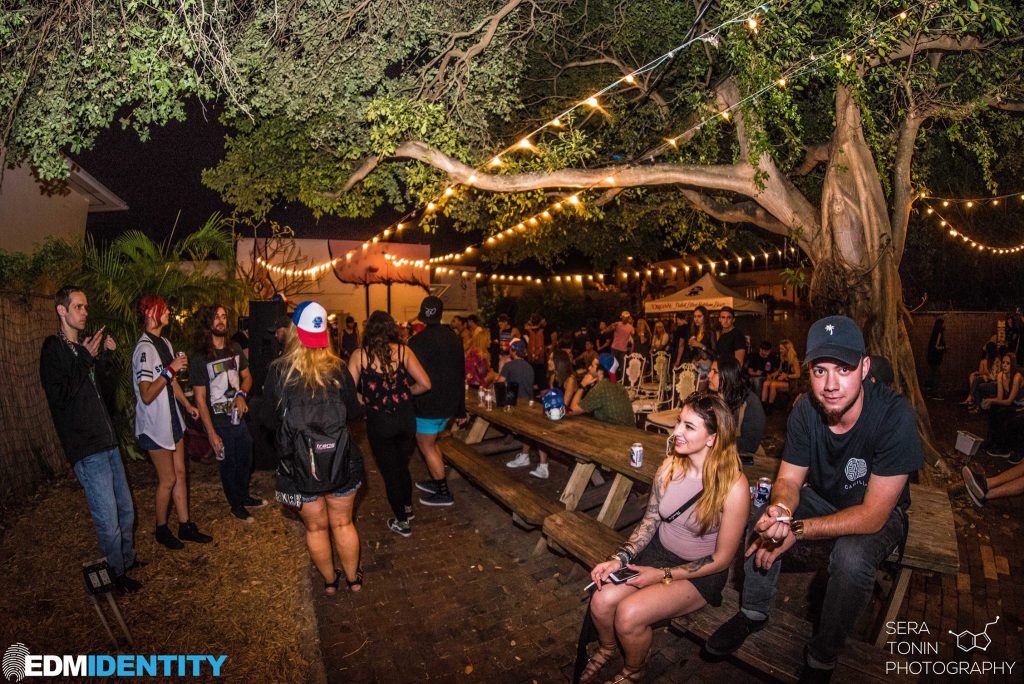 As the evening progressed, we had a date with SiriusXM and the House of Chill at 1 Hotel South Beach that we didn't want to be late for.
Michelle and I figured it would be a great way to mellow out before hitting up Marshmello & Friends later that evening at Soho Studios, and boy were we right. After taking the elevator to the top floor, we were immediately hit by those chill sound waves we know and love, coming directly from Nora En Pure. She was swaying the crowd that was bustling with conversations ranging from serious to fun. Autograf took the decks following Nora and continued on this chill vibe.
It was great to watch everyone interact throughout, and everyone was clearly having a blast too. The man of the hour, Lost Frequencies, was next up on the decks. I'm a huge fan of Felix and his work, and hearing him play in that environment was perfect for his sound. I felt that it allowed him to play his more relaxed tracks without having to worry about who was playing after him.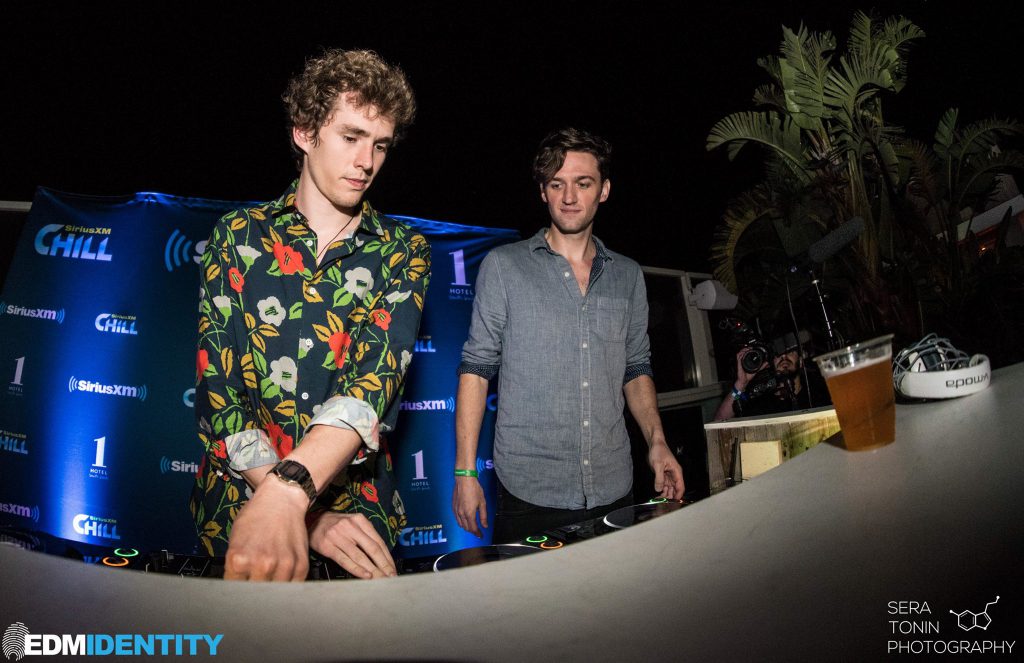 Then, we hopped into an Uber for the Marshmello & Friends party and headed out to Soho Studios.
It wasn't terribly close to where we were in South Beach at the time, but the ride was fairly quick regardless. Upon arriving at Marshmello & Friends I could already tell that it was going to be pretty hype inside, and it definitely had a solid rave feel to the venue too. We entered and immediately were hit with the epic bass coming from the speakers. The room was spacious and was getting more packed by the minute. Finding some friends, we headed over to the right side of the stage and scouted out the venue a bit more while listening to some great beats.
I was getting hungry, and luckily there were quite a few food vendors outside that provided some quality grub. After dancing for a while, I felt that the building amount of heat inside the venue was a bit much for me. I chose to head outside again and spent some time getting to know some other ravers who were in attendance. Overall, it was a successful show and quite a bit of fun, but we were exhausted and left before the end of the performance.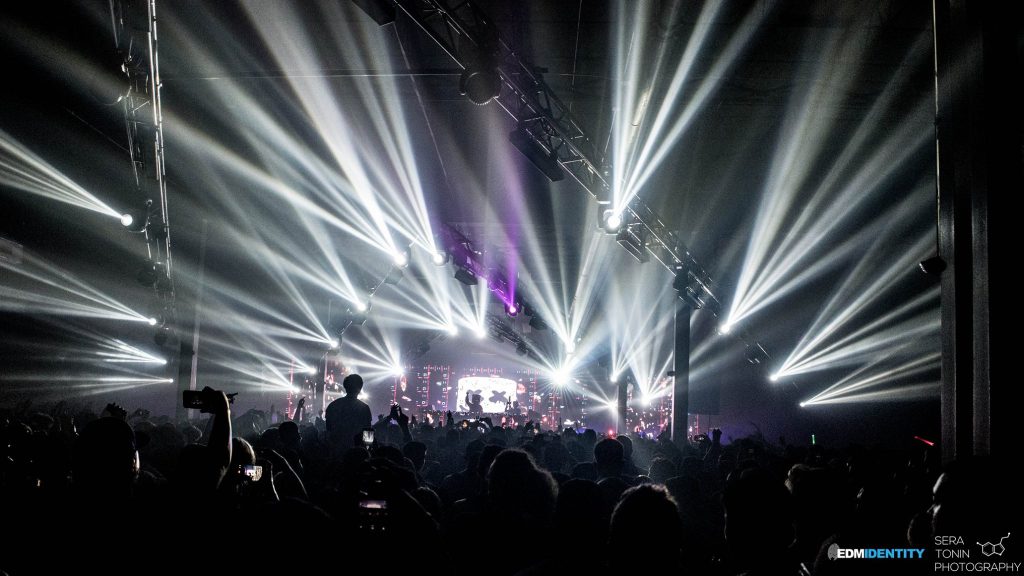 Waking up Thursday wasn't as bad as it could have been, and Michelle and I headed out on our next adventure, this time to catch the Heldeep Pool Party at the Delano Hotel in South Beach.
Arriving a bit after the party had started we absolutely fell in love with the vibe at the venue. Sure, everything was obscenely priced, but the music was good and that's really all that matters sometimes. I did succumb to my hunger and purchased a $30 burger, with a drink that ran me $24, so perhaps next year I'll have a few drinks before heading in or something. I know South Beach is expensive, but damn that was a pretty hefty cost for what ended up being a mediocre drink.
Every artist who played at this party absolutely killed it, but during Chris Lake's set something really crazy happened. While we were on the raised dance platform, a portion of it began to sink a few inches. This prompted the staff to shut down a good portion of it and fix it immediately. After around twenty minutes of moving and rebuilding, the dance floor was back in shape and everyone was back to getting down. The music never stopped either, but it was one of those things you just don't see happen all the time at events.
That night, Michelle and I split up to head to different parties coverage-wise. My sights were set on the Above & Beyond and Eric Prydz show in Wynwood, while Michelle headed out to the Deadbeats Party at Soho Studios.
For me, the experience at the Above & Beyond was really mixed, as the music and vibe was fantastic, but it was entirely mismanaged. Luckily I didn't have to waste time in the line, which was held up for absolutely no reason for quite some time for GA and VIP guests. I still barely made it into the venue in time to catch Eric Prydz, but that was where the insanity and lack of organization really showed itself off.
I have never, ever, had such a negative VIP experience as I did at this event. The entrance to VIP was near the front left of the entire crowd, which proved almost impossible to even reach and made zero logistical sense whatsoever. This was followed by staff who had no clue as to who could access where, and even staff lying to VIP guests about the location of bathrooms.
Speaking of bathrooms, when I did inevitably have to use the restroom, I ran into a serious problem. Apparently, for some reason, the VIP viewing deck had been "closed" because it was "over capacity" although there were few people on the deck, and many of them were leaving to get drinks. This effectively shut down the entire bathroom access for VIP and was a massive mess. The security guard was hostile to attendees, pushing those trying to access the deck off of the stairs and causing some seriously negative vibes.
Eventually, it was reopened, but no one could answer a question as to why the hell it had been closed in the first place. Honestly, that experience left such a bad mark on the night that it will make me second guess purchase VIP at an event like this again.
Negativity aside, I loved the venue's layout, the food options inside were fantastic, and the bartenders were all really kind and poured heavy too.
The merchandise could have been expanded a bit, but after speaking with the guy who was running it there seemed to be an issue with the delivery, oh well. Eric Prydz played a set that took me a little while to get into, it was a bit of a slower start than I normally would have liked to hear but I enjoyed it thoroughly. Followed by Above & Beyond who absolutely destroyed not just me but everyone else in the crowd with some amazing vibes, I couldn't tell who was better.
A&B's set included some quality messages on the screen about togetherness and being one as people, which was fitting and a solid message in the current state of the world. There was nothing for me to dislike about the set, and they even dropped some fresh tunes I hadn't seen live yet. Oh, did I mention it was raining and all that did was add to the magic of the entire evening musically? Well, it did. After the show, we ended up grabbing some pretty damn good tacos before heading back to the hotel to catch some sleep.
Michelle, on the other hand, also had a fantastic night at the Deadbeats party:
Miami Music Week was one hell of a week! While there I got to check out some of my very artists all come together for one epic show with some warehouse vibes. Deadbeats Goes Off The Deep End featured Zeds Dead, Jauz, Ghastly B2B Mija B2B Nghtmre, and Troyboi, B2B Herobust, B2B Grandtheft.
This show was the Thursday of MMW, which to be honest I was already worn and torn, but there was such high energy during all the sets that I just kept going and as did everyone else. There was headbanging none stop and the chemistry of everyone performing side by side on stage was something I'll definitely remember.
Ghastly, Mija, and Nghtmre kicked off the night, from standing on the decks to headbanging with the crowd, they really set the tone. Following them was Zeds Dead, then Jauz, who brought out the game changer and gave the crowd a little B2B session. Last but not least, Herobust, Troyboi, and Grandtheft took the stage, and man, did they keep the crowd going.
I want to say at around 3 am or so, my body just started to feel insanely tired, that point in the night (or early morning) at a show where your mind is literally telling you yes but your body is telling you a hard no, but their set really kept me going. They gave me my second wind. Originally the show was supposed to be over at 4 am, but extended to around 5 am, with the crowd still as hyped as they were from the very beginning.
After the show, I met up with a friend and talked to a couple of artists, which was a perfect way to end the night itself. Overall, connecting all of these artists for one show, was such a great thing to do, and as an attendee, I really loved the dynamic of it all.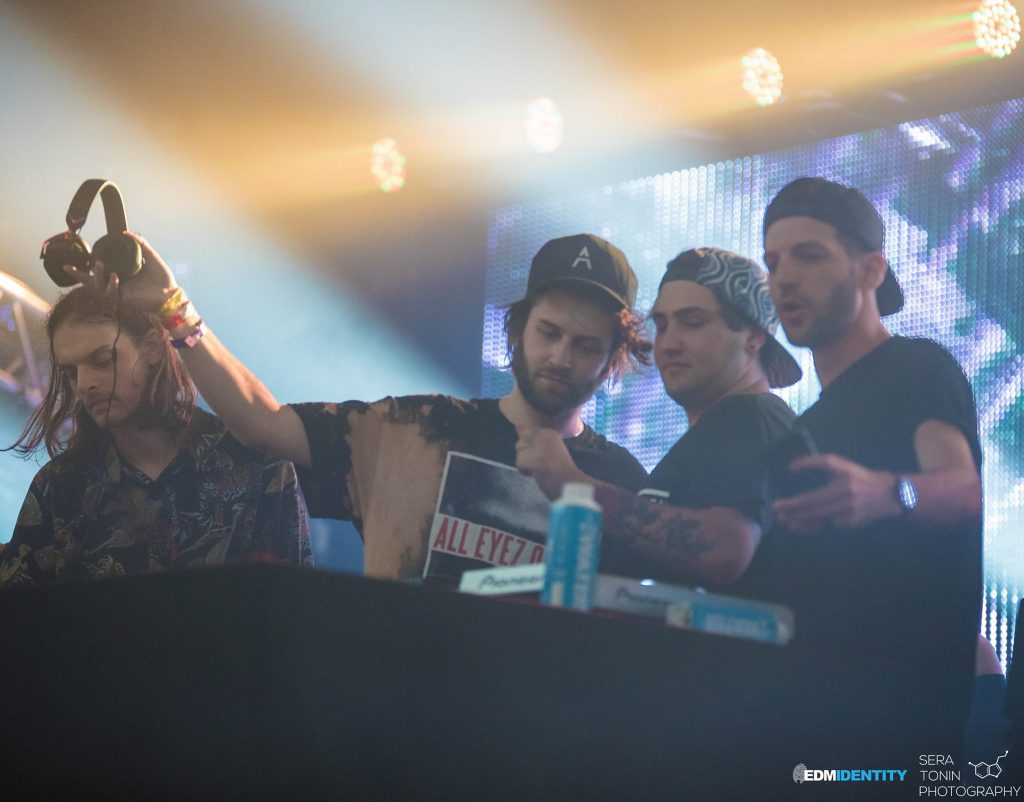 Friday was dominated by Ultra Music Festival, but I headed back to the Wynwood District.
This time it was for the Dim Mak Party and I was stoked to catch quite a few names on the lineup. Arriving a bit later than the night before, I breezed through the front and could already tell the vibe that night would be much more relaxed than the previous evening. Hanging out with some friends who were running the merch booth for Dim Mak, I also chowed down on a gyros plate that was absolutely fantastic.
Borgore was playing and the crowd was absolutely going wild. There are few artists that really command the attention of the crowd as he did, and the girls on shoulders were going crazy too. Steve Aoki, and literally over a dozen cakes, followed that set which was high energy and quite a bit of fun too. I haven't seen Steve play in years, so it's always good to check him out now and then to get a feel for what he's up to.
Deorro, a favorite of mine, followed Steve and played a fantastic set too which really focused on his more party-centric Melbourne bounce, electro tunes. All in all, it was a fantastic evening out, and I'm glad I mustered up the energy to attend.
After Ultra ended on Saturday we rushed off to the Wynwood District once again, this time for the Adventure Club & Friends Party that was set to feature quite a few notable names and special guests.
After chatting with Christian and Leighton backstage in an interview you'll see soon, I headed out to party it up. It was a new venue for me to explore, a bit smaller than the rest I had been to, but the vibes inside were unreal. Everyone looked to be having a fantastic time, and Adventure Club, who was already playing a b2b set with 3LAU, brought out Audien and BONNIE X CLYDE during the set too. 3LAU actually dropped some new music during the set, and of course the crowd went absolutely wild throughout the entire set. I also found some of the best food there while at the show, if it hasn't been a common enough theme throughout I definitely ate my way through Miami Music Week.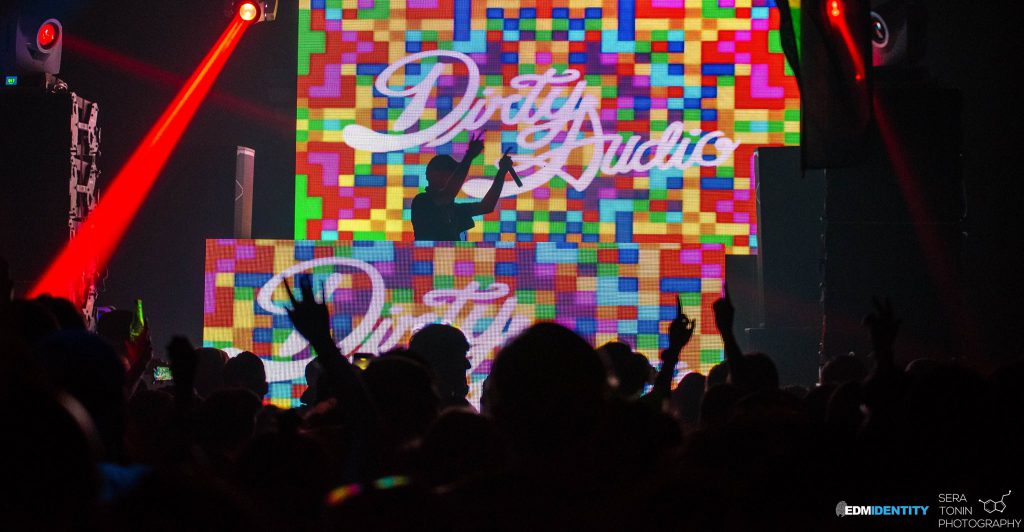 Finally, the last Miami Music Week show we attended came after Sunday's festivities at Ultra.
We headed to the fairly close-by venue, The Hangar, for the Monstercat: Uncaged party that featured the likes of Unlike Pluto, Dirty Audio, and Darren Styles b2b Gammer. Arriving early, we got some prime standing room next to the bar, and let me tell you it became a hot commodity quickly. The show was sold out and The Hangar is not a very large venue.
This caused some minor difficulties navigating to the bathrooms, and there was absolutely no way to get anywhere into the crowd after Dirtyphonics had gotten on the decks. The music was sublime though, and we were able to see quite nicely from the back of the venue by the bar so there were no issues there. Tired from the week's festivities, we headed to our hotel for some much-needed sleep before our flights home the next day. Until next time, Miami Music Week!