Purchase & Listen to Red // Blue on iTunes, Apple Music, Spotify, Amazon Music, & Google Play.
Every so often, you have an artist, or a band, or a group that seems to define a genre. To me, Adventure Club is one of those. Debuting their first studio album, Adventure Club's "Red // Blue" is a masterful clashing of styles from the raging red of their bass-heavy bangers, and the blissful blue of their chillstep melodies. Adventure Club is a duo hailing from Montreal, Canada. Comprised of members Christian Srigley and Leighton James they've been actively making music under the Adventure Club moniker since 2010. I was originally made a fan for life after listening to classic Adventure Club tracks like "Need Your Heart", "Retro City", and their remix of Metric's "Collect Call". Read on for a comprehensive review of why Red // Blue is my Album of the Year.
Preview Red // Blue on SoundCloud:
---
Adventure Club – Red // Blue, Track by Track:
01 – "Without You" (with Hunter Siegel)
The first of three collaborations on the album the boys in Adventure Club partnered with a fellow Canadian DJ and producer Hunter Siegel to produce this masterpiece. This track starts off your listening experience not by easing you into the chilled waters, but by throwing you head first into the blazing fire.  Light synth wobbles echo throughout the intro of the track before a male vocal overtakes the soundstage. As the song builds the drums get faster and the vocals start to chop before a monstrous bass line reminiscent of the Adventure Club of old. A perfect way to intro the album and show Day 1 fans that the Adventure Club they know and love is still around.
02 – "Dreams" (feat. ELEA)
We originally heard this track back in July. Since then it's become one of the tracks that have been played on repeat too many times to count in our playlists. It's our first intro to the blue, chilled-out, portion of this album. Featuring another lovely female vocalist hailing from Norway in ELEA, this track eases us into the waters of the rest of the album. The song features an incredible bass undertone that leans towards a more future bass vibe than the chillstep roots Adventure Club is known for. The vocals from ELEA provide an ear-catching and a hair-raising melody where you can get lost in the music.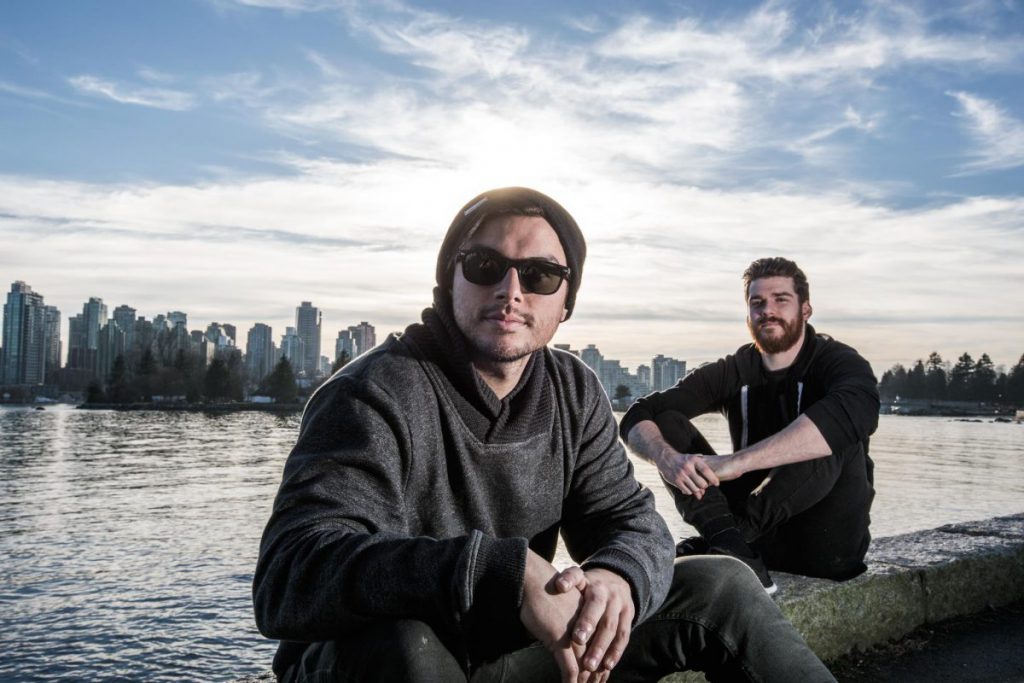 03 – "Firestorm" (feat. Sara Diamond)
Released in November, Firestorm was the first official single off of the Red // Blue album. If you've ever been to an Adventure Club live show you know the feelings and emotions you feel as they take you from the grimy head banging bass on one end, to the chill sing along melodies on the other. If the previous two songs showcased a distinct version of each side of the album (Red and Blue), Firestorm fits right in the middle and is an Adventure Club live show in song form. It's a perfect blend of a chill melodic topline, and an underlying, gritty, kick driven bassline. It features a fellow Montrealer, Sara Diamond on the vocal track as her voice is on display throughout the entirety of the track including over top of the raw sub bass wobbles of the drop. A perfect song for relaxing and pre-party playlists alike.
04 – "Forever" (feat. Ben Stevenson)
Forever is the fourth song on the album, and the third featuring a Canadian musician. Forever is the second foray into the blue side of the album. The kick drum lightens up, softer claps, quiet bells, and mellow guitar strums set the back drop. As Ben Stevenson's voice paves the way through a tranquil and serene build up. As the track reaches the peak, the aggressive undertones of added bass, lower pitches, and chopped up vocals are nowhere to be found as the vocal takes over the track with one or two added instruments.
05 – "Limitless" (feat. Delaney Jane)
If you've listened to electronic music for almost any time at all, then the singer featured on this track should be no surprise. Delaney Jane is another Canadian singer/songwriter that has been featured on numerous tracks from a variety of producers in the dance music scene. She always brings incredible presence and passion to every song she sings and Limitless is no different.  This song was originally released in January of this year and has been played and remixed countless times. Limitless starts off with Delaney's voice front and center on the track with soft piano and muffled kicks which fade out and then fade back in as the track builds. The kick gets faster as the emotion in Delaney's voice gets more prevalent before the vocal chops and bass blasts you into a classic Adventure Club drop. Recently they've ended their live shows by playing this song out, and although it's no Lullabies, it holds its own in ending their live sets.
06 – "Breathe" (feat. SONDAR)
SONDAR is an Electro-Pop / Indie music duo from Nashville, Tennessee. The song starts off slow with the voice of the lovely ladies, Cait & Katie, that reaches your ears and give you a frisson of excitement. Soon after, sounds of a piano and very light kick drums and hi-hats fill the background. The song only builds very lightly before taking it back down. There's no huge bass drop or sped up vocal chops here.  This song is a perfect one to put into a chill playlist to wind down at the end of a long day, or one to play as you lay your head down on a soft pillow to fall asleep to.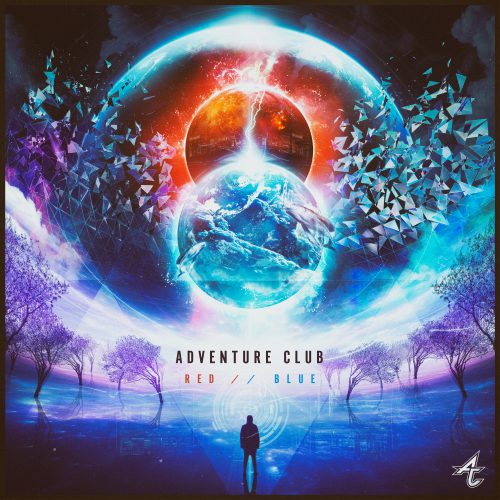 07 – "Ghosts"
One of only two songs that doesn't have a feature or collaboration listed. This track however was part of a collaboration with Chelsea Cutler, who has previously worked with people like Andrew Luce, graves, and Chet Porter. The song starts slow with a multitude of unconventional samples creating the melody for the track. Following up after Breathe, it's another track that lacks a traditional build up and drop that many have come to expect from Adventure Club. Not a bad thing in the slightest. Ghosts provides a much-needed break after the banger that is Limitless and gets you prepared for the next few tracks on the album that take it into the darker red side of Red // Blue.
08 – "Reaction" (feat. Leah Culver)
After taking a break with the chill and relaxing vibes of Ghosts and Breathe, Adventure Club jumps right back into the fray with a song that harkens back to their roots with chopped up female vocals and heavy dubstep drops. Reaction features Leah Culver on vocals, a singer, songwriter, producer, and DJ hailing from Los Angeles, California. Reaction starts with little more than Leah's vocals as the track progresses, a muffled kick drums comes in. The track continues to build as the bass line gets faster and the synth gets more prevalent. The vocals start chopping as the synth and kick abruptly stop and the common line of the song "I think I'm having a reaction." echoes throughout as the drop hits. The drop is a classic throwback to the early days of Adventure Club with a "Retro City"-esque sped up vocal chop and synth wobbles throughout.
09 – "Crash 2.0" (with DallasK)
We first heard "Crash" over three years ago as part of the Calling All Heroes EP. Two years later, as one of the most popular songs on the EP, Crash received a remake, dubbed "Crash 2.0" it featured a collaboration with DallasK. It was released May 4th of 2015, and was named the official EDC Las Vegas Anthem in 2015. Although I prefer the original more than the remake, Crash 2.0 holds true to the traditional Adventure Club style. The vocal seems a little more clean, and the overall melody and beat has a more refined and polish feel to it than the gritty, industrial feel of the original. It features a prevalent female vocal, and upbeat chillstep drop to give it a more festival oriented vibe.
10 – "Save Me" (with Terravita) (feat. Adara)
Let's just get this out-of-the-way and call it for what it is… Song of the Year. This is easily my (and many others) favorite song off the entire album. In a collaboration with Terravita, and featuring Adara, on vocals this track does not disappoint. If there was one song that showed us that the Adventure Club we fell in love with years ago is still alive and kicking this is it. It features a chill intro, a strong female vocal lead, soft claps and snare stutters, before building up with a strong kick and dropping it all over top of a loud vocal, heavy synths, and 8-bit influenced samples. If you can only put one song from the album into a playlist for the rest of your life, let this be it.
11 – "Fade" (feat. Zak Waters)
Originally released in 2012, Fade was Adventure Club's second collaboration with American singer/songwriter, Zak Waters (the first of which was "Unleash" an anthem song for Life In Color). The song starts with vocal chops and a strong presence of bass with acute hi-hat and clap usage. The vocals sound like you're in a tunnel as the song quickly builds and soon drops into the distinct Adventure Club drop that was prevalent in many of their 2012 – 2013 releases.
12 – "Goodnight"
The outro track "Goodnight" is the only song on the album that is entirely Adventure Club. "But there's a vocal track" you say. We know. Adventure Club's own Christian Srigley is the one providing the top line for this lullaby track. With lyrics that sound like they were written with a very specific experience in mind. The track is quiet, gentle, and comforting as it fades our and provides a perfect closing to an almost perfect musical experience.
---
Final Thoughts
Adventure Club's goal with this album was to display the dichotomy that is often found during their live shows of the "back-and-forth between the fiery, energetic material, Red, and the soothing and calming, Blue. Rather than choosing one or the other, you feel that pull in both directions."" With Red // Blue they captured the essence of a live show in a form that is always available for consumption by their fans. This album has been out for just 20 days as of writing this, but according to my music player, I've listened to it in its entirety almost 44 times. I may be biased as one of the biggest fans of Adventure Club at EDM Identity, but I don't feel like I'm stepping too far out on a ledge when I say the following. 2016 has been a great year for music with other album releases like Eric Prydz's Opus, Gareth Emery's 100 Reasons to Live, and even Flume's Skin. But Red // Blue not only achieved their goal, they went above and beyond and gave the fans the music they've been craving from Adventure Club for so long, that's why I'm calling it Album of the Year for me.
In support of the album, look for Adventure Club to return to the road on their national 'Made In Canada' tour with special guest Vanic.  The cross-Canadian trek launches January 8 in Waterloo and will take the pair through over 15 different markets.  Prior to that they will appear in the U.S. for a handful of dates in San Diego and Seattle around New Years Eve.  See below for their full tour schedule.
---
Adventure Club Upcoming Tour Dates
| | | |
| --- | --- | --- |
| 12/29/2016 | OMFG! NYE | San Diego, CA, USA |
| 12/30/2016 | Decadence Colorado | Denver, CO, USA |
| 12/31/2016 | RESOLUTION | Seattle, WA, USA |
| 1/11/2017 | Stages | Kingston, ON, Canada |
| 1/12/2017 | Dragonfly | Niagara Falls, ON, Canada |
| 1/13/2017 | Barrymore's Music Hall | Ottawa, ON, Canada |
| 1/14/2017 | Barrymore's Music Hall | Ottawa, ON, Canada |
| 1/20/2017 | Maurice | Quebec, Canada |
| 1/21/2017 | Lansing Center | Lansing, MI, USA |
| 1/25/2017 | Nectar Nightclub | Winnipeg, Canada |
| 1/26/2017 | Rockhouse Thunder Bay | Thunder Bay, ON, Canada |
| 1/27/2017 | The Pump | Regina, SK, Canada |
| 1/28/2017 | Saskatoon Event Center | Saskatoon, SK, Canada |
| 2/1/2017 | Dancing Sasquatch | Banff, AB, Canada |
| 2/3/2017 | Marquee Beer Market & Stage | Calgary, AB, Canada |
| 2/4/2017 | Union Hall | Edmonton, AB, Canada |
| 2/10/2017 | Sapphire Nightclub | Kelowna, BC, Canada |
| 2/11/2017 | Generator Cabaret | Prince George, BC, Canada |
| 2/12/2017 | DISTRIKT | Victoria, BC, Canada |
| 3/11/2017 | House of Blues | Anaheim, CA, USA |
---
Connect with Adventure Club on Social Media:
Website | Facebook | Twitter | Instagram | SoundCloud