We've all done crazy things for a festival, what about a 30-hour drive across the country for New Year's Eve?
Packing a Chevy Trax with 5 people's luggage is not an easy task, but the morning of December 28th we made it work. None of us could really think about the 30-hour drive from Livonia, MI to Chandler, AZ for Decadence Arizona. It was a time frame too large to surmise. The only plus side of having 5 people was that no one would have to drive more than 6 hours and you wouldn't have to be awake for more than 12 hours consecutively. We had a plethora of snacks, coloring books, and of course our own intellectual conversations to keep us busy too.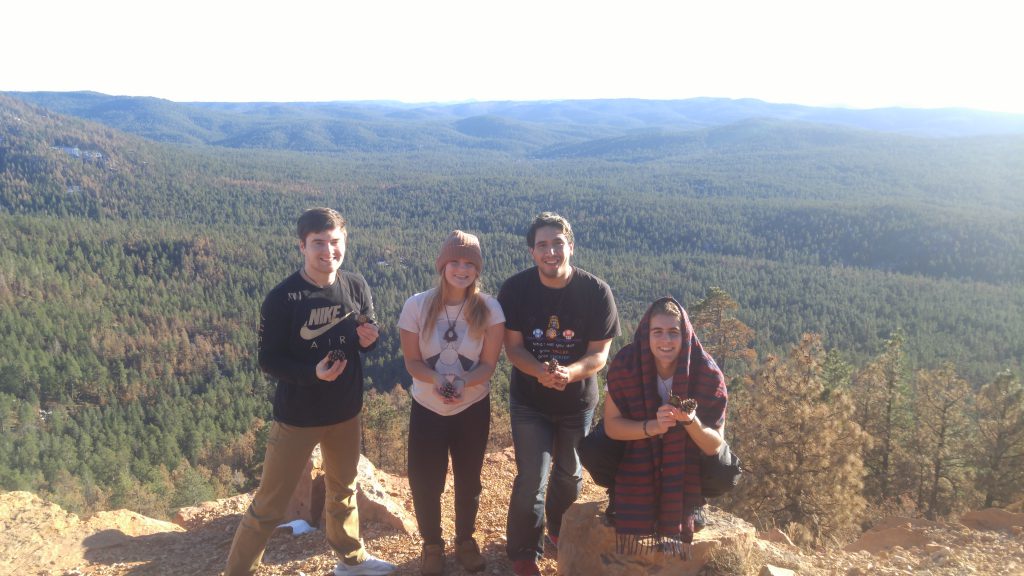 True closeness is gauged by how you handle uninterrupted time with each other.
The first eight hours flew by and before we knew it we were passing St. Louis. The arch stood silhouetted against a setting sun and since most of my fellow ravers hadn't seen it we decided to make the stop. A detour well worth it. Standing next to the monolithic sculpture that represents the U.S. westward expansion, we were in awe. Appropriate considering the journey we were on. Nights pass quickly when you have such a long journey to take. Luckily there isn't much difference passing the Midwest Plains when it's dark versus when it's light out. We wouldn't stop again until the Tonto National Forest in Arizona. Another worthwhile stop, where we admired the sun setting with a backdrop of the Colorado Plateau that was simply breathtaking. Soaking up as much fresh air as possible as we rounded the last 6 hours before arriving at our hotel in Chandler. The check-in went smoothly and we were only 3 miles from the venue. We were all a little relieved to be free of the car and not so much in each other's personal spaces. As we settled in for the night the prospects of "rave day" starting tomorrow, although exciting, didn't stop us from passing out.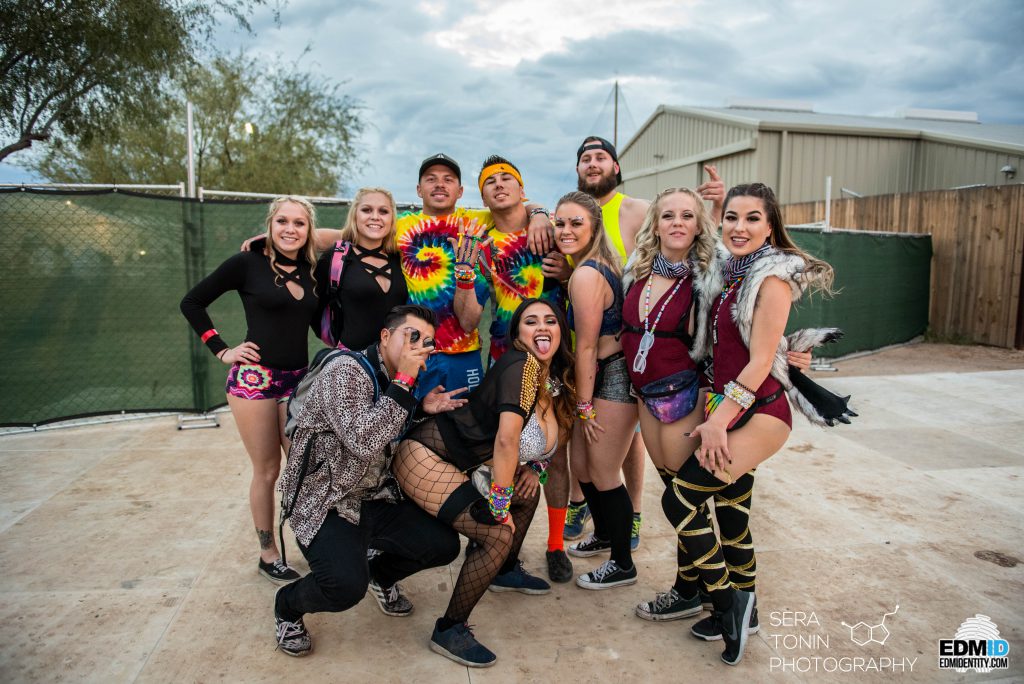 The first day was finally upon us and we could barely contain our excitement
The Arizona sky is a magnificent blue when the sun pierces the night. We all awoke ready to get a move on with our day. There were errands that needed to be run before the event and we all knew we wanted every minute to count. We called our Uber at 4:45pm, wanting to be there shortly after gates opened. Every time we've come to Decadence security has gone quickly and this was no exception. There was a small incident with a security getting too personal with some ravers but it did not take long before a supervisor did the right thing and told her she needed to stop being so aggressive on the frisk.
By now I've been to the Rawhide Western Town & Event Center enough to think that I've seen every configuration, I was wrong. The warehouse was open like it was for BOO! Arizona and hosted the second stage, but the green open space was filled with an outdoor tent. Much longer than it was wide, the tent would be the location of the main stage. A quick look up and you saw large spiraled chandeliers that were black and white with golden sconces, a huge row of balloons captured in the center. On either side were the VIP viewing decks. The second stage just had balloons looming above the crowd with large Decadence Arizona branded banners on either side of the stage. Both stages had bars located near the back.
Carnival rides for New Years was a great addition
On the left side of the main stage we walked down the gravel path that would normally lead into the Western Town but was closed at the end for the event. We saw the third and final stage which was more of just an elevated platform with lights and on a deck. This was a row of carnival rides on one side and water on the other. Many of our group would find themselves on the swings later that weekend. On the right side of the main stage tent were the vendors, merchandise, the VIP dinner area, as well as more bars. Similar to other events here every other line took credit card and due to the location and size you never had to wait long to buy anything. The variety of vendors was the same that we saw at both Global Dance Festival AZ and BOO! in the past.
After checking out the new layout, it was time to get down to some beats.
My group and I went from Bijou to Corporate Slackrs and then back to Sam Feldt at the main stage where we would stay most of the first night. I was given the chance to meet with Corporate Slackrs after their set so shortly after Sam Feldt had started I made my way over to the merchandise booth for that opportunity. I got to meet with AJ, one-half of the Corporate Slackrs team. He was very sociable, I congratulated him on his set and said they were underrated. He told me why Devin couldn't be there and explained that their name comes from him being the slacker and Devin being the corporate business man. That led into a chat about the perseverance they had and how different it was to be DJs/producers from Florida in the California world. It was about time to get back to the event, so I traded a piece of kandi with him and went back to find the group.
Reunited with old friends and always making new ones
Disclosure was playing by the time I found my group. Their set was inspiring and their visuals on point. It was a different vibe than when I saw them earlier this year, in a good way. After them it was time for Tritonal at which point I knew I needed to find Grant and Shahlaa since I had met them at Tritonal's set during Phoenix Lights, still less than a year ago. In my search, I came across a couple in the middle of the crowd. All of us just vibing to the music. The woman, Cheryl asked my name. She seemed to be staring right into my soul for a moment before reaching into her pocket and pulling a tiny bag out. She handed it to me and I held it up. I could see that it wasn't anything illegal, but it appeared to be a necklace with some sort of sphere. She told me it was a quartz crystal and that I needed to charge it with energy. She then put her hands on both side of my face and told me, "you are stronger than all the pain of your past." It was completely unexpected and I didn't know what to say as tears started streaming down my face. She hugged me and the man she was with took a Polaroid photo of us and handed it to me. We exchanged numbers and I was off to find a spot at the front at Porter Robinson's set.
It wasn't expected, but trust me Deadmau5's set was very well done…
Having seen Porter three times for his and Madeon's Shelter Live tour, I was excited to experience his set once more but this time with Josh and Jesse. This was the first festival we had all been reunited at since Dancefestopia earlier this year. Porter's set was electrifying and beautiful and of course over too quickly, but it was time for Deadmau5. His set was not what I was expecting but still perfectly executed. His Techmau5 was vibey and different from your typical "rage-fest" music. Honestly, the set would have probably been better suited at the warehouse stage given the type of music he played, but given the attraction of his name, it would not have fit all the fans who would have attended his set. Some friends said they were disappointed but I was content.
As we lay our heads to sleep, dreams of what was yet to come danced us into the night.
As the night closed our group split between Marshmello and Green Velvet, staying until the event ended at 3am. We left the venue from the first day thoroughly exhausted. The taxi line was extraordinarily long and the long stream of cars seemed unending. We decided it was best to try and catch something farther up the road so we started walking. As we reached the intersection prior to the interstate we called an Uber which swiftly took us back to our hotel.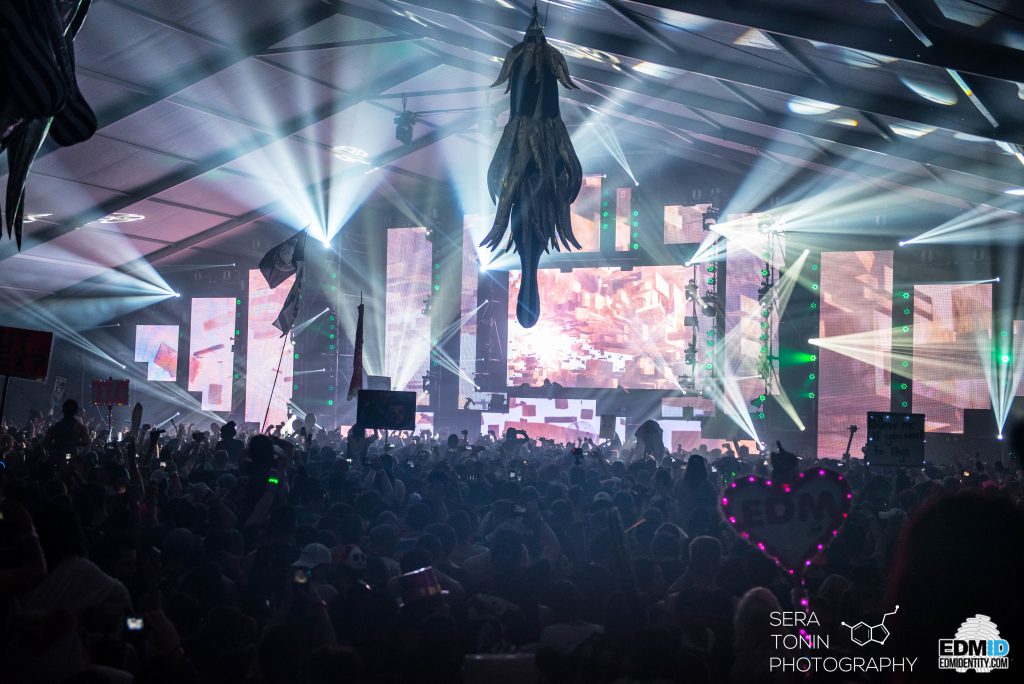 Day two, the end of a year!
We arrived at the venue to catch Kill Paris and then straight to Kennedy Jones. The crowds were already fairly big and ready to rage. We would split time between DJ Snake and Zomboy, both of which were well received. You could feel the energy building and we weren't even close to midnight yet. Slander took the stage and the excitement continued to build but we knew we had to leave a little early to get a good spot for the countdown with Jauz.
Midnight was looming and we just all wanted to be together.
We entered the main stage tent from a side entrance in the back. We crawled through the crowd along the VIP viewing deck. It was definitely a crowded scene and although our group was substantial we were trying to find the rest of group somewhere in the middle near the balloon drop. It was a stop and go pace and as we neared the center, we realized we should have just walked on the outside of the tent to the middle opening rather than swimming in the stream of people – I'm still not entirely sure why we didn't think of that. We saw the end of ZEDD's set which seemed to last forever. It was an incredible conglomerate of lasers and lights with every favorite song being played. As his set ended we decided we should put more effort into finding each other since it was almost midnight. No sooner had we turned around then suddenly the rest of our group was coming in the crowd. We were united at last as Jauz began.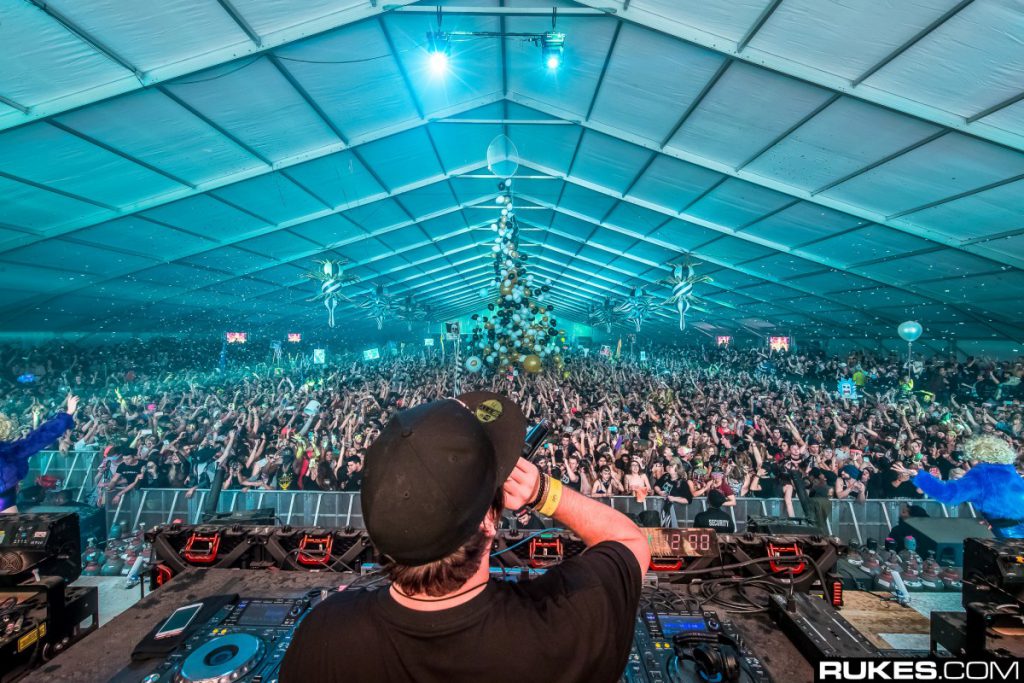 23 Festivals, 52 concerts and shows: my year in a sentence
Jauz turned up the rage factor and had everyone moving. He dropped his version of "Scary Monsters and Nice Spirits" close to midnight and as the last minute approached the frequency escalated quickly until it cut out altogether. Our group huddled together. In the middle of the crowd, we formed a circle arms around each other as Jauz led us in the countdown. 10… Flashes of all the memories we had made that year flew through my mind. 9… I looked around remembering where I had met each person. 8… A year ago I would not have guessed this is where I would be. 7… 6… 5… 4… Everyone was just smiling at each other. 3… We pulled in closer. 2… Every group was doing the same. 1… Surrounded by the people we love and care about. It was officially 2017!
There's no better way to start the year than with those you care most about
In the silence, you heard the cheers and the explosion of streamers and confetti from the stage. The sound of cheers filled the area, while fireworks played on the LED screens accompanied by the actual sound effects. Balloons slowly fell all around us. Arms still locked around each other, we kissed cheeks of the people to our left and right before breaking the circle to continue exchanging hugs and kisses with each person individually. It was genuine, intimate, honest, and most of all – adorable.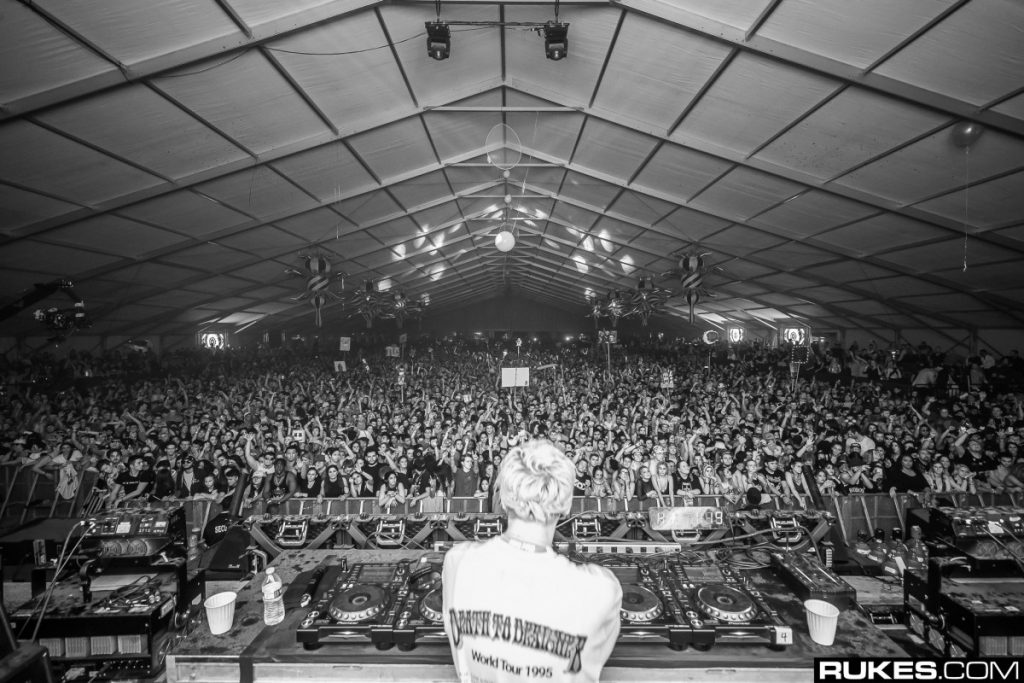 A few hours into 2017 and we were raging like it was still 2016.
The next set we stayed for was Arty. I had interviewed him a couple hours prior to his set and he told me that his sets had changed so I wasn't sure what to expect. However, it didn't really matter because it was definitely my favorite set of the night. He played every classic you could expect with a couple of nods to the Anjunabeats family. It was a full on party with Arty mode and absolutely beautiful at the same time. The rest of the night was split between The Chainsmokers and Shiba San. The crowd balance was completely thrown off. The main stage tent filled to the point of overflowing while at the second stage the crowd opened up and the shufflers and flow artists suddenly made an appearance. Three in the morning came too quickly and we were slowly being shuffled out of the warehouse. Luckily, we had After Glow tickets so we knew we could rage until 9am if the mood struck us. We went, we danced, but by 6am we were ready to go back to the hotel to pack our things.
Decadence Arizona was the right choice for so many reasons…
The perfect size, the perfect amount of people and a lineup that covered every genre of EDM that you could have wanted. Okay, maybe not every genre (sorry trance lovers), but close. There was the perfect amount of special effects and stage design with just the right amount of LED screens with every set's visuals completely on point. Last year, right before Christmas, I accepted a job offer to move to San Diego and a week later I made my first new friends at OMFG. That was the beginning of what would be a continual theme of making strangers into future friends. At Decadence amongst all the perfect things, the most perfect of all was being able to witness an actual review of my year, celebrating with the people I care about all the way from New York, to Michigan, to Phoenix, and back to San Diego again.
Update 1/13/17: Check out the rest of our photo album on Facebook.
---
Connect with Decadence Arizona on Social Media: