Porter Robinson has long been my favorite electronic artist. When I learned he and Madeon were collaborating on "Shelter" my interest was immediately sparked.
---
After the announcement of a tour surrounding the Shelter project, the Shelter Live Tour, I bought my ticket for the show here in San Diego. A ticket I wouldn't have been able to purchase had they not switched venues from the tiny North Park Observatory to the much larger Valley View Casino Center to accommodate the demand. I knew it would be a one of a kind show, but I didn't realize just how special an experience it would be. The first stop of the Shelter Live Tour was at the Tabernacle in Atlanta on September 29th. It didn't take long for word to travel via social media that the show was absolutely stunning in every aspect. From the production and effects, to the sight of Porter and Madeon vibing with each other and the crowd while masterfully blending their hits together, everyone was buzzing about this show.
The Shelter Live Tour was true bliss and, luckily, I got to see it twice.
The first show I went to was in Los Angeles at the Microsoft Theatre, formerly known as the Nokia Theatre, on November 26th. I woke up Saturday morning with an overwhelming eagerness for Tuesday's San Diego Shelter Live Tour stop on the 29th. The show had been (let's be real, it still is) on my mind for a long time and I remembered there were shows in LA before SD. The search for tickets began and I came across a guy on Craigslist that had a pit ticket for $90. I told him I would drive up that instant if it was legit and he confirmed it was. This was most definitely one of the best spontaneous decisions I have ever made, and the solo trip to LA put me right in the front row of my favorite electronic artist's most unique tour.
Porter and Madeon opened with title track, "Shelter", and seamlessly transitioned into a sped up "Divinity" intro. Madeon followed that up with "Pay No Mind" and the crowd lost it. There was so much energy from the moment Porter and Madeon walked on stage you could feel it throughout the venue. There was never a moment I stopped dancing, cheering, singing, or smiling. During the set, Porter and Madeon would sing the vocals to each other's songs and played their favorite remixes. There were pyrotechnics and amazing Porter/Adventure-esque visuals ('Adventure' is Madeon's most recent album). I mean seriously…What more could you ask for? After "ending" their set with "Goodbye to a World" Porter and Madeon gave fans an encore they would remember forever.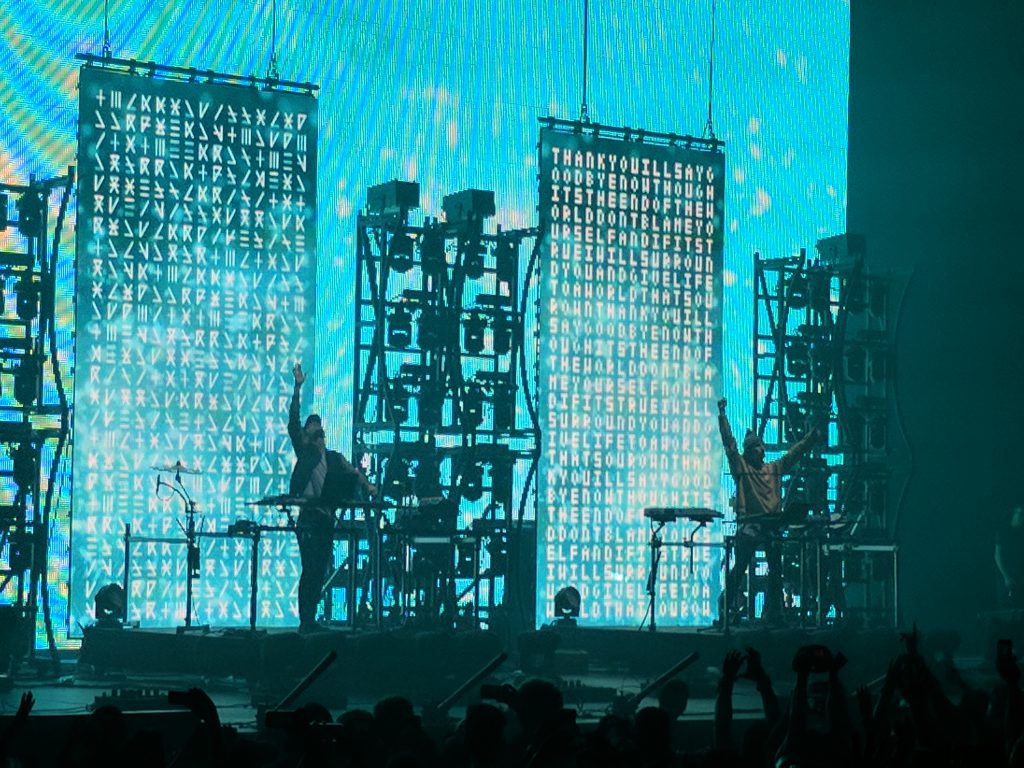 With one piano and one mic set up dead front and center they retook the stage.
Porter played an acoustic version of "Shelter" on the piano while Madeon beautifully sang the accompanying lyrics. It was a really real 'feel good' moment. "Shelter" began winding down and then it happened…"Language"! My all time favorite Porter track, and apparently thousands of others too. Confetti shot into the air along with thousands of hands and everyone in the theater was on their feet. Finally, the set came to an end and Porter and Madeon were so enveloped in positive energy that their thank you's carried such heavy love. And, just like that…night one was done.
Being in the pit was a surreal experience, but I have to say I enjoyed the second go-round of the Shelter Live Tour in San Diego more.
There are a few reasons why, but the main reason was because I didn't solo mission it this time. If you are seeing your favorite artist you'll have fun no matter what, but sharing an experience with someone has the potential to make an otherwise amazing event ten times more enjoyable. Having the show in an arena setting was also much better, in my opinion, than a theater. Every pass was GA so you had the option of mobbing to the floor or posting up in a prime seated area. That's what my friend and I did, we watched the whole set standing in the first row of seats and we overlooked the stage and sea of people. It was a mesmerizing sight to see the massive crowd respond to drops by singing, dancing, and waving their hands.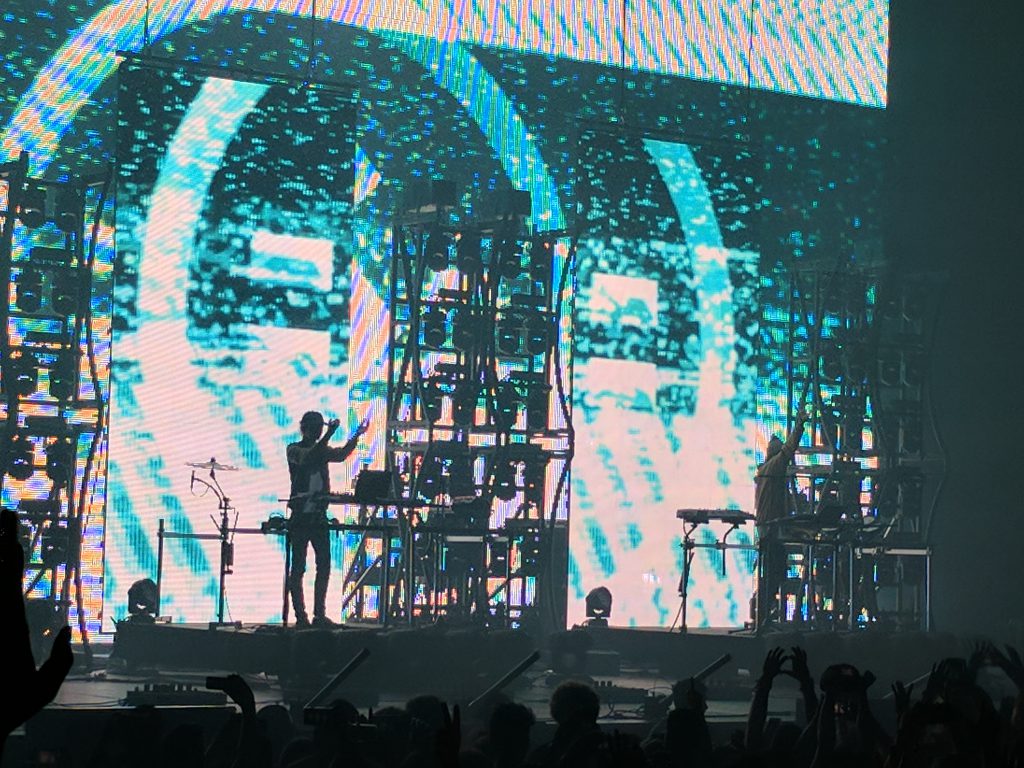 The set was musically the same, but the crowd took it to another level. You could tell Porter and Madeon were feeling the energy and they reciprocated on stage. After seeing the acoustic "Shelter" transition to "Language" encore a second time that's when it all came to me. How lucky am I that I got to experience a project produced by two of my favorite electronic artists, twice. A project we may never see performed again. Many people, including myself, had high hopes for a continued collaboration in the form of an album or something, but as mentioned in their interview…
"PR: We're seeing this tour and song as being the final crossroads before we dive into our next respective albums. I don't have any concrete plans, but I think we're going to dive into writing a lot more music after this.

Madeon: Both Porter and I have a clear idea of what we want to do next, and we've been talking about it to each other a lot, so this tour is a great way to conclude this respective eras and going back to writing music and reinventing ourselves."
So, in the blink of an eye two shows have come and gone. I could not be any more ecstatic that I got the opportunity to experience these shows the way I did. I will never forget you Shelter Live Tour. Thank you.
Get Shelter Live Tour merchandise here!
---
Connect with Porter Robinson:
Website | Facebook | Twitter | Instagram | SoundCloud
Connect with Madeon:
Website | Facebook | Twitter | Instagram | SoundCloud