Gary Richards or as you may know him, Destructo, is not just your every day average DJ.
---
Beyond producing some sick beats Destructo is also the boss of HARD Events, throwing branded shows and festivals all over North America and the rest of the world. Additionally, Gary has also obtained an almost cult-like following based around his renowned Holy Ship! events, ShipFam, which has exploded in size over the years. This year has been a massive one for Destructo, as he has released a slough of tracks that show off his love to intermingle hip hop and electronic beats. "4 Real" featuring Ty Dolla $ign and iLoveMakonnen was released at the beginning of the year to the delight of fans, and was followed up with a Wax Motif collaboration, "Beatdown". Recently he dropped "Catching Plays" with Wax Motif on avid listeners, which featured vocals from Pusha T and Starrah too.
This year also featured the largest edition of HARD Summer ever, the announcement of HARD Australia and HARD Hawaii, and he is also currently on the, 'The Renegade Tour'! He played in San Diego back in February on the Ship2Ship Tour with Justin Martin and REZZ, and I was excited to hear he would be returning this October! I was able to catch up with him backstage at CRSSD Festival Fall after he slaughtered the decks and brought one of the largest crowds of the weekend to his stage.
Catch Destructo on 'The Renegade Tour' in a city near you:
---
You just finished playing your set here at CRSSD Festival, and you were here back in February for Ship2Ship as well. What is your favorite thing about playing in San Diego?
I don't really know, I just think that Shockey and the whole CRSSD crew, they've built up something really cool here. It's a little bit different than everywhere else. But the people here, it's not LA, but they know what's up, it's a good crowd, and they're always down. And it's close to where I live, so it just all works out. Every time I've come here it just keeps getting better and better. I feel like San Diego is sort of like a satellite of LA, I think a lot of people from here come to HARD and come up to LA. But to come down here to them, it's really cool and I feel the love here. I love California and the beach, and I've never been to CRSSD ever. This is the first time, and I've heard so many good things so…
The shipfam is pretty huge here in San Diego as well…
Yeah, I wanted to do some stuff for them but I had no time. I just looked at my watch and the set was already over. I have a track that does the whole Sgt Buzzkill, Respect The Ship, and I didn't even get to play it. I always see the photos of people with the Holy Ship! Flag here. We have a good synergy with the guys that do these festivals and clubs down here. I love San Diego.
With so much experience in the scene, how do you look at things with a clean slate when you're starting a fresh project like 'The Renegade Tour'?
It's pretty easy for me because I always go to the same formula of just being different. If everyone's doing one thing I try to do something different. So for this tour I try to just mix and match things that probably wouldn't go together. Like straight up, underground techno and then rap, and then more bass house and then Felix Da Housecat. Just throwing curveballs, you know, I think people are tired of seeing the same shit, so if you can give them a variety it's better. It seems to be working. It's a little weird in some places, because I could have just taken the easy route and got all the dudes I know I would like. But Makonnen comes out, E40 comes out, then it throws people for a loop. So keeping them on their toes, you know?
Gotta keep it fresh…
Yeah, just try to be different.
Your track "Catching Plays" has received quite a few remixes, and has been very well received. What was the process you went through in selecting who would remix the track?
It usually just happens where I'm hearing something from somebody that's dope, and then I'm like "hey do you wanna do a remix?" and then they are always like "yeah" and I send them the parts and they do it.
I think Will Clarke smashed it, Convex too. And there's some new ones coming. But I think more than anything when you get such a good vocal from Pusha T…that is when I kind of realized that my songs are pretty good to remix because they are like songs. Like sometimes people ask you to remix a song, and then the vocal is like "Yellow Mango…" And you're like, what the fuck am I doing with "yellow mango". When you have Pusha T throwing down, it'll work a million different ways.
So me and Wax [Motif] have our version, but it's weird because with that song, our version is almost like trap and then house, and people are thrown off by that in some weird way. Which I don't understand because when I do that at HARD, I get like 150,000 people. But then I make a record that combines the two, and the rap people are like "What's with the house shit?" and the house people are like "What's with the rap shit?" And it's like, you guys don't get it, people like both. So I figured I'd make a couple mixes that were just straight house, do one that is just straight rap and then everybody gets a piece. I want people to hear what Pusha T did and Starrah, you know?
The HARD brand is expanding with a tour in Australia and then also an upcoming HARD Hawaii. What are you most excited about with this expansion?
It's just cool to be in different parts of the world. I've been to Australia a lot, we did a HARD stage at Stereosonic for four or five years. Australia is very similar to California. Sydney especially, such a good fan base there. People love this music, they know what's up, and to finally be able to stand alone…it's been a long time coming.
And Hawaii, I played there like a year or two ago for the people I'm working with, they do Wonderland. It was great, I played with AC, for some reason they love, they love rap and house in Hawaii. Like that is the perfect formula, so it will be really cool, I'll be there on Christmas vacation, so my family can enjoy it too.
Yeah there is a lot of artists like graves that have come out of Hawaii too.
Yeah Hawaii is dope, and they have that afterhours thing there 'Asylum' and there is some cool shit going on in Hawaii. I mean, I love Hawaii, like I wish I could live there, I fucking love Hawaii.
It's just the three hour difference right?
Yeah, but you're like the farthest away from humans on Earth, literally. It's clean, it's beautiful, and I could live there. My wife is always like, "why the fuck do you always want to go to Hawaii?" she likes to goes to St. Bart's or like exotic European stuff south of France. I'll go to Hawaii and chill, and I'll be good for life.
Where do you decide the HARD brand travels to?
I think it really just depends on when I link up with the right partners. Like I've done the HARD stage in Tokyo with Creativeman, I've done the HARD stage at Creamfields in the UK with the Creamfields crew, Australia…
I always say I'll do shows, big or small, when the opportunity presents. So if the right artists are available and it's a show for 200 people, I'll do it. If it's a show for 150,000 people, I'll do it. It's just whose available, it's really the right partners, because if you're going to go to another country you really need to be working with people who know what the fuck they're doing. Because I think when I put the name HARD on it, the artists trust me, and then I need to make sure I deliver for them. Then we don't get there and it's shut down, or the sound is fucked up or whatever. So I have to do my homework and make sure that when I'm vouching for it that it lives up to what it's supposed to be.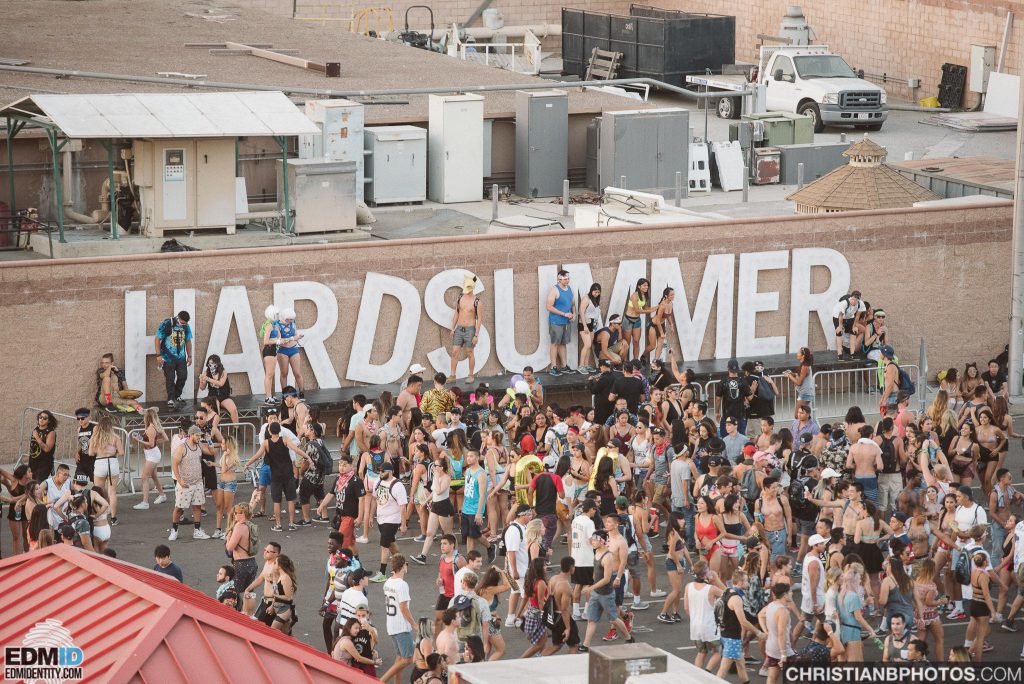 In past interviews you've stated that you don't necessarily like the term "rave" to describe electronic shows. Why is that, and what is your take on the electronic music scene is going?
Well I just think in America the word "rave" is negative. It just has a connotation with Law Enforcement and Elected Officials that it's like 15 year olds, underage, doing drugs, and unlicensed, illegal shit. So for me, I feel like with HARD, we're a music festival. We spend millions and millions of dollars. We spend years planning. We book artists like N.W.A. and fucking Justin Bieber, and it's just not a rave. And there's nothing wrong with "rave" and "rave" is dope and I came out of the rave scene, but I feel like I kind of graduated from that. You go to other parts of the world and "rave" means something different, but it's just the perceived notion of what rave is in certain people's heads that are important to what we're doing is negative. So I try to steer away from that.
And the second part of your question was where is it going? I don't really know where it's going. I just try to go where the music is going, and that's why I'm on this whole rap thing. I feel like rap right now is really hot, like EDM to me has gotten a little stale. There's really cool electronic music but it's just not exciting me at the moment, so I switched over to some Travis Scott and Desiiigner, it's sort of cool and it works. So I don't know where it goes but I'll always just follow the music. You know, I'm looking at doing something with some metal bands, I just go where music is good and it's a party. That's kind of the formula, I don't try to think about it too much. Instead of trying to formulate what it is, just do it, and hopefully it works.
It seems like the hip hop community has really has been highlighted lately with genres like g-house and bass house. It's sort of cool to see these genres merge together in a sense.
Rap always has had electronic in it, that's why I always liked rap. But it's funny because a lot of the rappers are like "oh you're the EDM guy, but for some reason your beats are cool, we always go into the studio with an EDM dude and it's kind of lame, but your shit's dope" So they're kind of getting, they don't really know the difference, it's all EDM to them, they don't know I do HARD or anything…I'm just the EDM guy, but I'm the EDM guy with shit they actually like to rap on so it's kind of working'.
In the past your sound was very aggressive, and it's definitely evolved. How do you feel your sound has evolved over the years?
I mean, I'm just trying to make more songs. But I've always tried more than anything just to make records I would play in my set. My style, I feel like where I'm most at home, is like a sweaty club at two in the morning. I just try to stick to that formula. Like what would sound dope at like two in the morning and you're trying to find some ladies and you're just vibing, and that's what I try to do. But sometimes I realize my shit is a little more laid back, it's not so raging and sometimes I wonder if I should be doing a little more turn up. Like that "Party Up" remix by GTA, it slams every time, but that's what they do. So that's why a remix is always good, because I can have people come in and do remixes. If I had my way, I'd be DJing at 4 in the morning, everybody's having a good time, and we're just cruising. And that's what I try to do.
Just dope vibes…
Yeah it's turned into that.
You played Mixmag's In The Lab this summer in LA, and it's a very intimate setting…
Yeah it's small.
Do you prefer intimate settings more than a festival setting?
Yeah, I think for me I like to touch the people, give 'em five, and give 'em a hug. That thing though is kind of weird because I also feel like when you watch a DJ on TV, like with Aoki is on Fallon, it doesn't really translate. DJs are playing records, we're not playing instruments. So I try to get people on stage, get the party going more. Just make it more of a party and fun when it's being filmed. Sometimes it's nerve-wracking when people are watching you DJ up so close. I'll do tricks and filters and I can do like technical DJ shit, but it's not that exciting. You want to see people getting down and having fun, so that's what I tried to do at that thing. I told everybody, you're there and I'm here but we're together, come here with me. Then you break that barrier between you and the audience, then it becomes more fun.
I spoke with Michael Tullberg who did a lot of old school rave photography, and he mentioned that in the older scene there would be a table with decks on it and the crowd was around the entire DJ, bringing a different vibe.
Well, and the DJ wasn't really the center of attention. We would be in a dark warehouse in the corner, doing our thing, and people would be watching. The party was like the party and you were kind of part of it. But now it's like you're fucking Freddy Mercury in Queen on stage, so you gotta ham it up and shit but it's cool, I'm not mad at it, but it's really not the essence of what it started as so. It's okay though, if you're at a festival you just gotta ham it up.
You also just played at Bestival and Lollapalooza Berlin, you kind of touched on it earlier but is the crowd at those festivals different than here at CRSSD or HARD?
Yeah well I was really, they were both really different. So at Bestival I played in between…they were called Mount Kimble or something. They were very mellow, housey, kind of trippy vibe and then me and then Carl Cox. And Carl Cox's set was like, classic house music, and my shit's like rap so all my European friends said "don't play any rap, they don't like rap here, just four on the floor, don't play any rap shit you're gonna blow it." And I said fuck like what do I do? And I said, why am I here if I'm not gonna play my shit? But I figured out a way to go from minimal, kind of eclectic mellow house, in to my shit, and then I have the knowledge of the 90s so I started playing some classics before Carl. Him and his crew were all freaking out because I pulled out some old records that I knew only he would know. And I've never really played with him, and I didn't know if he knew me, but he was like shouting out, and that worked out.
But then when I went to Lolla Berlin I thought, okay this is Lollapalooza, people told me in Germany they like rap more. And I went more trap and "Purple Lamborghini" and they were both great. I was really happy because in LA, like at HARD, I know I can do whatever it's gonna be good. But over there most people don't really know me. When I played at Lolla Berlin, the dude before me…I don't even know what is name was…but he was a local, German, EDM dude. During his last song he dropped the music out and they were chanting it in German, singing the hook, it sounded like a Zedd song or something big, commercial. And I was like, fuck these people are going to hate me. Then they turned the music off and I saw everyone walking away, and I just said "turn me on, turn me on", because Kings of Leon and G-Eazy are playing, and I had a fifteen minute gap. So I said "turn me on, turn me on" and thought, what do I have that I just know will grab them. And I just dropped a beat and I saw everyone leaving start to turn around and come back. So many people were saying "We've never heard of DESTRUCTO, like so cool" (In German accent). It was awesome, I just need to get back there.
It was almost like you beat the intimidation of the end of that last set.
I know how to keep 'em and DJ and do it, but the factors gotta be right. If there's a twenty minute break, they're leaving. I remember the first time I played in Australia they had me on a dubstep stage, there was literally one person there when I came. I flew 18 hours to play to one dude. I'm on the microphone like, you guys back by the porta potties, get the fuck over here, I just flew 18 hours from LA, and I was playing AC/DC's "Dirty Deeds". They were like "what the fuck's wrong with that guy?" *laughs* I'm not like a lot of the DJs who are primmadonnas, I'll fight for every single person to come and watch me and get into it. And I've had this happen before, I'll literally play to one person if that one person is going off. You know what I mean? I've seen so many people where they go "ah fuck it there's no one here", but that's how you earn your chops. You gotta take the good with the bad.
You gotta get that small group dancing and then they bring in everyone else.
Tractor beam, like a tractor beam, you gotta pull them in. Good mixes and the right songs, not every time you're going to show up and there will be 10,000 people just ready to go fucking nuts. That's easy, my son could probably do that. It's really hard, I played Creamfields like one or two years ago and I played on Fatboy Slim's Stage, and literally when I went on I was in a tent that fit 10,000 people, there was 100 people there. And Fatboy Slim was standing next to me, wanting to see my set. I thought to myself, ugh there's no one here, there were like two people that were like "Holy Ship!!!" They're like "where is everybody?", and I was like "I don't know". I was just sweating bullets, and I said to myself, dude I've got 100 people and I can't let anyone leave. If it goes to 90, it will go to 80, and then I'm going to lose them. That was the hardest to play, when there's no one there. But you gotta do it, you flew 20 hours to be there, give it your all.
We've got Holy Ship! coming up, and it's actually really a true back to back experience this year. Are there any surprises that you can let ShipFam know about?
There are definitely surprises I've got a couple good ones lined up. I don't wanna give it up just yet. But on 8.0 we've got a rapper, he's on one of my tunes, and he's coming. And then on 9.0, we have a performer that's going to do some really cool shit. And then there is probably 10 more DJs that are coming that no one knows about, and I'm still working on some new shit. But I'm trying to keep the surprises in the bag. I feel like my whole thing with Holy Ship!, I don't even want to announce the lineup. I just want you to walk on the boat and you see who is playing, and it's like the dopest people. So, trying to get to that phase, but there will always be good surprises on Holy Ship!.
Finally, what is your favorite food to eat while you're on tour?
I guess, Mexican Food. We've been eating so much Mexican Food. You know fajitas, burritos, green chilies, vodka, and barbecue. I don't know, I need to get some healthy shit because I try to be healthy but we've been pretty unhealthy. And of course, always vodka – soda, that's the staple of 'The Renegade Tour'. Without the vodka soda, the world wouldn't turn.
---
Connect with DESTRUCTO on Social Media:
Website | Facebook | Twitter | Instagram | SoundCloud | YouTube