The electronic music scene in San Diego is not as developed as the scene in Los Angeles, even though they are a mere two hours apart. It is only recently that the appeal for electronic music has grown and taken over this city. Thus, when FNGRS CRSSD announced their bi-annual CRSSD music festival, people clamored at the opportunity to be apart of it. CRSSD Festival Fall 2016 is the latest edition of the event, and it was definitely a memorable one.
CRSSD is the only two-day outdoor music festival in the San Diego area. This time they outdid themselves.
Being that CRSSD is only about twenty minutes from my house, it's a very easy festival to attend for me. We met up at my friend's house close-by, it was a rather hot Saturday, but our spirits were high due to it being the first day of the festival. We packed up all our necessary things and were off to the festival around 12:15pm. Getting there was a breeze, as there was no festival traffic yet. Security was QUICK and was one of the most relaxed checks I have done. I believe we all got in no later than 1:00pm and the venue was rather empty. Since we were at CRSSD back in March, we were very familiar with the layout of the grounds – they keep it consistent.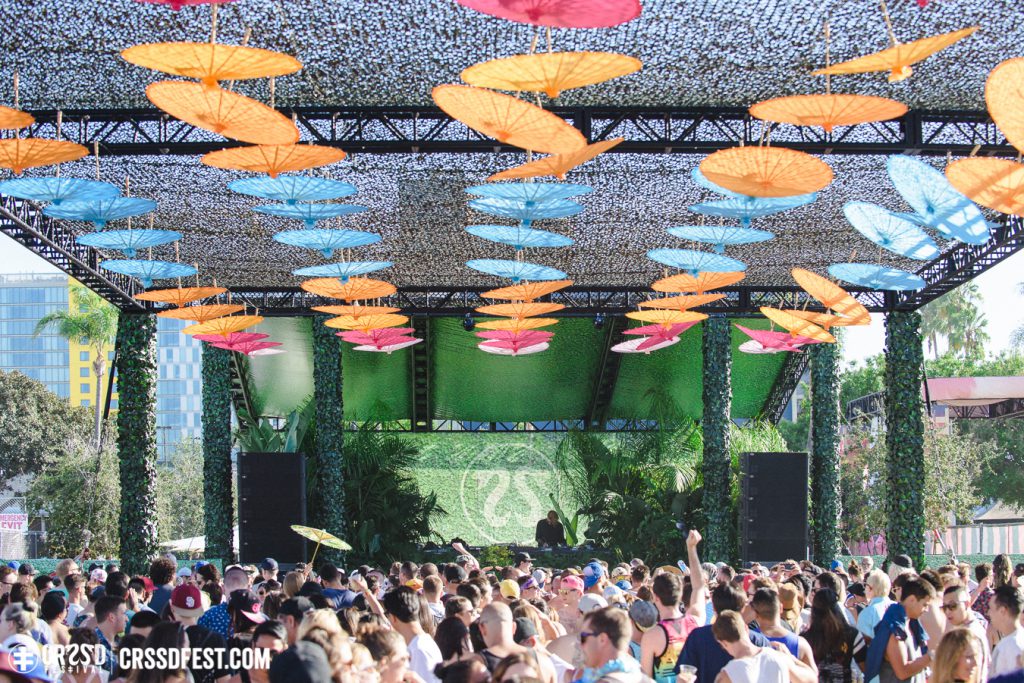 The first guy who caught our attention was Landis LaPlace playing on the first stage you see when you walk in, The Palms. He was dropping some groovy house tunes which were perfect for this early section of the day. After this set, we took a moment to cool ourselves off in the water fountains that are a very prevalent part of CRSSD. From here, we ordered a few drinks priced at $11 each (this definitely added up over the course of the weekend) and headed over to Ocean View, the mainstage of the festival.
This is the fourth time that the festival has been held, but they keep making the same mistakes.
For some reason, CRSSD's main stage sound always pales in comparison to the other stages – or just main stages in general. While the stage itself is big, with LED screens and speaker racks, the sound itself doesn't present itself as "big." You can keep a conversation with the person next to you at a fairly normal level of volume. Nevertheless, as an attendee, you can't do much about this.
Dr. Fresch was playing from 3:00-3:45pm on Ocean View and I was really excited to see him. He delivered a good set, playing to the crowd of CRSSD and dropping many techno and deep house tunes from his arsenal. I personally think he deserved a much later slot on in the night, but for how early it was in the day the turnout was good.
Kungs provided a pleasant surprise.
From Dr. Fresch, we bounced around to a bit of SOPHIE at The Palms then back to Ocean View for a bit of Big Wild as we waited for Kungs to start. So, I have never personally heard of Kungs, but he was the number one person my friend wanted to see today. Kungs took the stage around 5:00pm right before sunset and I was really impressed with his set. He played a very upbeat house set, incorporating a lot of this original music as well. The venue was getting increasingly busy, and Kungs attracted a sizable crowd.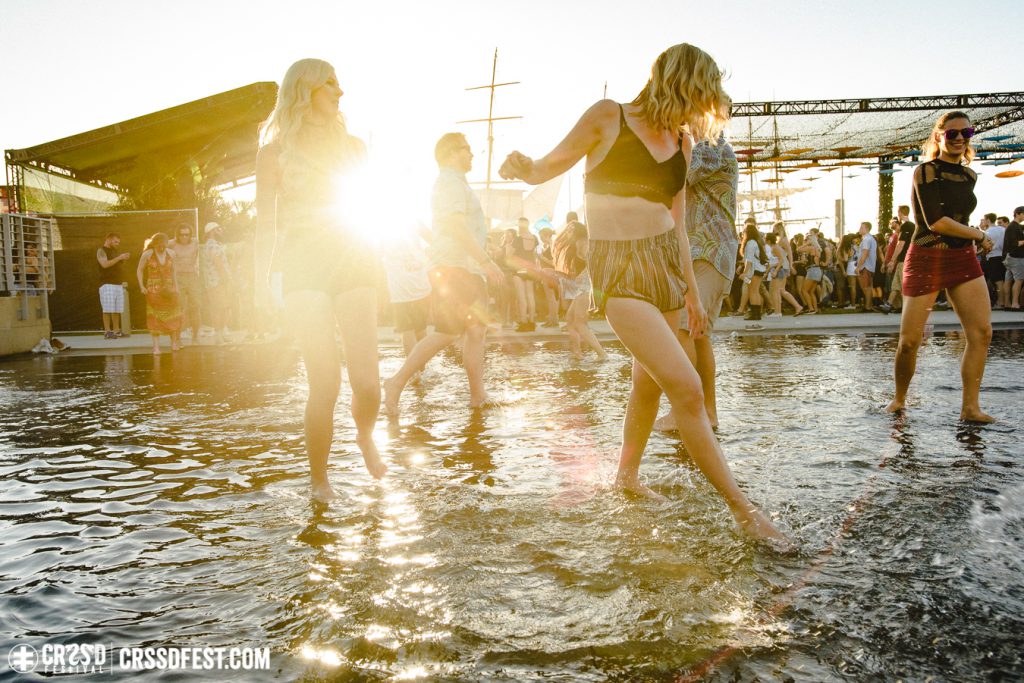 After Kungs there was a short break before Louis The Child. So I went on a solo mission to bring back some dinner and drinks for my group. This was not the smartest of choices at this time of the festival…..everywhere was so crowded! The food options that CRSSD had were okay – Spicy Pie, bacon wrapped hot dogs, sushi, and gyros among other drinks. As always, the festival food prices were unreasonable but you gotta keep your stomach full during these things for optimal energy. I ended up bringing back some chicken gyros, drinks and garlic fries for the group right in the middle of Louis The Child's performance. I've never seen this duo, who have had an astronomical rise to electronic music stardom, but I'll have to say their set was a nice break from things. Their set consisted of radio-friendly songs such as "Closer" by The Chainsmokers, "Controlla" by Drake and a slew of their own remixes and original tracks.
Louis The Child ended and we took a short break from things and used the restroom and got water. They seem to have fixed the restroom congestion issue they had back in March by spreading them out more. That was a nice thing to see with how many people were at the festival at this point. We made our way to The Palms for the last half of Trippy Turtle. He was another dude that was high on my list for CRSSD and he did not disappoint. Infusing his jersey club sound with some noteworthy throwback songs, his energy was through the roof and it was a really awesome set! As the night was starting to end, we saw the first ten minutes of Shiba San and went to main stage to watch Cashmere Cat. I'm a huge Cashmere Cat fan and have seen him once before this and I'd have to say his set at CRSSD was one for the books. The Norwegian producer played his old tunes, his new tunes and tunes that he has produced for other people (Kanye West's "Wolves" for example). We ended the night with MK who did a tremendous job of spinning some really creative and unique house tracks. I had no idea who MK was either, but was fairly impressed yet again.
Day one of CRSSD Fall 2016 came to an end, but day two awaited us.
The festivities of day one were abundant and definitely took a toll on me and my group when it came time to get ready for day two. However, we still ended up getting down to the Waterfront Park by 1:30pm. Again, security was quick and easy! We moseyed around and caught a bit of Riton at The Palms as I anxiously awaited Wave Racer to come on. I've wanted to see this guy for a really long time, so when I saw he was part of the CRSSD lineup, I knew I had to catch him. Wave Racer swiftly started at 2:00pm and was easily the best set of the weekend. This guy is in a league of his own. His unique, video game future bass type sound is a blast to listen to in a live set. Further, his mixing and overall demeanor was incredible. I was happy to see that he had a pretty solid crowd as well! Good way to start off the last day of the festival.
We rushed from The Palms to Ocean View to catch Sam Feldt. Another guy I was excited to see. I had the pleasure of interviewing him later in the day, which made watching him that much more enjoyable. The crowd was incredibly receptive to the young Dutchman's upbeat tropical house set as he played a plethora of his own tunes both new and old.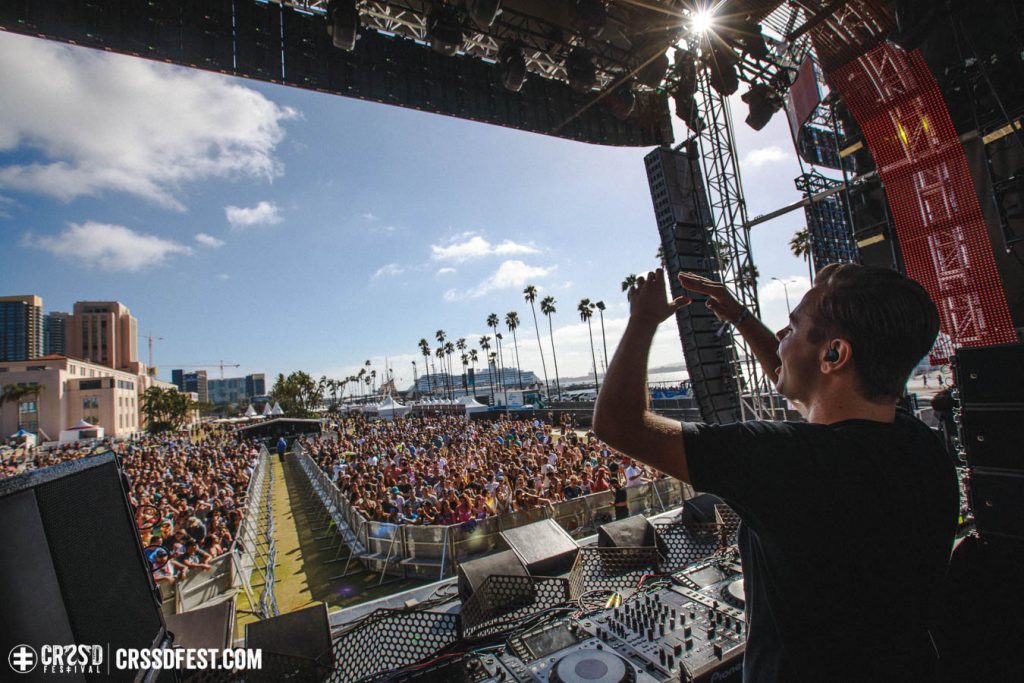 The ski-masked man, Malaa, was next up on our list to see for today. He played at The Palms around 4:30pm and boy was it packed. So many people flocked to see his deep house enigma, some even donning ski masks despite the heat. I've followed Malaa for a while and his production is great, however, I was underwhelmed by his set. It replicated his SoundCloud mixes that he frequently releases and offered no surprises to the crowd. That might of just been me though. The day goes on…
I had to get my house groove on with the masked Claptone.
After I conducted the interview with Sam Feldt, which was a blast, I moved on to seeing Claptone. So I did not realize it until I saw him, but Claptone wears some sort of masquerade mask. Whatever it is, his music is awesome. I have never heard a Claptone song before, but his two-hour set definitely made me a fan. We stayed at The Palms for Destructo b2b Busy P. It was a unique set due to most of Destructo's songs incorporating hip-hop vocals, a first for the entire weekend. Overall this b2b set was great, however the speakers seems sort of quiet…..
Finally, we headed over to catch Lido at Ocean View. He had his entire live set-up and the crowd was really vibing off of his pure talent. Lido plays the drums, sings, and plays piano during his live shows. He's truly a one-man band. Unfortunately, we did not stay for too long due to our upcoming Monday and the fact that City Steps' bass was so loud it was hard to hear what was going on at Ocean View. We exited the festival around 8:00pm and called it a night.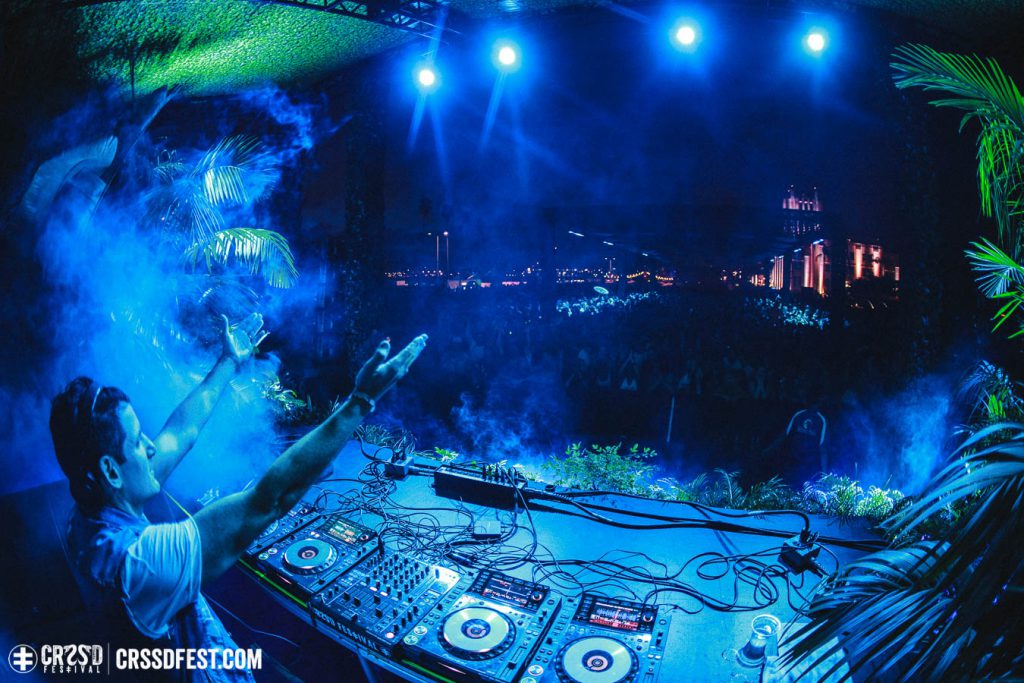 That's a wrap, CRSSD Festival Fall 2016.
Another weekend, another CRSSD festival in the books. Having been to two CRSSD's this year alone, I would say I'm fairly well versed in how the festival is set up and such. Overall, this CRSSD had similar problems compared to the last CRSSD festival. Regardless, it's still an awesome time and I recommend that everyone check it out. Here are some pros and cons to the festival:
Pros:
Ease of access if you live in San Diego
Killer lineup especially if you like deep house and techno
Weather is generally favorable since it's San Diego
After Parties are abundant
Festival venue is beautiful
Cons:
Speakers always have issues and are not loud enough in certain areas
Expensive foods and drinks
Restrooms can get congested easily
Schedule is confusing and should read The Palms | City Steps | Ocean View
Again, I would highly suggest you check this festival out if you get a chance! It's quite the fun experience no matter what and they really do a good job of providing an excellent lineup and environment for their attendees.
---
Be sure to grab the CRSSD Festival Fall 2016 Exclusive Music Bundle below!
CRSSD Festival Releases Exclusive Music Content Bundle
---
Follow CRSSD Festival Fall 2016 on Social Media:
Official Website | Facebook | Twitter | Instagram
Featured Photo Credit: Miranda McDonald