Since the inaugural event back in November of 2015 in San Bernardino, California, Dreamstate has become a household name. It was an event that American trance addicts craved for so long and finally it had come to fruition. Word spread like wild-fire and the stage was set for an intensely beautiful weekend of trance in all of its glorious forms. In my opinion, it was like America's very own Transmission (a famous trance event held in Prague, Czech Republic). Since that game changing weekend less than 1 year ago, new Dreamstate events have been popping up all over the U.S. from Las Vegas to San Francisco, and all the way to New York City.
The show was created to spread the glorious message of trance and to answer the cries of passionate trance fans all over the country who were begging for their favorite genre to be respected and celebrated in the United States. But, Pasquale Rotella, Founder and CEO of Insomniac had no plans on stopping there. Dreamstate is a brand that needs to be shared with the entire planet so after planting Dreamstate stages at both EDC Mexico and EDC UK the show heads even further, landing itself in the "Land Down Under"! Yes, Insomniac will be partnering up with Symbiotic, Australia's newest trance event production company, to bring the best trance show on earth to the beautiful city of Melbourne, Australia.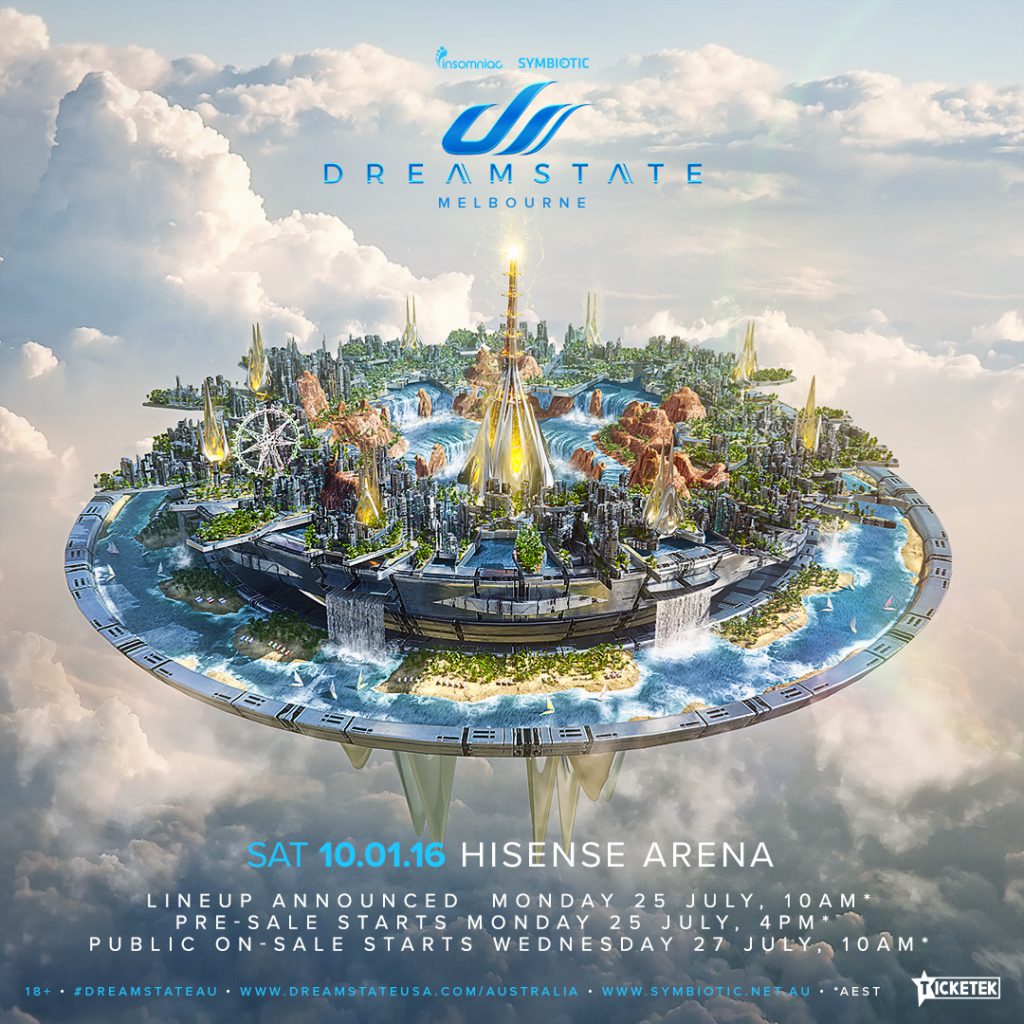 "In less than one year, our dedicated trance event, Dreamstate, has gained huge support from fans all over North America. Along with new gatherings in Southern California, San Francisco, New York, and Mexico, we are excited to announce the show's latest destination: Australia. We can't wait to take the energy of Dreamstate to passionate trance fans across the globe." – Pasquale Rotella

"We are proud to bring Dreamstate to Australia. Dreamstate burst on to the scene last year as an event purely dedicated to trance music. We are happy to be working with Insomniac on what will be an unforgettable night for Australian trance fans." – Janette Bishara (Symbiotic Director)
Dreamstate Australia will be taking flight on October 1st, 2016 at the Hisense Arena. Tickets are going to sell fast for this event so take the first step in the purchasing process by registering for pre-sale tickets here. Tickets go on sale to the general public on Tuesday, July 26 at 5 pm PT via Ticketek Australia.
For updates and announcements related to Dreamstate Australia, visit Here! And stay tuned for the Dreamstate Australia lineup that will be announced on Dreamstate social channels Sunday, July 24 at 11 pm PT.
---
Get updates about Dreamstate Australia on Social Media: