Dreamstate San Francisco, January 16-17, 2016
Dream (adjective): most desirable; ideal
State (noun): a particular condition of mind or feeling
---
Almost two weeks have passed since Dreamstate, but I'm still feeling the positive effects of being part of something so amazing. When I think back to that weekend, I'm filled with peace and happiness and can say without reservation that Dreamstate SF was one of the best events I have ever attended.
I will be the first to admit that I have not attended many trance events, don't belong to a trance family, and am not as familiar with less mainstream trance artists. However, my love of Gareth Emery, Jordan Suckley, Paul Oakenfold, and other trance artists drew me to the event. Fellow trance lovers have always showered me with positive vibes despite my brief history with trance. This deeply influenced my decision to take a solo journey from Los Angeles to San Francisco and attend the event.
The positive vibes were palpable once I stepped inside the Bill Graham Auditorium.
This venue was impressive in that the ground floor was a medium-sized space that was filled to the brim yet did not feel cramped. The space's overall setup allowed for multiple lounge areas where attendees could decompress and trance families could regroup. Additionally, the balcony seating area was perfect for those that needed a breather or who preferred to have space to dance. Though I enjoyed being downstairs during some of the acts, the balcony was my favorite place to experience the event; while in that space, I felt as though all of the happiness on the ground level was lifted into the air and could be felt more intensely.
I was enraptured by the amazing lights and sounds of Dreamstate SF. Strangely enough, one of my favorite parts of the two-day event was hearing the announcer say each artist's name before they took the stage; this kick-started my anticipation for each upcoming set. I enjoyed every act I saw for very different reasons. For example, Bryan Kearney impressed with his psytrance beats, Paul van Dyk had me mesmerized with his laser show and dancing jellyfish, Cosmic Gate had the audience dancing to their Sandstorm remix, and to everyone's delight, Gareth Emery returned to his trance roots and proved to be a great closing act. Additionally, Dreamstaters were privy to some mystery tracks from Aly and Fila as well as some of Gareth's new tracks from his upcoming album.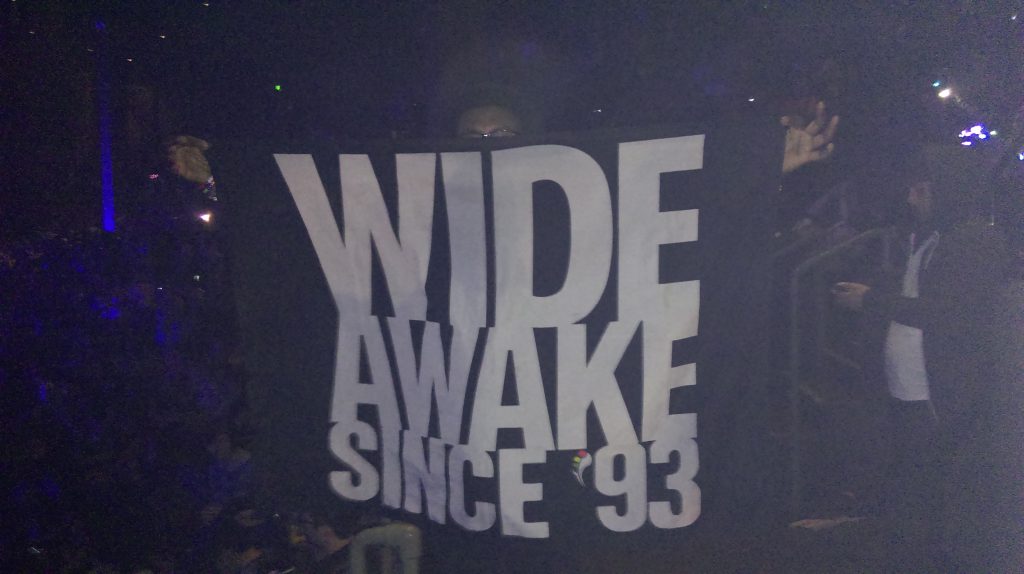 As much as I enjoyed the music, what I loved the most was the overall ambiance. I met kandi kids, trance lovers, and bass heads there to support their friends, and every single person I met was friendly, positive, and authentic. Dreamstate was my ideal place and embodied peace, love, unity, and respect in their purest forms. I journeyed to Dreamstate SF to meet new friends, rekindle old friendships, and just exist in harmony with the music but in the end, I left with so much more.