When Project Z 2016 was announced I honestly thought to myself, "how was this not already a thing before?" In the past, Bassrush and Basscon were separate entities that happened to usually host events that coincided closely with each other. As a fan of both bass music and the harder styles, making me choose between two separate events on the same night was a recipe for disaster. Thankfully this year, Insomniac listened to our pleas to combine the two events and brought all of us under one roof for the inaugural Project Z.
Check out Night Owl Radio Episode 47 for a soundtrack to this review:
Utilizing both the Damus and Citrus buildings at the NOS Events Center, Project Z would be the event to blend the boundaries between fan-bases that are both insanely devoted to their respective genres. While waiting for the lineup to drop, the rumors began to swirl about how even this event would be in the battle of bass versus hard dance. Would this event cater more to the head banging bassheads or would this become a shuffler's dream? Insomniac answered with a staunch "both" as the list was filled with massive movers and shakers on both ends of the spectrum. Featuring acts like Snails and Frontliner, alongside epic back to back sets to close out both stages, I began to worry how I was going to catch it all in one evening. After the set times were announced it brought the Boombox Art Car into the mix acting as a third stage, and this event was slowly beginning to feel more and more like a small festival.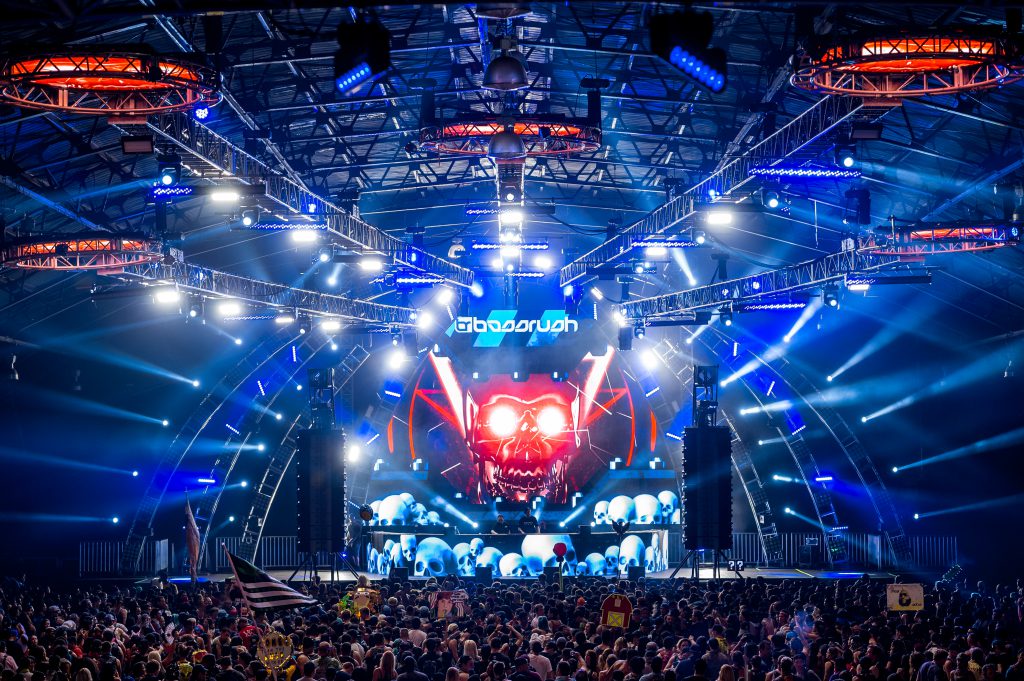 Let me just preface the rest of this post by saying I absolutely love the NOS Events Center. I started my raving career later than many others and so a majority of my best memories have been at this venue, so I'm going to be slightly biased. Driving to the venue from our hotel took no less than 10 minutes, and we were parked and walking to the entry within minutes of arriving. I could feel the energy of the music being played inside the Citrus Building from the parking lot, and could immediately tell that Basscon would be located inside. We hit up the will call line, which was short, headed to security, and I was inside the grounds in a jiffy.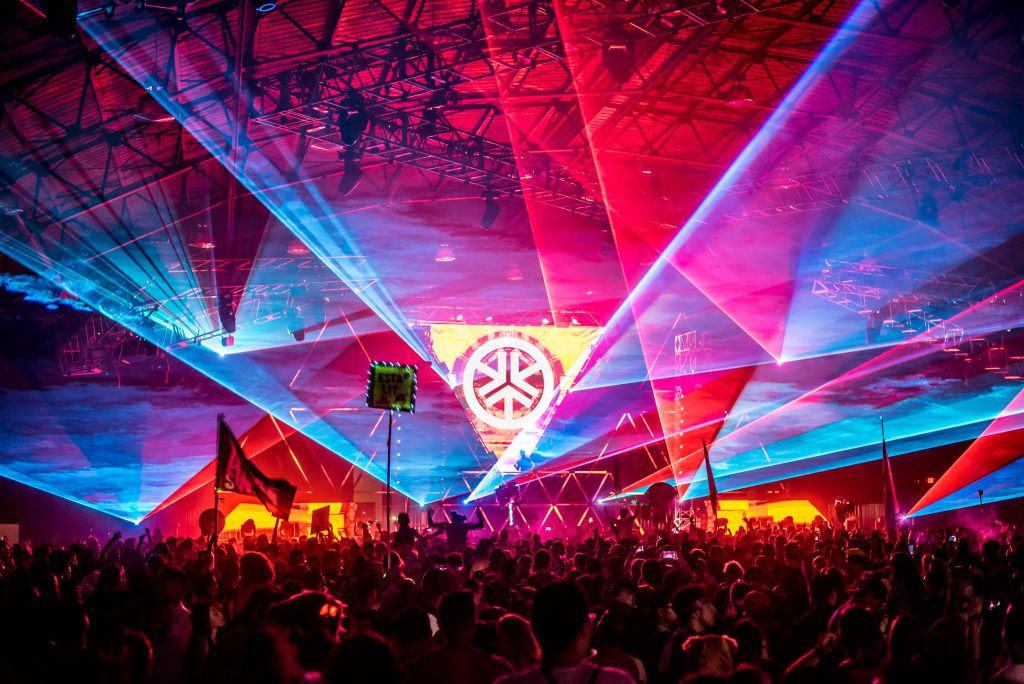 Smack dab in the entry way was a giant Z formed out of trusses, lit up and welcoming all who were attending the event. It was a definite photo opportunity for attendees. Speaking of which, I love the feel of a smaller show at NOS because it usually tends to be the most dedicated fans and people who actually love the music they are seeing. Basscon and Bassrush each represent two completely different styles of the rave culture but production-wise share many similarities in regards to how sets are structured, the usage of MCs, and even the BPM of their tracks. I think those similarities are the reasons why many others and I were surprised that this event hadn't come sooner. Team Bassrush had taken over the Damus Building, Basscon was housed up in the Citrus Building, and the Boombox Art Car was positioned outside, in a similar spot to where a speaker stood during Dreamstate SoCal last year.
The back wall of the event was lined with a cash only bar, probably one of the only complaints I can bring in regards to the management of the event. Multiple food trucks were positioned outside as well, giving some diversity in food options for the event. Clobber and Electric Sky Vapes dominated the vendor area, allowing for nostalgic ravers to grab some cool merch and vape enthusiasts a chance to check out some new flavors of juice. The merch booth was stocked full of items to buy from multiple artists and brands which always seems to draw me to spending more money than I probably should. But enough about the venue, let's talk about the music.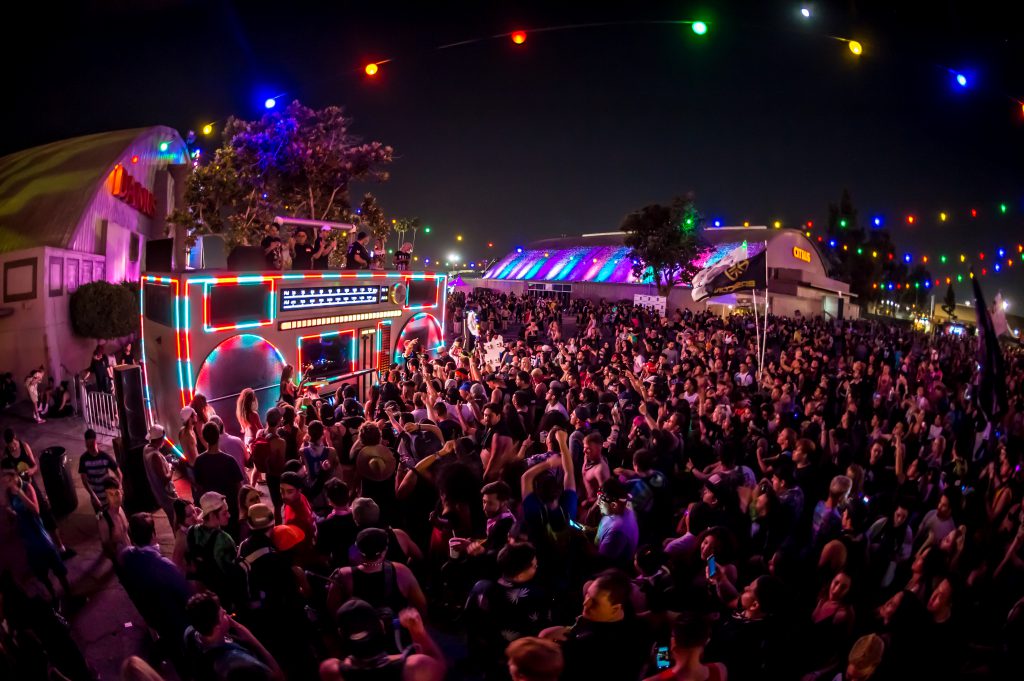 I spent my entire night bouncing between the Citrus and Damus buildings, and never had a problem getting in to either. Connecting with some old friends and meeting new people was a highlight of my evening early on, it was great to see some friends and catch up while jamming out to the beats from the Boombox Art Car. Something interesting that I noticed, and I could be wrong, but it seemed that the art car was playing host to both bass and hard dance. It was almost as if there was a friendly battle going on outside between the two brands, and definitely kept things fresh for those looking to cool down between sets. Inside the Citrus Building was the Basscon stage, which resembled the neonGARDEN stage from EDC this past June to me. The lights and lasers were, of course, on point, and the building provided plenty of room to dance.
I truly began my musical experience at the event there with Tuneboy's Classics Set, which was pretty much everything I had hoped it would be. After that set I hopped over to the Damus Building for Noisia, who I had never seen live before prior to that night. I was excited to see them even more after listening to their guest mix on Night Owl Radio that Friday. It was great seeing Drum N Bass get the action it deserves in an era that is saturated with Trap and Dubstep. Blending in old with new, Noisia was probably one of the best sets I caught that night. Towards the end of Noisia, I ventured back over to Basscon to catch the end of Frontliner's set. Apparently he had been killing it all night and even though I caught the trail end it was just in time to hear him drop "Weekend Warriors", one of my favorite hardstyle tracks.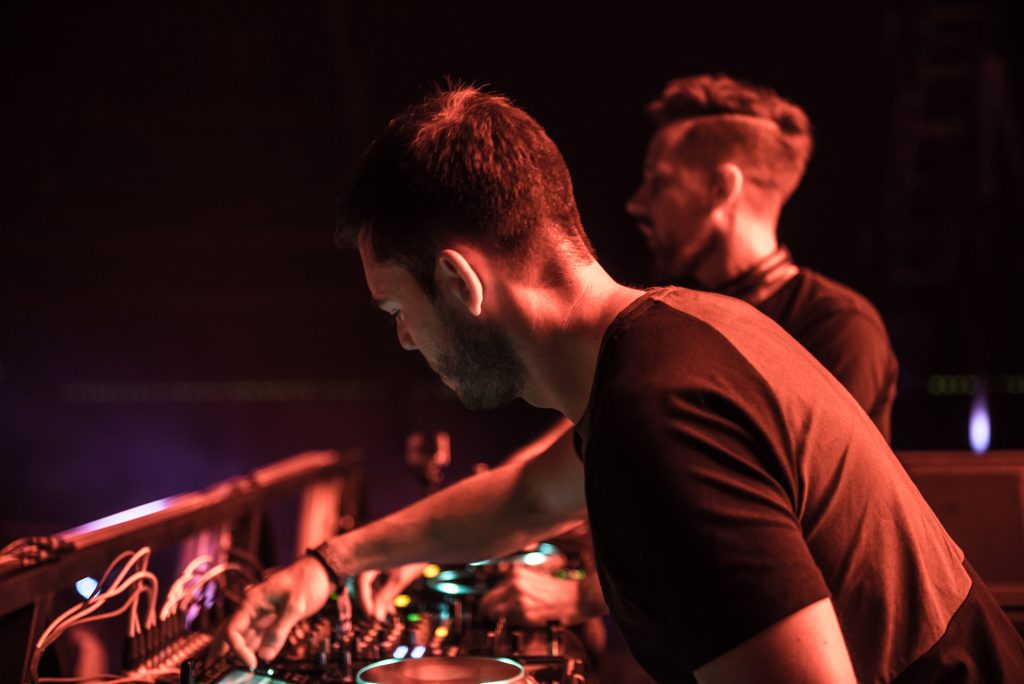 Snails was yet another act that I seemed to miss at other events, whether it was Coachella or EDC Las Vegas, I never seemed to be in the right place to see him play. I love the sound design of his tracks and made sure to catch his set at Project Z. I thought it was a good set, but perhaps the hype from my friends was a bit overzealous or I just wasn't feeling it completely like other people there. The following two sets were the biggest conflict for me overall, I mean how can you actually decide between Doctor P b2b Cookie Monsta b2b Funtcase AND Darren Styles b2b Gammer? I played both cards and ran between the stages to catch moments of both, beginning with the Happy Hardcore maestros and ending in bass heaven.
Something interesting that I did notice about Darren Styles b2b Gammer was the fluidity of their set, which had tracks ranging from Happy Hardcore to Trap, it was a bit surprising to say the least. My love for all three artists closing out the Bassrush side of Project Z runs deep, as they all rose to power when I was really getting back into electronic music. Closing out with some classics, I couldn't imagine a better way to end the evening. This event was the perfect blend of hard dance and bass music, and I cannot wait to see what is in store for the combination of these two in the future!
---
Connect with Project Z 2016 for updates on future events: