Navigating raves and festivals can be challenging, and we reached out to a disabled raver to get their take on negotiating their way through the scene.
---
Abby Lehner is a wheelchair user and avid raver who will stop at nothing to attend any music events her heart desires. She previously worked as a radio DJ and started attending live events when she was 12. Having attended several large festivals including EDC NY, EZOO, and a heavy metal festival in Colorado, so she's had her share of festival-going experiences. She's an incredibly happy-go-lucky person who clearly enjoys life and all of the experiences it offers – wheelchair be damned.
I met Abby at the 2021 edition of Elements Festival which was challenging even for the able-bodied (several of which lost shoes in the mud or rolled ankles on tree roots). Despite the limitations, Abby told me how much she enjoyed the event because the music and crowd were terrific, and she is clearly one to focus on the positive.
When I asked her what it's like to be in a crowd of dancers while in her wheelchair, she noted that people almost always see the wheelchair first. She really appreciates it when people engage with her directly, regardless of her disability. Abby commented, "The wheelchair is a huge part of my identity, but it's not what makes me, me!" 
She also noted that, unfortunately, some people can't get past seeing her in a wheelchair or are otherwise of ill intent, and that's where her friends come in. At Elements, her friend Jen was there acting as Abby's protector. "She definitely knows me well enough to distinguish the people who are genuinely wanting to engage with me and have a fun time," said Abby. The others? Good luck getting past Jen!
When I put Abby on the spot about the ADA Accessibility shortcoming at Elements, she gave a very diplomatic response and noted the need for improvement at all events.
"I try to see things from the view of the organizers, and I want them to see it from my view as well. I know that they can't do everything to make this an event that is catered to me," she said. "At the same time, there are a lot of small improvements that go a long way, and often they either just don't see it or just don't do it. This is true of all events and is not exclusive to Elements."
She was also quick to note that, regardless of shortcomings, Elements attracts such a beautiful crowd; a crowd that is very inclusive, friendly, goofy, and warm, which I definitely agree with, but also felt that this is precisely the reason the organizers owe it to everyone to get things right. Her response was that, in the end, the people made up for any shortcomings when she recalled her favorite moment:
She went on to note that she's sure he saw the wheelchair, but that wasn't important to their interaction. That's her biggest takeaway for the rest of us, "you will inevitably notice the wheelchair, just don't make a big deal about it."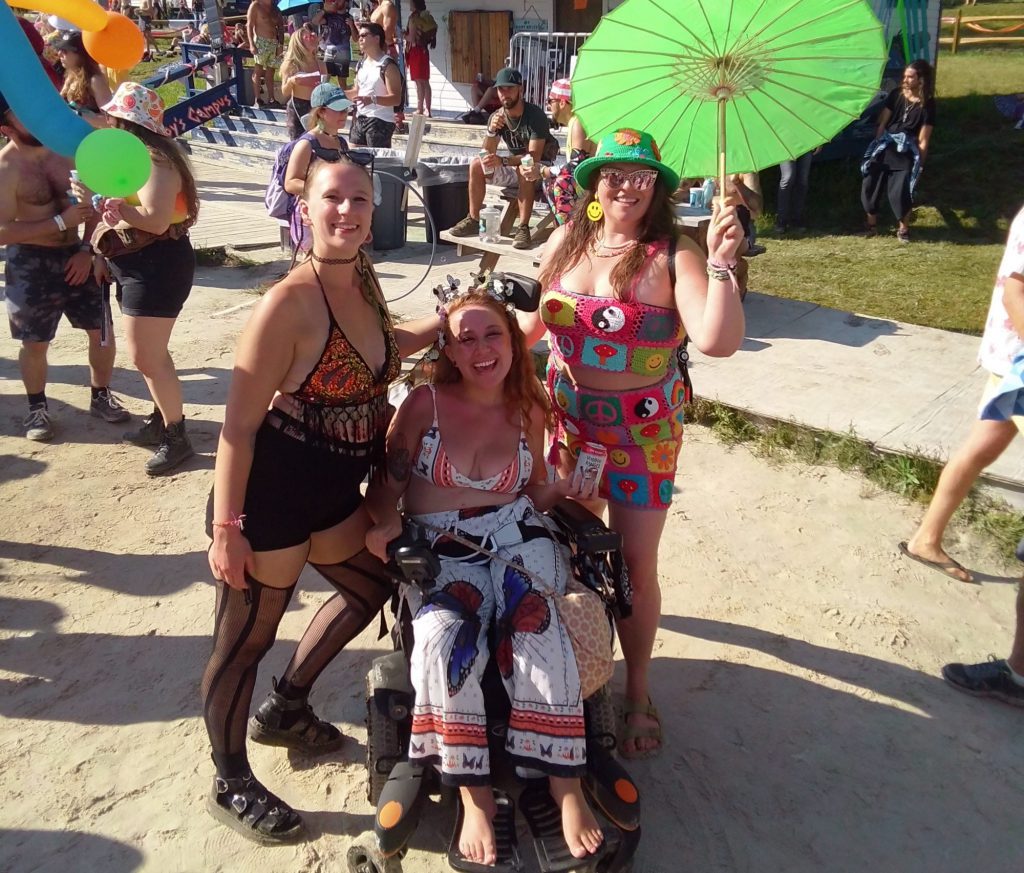 For Abby, accessibility often becomes more about the people around her with a willingness to help and less about the organizers or the event.
"It's really, really tough to encapsulate the full scope of disabilities. My issues center on physical mobility, but what about accommodations for the blind or deaf? It's very complicated and there are no easy answers," she explained. 
Because of this, Abby would still like to see more accommodations at events, but she's also open about how she'll do whatever is necessary to attend and will often rely on the goodwill of those around her.
This is a key point that often is and always should be a theme at these events – how we all contribute to a shared experience. Abby's story is a perfect example of how our scene can be "better together" when we all pitch in to improve a situation. Let's look at this from the perspective of those that helped her at that moment. Perhaps one of them wasn't having a great day, but now they feel the reward of uplifting others. And now they are dancing with Abby, feeding off her energy and her ever-present smile. Now they are having a good time and feeling better, too. As Above & Beyond often say, "Look out for each other!"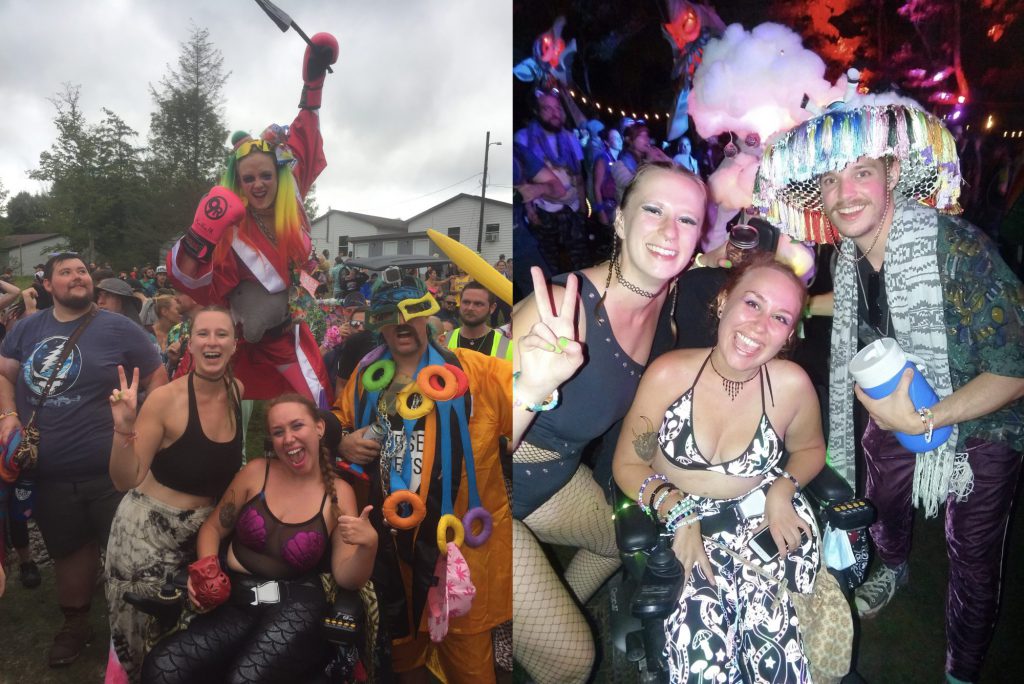 Audience members like Abby are in the minority at events, but there are ways they can leverage that status without abusing it as well.
Abby noted that she nearly always reaches out to organizers before committing to an event to discuss ADA accessibility. Where hoards of us often can't get simple questions like "is there a coat check" answered, many events have an ADA liaison or team and Abby will always tap into that. 
"If it's a concert I'll simply call the venue and just say hey, like, do you have a ramp? Do you have an ADA-compliant bathroom? Is there an accessible viewing area? And for camping events like Elements, I'll reach out for a specific contact and they will almost always stay in touch with me every step of the way," she said. "I'm not too disappointed if there are limitations, so long as I'm aware of them. But when I pay full price after being told there are accommodations that are not in place, that's when I get frustrated. This can also make me feel unsafe, and that's not good for anyone." 
Thankfully, her experience is more often one of accurate disclosure and a willingness to help.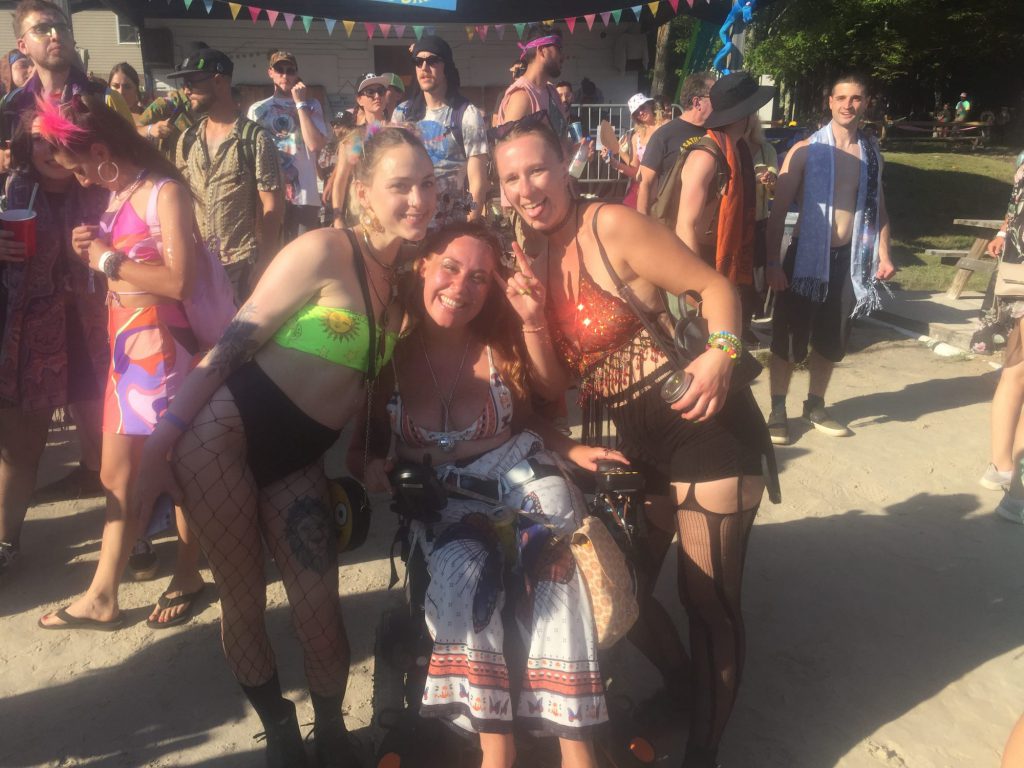 Perhaps the most important thing that Abby would like is to be noticed and be treated the same as anyone else in the crowd.
"People who have disabilities can sometimes be overlooked as an engaged member of that population," she explained.  
This loosely correlates to people who say they don't see color. Not seeing a disability, or color is cultural blindness. Instead, it's about seeing these differences and acknowledging them, but not making them a key tenet of interaction. 
She further added, "there should never be a time or place where physical barriers stand in the way of somebody being able to engage and become involved in that community as well. And I'm definitely appreciative of the people who are planning these events and take into account all the different types of people who are in attendance."
It was really beautiful to speak with Abby about this very personal and important topic. She's such a happy person and truly shares that happiness with everyone she can. This was my big takeaway from our conversation – if Abby can see past event shortcomings that limit her experience, can't we all? If we're complaining about long food lines, for example, how does that compare to someone that can't even get to the dancefloor?
If we all contribute to a positive experience, we can all make the most of even the most challenging event infrastructure. That's the power of our community!