Mild Minds has been on a steadfast grind this year, and we couldn't wait to catch up with him about his tour, new releases, and more!
---
Benjamin David, musically known as Mild Minds, has been on a steady rise since the project's earliest releases. From his debut album, MOOD, released on Foreign Family Collective in 2020, to his most recent EP, IT WON'T DO, he has honed his sound while simultaneously remaining vigilant in challenging himself creatively.
Mild Minds' most recent single, "Everything," sees him team up with edapollo to create an emotive and dance-forward collaboration primed to be the soundtrack to all your soon-to-be triumphs. He also just wrapped up a live tour that started in April at Coachella, made stops in cities like Chicago, New York, Vancouver, and Melbourne, and concluded at Outside Lands in San Francisco.
It has been a big year for Mild Minds, and we were ecstatic to have the opportunity to catch up with him to talk about tour memories, dive deeper into his recent releases, and touch on everything from artificial intelligence and songwriting to the future of the project. Be sure to support his recent releases and read on for the full conversation with this Melbourne-born, Los Angeles-based producer.
Stream Mild Minds – "Everything" featuring edapollo on Spotify:
---
Hey Mild Minds, thank you for taking the time to speak with us! Let's jump right into it. It has been a very exciting few months for you. Taking the live tour around the world beginning at Coachella and concluding at Outside Lands, what was a highlight moment and lowlight moment (if you don't mind sharing) of the tour?
Edapollo and I toured Australia and the US together this year, and I'd say, for me, playing back home in Australia was a really big highlight because I had avoided playing my first shows there for so long. I made a promise to myself I wouldn't play there until the project actually had a strong enough base. Ultimately, we ended up having some great sold-out shows there, which was a big deal (and vindicating for sure).
We didn't have very many lows, but we did have something that's more of a funny story. The set times had changed the day of the show in Vancouver (Canada), and my management hadn't updated the set times across all of the worksheets yet. I went to the hotel after soundcheck, and my phone wasn't working because my sim card wasn't updated to work in Canada yet. And, at the hotel, no joke, both the wifi wasn't working, and the hotel phone was cut to the room, so there was no way to contact me at all.
I had this strange feeling, and I felt like I was supposed to be back soon, so I went downstairs to find some wifi to figure it out. I messaged the promoter to see if the set times were correct, and it turns out I was on in five minutes. I had to sprint back to the venue, and I was sweating. These are the nightmares musicians and performers have. That was so close to me potentially missing a show or coming on late, disheveled, but I made it just in time. It was definitely scary, but I made it so it just ended up being a kind of funny moment.
Catching your live set at Outside Lands was a real treat, and you also played a DJ set at the Toyota Music Den. As far as the energy exchange between yourself and the crowd, do you feel more fulfilled after a live set or DJ set?
Mild Minds: I would say, in general, live. But (it's probably because it's more recent than I remember) the most reactive show I ever had was a DJ set. So besides that one-off DJ set, I would say live shows because I think people are connecting more intimately with the music because they've listened to it, they like it, and they've connected emotionally with it out of context; whereas, with the DJ stuff…when you're an artist and you're DJing there can always be a few people who are confused what's going on. Like "Why aren't they playing more of their own songs?" or that sort of thing. So generally, live for somebody like me is a better situation.
That makes sense. Also, just curious. What was the one-off DJ gig and venue you mentioned earlier that was super reactive?
MM: It was Superstition in Austin, Texas. The crowd just went crazy and got really into it.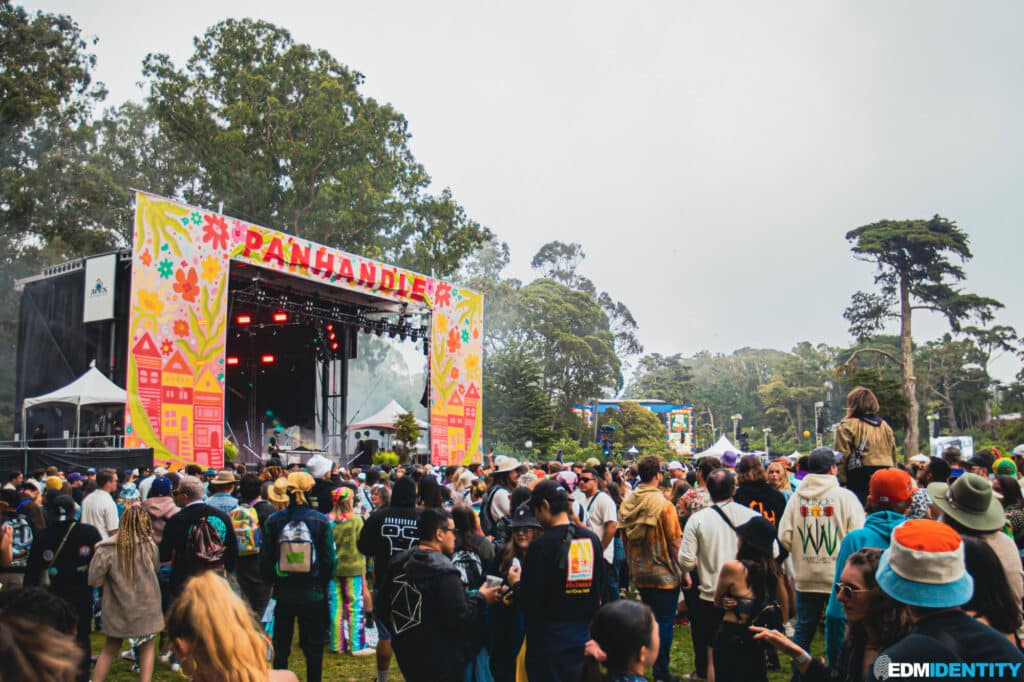 You just released a beautiful new song called "Everything" in collaboration with edapollo. Having toured together earlier this year, what production qualities drew you to edapollo, and how do your creative strengths complement each other?
He is really quick at creating. He creates music with quite a "carefree" attitude, and while I've had moments of that for sure, I think I tend to do that less.  That attitude is kind of how this project (Mild Minds) was born, but I think he is always ready to go in headfirst with that aspect and I'm perhaps a little bit better at sitting back and critiquing or knowing the vision. So he experiments freely, and I have a specific vision, and we kind of taper those together. He's also good at creating in any direction so that's kind of how we complement each other.
You also recently released an EP titled IT WON'T DO on Foreign Family Collective. With your music being very visceral and evocative, what was on your mind while you were producing IT WON'T DO and what inspired the EP art?
That EP wasn't really made as a set body of work. Each song was made separately over two years. So I was in a lot of different moods, but it started with me being into a bit more moody, melancholy, beautiful songs like "Haunted," "No Skin," and even a bit of "Devotion." Then, by the end of the EP, because I had done so much of that, I really wanted to make a party song, and that's where the song "It Won't Do" came from. Just something super upbeat, euphoric, and fast.
So yeah, the EP was quite the progression…and the EP artwork was made around the time AI art was starting to come out, and I was just blown away by how creative I could get with that. I've had images in my mind since I was a teenager, and to be able to actually create them, or close, or some weird version of them was really amazing.
I knew I had to explore that. And, I was so blown away by it, like, when I first saw it, it looked so real. It looks like a computer in a garden. It really drew me in, so I wanted to experiment with that contrast. There's also this post-apocalyptic feel to the concept of old technology being overtaken by nature. I just thought it was a cool contrast to play around with. All the computers were the style of my childhood, so there was sort of a nostalgic element to it.
That was some of the first stuff I had done with AI, and now I've done way more, and it's way better. You really can, maybe not every single topic, but 50-70% of what you imagine in your head. If you have the right words to describe it and you know what the look is coming from and the style, you can really taper and play around to get what you imagine in your head.
You have remix releases for both IT WON'T DO and your debut album MOOD. When listening to others' interpretations of your originals, what stands out to you most about a good remix?
It's definitely a mixture of things. I usually like when someone reinterprets a song, but that could also be very bad. You know when something is good, and I've been lucky enough to work with heaps of people that I listen to, and that is often hard to make happen. Thanks to this project, I've been able to connect with artists that are just good. So, there's not much for me to say there because they just do good work, you know? It's really tough to describe because anything could be bad or good.
Speaking of MOOD, it was the album that really put me on to your music. Reflecting on the album today, is there a particular track that embodies that chapter of your life most accurately and why?
Let me take a look at the tracklist so I don't miss anything. I don't know if I can say that one track does. A bunch of them were all made within one month, and that was a really special time for me; those were "Swim," "Formations," "Views," and "Destination." Those were the ones I made right at the start, and that inspired the whole project. I think the time for me was a really new time. I had just come out of this time finishing another album from another project that had taken a while. Then had some time off and decided it was time to explore something new very freely.
So, those songs getting formed very quickly are a good example of that period of my life because I was just listening to cool music and whatever came out I accepted as being used, as opposed to "oo I don't know if this is cool" and just avoiding that time of mindset. I think "Formations" is really great because it's done so well so for me; it represents that moment in time. It's so simple and clean, and it didn't have any overthinking to it at all. So, that track is also a good representation of that time.
One of the aspects of your music that stands out to me most is your vocals and lyricism. Across your discography, what is a lyric you wrote that proved to be the most therapeutic?
I think for me it was "Swim," but my favorite lyrics I ever wrote were for "Haunted." Like "Flowers in the winter bloom" and things like that were my favorite visual lyrics; however, I wasn't writing from the point of experience of a loss; I was writing from the perspective of imagining a loss. So, "Haunted" wasn't as much cathartic, but "Swim" was a moment where, as I mentioned, I had just come off the back of that other project. We were dealing with someone whom I was working with closely, and we were just kind of at each other's throats almost, absolutely over each other, and we separated and went our own ways.
So "Swim" and some of the lyrics in that song are about that and actually allowed me to express that and get that emotion out which I don't generally do with music. Like the lyrics, "I'm feeling like it's gone too far" and "You've got to get away from here." That was taking immediate inspiration from my life, and I didn't have to change the lyrics at all; it's just what came out. The reason I mentioned "Haunted" first was although I moreso creatively thought of the lyrics, I was also thinking of the fear of losing parents and things like that so it was actually an experience.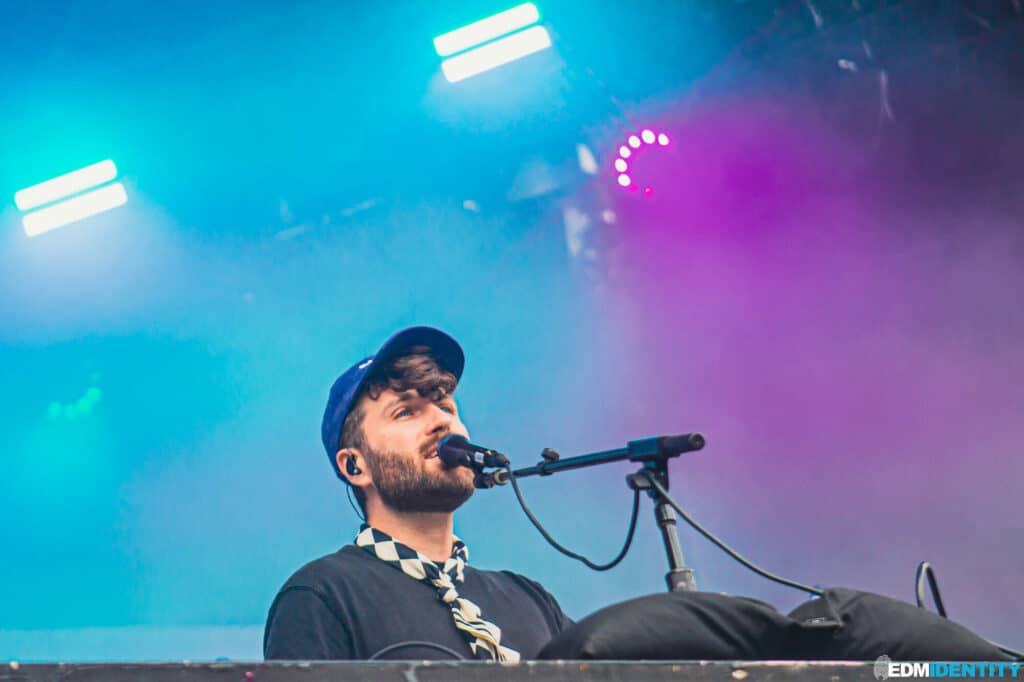 You recently played some sold-out hometown shows in Australia, making stops in Brisbane, Sydney, and Melbourne. Do you feel the hometown shows are more energetic or in hubs like Seattle where Foreign Family Collective is headquartered?
I think hometowns and, specifically, cities like Los Angeles, where I live now, are great. All my friends were there, but not only that, the crowd went really crazy, and they didn't even know I lived there. That was a beautiful moment where it was friends and family. Then, obviously, playing shows in Australia is beautiful. I think the best shows you can really do are hometown shows because those are the places that really know your music and the people that really knew me.
After finishing a run of shows or tours, what is the first food establishment you visit that makes you feel like you're home, and what do you order? (Los Angeles or Melbourne)
When I come back to Los Angeles, I always go to Wax Paper, which is a sandwich place that is really good. It's like restaurateurs making creative sandwiches, and it has its own vibe. In Melbourne, it's got to be a Bahn Mi.
What are some future project details you can divulge to fans that will make them even more excited for the future of Mild Minds?
I'm working on a new album. And though it will be quite a while away, I'm interested in developing a new record label. The purpose of this would be at least 50% so I can release more of my music that wouldn't fit under the Mild Minds project, giving me a little more room to create freely. Like, if I want to create a really fast house track or something more dancey, that wouldn't fit within Mild Minds, I will have an outlet for that now. Also, to have friends jump in and release on it, too. It'll be great to have this new outlet to make new music more freely.
---
Follow Mild Minds:
Website | Facebook | Twitter | Instagram | SoundCloud | YouTube