Coachella has made efforts in recent years to ensure that its festival culture empowers its community through initiatives such as Queer+, GV Black, and Accessible+.
---
If you were to glance over this year's Coachella lineup, it wouldn't be hard to notice the numerous international artists and diverse genres. While the music festival started from humble punk-rock beginnings, the inclusion of more non-English speaking acts throughout the years transcended the SoCal event into a global phenomenon. And although there are dedicated stages to certain genres—like the Latin, indie-punk Sonora tent—the event's stage programming makes it impossible to skip an act outside of your musical comfort zone. From Bad Bunny to BLACKPINK to Diljit Dosanjh, the Polo Fields event embodies the current state of the musical landscape, and the diversity present at Coachella goes well beyond the list of artists performing.
In recent years, Coachella has made efforts to ensure that its festival culture empowers its community members through initiatives like Queer+. In its second year, this program aims to amplify BIPOC LGBTQ+ voices at the festival through archival activities, guest speakers, and holding a social space in the center of the festival to be widely accessible for every attendee. Juice Huskey, the co-founder of Queer+, said they were inspired to create this festival activation after their own unpleasant experience at Coachella.
We pushed this initiative [because] coming here, it's hard for a lot of gay and trans people because of the fact that we're so discriminated [against], and we're not always seen as ideal… and [we're] excluded in a lot of ways, so we were able to meet the right people and pitched our idea of having an activation on-site.

Juice Huskey
On top of the activities, the program focuses on community building by offering a most-expenses-paid opportunity for ten BIPOC LGBTQ+ applicants to experience Coachella, but Huskey emphasized that it's more than just bringing participants to have a fun time. This year, the program received over 300 applications, and Huskey explained that this venture is important because it brings community members from different financial backgrounds and introduces new perspectives that can better shape the festival's culture.
The people that we do bring, we try to further their opportunities as well, in the way that we can [within] the festival realm. Whether that's connecting them with directors or producers or artists.

Juice Huskey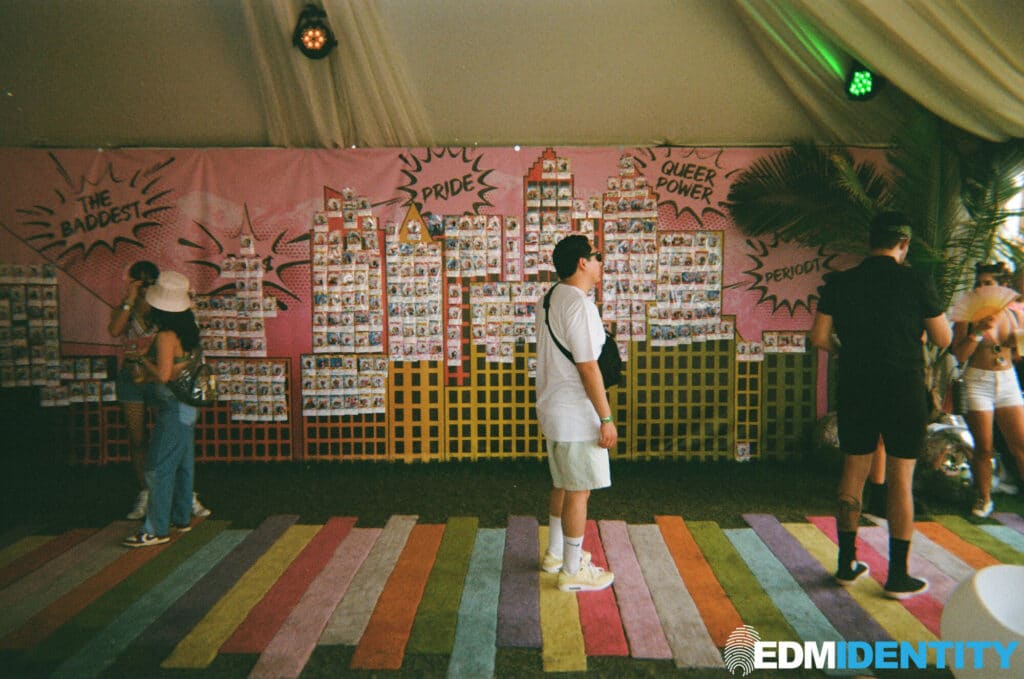 At the activation tent, attendees will find a mini runway to flaunt and feel empowered in their outfits and a photo mural where participants can document their authentic selves. The walls throughout the space are decorated in a comic book theme with vibrant, positive quotes in bold lettering, which serve as affirmations and implement a belief that those who enter this space have a superpower within themselves. 
Inside the tent, people are relaxing in the shade while escaping the triple-digit temperatures, conversations between friends are filled with laughter and excitement, and although the sound from the main stage bleeds into the lounge, there's peaceful energy in the Queer+ headquarters.
Varda Durandisse, who's attending Coachella for the first time, said they discovered Queer+ through the Coachella app because not a lot of marginalized communities talked about the festival, and it was important for them to find a space where they could feel comfortable. "Being here and meeting other queer people and black people is a sense of belonging, and we can have fun and you can be yourself," they stated.
However, it's important to keep in mind that spaces like these are under attack across the country. According to Harvard Law Cyberlaw Clinic, which tracks the number of proposed anti-LGBTQ+ legislation throughout the U.S., an estimated 523 bills have targeted gay rights in 2023, with nine states carrying the worst active anti-trans laws.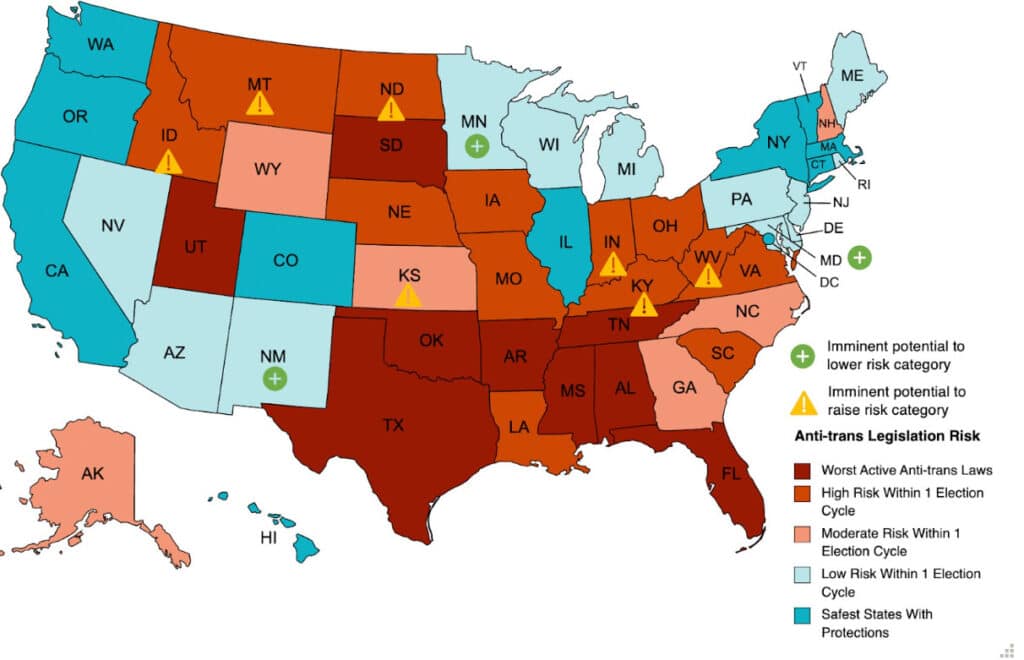 Jazz Shriver, one of the production leaders behind Queer+, said that because of the rise of anti-queer legislation, programs like Queer+ are critical—especially for young queer people.
The world needs to see that we are human. We're all born the same way. We bleed the same way. We feel the same way, and just because we choose to be with someone of our same or non-binary sexual orientation doesn't mean we are different… We want to live unapologetically us.

Jazz Shriver
A recent survey conducted by The Trevor Project found that LGBTQ young people who had access to more affirming spaces reported lower rates of attempting suicide than those who did not have the same access to queer-affirming spaces. Additionally, 19% of transgender and non-binary young people in non-gender-affirming spaces attempted suicide in the past year, compared to 15% of transgender and non-binary young people who attempted suicide in gender-affirming spaces.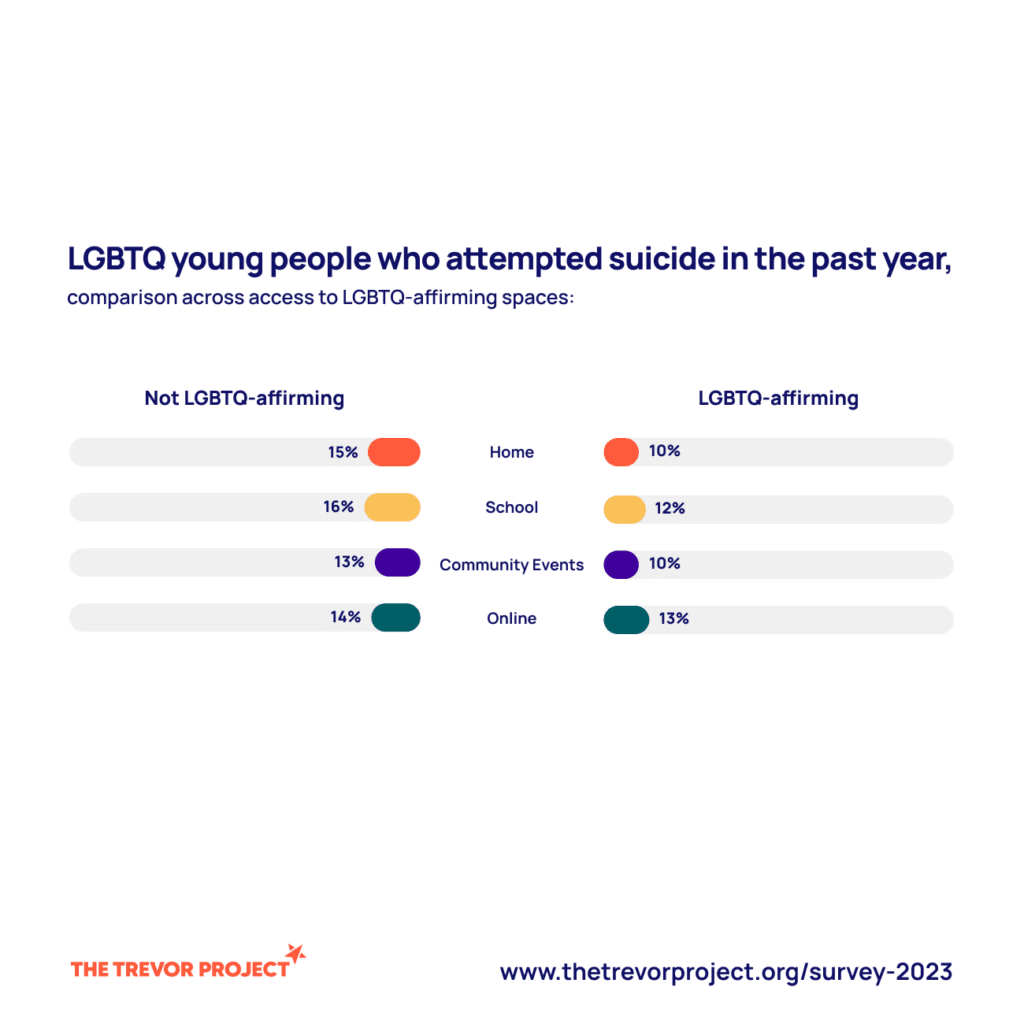 With the increase of attacks against gay rights, Shriver refers to the diversity of the Coachella lineup and how this year's queer acts are not silencing or taking space from other performers. Instead, each attendee has the freedom to decide who they want to see, and Shriver wants the world to understand that it's the same with spaces like Queer+.
Everyone is different, and everyone deserves to walk the path that they are born to walk, and none of this interrupts a cis point of view, a gay point of view, a non-binary point of view, none of this interrupts the path that you are born to walk.

Jazz Shriver
In addition to Queer+, Coachella is evolving its festival identity through other avenues such as GV Black and Accessible+. Under the GV Black program, it aims to bring more Black representation within the music community, employment opportunities for formerly incarcerated individuals, and partnerships with Black designers to create merchandise for the festival, while the Accessible+ activation prioritizes on creating a more inclusive experience for BIPOC people with disabilities through professional networking, career opportunities, and community building. 
While it's clear that the festival is working towards an experience where everyone is welcomed, Huskey stated that these initiatives are just a starting point in creating lasting change, and they are excited about continuing the mission of Queer+ both at Coachella and beyond the festival.
We're trying to do a lot for the community as far as like inspiring and paving the way and helping people see the greatness within themselves and using Coachella's overall experience of being a life-changing experience, and [we] hope that this reflects over to the real world and inspires them to go chase their dreams and do what it is that they want to further do.

Juice Huskey
---
Follow Coachella: