Caspa, Monty, TRUTH, Distinct Motive, and more are set to take the stage at the upcoming edition of Infrasound Equinox this fall.
---
There are just a few weeks ahead of Infrasound fans before the beloved fall edition of the festival known as Infrasound Equinox will take place on September 14-17 at Harmony Park Music Garden in Clarks Grove, Minnesota. In true Infrasound fashion, they've dropped their lineup in the short weeks leading up to the event, but diehard fans have already had their tickets for months. Two weeks ago, it was revealed that UK dubstep legend Caspa would return to the festival as he will be back to tour the States after a long post-pandemic hiatus.
Today, they've announced the full lineup with plenty of Infrasound favorites and fresh faces alike. Kursa, TRUTH, ENiGMA Dubz, Duffrey, Chef Boyarbeatz, and hometown trio Ternion Sound are among those returning to Harmony Park this fall, with performances that get better every time. Some noteworthy additions we're stoked to see on an Infrasound lineup for the first time include Monty, Cool Customer, Gingseng, Bread Winner, and crawdad sniper. Distinct Motive is another that fans have been begging the festival to book for some time now, so we are itching to see this Canadian dubstep king throw down at Harmony Park.
A huge part of the excitement with a festival as sound-system-focused as Infrasound is waiting to see what stages your favorite artists will get to play on when the schedules arrive because every stage is unique in its own way with a different set of speakers. This year will mark the 10th anniversary of the festival's iconic Pyramid Stage, and to commemorate it, they've planned to burn the beloved structure at Equinox this year. The burning will make for a special and bittersweet occasion indeed, and we can't wait to be back around the campfires and stages alike at Harmony Park in its crispy fall glory.
General admission tickets include camping and are on sale now via The Ticketing Co, so be sure to grab yours if you plan on joining us under the oaks in just a couple of short weeks.
---
Infrasound Equinox 2023 – Lineup: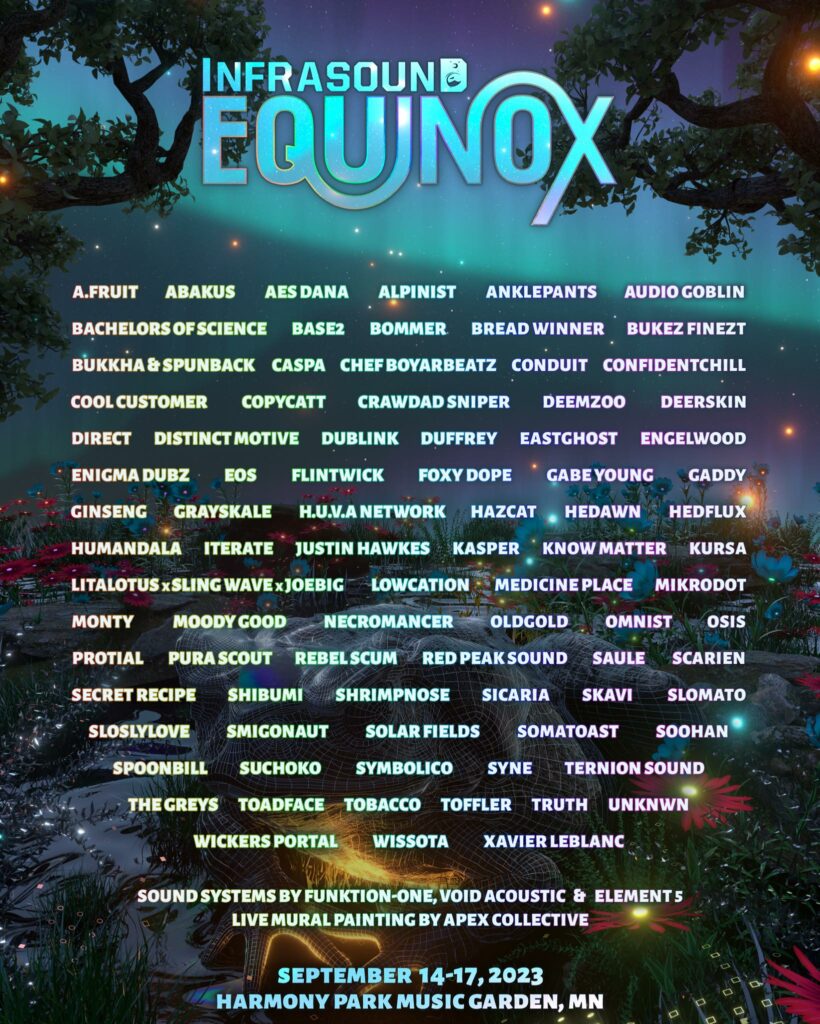 ---
Follow Infrasound: