Rising bass artist crawdad sniper swung by to discuss his artist name and his rise in the scene, and his recent performances all over the US.
---
With a bit of every music genre imaginable as his muse, crawdad sniper first brought his talents to the bass music scene in 2021. He has since gained well-deserved recognition and love that have only since snowballed in 2023. Based in Washington, D.C., crawdad sniper is not one to take genre boundaries (or anything in life) too seriously. His music nods to countless styles, from classic rock to indie psychedelic sounds. Fans can't help but appreciate the original and funny branding that goes along with weirdly wonderful sounds, which are exactly what you'll hear in his sound-design-focused and bass-filled discography.
This year has been full of wins for crawdad sniper, who has released two EPs with plenty of singles and SoundCloud bootlegs in between. Among them is his popular take on "Butthole Surfers" by Pepper, which takes the trophy of his most-listened track on SoundCloud. He's gotten to show off his groove-heavy flair on some crispy sound systems recently, from Sound Haven's mainstage to Elements Festival's Wub Hub stage. With upcoming performances at Submersion Festival and Autumn Revival still ahead of him, 2023 undoubtedly marks a breakout year as he hooks more fans at every stop.
Not only did crawdad sniper make us an incredible guest mix, but we also got the chance to ask him about his inspirations, his journey to becoming "crawdad sniper,' and plenty more in our interview! Keep reading for our chat to learn more about this next-up rising star, and cue up the mix to hear what the crawdad hype is all about.
Stream EDMID Guest Mix 384 || crawdad sniper on SoundCloud:
---
Hey Zac! Thanks so much for taking the time to chat with us. Before we dive into your music, we wanted to start off with a burning question that you may have expected. Can you share how you chose the alias of crawdad sniper?
Hey Abby! So, unsurprisingly, crawdad sniper was actually my Gamertag on Xbox growing up. It was an inside joke between some friends and me that we memed endlessly. It evolved from a bunch of things but eventually became "crawdad sniper." When I was trying to come up with a name for my project, crawdad was really the only moniker to which I already felt some attachment. I feel like the music I like to make has a kind of absurd and silly quality to it, and crawdad sniper captured some of that absurdity to me early on.
Now that we've solved that mystery, crawdad sniper was born in early 2021, and only two and a half years later you've already received some massive support locally and beyond. How long had you been producing before the alias was officially born, and what pushed you to start?
The majority of my musical background has come from drumming since I was about eight years old. I picked up Ableton around 2014, writing weird, psychedelic indie stuff and just having fun with it. I remember learning that Gorillaz was only one person, which kind of blew my mind and changed my perspective on songwriting. I feel like until then, I hadn't even realized it was possible to do it all yourself, let alone from your own bedroom.
Soon after, I got myself a MIDI controller and a DAW and started experimenting. It wasn't 'till I went to college in 2016 that my roommate and close friend Dhananjaya introduced me to electronic music and the live scene. All throughout college, I was making songs and beats under a number of different monikers, but I'd say I only really started taking it seriously in 2020, working on music throughout the pandemic lockdown, and building a catalog to start the project in 2021.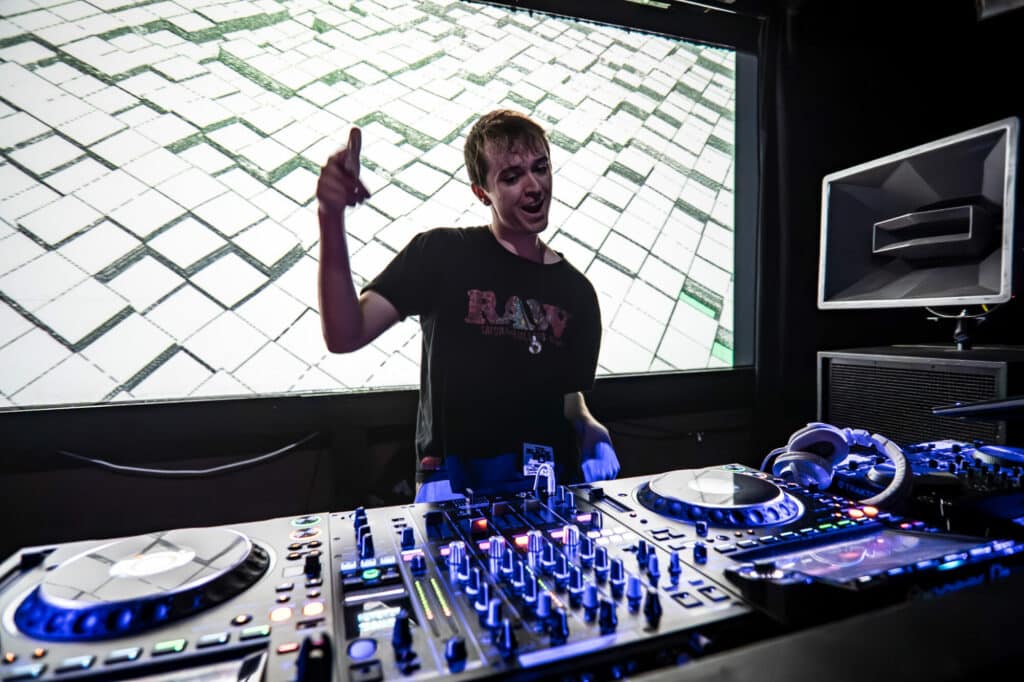 Who were some of your early musical influences that inspired you to want to create your own?
Ween was definitely one of my biggest creative influences when I first started writing my own music. They have a particular style to some of the early records that fans and the band themselves call "brown music." Brown is every color at once, every genre at once, swirled together in a dirty, distorted mess, just barely tipping beyond incoherence. While this isn't exactly how I would describe my own music, that style definitely played a huge role in my love for bass music.
There was something super inspiring to me about music that, on the surface, was extremely abrasive and nearly hard to listen to, yet built over a foundation of incredible songwriting and musicality. I find bass music to be similar to this in how a lot of talented producers understand how these sounds work scientifically, utilizing these big-brain techniques and programs in the smartest way to make the silliest sounding music you've ever heard. Life is full of brilliant imperfections. I really like when music does that as well.
If bass and breaks listeners didn't know you before, so many new fans undoubtedly discovered crawdad sniper when you dropped your latest EP, Got Gusto. Can you share a little about how these tracks came to life, and how they've been received?
There's not much behind the name Got Gusto besides that it is actually a reference to One Piece. There's a character who always talks about doing things "with gusto," and I just liked how it sounded. [Laughs]
A lot of the time, for me, songwriting is a flow state blur. Once I start a tune that I am excited about, it's hard for me to focus on anything else but finishing it. However, I remember for sure that at least "Small Talk" and "Brain Tolerance" were written almost immediately after Secret Dreams last year. I was extremely inspired by the sets from Alejo and Cool Customer and by the release of Mickman's album that summer as well. I was very lucky to have the opportunity to play on the Burlington, Vermont stop of the Colony Wars tour in March of 2023. I got to meet Mike Wallis and Alejo, who connected me to an opportunity to release these tracks with Colony Productions.
Most of your released tracks so far have been solo, but you shared several new collaboration IDs in the guest mix you made for us. Can fans expect more collaborations from your project? Do you have any dream producers to work with one day?
Prior to this year, I had four collaborations with Dhananjaya, which we released on a couple of different labels. I really enjoy working with other producers when I can, but relinquishing control of a project has been something with which I've had difficulty. If I'm excited enough about a song that I feel like it's good enough to send to another producer, it's hard for me not to just want to finish it then and there. Whereas if I'm not super excited about something, I wouldn't really want to send it to anyone else, either.
I think there is definitely an element of imposter syndrome there, too; wondering if a tune is good enough to even send to anyone. I've been trying to be more intentional about starting projects with the end goal of the tune in mind because when a collab does work, it can be extremely rewarding. Working with more producers has taught me a lot in both technical and principle aspects. There are so many people I'd love to work with, but I'd probably say that Mickman, Keota, Cool Customer, and Alejo are at the top of the list for dream collaborations.
You've hit many shows this year, including Big Dub, Sound Haven, and Elements, with events like Submersion and Autumn Revival still on the horizon! Has anything stood out to you since touring more, be it unexpected challenges or positives? Are there any noteworthy moments you'd like to share?
Having the opportunity to share my music with people all over the country has been nothing short of a dream. Meeting so many people with the same love for the music and the scene has been endlessly fulfilling. The biggest challenge thus far has been learning how to pace myself, especially when it comes to back-to-back festival weekends. Since I started attending festivals, I usually did one to three a summer. This summer, I am doing five over six weeks. I wouldn't trade it for anything, but learning how to appropriately treat my mind, body, and wallet while balancing it all with my day job has been a learning experience for sure.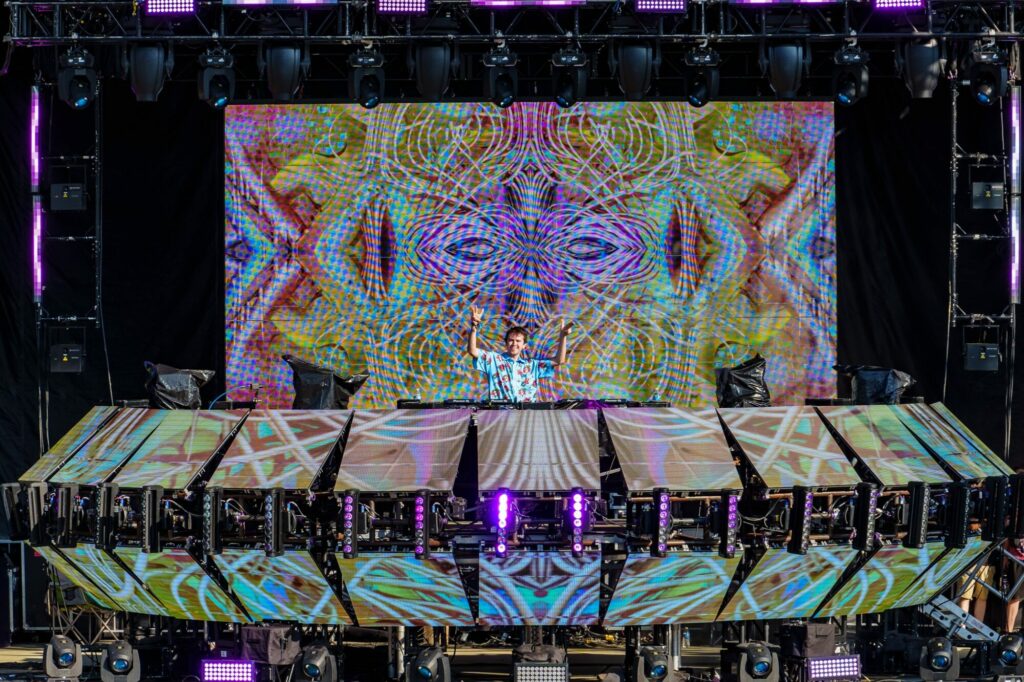 What are some future goals you have for crawdad sniper, both long and short-term? Are there any dream events to play?
I really just want to make people dance. No amount of streaming numbers or recognition holds up to the feeling of a crowd going wild. Regarding production, I've been recently exploring some chiller styles to add diversity to my sets. I think working on this type of stuff will enhance my songwriting as a whole, even for the uptempo bangers as well.
I really want to play events that place an emphasis on sound, curation, and art. I'd love to have the chance to play a Tipper and Friends event or takeover someday. I plan on keeping my head down, focusing on my craft, and hopefully, the rest will come naturally. Sustainability has been a big thing for me this year as well. Balancing work, life, music, and relationships has been tricky at points, but I believe I'm passionate enough about the project and the music to make it work.
Finally, if you could only listen to three musicians for the rest of your life, electronic or not, who would those be?
Ween, Modest Mouse, and Streetlight Manifesto.
---
Follow crawdad sniper:
Facebook | Twitter | Instagram | SoundCloud | Bandcamp