Duffrey just released his debut project on Liquid Stranger's SSKWAN, the five-track Legend of the Alley Cat EP.
---
There can only be one cool cat that reigns supreme, and he goes by the name Duffrey. This shredder of sound is known to keep all the squanchy vibes on deck and keeping listeners happily grooving everywhere he goes. With a unique sound and a personality to match, Duffrey is nothing short of the cat's meow.
Duffrey is gearing up for a busy year, and he has already killed two sold-out shows at Meow Wolf in Denver earlier this month. On top of that, he will be touring as direct support for select dates on Daily Bread's tour and heading to the tropics for Envision Festival. With so many events in the works, Duffrey felt the need to create an escape from the hustle and bustle of life with his latest EP, Legend of the Alley Cat.
Lately life feels more chaotic than ever. This EP is meant to be a moment of solace from that chaos. A break from the madness. Written with love from the deepest corners of my heart, Legend of the Alley Cat is a tale of hope and happiness in a disorganized world. Standing up to the dark with the light from within. Spreading that light to grow and to allow others to grow as well.

Duffrey
Fall into a calm state of mind as Duffrey portrays his heart through sound on Legend of the Alley Cat and let the tranquil feelings wash over you and brighten your day as each track fills you up with light-hearted energy. Listen to Duffrey's latest EP Legend of the Alley Cat now on your preferred streaming service and read on for a more in-depth look at the tracks!
Stream Duffrey – Legend of the Alley Cat on Spotify:
---
Notice your smile widen as the first notes of Legend of the Alley Cat trickle into your ears.
As soon as you press play, you can feel a weight off your shoulders as "Divine Nonchalance" begins. This tune's light energy will have you feeling weightless as the words "I love you" are vocalized; you can't help but catch the contagious smile hidden within the words. Then, you'll feel as if you've transformed into a feline yourself as "Sideways Alley Cat" plays out. The odd yet intriguing noises coming around every corner will keep your four paws prancing to the beat as you walk into the sunset straight out of a movie scene.
Joining forces with Ovoid and pheel., the three worked their magic to morph "Jazz Habbits" into a wonderfully wonky wonderland. This liquid squanchy track makes you envision yourself floating down a lazy river with nothing but your shades on and a tubular beat to coast you downstream. "Honeysuckling" brings a calm, cool, and collected vibe to the forefront with its mellow energy and groovy soundscapes. Exhale the bullshit as the inspiring lyrics are powerfully spoken into existence as the beat shifts into more vigorous spirits. "Pipedream" returns listeners to a meditative state as the sounds of chimes and soft tapping fill the space to bring the release home. By the end of this song, true elation will be achieved by the listener.
It's clear to see that Duffrey captured all of the happiness he could find and put it into Legend of the Alley Cat. As each track passes you by, it's impossible not to feel your battery charging up. Get your overdue sigh of relief by strolling the streets with your favorite alley cat, and take a moment to forget about the hectic lifestyle that is all around us.
---
Duffrey – Legend of the Alley Cat – Tracklist:
Divine Nonchalance
Sideways Alley Cat
Jazz Habbits ft. Ovoid & pheel.
Honeysuckling
Pipedream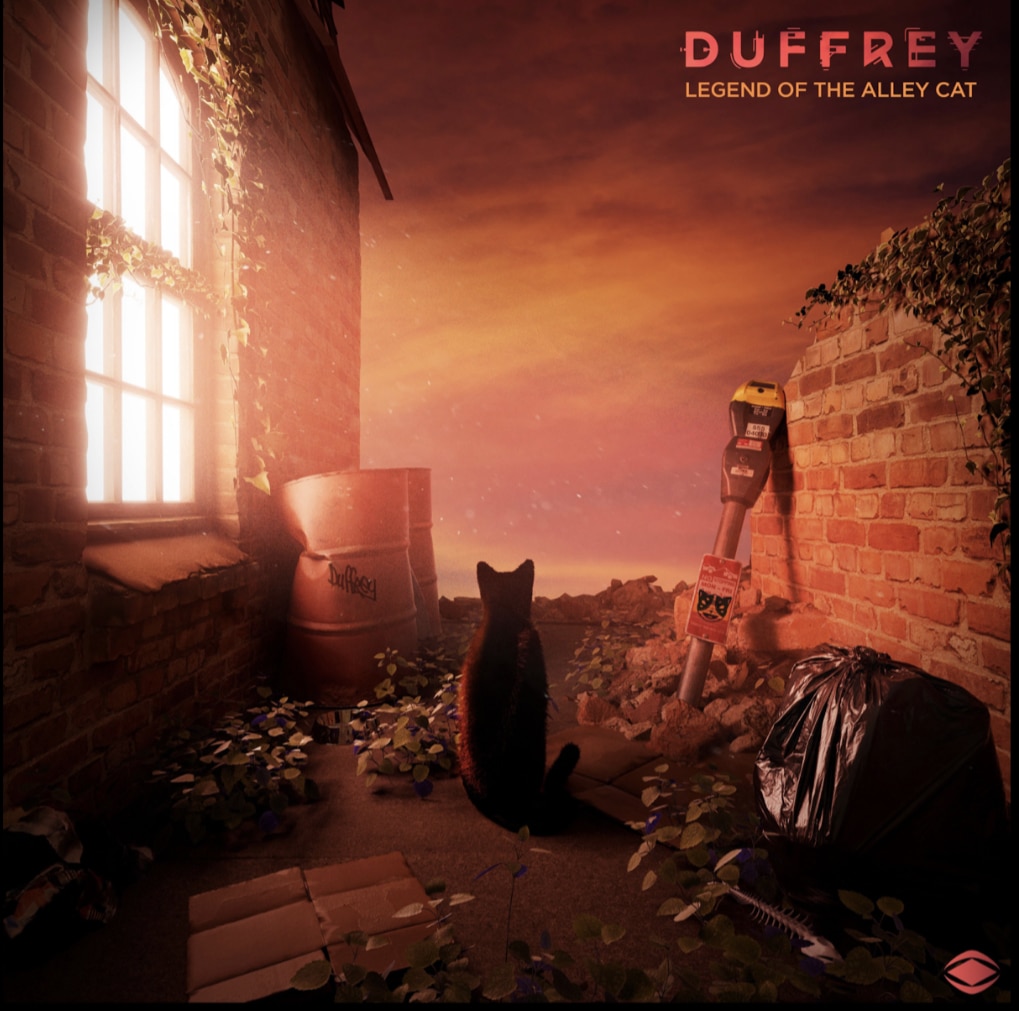 ---
Follow Duffrey:
Website | Facebook | Twitter | Instagram | SoundCloud