It's never a true Sound Haven weekend without a healthy bit of chaos, but fans will stop at nothing to attend this one-of-a-kind party each year.
---
Sound Haven Festival returned for its fifth edition this year, and it's true when attendees say that this other-worldly, bass-filled weekend is not for the faint of heart. It's been made clear over the years, and venue changes that loyal fans will faithfully stick out whatever weather extremes and little sleep that comes along with Sound Haven to enjoy their favorite artists and sound systems to the max.
Hidden deep within some of the most rural Tennessee farmland in the state resides the Jaceland property, a venue that was home to the 2019 and 2021 editions of Sacred Hive's home-grown festival. I and countless others recalled that 2021 Sound Haven with brutal memories, all insisting it was "the hottest festival we've all attended to date," even after years of camping at various events.
When the venue changed in 2022, we all caught a taste of, while still wet and stormy, what a cooler July Tennessee weekend could be. The mountainous geography of the Catoosa Event Center made for a whole new world of Sound Haven that year that was cooler, greener and offered a clean lake suitable for swimming that was key to helping beat the Tennessee heat.
Sound Haven remains independently run, and amidst inflating production costs, were also faced with heightened sound restrictions if they wanted to return to Catoosa for 2023. When the return to Jaceland was announced this year, my friends and I mourned the loss of what we had hoped would become Sound Haven's forever home, and, remembering our pain from this venue in 2021, feared the inevitably hot and unpredictable weekend to come at Jaceland.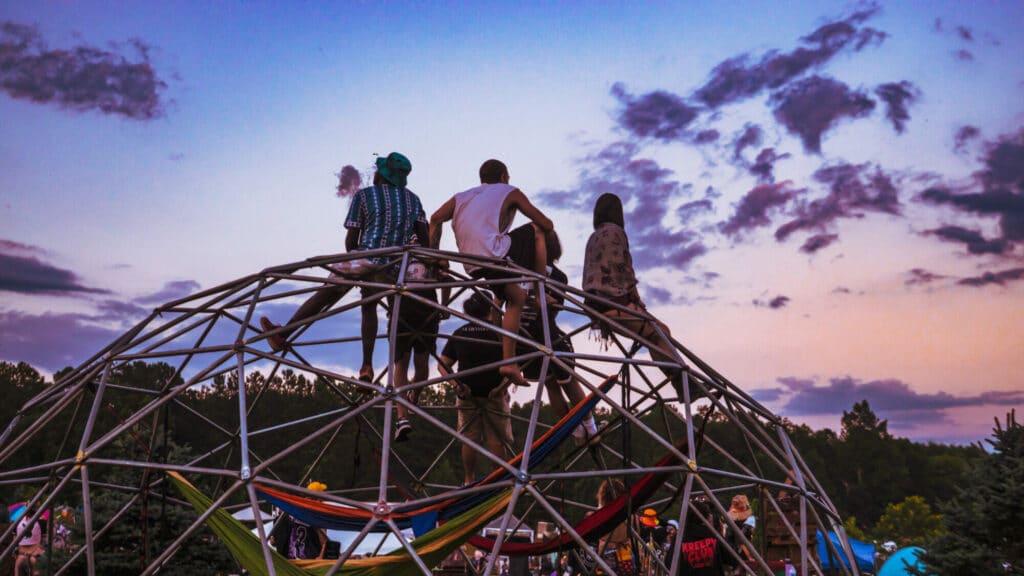 A bad storm that hit already muddy grounds right at Thursday's peak entry time brought chaos for hundreds of campers who were under-prepared.
After watching storms hit the area on the radar all week leading up to the festival, knowing more was on the way, my festie-bestie and I proceeded with caution on our journey to Sound Haven as we watched the weather. We're lucky enough to live close by and be connected with many other local Sound Haven family and staff, so we'd even heard of staff being unable to drive in earlier in the week due to the mud.
With a close eye on the radar, we saw that another huge storm was headed toward Jaceland and decided to delay our trip until we checked in with friends after it passed. Eventually, reports began to surface that cars were stuck for up to five miles on the narrow dirt road with no end in sight, and we made the smart decision to skip Thursday night.
It turned out we made a good call when hundreds of people later reported waiting for up to 13 hours overnight as staff members pushed each car one by one through the mud all night at the entrance to Jaceland. Thursday's music went on for those lucky enough to have been among the first to arrive before the storm hit, but the hundreds stuck in line missed the entire night with so many people not making it in until morning.
While the damage had been done at 2pm as the line outside the venue grew for miles, no posts were made from any Sound Haven socials until 10pm that night. Anyone on their way to the festival that evening with no prior knowledge of the storms or a friend to possibly update them wasn't warned that they faced getting stuck for hours.
We drove in early Friday afternoon to the freshly poured gravel that was brought in to repair the road, and despite the humidity remaining painfully present from the storm, the hot Tennessee sun was already working fast at drying out the area. Since we'd been warned by friends well before Thursday's storm that the grounds were already muddy with more storms on the way, it's clear that Sound Haven's team should've prepared for the worst and dropped gravel before arrival day. After all, anyone who's attended past editions will remember the notorious summer flash-storms.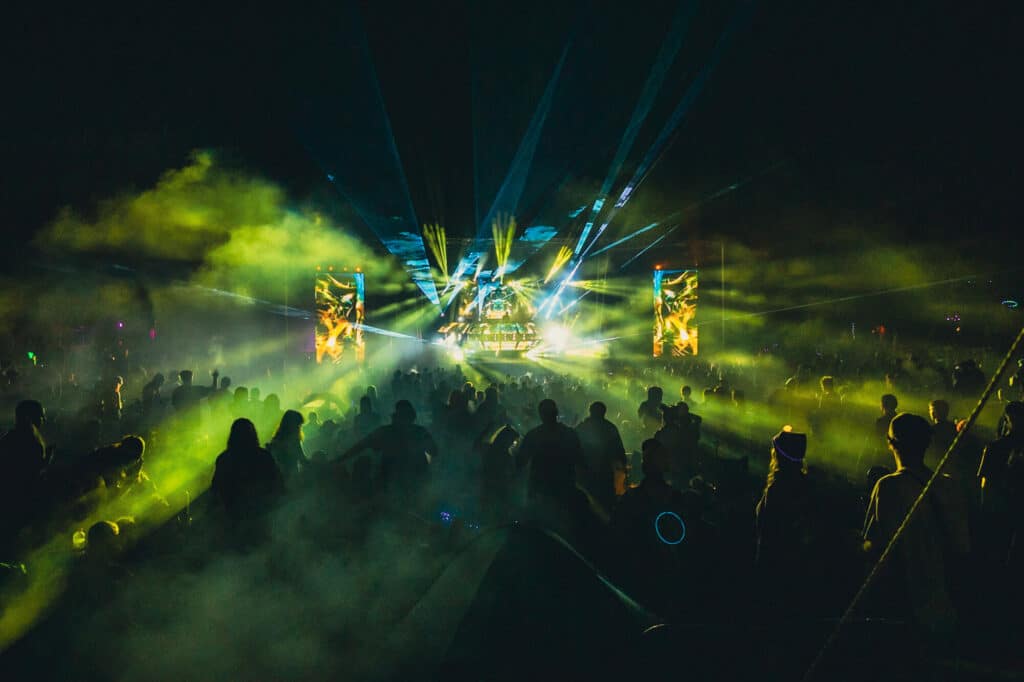 There's no doubt that Sound Haven fans are always up for any challenges with their beloved festival, so Thursday's commotion became a thing of the past as soon as Friday's festivities kicked off.
We watched the sky cautiously as more late afternoon storms rolled through the just-drying grounds on Friday. The showers eventually turned to a consistent mist that sparkled among the lasers as the stunning UFO Stage came to life with nightfall. Everyone would agree Skeler stole the show this night for the mainstage, and the set was everything I needed after wishing for so long to see him play at Sound Haven.
While the Funktion-One-Vero speakers were as satisfying and crispy as always at the amphitheater-style mainstage, I couldn't wait for the heavy-hitting Element-5 system at the more intimate late-night Planetary Stage. Akin to last year, this stage was my favorite place to be all weekend because these rare speakers feel and sound like no other and are super hard to come by. Friday's late-night curation was flawless, and every set was as fire as the last, with every artist giving their all for the rare opportunity to play the Element-5. While everyone who played this night-into-morning was incredible, my standouts were Tunic, Salty, and Die By The Sword.
I was reminded how much I loved this stage but how exhausting it becomes if you want to see everything there, with sets past sunrise each day.
Sleeping at Jaceland becomes a huge challenge when the sun comes up as bright and early as it does, and to not miss Friday's roster, I reluctantly began to relive my 2021 no-sleep experience. No amount of fans or ventilation in our space could keep us asleep for long that morning, and we laid around at camp suffering in the thick humid heat in true Sound Haven style. Once the temperature had gotten to a point where we accepted trying to sleep was no longer an option, hydration became the focus to get through the morning and afternoon.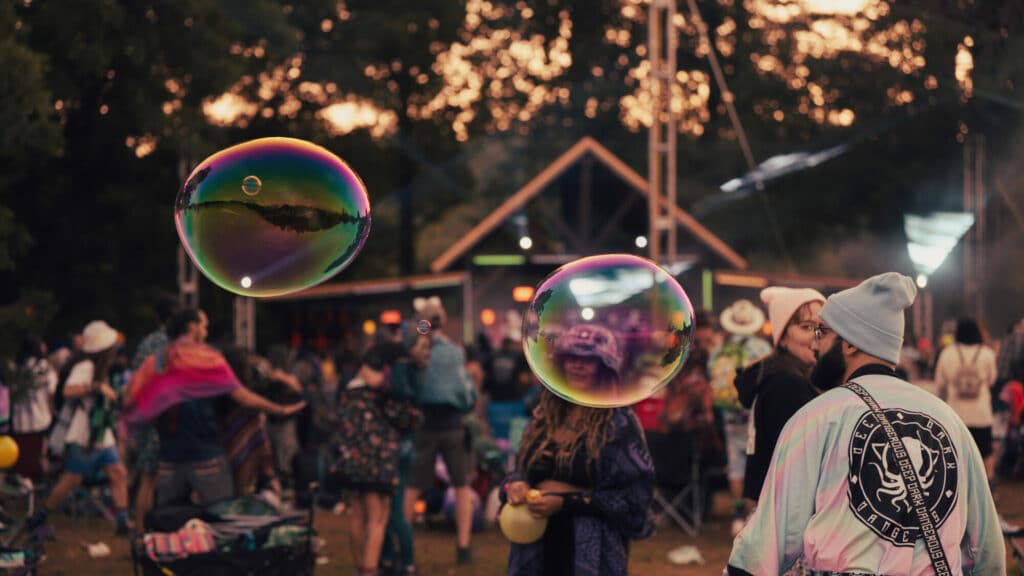 The heat was a battle we were all prepared for after experiencing Jaceland in 2021, but there's only so much you can do sometimes.
We tried to assure each other it was worse in 2021. Still, even so, late-summer temperatures in the 90s with nearly 100% humidity, thanks to the storms, will negatively affect the experience for everyone. I've learned that no matter my preparedness for the various weather extremes at Sound Haven, I always waste a lot of my time at one of my favorite festivals because of them. If we're not hiding from storms at camp, we're hiding from the relentless heat and saving the little energy we have for when the sun starts to let up each evening.
While I don't mind getting down in the rain, and each year I've been known to end up barefoot in the mud at least once, fondly using my nickname for the festival, "swamp haven," the extremes are tiring to deal with. Despite being all too familiar with the discomfort of Jaceland well ahead of time, I couldn't help but miss the Catoosa Event Center for its shade, swimming lake, and cooler mountain temperatures that made for less "survival mode" and more actual festival enjoyment. I'm always floored when I see people jump into the rancid-smelling still water of the pond at the venue, but I can hardly say I blame them for being that desperate to cool off out there.
The truth about "no conflicts all weekend" is that with music from essentially 12pm until 7am each morning, it becomes impossible to see everything unless you're one of the people I envy who can go for hours and then actually sleep in the humid heat. While sunrise sets are a Sound Haven tradition, they've always led to brutal sleepless mornings for me, and I hate choosing between missing artists I want to see on my favorite stage and getting a crumb of sleep. Saturday was another incredible planetary stage lineup, but I was lucky that my two biggest priority sets of the weekend were the first, as I knew I'd have to choose sleep after.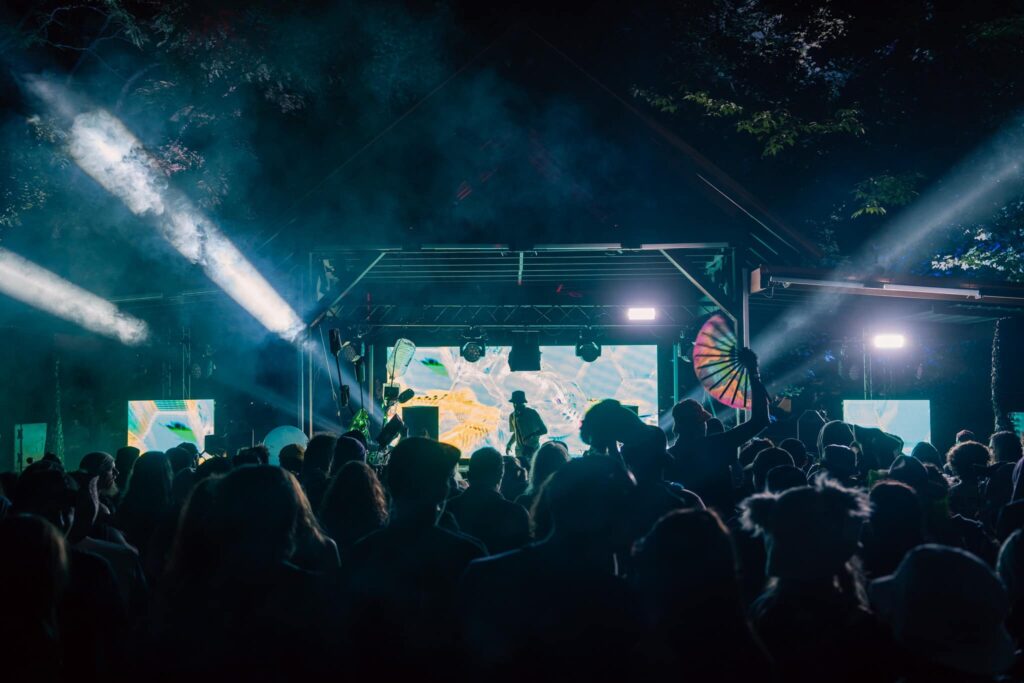 Torcha and Ternion Sound easily stole the show on Saturday's late-night following the stunning Lab Group set that closed the mainstage.
Dubstep fans were more than ready for Torcha's US debut, and everyone's energy showed him there was no better first festival to play in the country. As a long-time supporter, I couldn't have been more excited and proud, and it was too perfect that my favorites played directly after him. Ternion Sound was cheering Torcha on from the sidelines during his set, even jumping on stage to wheel one of his tracks. Other artists having just as much fun as the fans at Sound Haven every year is a huge part of what makes this event so special.
From everyone's first Torcha set to the insane talents we know and are still blown away by each time from Ternion Sound, the energy was off the charts and the highest I'd experienced all weekend. Rowdy would be a light term to describe a late-night Sound Haven crowd on any given night, but this night, in particular, had to have been one of the wildest I can remember over my three years at the festival.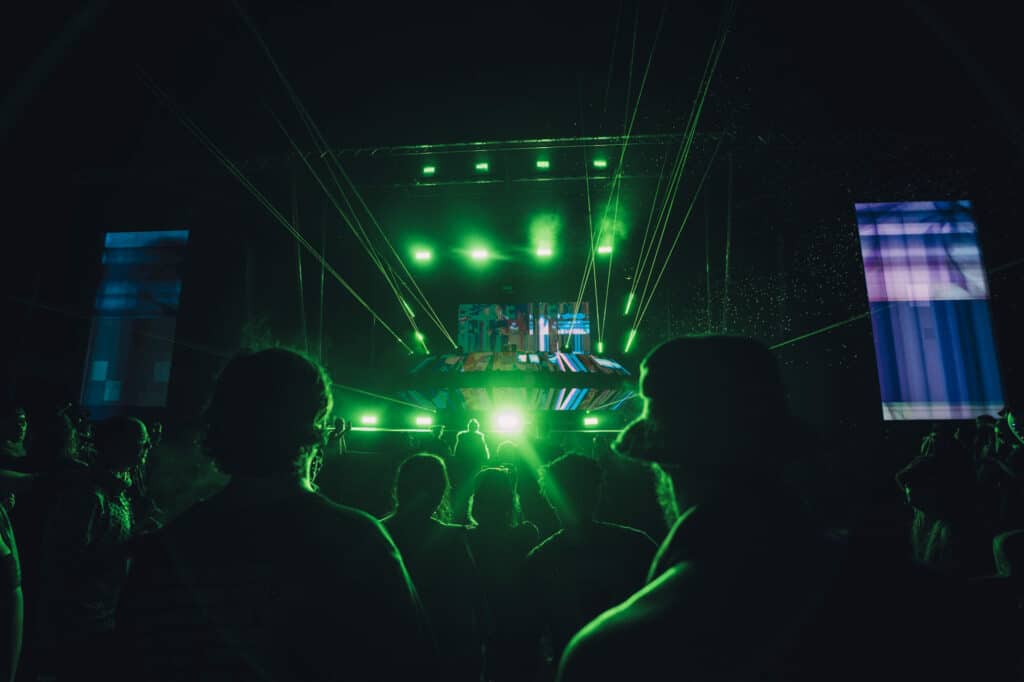 Sunday always approaches so fast, and as always, it left me feeling tons of emotions after an up-and-down weekend at one of my favorite festivals ever.
All dedicated Sound Haven fans will say time and time again that it doesn't matter what chaos unfolds there or how much we have to "rough it," we will go through it all to attend this event no matter what. This was the first time I found myself on Sunday questioning if I would have another "just roughing it" at Jaceland in July in me.
Aside from the incredible music moments, the community is a big part of what keeps me returning to Sound Haven annually. But this year was the first where a considerable amount of the crowd left a bad taste for me and others, having experienced a couple more shady encounters than usual and witnessing many attendees not respecting the property. People also took advantage of the event's lenience on nitrous tanks, which caused uncomfortable vibes for newcomers and, according to Manifest Green, generated a hefty portion of the event's waste due to their weight. The festival's total amount of trash was almost even with 2021's, despite having half as many attendees this year.
Thankfully I spent my last day with amazing people, and after finally sleeping for a few hours, I could soak in my favorite day at the UFO stage all weekend.
Each performance on Sunday's mainstage lineup blew me away, and all sequenced too perfectly. I couldn't ask for a better two sets to close out the mainstage for the weekend than the unreal talents of Resonant Language and Supertask. I made it two sets into the late-night stage before calling it a night for the last time. I was sad to miss sets I wanted to see early Monday morning, but I knew with a drive ahead of me, I needed to get rest so that I could get home safely.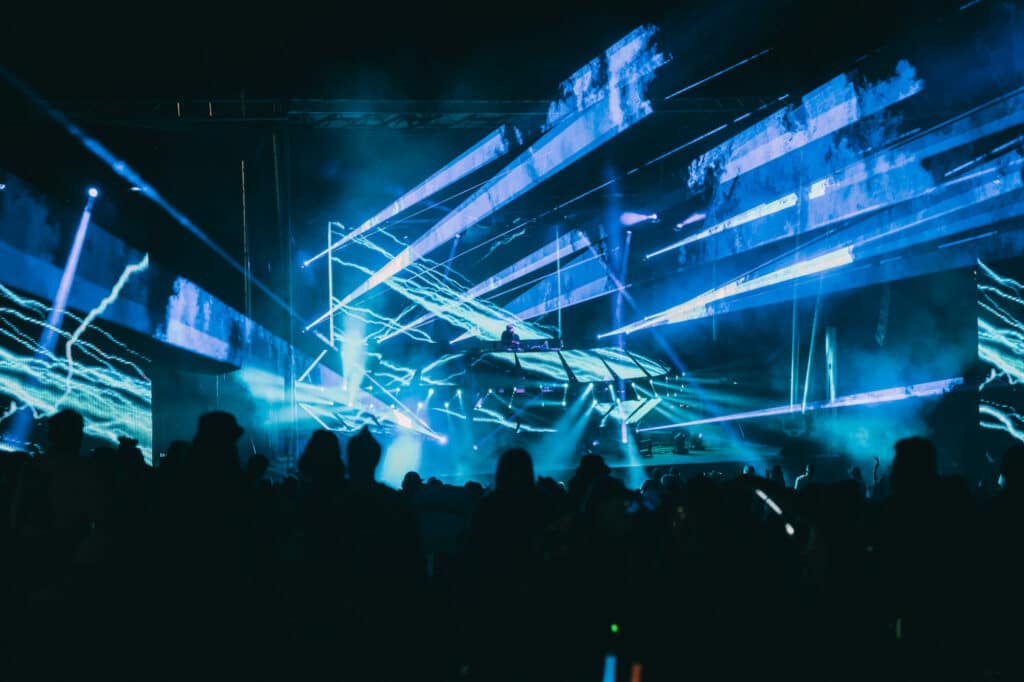 Sound Haven will always hold a special place in my heart, with countless highs, lows, and humbling lessons learned over the years.
I realized the deep sadness I feel when leaving this event is always thinking about parts I'd been forced to miss and yearning for the greater potential of this festival experience that I know they could be capable of. This year hurt a bit more because we had experienced a glimpse of what it could've been last year, only for it to return to the rougher conditions this year.
Despite agreeing we don't want to "rough it" at Jaceland ever again, I don't doubt my friends and I will still crawl back to Sound Haven hoping for improvements. Perhaps we could be more comfortable with different or offsite accommodations, but Jaceland's remote location makes this tough. If Sacred Hive moved this event to the spring or fall and took higher precautions with weather preparation and general safety, I think I could make amends with the venue itself and, in turn, fall back in love with this festival again.
My heart won't let me stop rooting for the festival I love dearly and the potential I see in countless details that so brightly outshine the lows. I have the utmost respect for everyone who comes together for the same reason to make this weekend possible, and the Sound Haven team's passion for the music is what has kept the festival alive. Pushing cars through the mud in the name of dubstep because the show must go on is the most Sound Haven thing I've ever heard. While it might not be for everyone, I know this tight community will push through any obstacles that they face, literally and figuratively, for as long as the festival lives.
---
Follow Sound Haven:
Website | Facebook | Twitter | Instagram | SoundCloud | Twitch