Known for pushing boundaries and creating visual and sonic landscapes, ZHU introduces the next chapter, Grace, with an album and tour in 2023.
---
Oftentimes the artists that captivate most are the ones who are elusive, shrouded in some air of mystery beyond the music they put forth. In 2014, when "Faded" dominated the dance and mainstream spaces, little was known about the artist besides their moniker, ZHU. In the nine years since, the songwriter/singer/producer has crafted sultry, club-forward hits, including "Working For It" and "Came For The Low," as well as a handful of albums, the last being 2021's DREAMLAND. As the artist gained global acclaim and rose higher into the stratospheres of electronic music, we learned about Steven Zhu, the man behind the project, raised in the fog of San Francisco, now based in Los Angeles.
Throughout his career, ZHU has been vocal about pushing his music's boundaries with little regard for chasing trends. Much like the success of "Faded," every step has been through refinement and experimentation. "For me, experimenting and trying new things is just the basis of what creativity is. You kind of have to try and fail, try and fail, because that's just the process. What happened at the very beginning of my career was also trial and error. It just happened to work – what appeared like quickly, which wasn't," he explained.
Born from the pandemic, DREAMLAND sparked new inspiration for ZHU, who, along with some bandmates, embarked on a road trip to remote reaches of the country. Locales like Billings, Montana, and Coral Pink Dunes State Park in Utah would not only inspire the more crunchy, earthy sound of the album but would influence the visual component. While most of the album was mixed and literally road-tested over car sound systems, the live performances were embodied by safety cone orange, big block lettering, and road construction signs.
This year, we're seeing a new chapter of the ZHU story take shape.
Soaked in deep red, robed figures, Gothic lettering, and religious motifs, the Grace era is revealing itself through cryptic posts. As with previous albums that were largely inspired by the environment and landscapes around him, ZHU is turning homeward to San Francisco as his muse.
"The recording of this project, as well as the whole purpose and design and visuals, has a lot of tribute to [San Francisco] thematically," he said. "I think a lot of people don't even know that I grew up there because very early on, there was very little information about me. A lot of what people learn in everyone's life, especially mine, like the origins of how things come to be, makes up a lot of what you talk about and how you do things."
With an album expected later this year, ZHU also announced a North American headline tour that will define this new era. Starting in Toronto on September 14, he will make his way through 24 cities, including Brooklyn, Chicago, and San Francisco, before wrapping in Los Angeles with two nights at the Hollywood Palladium in November. Joining as a support are Channel Tres, Claptone, Hayden James, and Noizu on select dates. The Grace Tour will see ZHU bring the new era fully to life without the constraints DREAMLAND faced over the pandemic.
"I have a renewed understanding of my music in a live environment more so than during 'Dreamland.' Many of the records I was making at that point never fully got to be in the environment I imagined when I was creating them. Now we finally have a chance to bring some of these to life," he said.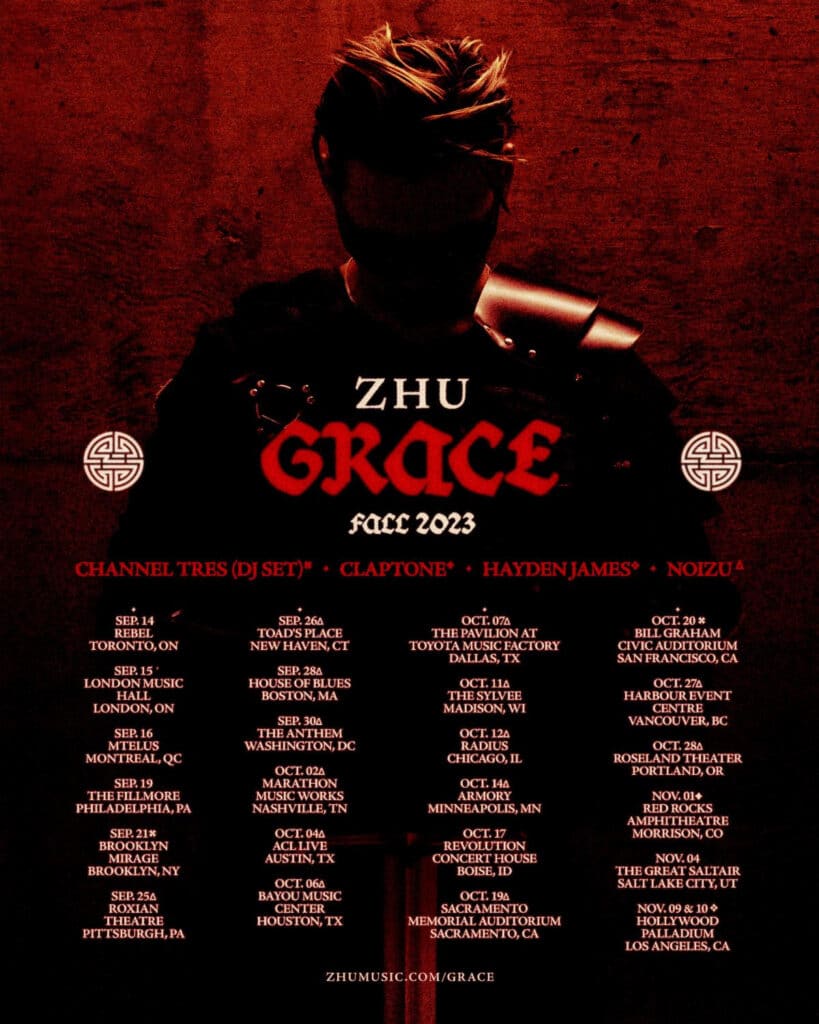 Expected to join ZHU once again on The Grace Tour are his live bandmates; a guitarist, saxophonist, and drummer.
Pushing the boundaries also applies to his live shows as he utilizes live instrumentation and interactive experiences to connect to fans. In the recent past, we've seen games of musical chairs or fashion shows during his sets.
"In my shows, the way that I look at it is combining different elements that maybe people never thought was possible, and exploring, and reaching further into possibility," he explained. "The first time I put a band together, people were like, 'Why are you doing that? Why would you do that? It doesn't make sense.' These are human beings that play instruments; why wouldn't they work in a musical environment?"
Fans have been able to get a glimpse of what's to come for this tour and album from ZHU's latest single, "Revelations," with Devault and BabyJake, but the full sensory experience is still a mystery. "I know that, obviously, the music is not out, and sometimes I feel like I'm talking out of context because I'm talking about something that will happen, but people don't understand now. I think once it finally connects, and people see the visuals and the story, it will definitely make way more sense," ZHU teased.
On May 25, some fans in San Francisco got a more intimate taste of the Grace chapter.
Donned in all-black attire, fans lined up around the block of Grace Cathedral for the chance to hear ZHU finish recording his album live within the walls of the church. The lucky 500 attendees had their phones locked away as red smoke plumed from one of the cathedral's towers. Inside, the cavernous space was cast in a red hue, lit only by production lighting. ZHU, surrounded by robed figures, mixed tracks off the album at the main altar before moving to the center of the cathedral to play his hits in a 360°, boiler-room-type setting.
It became clear that Grace Cathedral was the physical representation of the new album and tour in more ways than one. It was a symbol of ZHU's roots in San Francisco, a visual connector to the more ritualistic themes explored, and most importantly, by inviting fans into the space to be a part of the creation, it embodied the collaborative nature ZHU is seeking in this new phase.
"Ever since the pandemic, I didn't really want to make music alone. I think a lot of electronic music, the great thing about it early on is that you could do it alone – that one person could make everything, and I had to for so long," ZHU reflected. "Throughout the pandemic, I realized the recording process in the '50s, '60s, and '70s was never a solitary thing all the time. For a lot of dance or electronic artists, the strength and weakness comes in both. You can do it all yourself, and that's great, but I think certain records are meant to be more of a communal thing."
For anyone, a brand new album and headlining tour would seem like a huge undertaking – but this isn't enough for an artist like ZHU who can't sit still.
ZHU's NIGHTDAY fashion line, designed in collaboration with Emmy Slattery, is also on the way. The line was previewed in a full fashion show onstage during his EDC Las Vegas set last year, which fans were invited to walk in. Anyone paying attention will know that fashion has always been an integral part of ZHU's artistry, from what he wears on stage to now and what he's producing with NIGHTDAY. "The designers that I grew up really interested in are still the same; the Yohji [Yamamoto]'s of the world, Rick Owens, Alexander McQueen, and Raf Simons, and to the classic like Hedi Slimane that's Saint Laurent and Celine," he shared.
The clothing line will soon be available in select stores and sees ZHU taking his love for luxury fashion and the rave scene to create an elevated ravewear line. Designed with dancing and movement in mind, the line features flowy silhouettes like kimonos and varied textures from embossing to silk and leather that all make sense in the context of the rave scene. ZHU's eye for cleanliness and minimalism shines through, adding yet another accolade as a fashion designer to his talents.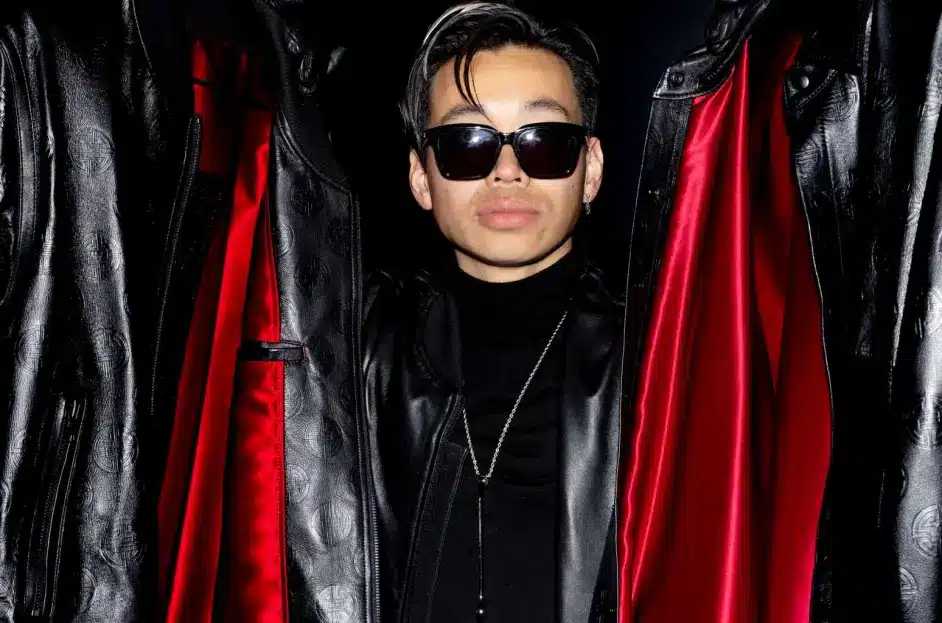 This year is shaping up to be another massive year for ZHU as he looks forward to the full unveiling of the Grace era.
He is staying busy as fans anxiously await the album, tour, and launch of NIGHTDAY, but with the level of detail that goes into everything ZHU does, the wait will be worth it. At the end of our call, he shared what he's been into outside of his projects. "Lately, I've been listening to a lot of Massive Attack. I can't just pick one, but it would probably be the first album, which is 'Mezzanine.'" So in the meantime, while you're waiting for the album and tour, listen to his single "Revelations" and take a gander into Massive Attack.
Artist presale tickets for the Grace tour begin June 20, with general sales starting June 23. To register for presales and RSVP to the city nearest you, visit the official tour website.
---
Follow ZHU:
Website | Facebook | Twitter | Instagram | SoundCloud | YouTube