Want to secure your ticket for Lightning in a Bottle 2024? The Lightning Sale has officially begun, and you can be part of the magic for 15% down!
---
Lightning in a Bottle just wrapped up its 20-year anniversary, and attendees are still aglow from the incredible experience. What better time to look to the future and start planning the journey back to Buena Vista Lake, CA? Next year, the five-day immersive experience will run from May 22-27, and if your heart's desire is to learn, connect, discover, and dance, then this is an adventure worth taking!
Throughout the years, LiB has proven itself as a safe and beautiful gathering place for the counterculture, featuring a smorgasbord of dynamic music, art, performance, yoga, seminars, and workshops. By the time you leave, you'll feel connected to the natural world around you and tightly bonded with your fellow LiB family members. You'll also find growth as an individual, entering back into the world with a rejuvenated attitude and a hunger for progression.
Related: Check out Zach's personal journey at this year's edition of Lightning in a Bottle!
Of course, all this comes with the all-important backdrop of sound. It's not a secret that LiB always makes certain that the industry's best representatives take to the stage, so you can shake what your mama gave you until the sun prepares to rise in the sky. Some great examples from this past edition were REZZ, LSDREAM, Tale Of Us, and BLOND:ISH. If this sounds like something right up your alley, then now is your chance to jump on the Lightning Sale for LiB 2024, which is happening right now!
Future attendees can choose between GA or VIP if they're keen on backstage access, elevated viewing platforms, pop-up experiences, and more. Vehicle and RV passes are on sale as well, in addition to ATLASWYLD Boutique Camping and group campsite options. You can lock in your festival pass for 15% down, so there's truly no reason to pass this opportunity up! We'll see you next year!
The Lightning Sale for LiB 2024 is running now until Thursday, June 22, at 11:55pm PT. So, grab them now before prices increase!
---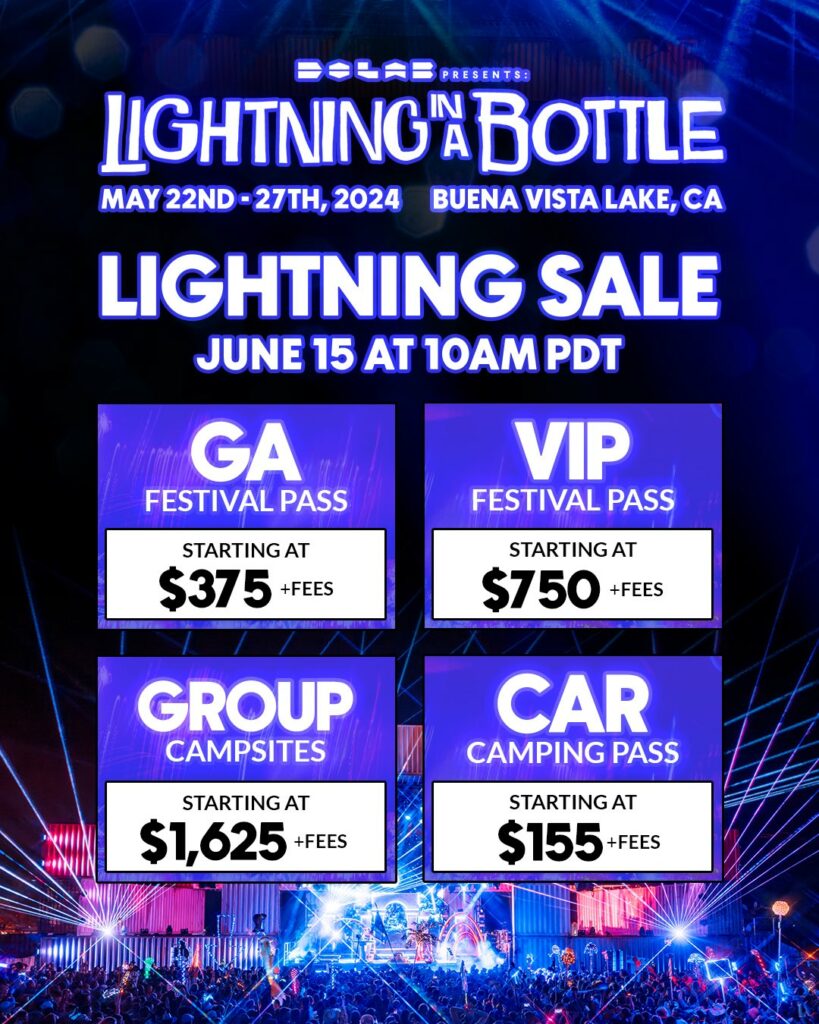 ---
Follow Lightning in a Bottle: