After incredible performances at Coachella, Hayden James chats with us about his current tour, his new album, and more!
---
This year is off to a great start for Australian producer Hayden James. On April 8, he released his sophomore album LIFTED featuring energetic singles "Waiting For Nothing" featuring Yaeger, "Hold Tight," and collaboration with Cassian "On Your Own," featuring Elderbrook. A beacon of light, and uplifting celebration of being together, reunited on the dancefloor, LIFTED was the perfect lead up to Coachella.
Hayden James celebrated the release of LIFTED by kicking off its accompanying tour with performances in Coachella's Gobi Tent on Sunday, April 17 and 24. With the afternoon sun high in the sky, he commanded the crowd with his infectious tracks. Then, during weekend two, he played a surprise Saturday night set at the Do Lab where brought the heat and a completely different vibe.
We got the chance to catch up with Hayden James after his Coachella run and reflect on two amazing weekends. We learned more about the new album, its contrast to his debut Between Us, and him finally being able to play new tracks out to his fans. Press play on LIFTED, and read on for our conversation!
Listen to Hayden James – LIFTED on Spotify:
---
Thank you so much for your time, we really appreciate it! How did it feel to be back at Coachella playing two sets?
Incredible. Honestly, coming from wanting to play in 2019, to the week before having the album out, and then playing the first show and playing brand new music, it was such a release and such a cool feeling. I reckon the best shows of my life and the best feeling for me on stage for sure. I played on Sunday at 3PM so it was pretty early, but the whole time you couldn't get into the tent, it was packed so I just felt pretty amazing about that too.
Right, at the Gobi Stage, it was amazing it was packed to the brim! When you're assembling your Do LaB set versus your tour or festival set, what is your mindset in preparation for either?
It's totally different. The Coachella set and the tour show, like the live show, is all my own music. I've got control of all the stems and I'm playing keys and it's more drawn out,  kind of like a celebration of the album and previous records as well. When I play the Do LaB, it's like you're playing in front of 10,000 people that are just ready to go, and they might not necessarily know me which I kind of love. I enjoy playing to different crowds, different people, and winning over fans that way. I play a couple of records of mine, but mostly just try to hit a big energy level for them.
We were there for your set and it was a lot of fun. Of course, the sentiment was, "yes, it was very different from something that we would see on your tour, but it was still really high energy," so that was great, which is all you can ask for at the Do LaB.
That's right [laughs] It's its own thing right? I feel it's its own little festival within Coachella.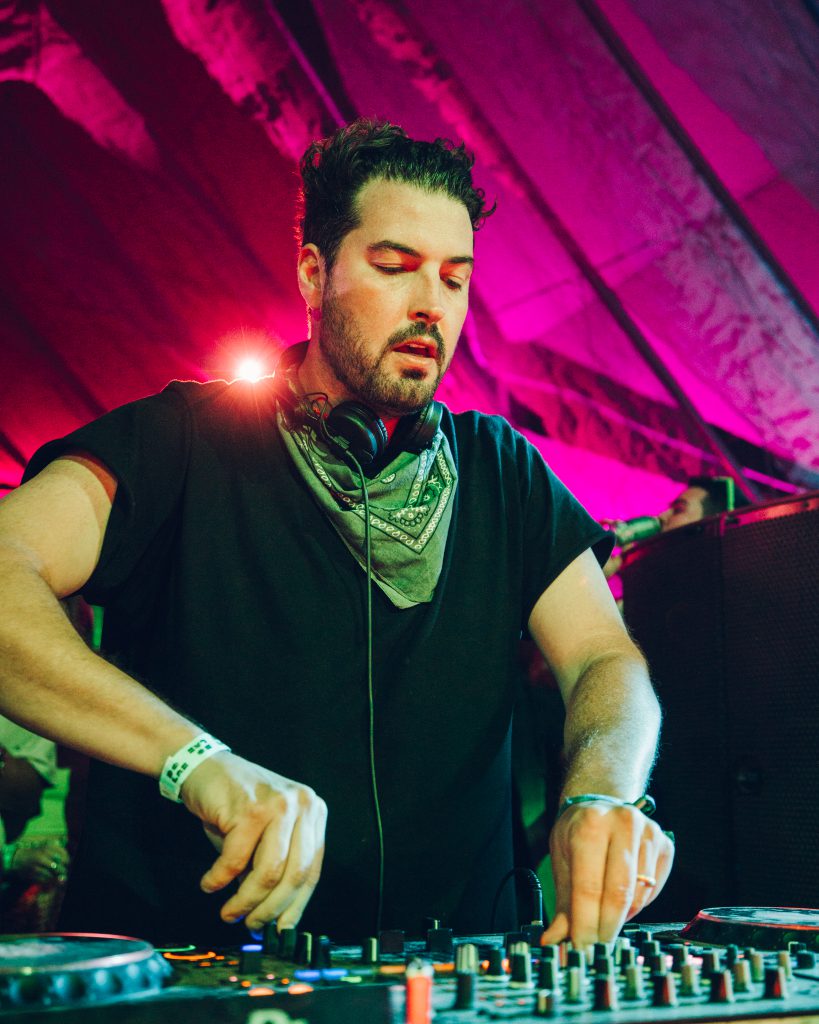 Moving to LIFTED, congratulations on the release! I think the album provided positivity, light, and hope that one day we'd all be back together dancing again, and we finally were at Coachella. What were some musical or thematic inspirations you drew on for the album?
The record was mostly written in lock down. There were only like a couple of weeks where I would have a session with someone in Sydney. But most of the collaborators are from overseas as well, so I've never met them in person. It's great to start touring and start meeting these people. 
The inspiration for the record, as you said, is like literally me being in lockdown and just visualizing moments like this; starting a tour again, being able to play Coachella, and creating something more dancey than my last album for sure, but still quite euphoric and melodic. It's very summery as well, and just a whole lot of fun, that moment of us being together again finally. I can't believe I get to tour again. It's going to be great!
Between Us is more vibey and it felt like a more intimate album, where this is joyous and meant for gathering people together. It was cool to hear the contrast. I read somewhere that your son was your sounding board for some of the songs since you were isolated at home. What was your biggest learning of producing an album in isolation?
I've got two little kids and it's pretty hard to get away [laughs]. 
A lot of my album and a lot of the stuff that I've written in the past, I've written by myself in the studio so it was kind of similar in that respect. But one of the main things is not being able to play shows and test things out. It's good to just get a general vibe of something. This time I was kind of like, "you just have to trust yourself here and know that you're writing what you want to write and what people want to hear." So that was kind of difficult, being isolated and that you couldn't really share it with people until it was out.
Do you have any favorites on the album or favorites that you like to play out now that you're able to?
I've only played these songs twice and both being in Coachella so I'm going to give the first couple weeks of tour to just feel it out. That's the other thing, all this stuff is so new so it's really exciting for me as an artist to tour it. But my favorites right now… I love the record with Cassian and Elderbrook "On Your Own." That's a big, euphoric, energetic moment on the record for me. Cassian is actually supporting me on the tour so he's going to come out and work on the synths with me on that, so that'll be a cool moment.
That's exciting to hear that Cassian will be joining on tour! When it comes to performing and starting touring again, what is something surprising that you didn't realize you had missed about not being on the road?
Just being with the team. We've created such a great team, especially in the states, I've had the same tour manager every tour that I've done here. We've got a couple new people on board this time, but it's just literally the camaraderie. You know it's tiring and you're on a bus traveling a lot, but it's also so fun and you create those new connections. So yes it's the shows, but also the middle parts, the traveling parts and just feeling together.
Another hard thing with touring in the states, especially is production as well. We travel with everything we've got. So I rely heavily on the same guys I've been working with that do all my tours, figuring out [production] and how it can be portrayed in certain ways… you've got to be clever about it.
When looking at the Between Us tour and then now the LIFTED tour, how did you approach production and what elements do you want to bring to the live show that you're going to take on the road?
It's kind of cool to look at it, because they're both similar in that I wrote all the records, but again, energy is a bit different with the albums. I've completely redesigned how I perform on stage which for me is like a breath of fresh air. I can actually change and manipulate things, so if you come to see me at one show, and then you come twice, it'll be a different show. So that's really cool for me to be able to perform that way and to give people that. 
Are you hitting any cities, this time around, that you haven't hit yet in the US or Canada?
Well Nashville, I've never been to Nashville so starting off with that and Charlotte as well. The first two stops I've never been to so that'll be cool. I think I've hit everywhere else before, but just in different, smaller venues. This is definitely the biggest tour that I've done in the states.
That's exciting! Is there anything you enjoy doing if you're able to have time off in these new cities?
I've just realized there are four days off in Toronto, and so I'm Googling hiking. I just like being outdoors and doing something. I'm definitely always in the studio as well, and in hotels writing so I enjoy getting on a bike, going for a walk, just doing something outdoors.
Last question, but what is something you're obsessed with right now? Whether it's related to music or not.
Good question! I mean, outside of music, I cook every day at home. So yeah I love cooking. At the Coachella house in Indio, which was right next to the site, I would cook for all the guests in the house. I love just big, family style, Italian cooking.
That sounds amazing! What are some of your favorite recipes?
Basically anything Italian and big salads too. I do a lot of bolognese, lasagnas, and every kind of pasta. I don't make pasta though, that's my next step!
---
Follow Hayden James on Social Media:
Website | Facebook | Twitter | Instagram | SoundCloud