Code Black revealed the details of his latest project, BLACKOUT, his Bioweapon album, experiences at EDC Las Vegas, and more!
---
Australian DJ and producer Code Black has become renowned for his emotionally-driven euphoric hardstyle sounds and his collaborative project with Audiofreq, Bioweapon, which launched him into the upper echelon of the scene. Over the years, he's graced the stage of EDC Las Vegas, both solo and alongside his Aussie family as 3 Blokes, and brought a "Brighter Day" to crowds across the globe, including Defqon.1, Creamfields, Airbeat One, Beyond Wonderland, and many more prestigious events.
Earlier this year, Code Black officially announced that he will remold his sound to reveal a darker, rougher side of his production that will revert to his sonic roots. The BLACKOUT project has been in the works for over a year and a half, and this project will bring a new outfit and masked identity to come with his on-stage presence. With this new project, he has released two tracks on I AM HARDSTYLE featuring a nearly polar opposite ambiance relative to his sound pre-pandemic. His releases "The Future" and "Open Your Mind" are perfectly titled as introductions to his new sound design and mount the tone for his sets to come.
Code Black wreaked havoc at the wasteLAND stage at EDC Las Vegas this year for his first solo set after the recent inception of his BLACKOUT project, giving fans a taste of what's to come ahead of its official debut at Intents Festival. After his performance, we caught up with the Aussie to chat about his experience at the festival, what's in store for his fans, and plenty more. Read on for the full conversation.
Stream Code Black – The Future on Spotify
---
Hi Corey! You just left the adrenaline-packed wasteLAND stage for your first solo set at EDC Las Vegas since 2021. How are you feeling after this set, which debuted your new sound to the American crowd?
It's super exciting for me to be here and play so much new music. I've had nine new tracks that I played in the set, which is a lot. It's a lot for the crowd to get used to the new sound, but returning to EDC is a pleasure. For me, this is one of the best festivals in the world, and just this view that we have right here of just lights and spectacles everywhere… it's amazing. It is such a pleasure.
The American crowd is definitely ready for a rougher sound, so you definitely gave that to them.
They are, they are indeed. The thing with hardstyle seems to be growing with the harder sounds right now. I know that hardstyle is the name, of course, but we're going through a transition where the harder-edge kind of music is rising. That's kind of the new sound that I'm doing, which is a flip on my old sound, which is a little bit more trance-y and a little bit more euphoric. It's exciting times.
This was your first US festival after announcing the BLACKOUT project, which you gave us a taste of tonight. Can you elaborate on how this new era brings us back to the roots of your sound?
Yes, back when I started "Code Black," I kicked off with a mix between melodies, but hard kicks – really hard kicks – which is something that's tied into the Dutch scene, Gabber, hardcore kind of scene. Shortly after that, I went on an adventure and did softer stuff, more commercial stuff, probably with the boom of the "EDM sound," the more commercial sing-along stuff. I did that for a long time, and now I'm returning to the roots, so I have a lot of hard kicks. Still melodic but not as cheesy or a "pop" vibe. So it's a new adventure. In a way, it's something I did ten years ago.
It still has your signature sound, just a little rougher.
Exactly.
One of your latest singles, "The Future," allowed us to prepare for what's to come. Can you share the thoughts and intent behind producing this track?
Yeah, "The Future" was the first track I kicked off. Obviously, "The Future" is the new path for me, and it's filled with five or six different kicks in there, really hard-hitting and hard-edged sounds. "The Future" theme was about bringing that new sound to the beginning; it was the perfect track title to kick it off.
What more can we expect from your sets in the "future," including the BLACKOUT project, such as your Blue stage set at Defqon.1 next month?
So next month at Defqon is an exciting time for me. It's a big event in the Netherlands which is super important to me. It's the first time I'm playing on the Blue, which is a harder edge, raw sound stage. It's the perfect place for me to present this new music. This new angle that I'm going on, it's that raw, harder hardstyle sound that I've never played at the Blue stage of Defqon, so it's something new. It's a new chapter for me.
When I watched The Release and saw "Code Black" under the Blue stage, I said, "Wait, what?"
Yeah, it's exciting. I've been in the game for a long time now, and to be able to do something different for myself – challenge myself and put myself in a new sub-genre market – that challenge is what reinvigorates the fire and the inspiration in the studio to get in there and do something new, rather than sticking to the same kind of thing. So that's been really positive for me, and I spent the last year and a half developing that sound slowly. Now I'm basically kicking it off this month here at EDC, and Defqon is coming up, Intents as well.
Is there an artist, song, personal experience, or other event that pushed this shift in your sound?
I think it just happened in the pandemic, to be honest. I don't know what it was, but we had a good year and a half off with no gigs, and I was listening to a lot of techno. I felt the industry as a whole was going towards underground sounds again. I felt that shift, and I really love the new techno sound that's popping up; it's back to the underground roots of where dance music started for me. For the last decade, we've had a lot of commercialization of the music, a lot of pop stuff getting involved. During the pandemic, I said, "It's time to shift back to that older sound, back to the underground sound, and let's hit it hard."
Nowadays, a lot of techno sounds a lot like early hardstyle.
Correct. There's a lot of influence from a lot of the old hardstyle from… twenty years ago? Which is crazy. You know it's in right now. There's a lot of music in from the 90s and the early 2000s that's coming back into fashion. For me, that's great. I grew up with all that kind of music, so it's fresh again in a weird way.
What types of tracks can we look forward to while being a mainstay on the I AM HARDSTYLE label? Do you plan to completely evolve your production to something brand new?
Yes, that's basically what I've done. It's something completely new. Like I said, it's a little bit more underground, and I'm going to flirt a little bit with some commercial things, but in a harder shell, like the harder kicks, and just see where it goes. I still have yet to play a lot of shows with this new sound; it's just beginning now, so I really want to see what works on the dancefloor and what gives me back that energy when I play it out. It's one thing to produce music in the studio, and it's another thing to experience it live. Playing it out, you get a different feeling with it, which also influences how you produce.
Do you also plan to integrate this new Code Black sound into the upcoming Bioweapon album or take us back to the old duo's sound?
Definitely not. Bioweapon is all about the classic sounds. The concept of the Bioweapon album is basically where we left it. We split Bioweapon back in 2011. The idea behind this album is to do music that was the origins of Bioweapon, so 2008-2011 sounds, and keep it within that "time capsule."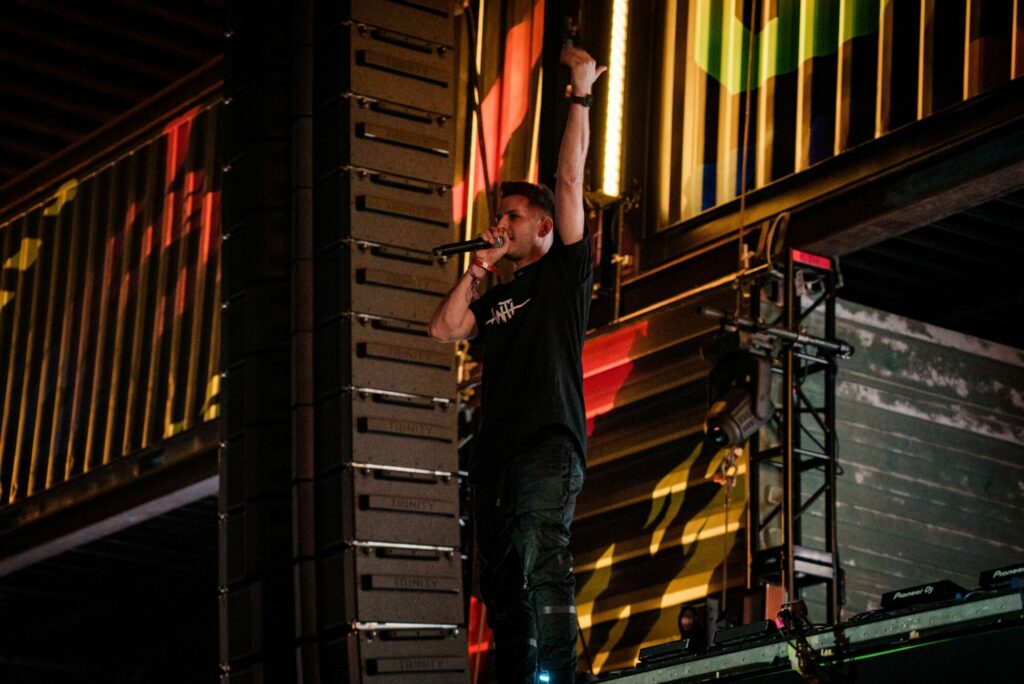 Speaking of artist collaborations, what can we expect in the future of the relatively young trio of 3 Blokes?
3 Blokes is the polar opposite of everything that I do. Everything that I do is serious; it's serious music. It takes a lot of time and production, and it's not joke music, but 3 Blokes is meant to be the antithesis of that. Just the polar opposite. It's rednecks on stage doing dumb music, fun music, parodies, and all that stuff. Just fun to let your mind go, don't take it too seriously, and just have a lot of fun. We do a lot of fun stuff on stage with shoeys and crazy moments. There's a lot in store for that, which I think is a lot of fun because it is the opposite of what I normally do. The more ridiculous, the better. That's the theme for 3 Blokes.
As a regular returnee to EDC Las Vegas, are there any experiences at this festival that are the most memorable?
Oh man, that's a good question. I think the first one. The first one was such a mind-blowing experience for me just to see this, basically what I'm looking at right now from the grandstands. Looking at all the lights and experiences, just the way you guys do here at EDC is different from anything else you experience in Europe. It was absolutely mind-blowing to be here and play at such a huge festival, at such a different festival. I think the first time was just a really special moment for me.
Let's end on a fun, lightning round of "this or that" questions. Screaming lyrics or singing melodies?
Singing melodies because it's more rare.
American food or European food?
American food.
Dubstep or DnB?
Dubstep.
LA or New York?
LA.
Kangaroos or koala bears?
Kangaroos.
---
Follow Code Black:
Facebook | Twitter | Instagram | SoundCloud