Audiofreq sat down with us at EDC Las Vegas to chat about his hardcore history, thoughts on the evolution of hard dance, and more!
---
Having brought crowds all over the globe to their knees praying for mercy, Audiofreq has brought well over forty days and forty nights of pure power to the decks. This genre-fluid Aussie has played at some of the world's biggest festivals, such as Defqon.1, EPIK, Nocturnal Wonderland, EDC Mexico, and more. At these events, he always guarantees the audience will commit their festival sins at his set while he plays nothing but heaters, and he did just that at EDC Las Vegas this year as well.
Audiofreq has also been busy on the release front. His hardcore "Skorned" project was also recently announced and debuted on powerhouse label Masters of Hardcore with the release of "Rave Is Religion." This project intends to release a sonic assault on its listeners, revealing a darker side of Audiofreq's plethora of production skills. Additionally, although no official details are out yet, his upcoming Bioweapon collaboration album with Code Black is in the works. This duo, which split over a decade ago, was insanely successful and further proved Audiofreq's immense talent in production and performance skills.
After taking the stage at EDCLV this month, we sat down with Audiofreq to explore everything from his history in the scene and his hardcore project to his thoughts on the genre and upcoming work with Code Black. Give "Rave Is Religion" a listen and read on for the full in-depth conversation with him.
Stream Audiofreq – Rave Is Religion on Spotify:
---
You just left the furious, energetic hub of EDC Las Vegas, which is the wasteLAND stage. What's currently going through your head after this set with a significant amount of hardcore?
I'm positively surprised by how well-received the hardcore was. Actually, it was really cool. I was going for a faster hardcore as well, so sitting around 190 to 200 BPM. That's what gets me really excited. It was really cool to see the crowd stay and connect with that kind of music as well because it's pretty extreme, right? That's a very, very fast tempo compared to what's going on at the rest of the festival. The fact that people stayed and enjoyed it was really encouraging, and that's always nice. 
I definitely feel the American crowd is ready for faster BPMs.
Yes, definitely, and I've been playing in the States for nearly ten years. I've seen the scene change and grow quite a bit, and I feel like now we've gotten to the point here where the appetite is really strong for harder and faster music. Before, it was a bit of a risk and quite underground before acts, for example, Rebelion. A lot of their music is quite tough and quite rough. It's not your usual mainstream hardstyle where you would think of acts like D-Block and S-te-fan or Brennan Heart, even though they have some pretty mainstream approaches with the vocals and the breaks.
The fact that people are not only accepting of it but even hungry for it that's starting to come up. Once we got out of the pandemic, I think people were really hungry for faster and rougher beats, and that's what we want to see.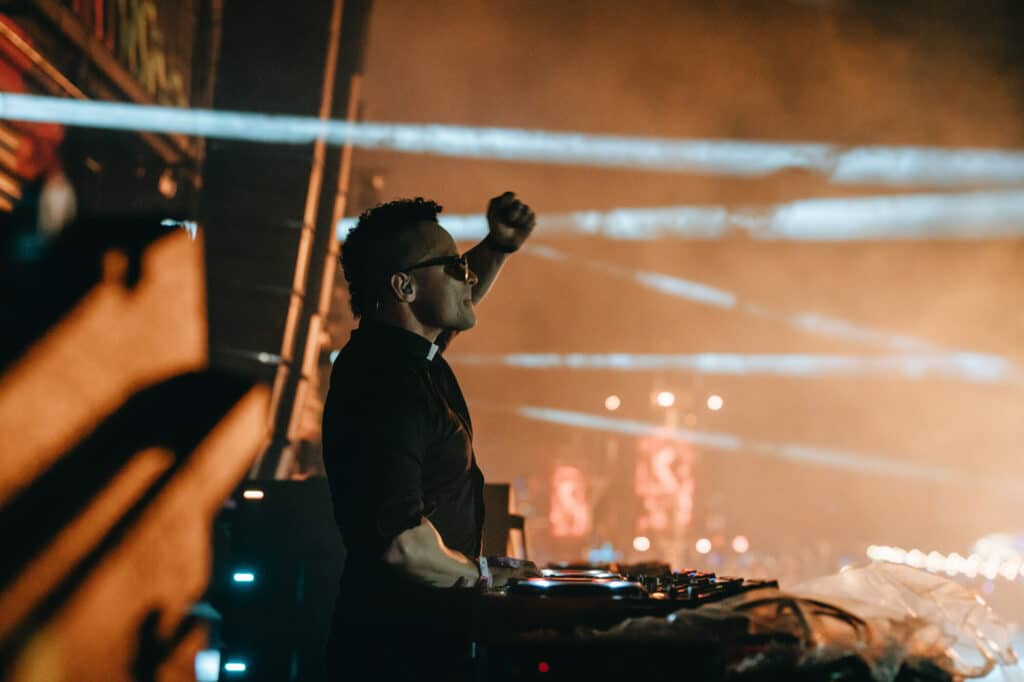 You recently made your debut on Masters of Hardcore Records as your new project, "Skorned" and will play at the Black stage of Defqon.1 with your Hardcore Confessions act. Can you elaborate on what drew you to the faster BPMs of the hard dance spectrum?
I've always liked hardcore, and it was the first music that I was actually exposed to in electronic music. I remember going to a trumpet lesson one day, my parents used to take me to music lessons, and I was just flicking through the radio. My dad used to listen to AM radio, I pressed a couple of buttons and turned the dials and was like, "What is this? What am I hearing?" It turned out to be Dutch hardcore. From there, the exposure to that kind of music was limited because the scene in Australia was leaning more towards a euphoric kind of sound, so think of UK hardcore acts like Darren Styles, which was a bit more prevalent.
My personality resonates more with faster, more energetic music than it does with hardstyle. It's not to say I don't like hardstyle, but when the BPMs change and they go a bit more up, I enjoy that a bit more. Some things just feel right, and for me, hardcore feels right. So committing to that and being able to work with Masters of Hardcore to explore that is really exciting as well. It's not exactly starting from scratch from a small label.
To have that kind of platform is very encouraging, and, to be honest, I really like the hardcore producers as well. I get along with them great. Mad Dog is a good friend of mine, for example, and Evil Activities as well. We bond over just the nerdy stuff of making music. With a lot of the colleagues I have in hardstyle, it's not there as much as they focus more on songwriting rather than the tweaky kind of process, whereas hardcore guys love the tweaky process. It is a skill to be able to make things sound good at higher BPMs with a lot of distortion.
Either way, making hardcore and being part of the scene in the capacity that I'm in now just feels very natural, and I'd love to explore that further. "Skorned" is about that. Hardcore Confessions is an idea Q-dance approached me to do. We had a segment when they were doing more livestreams towards the start of the pandemic where we'd get spicy "rave sins." People would call in and say the stupid things they did over the weekend, and then I'd use the priest persona to go through them and give them a confessional thing. We wanted to expand on that and do a whole segment at Defqon, a whole special on Friday for that.
That would be a fun idea!
Yeah! Having the people on there confess their sins, they're trying to find some really cool props as well. Let's be real: partying is kind of sinful, but at the same time, let's enjoy that. There's nothing to be ashamed of. 
Ultimately, and I've been saying this to many people over the course of this weekend, music is an avenue and probably one of the deepest and most primeval methods humans have to connect with other people. People really do treat hardcore like a religion, so let's use a little bit of that idea to connect with each other and poke fun at each other over the silly things we do over the weekend and celebrate that at Defqon.
Even as the scene as of late has shifted more towards harder, faster BPMs as well.
Yeah, I hope history doesn't repeat itself entirely like it did in the '90s. Back then, hardcore went through a phase where it was going faster and harder. Two things happened at once: first, it went very commercial around '95, and we got a bit of a backlash from that. Then, people were like, "No, but that's not hardcore. We want it to go more rough and tough," and they wanted it to be faster and faster. Eventually, it collapsed in itself because it got really too underground. 
I feel things are different now than they used to be in the '90s, where there is so much choice, and people are specifically choosing that. Whereas in the '90s, there wasn't much choice, you know? Spotify, YouTube, and TikTok changed everything when it comes to finding and consuming music. I'm hoping that the door stays open and people still are hungry for faster and harder beats.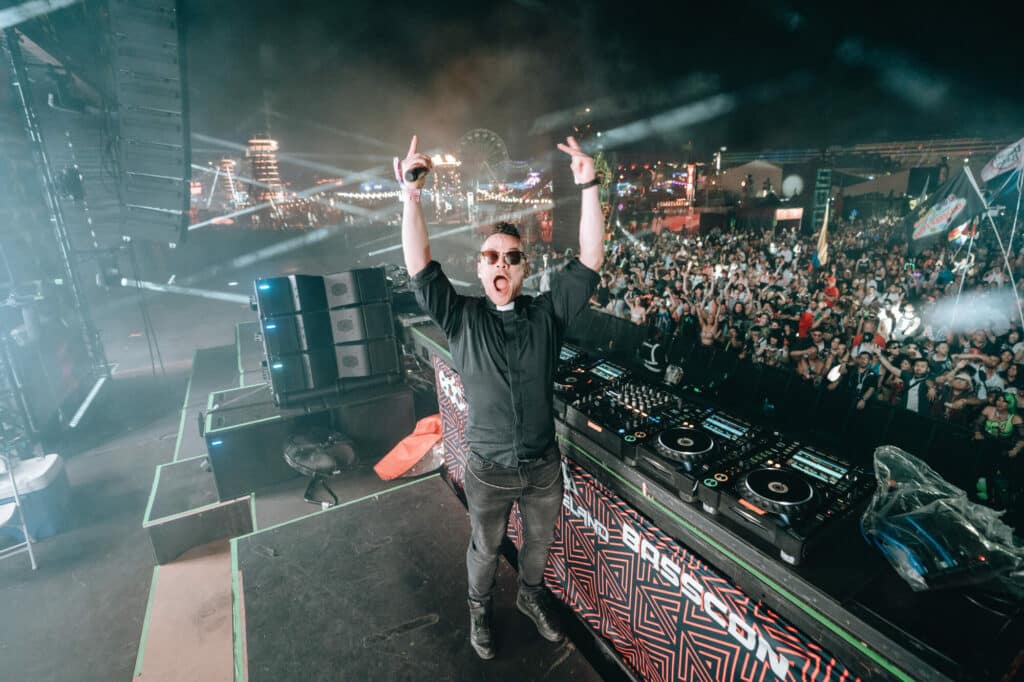 Not only do you perform solo but also alongside your Aussie brothers, Code Black and Toneshifterz. How was this crazy trio created, and what can we look forward to in this set at its Defqon.1 debut at the UV stage?
The 3 Blokes is a concept where we really wanted to dive into Australiana. We wanted not to take ourselves too seriously and to have fun with part of us. The best performances and the best acts really reflect part of the artists or artists themselves. It's not just a completely made-up thing, there's a fundamental part of who they are, and they exaggerate a little bit. That's exactly what 3 Blokes is, right? 
Hardcore, in particular, takes itself quite seriously. There are a few acts that are a little bit silly, like Unicorns on Ketamine and GPF. Ridiculous; love it, but it's cool. We're in an era where people can enjoy silliness as much as they can with very credible music. Hardstyle is also very serious; it's incredible. If you go through the Instagram of all the top artists, it's all a very polished images. It's more refined. We wanted to do something that's more of the opposite of that that's more in line with our personalities.
Now at Defqon, what we want to do is take what people know from Australiana and from our previous performances and turn it up a notch. So we'll have some live musicians, we'll have live shoeys of course. With everybody, we're going to try to do a massive shoey. We're trying to find the biggest shoe that we possibly can, bigger than Shaq's shoe, and he's got gigantic feet. We're on a mission. 
With a couple of the acts I mentioned beforehand, they've refined their stuff a little bit; while it is kind of silly and crazy, it lacks a certain finesse. We want, at least on the music side of things, to have the finesse and lean into the production skills that Code Black, Toneshifterz, and myself have, but also use what we've learned and what we've got to make silly music and have fun. I think it's important to have fun. At the end of the day, we're making party music. Let's have a party.
In addition to bringing crowds to church on the decks, we also know you as one of the faces of hosting Q-dance livestream events. How did this opportunity come about, and what has been your favorite experience with it?
First off, a big shoutout to my closest friend John Kutski. He was the one that sort of brought me into that. We used to host the Q-dance radios together. He asked me to way back in the day, maybe it was 2013 or 2014 when it was still a three-day festival. They were trying to broadcast for almost 24 hours throughout the whole festival. He needed help with that because that's a lot of work for one person. He invited me on, and through his experience that he had working at the BBC, he was showing me the ropes and everything of just doing live stuff on the radio.
Through that, a couple of other opportunities came to me as well, like several different podcasts. There was an underground podcast through Q-dance Australia "Hard With Style." Eventually, Q-Dance wanted to move me to video. At first, I was a bit apprehensive as that is a different skill altogether. It's one thing when you're sitting in a booth, you can kind of rock up in slippers, and you can sit however you want to sit. I had to learn on the go, but Q-dance was very happy with what I did with it.
They also called up E-Life, and, eventually, Stephanie Magic, who is Code Black's wonderful girlfriend. Together, we started hosting these livestreams from Q-dance's request, so it's something that came my way through different bits and pieces beforehand. I'm very grateful to be a part of it. It's quite exhausting sometimes, particularly on video you got to be very mindful of how you stand and everything, and doing that for three days at a time is pretty intense.
At the same, what I love about it is you get such a unique perspective of the entire event that you don't normally get to see if you're just going as an artist. You go, you perform, maybe hang out with some friends, party a little bit, and you go home. When you're hosting an event, you get a bird's eye view of everything, so you can often get caught onto things well before other people hear about it. I feel very blessed to be able to do that. The fact that Q-dance keeps knocking at my door and inviting me back is really amazing, and I feel very grateful for that as well.
I was thrilled to see the announcement of your upcoming Bioweapon album with Code Black. Will this feature both of your newer sounds, an evolved Bioweapon sound, or something completely unexpected?
We did toss around the idea of evolving the sound and making it current, but in the end, fans don't want that because they have Code Black and they have Audiofreq. What we realized is that Bioweapon fans want "Bioweapon." They want to live in that era of hardstyle, which is not being made anymore, and I feel like it would be a disservice to those fans to focus on the new new new instead of giving people what they want. Ultimately, the Bioweapon album is a celebration of how far we've come, but with one foot on the ground, looking at where we've come from. 
The working title for the album is Time Capsule, and that's the whole idea, that's the whole concept of it. It feels like you just got a time capsule out of the ground, and it's like, "Oh, this is like some music from that time," and it feels like it's from that time. I think when the people that know Bioweapon when they hear that name, they're taken to that time period, so we want to fulfill that request.
Increased tempos are all the hype right now in the hard dance realm, from rougher-sounding raw to zaagkicks to uptempo. What are your thoughts on this evolution of sound in the scene relative to ten years ago?
I'm all for it, and I'm happy that we're here. I'm so happy that we're here because I've been a genre-agnostic guy for a long time. As I mentioned beforehand, my first experience with music was hardcore, actually, and after that, I was exposed to other stuff like trance, breaks, drum and bass, and everything. I was really young at the time. I didn't really see genre boundaries, I just thought, "This is cool stuff, I like cool stuff, and I want to make cool stuff." The fact that there are all these elements and angles that exist in the world of hard dance in a way that we couldn't do it ten years ago I think it's something to be celebrated.
I'm a big believer in variety being the spice of life. If every track has zaagkicks, then it gets a little bit boring, but I don't think that's how people are using it. It is another tool in the tool kit for people to make cool dance music. If we remember, a couple of years ago, sidekicks were a thing, and before that, reverse bass. Now, having these different elements in hard dance and being flexible with the tempos is a fantastic thing and should be celebrated. Variety is the spice of life, and let's keep on going.
I love how, nowadays, some artists are even blurring the lines between genres.
Love it, yes. I started messing around with different genres when I first started doing music. My first album Audioception had a drum and bass track and a little bit of UK hardcore in there as well. It had a techno track, a hard techno theme, and a collaboration I did with Geck-O. 
Admittedly, because I started doing that with my brand way back in the day, it was quite acceptable for me to be able to do that sort of stuff, but I don't want to be the only one. Now, we're getting to that point, which is incredible. 
In your opinion, who are a few up-and-coming stars in the hard dance realm we should keep a close eye on?
I am going make a big shoutout to my fellow Aussies that just moved to Europe, Deezl and Anderex, they're doing fantastic work right now. It's cool to see that new generation of Australians coming through and making quite an impact, actually, so that's cool. Also, a big shoutout to Firelite and DVRGNT as well. DVRGNT did a remix of one of my tracks, and I think it's a banger.  
I'm a bit biased, I'm focusing on the Aussies, I'm a little bit closer to that scene and trying to keep an ear to the ground, and every time I go back there, I always see who's doing cool stuff. Those four that I mentioned are doing fantastic.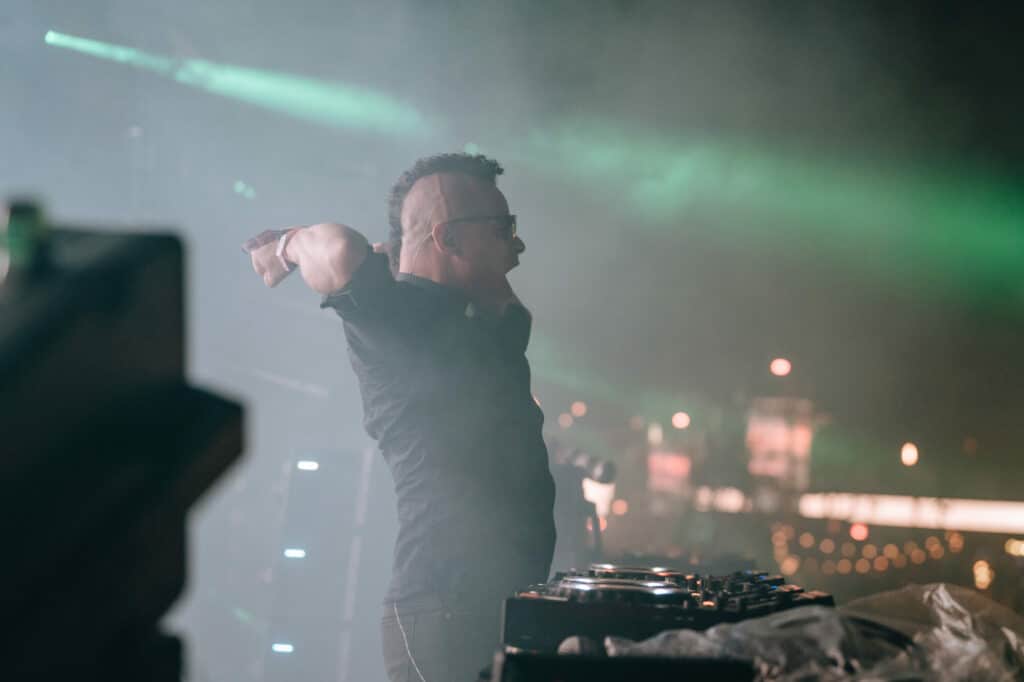 You've been transparent with the ups and downs you've experienced in recent months. How have these periods of self-growth and reflection been used as fuel for your music career?
You know what? I don't think they have been used as fuel. And I'll tell you why. Some people can harness that negative energy and then use that as a tool to keep on pushing forward. I'm not that kind of person. For me, I need relative emotional stability to do my thing, and if I'm too out of balance, I can't work. Some people, when they're super angry, they'll write an angry track, right? I'm not that guy. When I'm really angry, it is paralyzing. I can't do anything, but I can write a really angry track when I'm having the time of my life, and so my mind works kind of differently.
I think it's very important for people to open about mental health to be open about their struggles. Particularly guys because you don't really hear a lot of it from guys. You hear about it when things go really wrong, and it's almost past the point of no return. I think it's really important for guys and artists to be open about our struggles because not everything is a fairytale. It's not always just highlights you see on Instagram. There are plenty of down periods. 
One of the reasons I shared what I had been going through was to start a dialogue. Not just with people talking about me but more about people feeling comfortable talking about not doing so well. I think that's very important.
There's quite a culture of not saying anything — bottle it up, don't say anything. You rarely hear of artists struggling. Maybe it's part of a branding thing where "Oh, I was feeling down, and now I'm doing better," but that's not what I wanted to do. I want to make sure it's okay for guys to say, "I'm not okay," because that starts the healing process. Often we don't do that. Healing starts when you open yourself up. So, I haven't been able to use it as fuel, but I'm glad to say I'm doing a lot better now, and I feel more re-energized than ever. It's a bit of a different take. Some people can use it.
Finally, with strong branding as a hard dance "preacher" and spreading rave religion across the globe, why did you choose to use this "holy" branding?
Three reasons: the first was that I noticed for a long time I kept on using little bits of flavor in the lyrics that I would use and the branding that I would use already. The inside booklet artwork of my last album Audiology has a little bit of a story of a guy messing around with forbidden science and occult stuff. I was looking for a way to tie that stuff all together. One of my favorite authors is H.P. Lovecraft. I love Renaissance, Medieval art, all that sort of stuff, like demonology, symbols. I had this idea: how do I connect that? How do I make that a thing?
The second was that people really do treat our music like a religion. If you asked a guy wearing a Thunderdome jacket, "Is hardcore your religion?" He would absolutely say "Yes." So I thought this is a way we could combine everything, connect everything together. Nobody's doing this. There have maybe been a couple of events that have dived into that world, maybe something that was held at a church. I didn't, at the time, see anyone really exploiting that and putting it in a way that could connect with party people.
And the other thing is I grew up in a very religious house as well, so it felt very close to me. It didn't feel like I was diving into something that I didn't know. I spent many years in the church. I was a youth leader for some time as well. So being able to connect all those sorts of things together just made sense, and I liked it. It was really connecting a lot of dots at the same time. I took a bit of a risk because nobody had done something like that beforehand, but I'm glad I did because it's very recognizable, and people go along with it as well.
---
Follow Audiofreq:
Facebook | Twitter | Instagram | SoundCloud | YouTube