Cosmic Gate's MOSAIIK Chapter Two tour continues to crank, signifying the addition of phase three with "It's Simple" alongside Andy Duguid!
---
Ever since dropping MOSAIIK Chapter Two, Cosmic Gate has been riding a high as they travel around the globe on a massive album tour. The celebrations kicked off at EDC Mexico and kept the good times rolling at flourishing music hubs like Ministry Of Sound in London, Beyond Wonderland, and Dreamstate in Melbourne, Australia. This week, the Grammy-nominated trance duo made the third leg official, with added dates including EDC Las Vegas, Electric Forest, Elsewhere Rooftop in NYC, Tomorrowland, and Transmission Bangkok.
To add to all the thrills, Cosmic Gate has partnered the announcement with the official release of MOSAIIK Chapter Two single, "It's Simple," alongside Andy Duguid. While it has been a while, this isn't the first time these three have had professional interactions. In fact, back in 2009, Andy Duguid placed his magic touch on the duo's "Not Enough Time," featuring Emma Hewitt, and it was simply a matter of time before they would all come together for an official collaboration.
"It's Simple" is an offering that can be appreciated in a multitude of ways. First, it's the perfect selection to motivate you to take on the day as it features the required amount of bassline pump needed to get the muscles moving. On the other hand, this is a tune that can also be appreciated laying horizontally on a comfy lawn chair as the sun caresses the face in tandem with the track's radiant progressive flow. When it comes to the instrumental highlights, the violin and piano accents are both spectacular touches, cultivating a soft and sweet emotion as the striking synths tie it all together.
If this tune doesn't make you want to head straight to Cosmic Gate's next tour stop, you may have to rethink your priorities! Take a listen to the tune below, stream or purchase "It's Simple" on your favorite platform, and then grab your tickets to see the guys in action! Let us know where you'll be catching Cosmic Gate on Twitter.
Stream Cosmic Gate & Andy Duguid  – "It's Simple" on Spotify:
---
Cosmic Gate – MOSAIIK Chapter Two – Phase Three Tour Dates: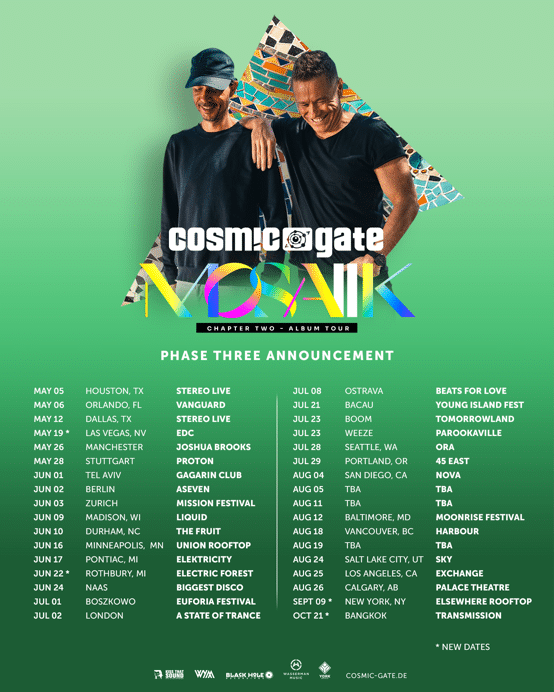 ---
Follow Cosmic Gate:
Website | Facebook | Twitter | Instagram | SoundCloud | YouTube | Twitch