Accompanying the phase two announcement of the MOSAIIK Chapter Two tour, Cosmic Gate returns to their instrumental roots with "Mirador."
---
Nic Chagall and Bossi of Cosmic Gate prove once again they are true masters of their craft on all fronts. Fresh off a streak of vocal-heavy records like "Hear Me Out" and "We Got The Fire," they dial back the vocals for their latest single and showcase their lust for instrumentals. Not afraid to expand on a track previously released, they revisit the tracklist of MOSAIIK Chapter Two to offer listeners a deeper, darker cut of the album's forerunner, "Mirador."
Exploring the depths of their sound, the track effortlessly blends bright, progressive elements with somber tones and ominous melodies. The musical layers continue to build and slowly ascend into an ethereal refrain that will leave you longing for more. "Mirador" is a Spanish term for a window or balcony that provides an extensive view of the surroundings, and in this case, the sonic surroundings.
Stream Cosmic Gate – "Mirador" on Spotify:
Along with the release of "Mirador," Cosmic Gate unveiled phase two of their MOSAIIK Chapter Two worldwide tour. Ready to take the world by storm, they've added 18 new stops including shows in Europe and South America. The tour also encompasses six cities and seven shows in Australia, their longest OZ run to date. To top it all off, they've booked major festival appearances like Tomorrowland, ASOT London, and Beats for Love. The album tour kicks off this weekend in Guadalajara, Mexico, and will continue across the globe throughout the summer months.
Tickets for all dates of the MOSAIIK Chapter Two tour can be found here. Make sure to check out their latest track "Mirador" out now via Black Hole Recordings.
---
Cosmic Gate – MOSAIIK Chapter Two World Tour Dates: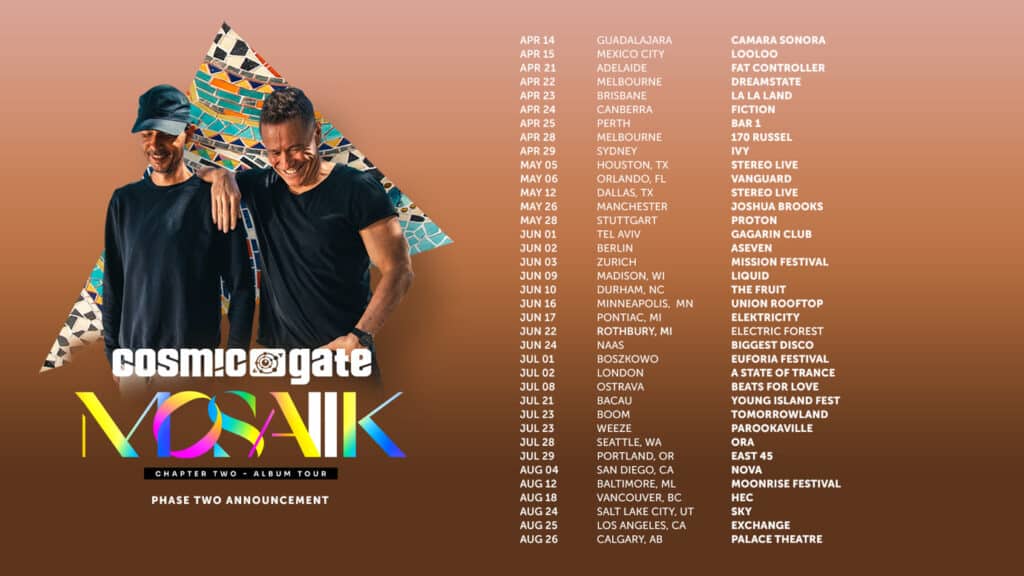 ---
Follow Cosmic Gate:
Website | Facebook | Twitter | Instagram | SoundCloud | YouTube | Twitch