To commemorate EDC Las Vegas' 13th year at the Las Vegas Motor Speedway, take a deep dive back to where it all began in SoCal.
---
Electric Daisy Carnival is one of the largest, most highly anticipated festivals of our time. The journey from its beginnings in Southern California as EDC Los Angeles to its home in the present day at the Las Vegas Motor Speedway spans over two decades, full of dedication and hard work from Pasquale Rotella and the Insomniac Events team. What started as a vision turned into an entire world built on the pillars of community, music, art, and magic.
There's no better time than now to explore the festival's roots as Insomniac continues to celebrate 30 years of bringing electronic sounds to the masses and the upcoming edition of EDC Las Vegas draws near. Read on for a deep dive into the evolution of Electric Daisy Carnival and buckle up; it's going to be an incredible ride. 
Want something to listen to while you take this trip down memory lane? Stream our TBT: The Road To EDC Las Vegas playlist full of nostalgic tracks to really set the mood. You can also check out our EDCLV playlists dedicated to all the artists set to play at each stage this year!
---
Starting from humble beginnings, EDC began as an underground oasis for the early ravers of the '90s. 
Looking back, it's hard to conceive how far Electric Daisy Carnival has come since its 1991 debut. What started as a tiny seed has blossomed into the most vibrant of flowers sprinkled all over the world. Born into an underground subculture that was just beginning, Stephen Hauptführ, aka Mr Koolaid, and Gary Richards, more commonly known as Destructo, organized what was originally called Magical Mickey's Electric Daisy Carnival.
The first EDC drew roughly 3,000 people to a small field in Chino, California, where Hauptführ and his team transformed the land into a world inspired by his childhood love of fantasy depictions like Alice In Wonderland. Since 1986, lovers of the rave scene would flock to Hauptführ's other underground parties, but the first EDC is what truly marked a significant shift in rave culture.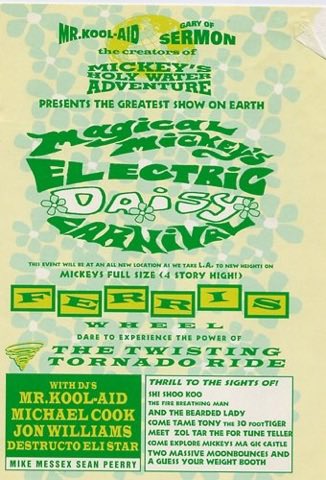 In 1992, Pasquale Rotella entered the chat.
Street team promoter turned CEO Pasquale Rotella has become the face of rave culture as we know it. Once Hauptführ granted the use of the name Electric Daisy Carnival to Pasquale in 1995, he took off running and hasn't stopped since. Beginning in 1997 at The Shrine, Los Angeles, EDC began under the Insomniac-branded festivals, bopping from different venues year after year with Pasquale's crew of loyal ravers.
Location coordinates delivered by secret hotlines used to be the only way to find events like EDC. Fear over authority-driven shutdowns kept these gatherings under wraps, adding a layer of exclusivity that only attracted more people to the scene. Anti-drug legislation sought to crack down on rave culture, which clearly, didn't stop dance music from becoming the powerhouse it is today. An Insomniac veteran raver gave us a nostalgic glimpse into his experience at EDC 2000.
When I called the hotline for the Electric Daisy Carnival, I found out it was taking place in Tulare, located in California's central valley. We loaded the car with a book of CDs burned with music from artists like BT and set off. We saw fellow festival-goers at gas stations, wearing kandy, playing drum and bass, exchanging knowing nods as we realized we were all headed to EDC. When we arrived, the air smelled of cows and the bass was booming. We met friends at the entrance and ventured into the night, discovering artists like Omar Santana and Ron D Core at the hardcore stage. As the sun rose over the grassy fields, it was time for the long drive home. The event has always stayed true to its promise of 'super blooming beats, funkdafied freaks, and full-size carnival rides' but today, the advancements in production, talent and interactivity have brought it to a whole new level.

Kellen Trachy
2001 became a pivotal year for EDC, as they expanded from one stage to multiple: the Merry Go Round, the Fun House, Clown Alley, the Confusin' & Amuzin' Mirror Maze, Bassrush Arena and Cosmic Healing Temple. With this expansion came even greater growth, as Pasquale and his crew took the party out of the golden state to Austin TX, becoming the first of many EDC editions to come.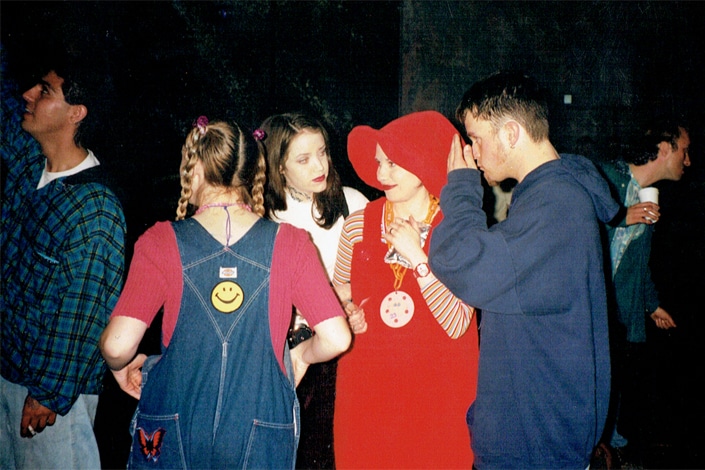 EDC soared to new heights during the EDM boom.
Once EDC began making homes out of venues like the NOS Events Center and, more notably, the historic Los Angeles Memorial Coliseum, the production level skyrocketed to vastly new heights. 2009 became the first EDC to expand to a multi-day event, with artists like Thievery Corporation, Paul Oakenfold, Paul Van Dyk, The Crystal Method, Shiny Toy Guns, STS9, Groove Armada, and Tortured Soul set to shake up the sports arena for two days. As EDC's home base flourished, Insomniac continued to expand beyond its SoCal roots, adding Colorado, Dallas, and Puerto Rico to the festivals sprouting diversification.
What was once basic platforms had become fully immersive stages, with the physical footprint drastically growing. The dancers became more theatrical, fireworks began to paint the night sky, and It was on the heels of EDC 2009 that the "golden era of EDM" bloomed, catapulting EDC into the most groundbreaking festival in dance music.
Dirty South, Armin van Buuren, Above & Beyond, Dada Life, Gareth Emery, some of the most innovative names in dance music, were all set to take the stage in 2010, and if your bucket list didn't include walking down those Coliseum steps on those fated days in June then, it certainly did now, which makes what would happen next all the more heartbreaking.
EDC gets forced out of Los Angeles and finds its permanent home in Las Vegas.
After 2010 drew in its biggest crowd yet to The Coliseum, with up to 185,000 people in attendance, the growing controversy over the safety of dance events pushed EDC out of the City of Angels and into the City of Sin. Despite Insomniac's best efforts to keep the festivals home base, the LA Coliseum, like establishing an 18-and-over policy and pledging to have more medical staff on-site, the city refused to cooperate.
This setback didn't stop the festival from becoming bi-coastal with the debut of EDC Orlando in 2011, and what was Los Angeles' loss certainly became Las Vegas' gain. With the instrumental help of Former Governor of Nevada and Clark County Commissioner Steve Sisolak, EDC made the Las Vegas Motor Speedway its new place of residence. Since the big move, the now three-day festival has infused more than $1.5 billion dollars into the Clark County economy.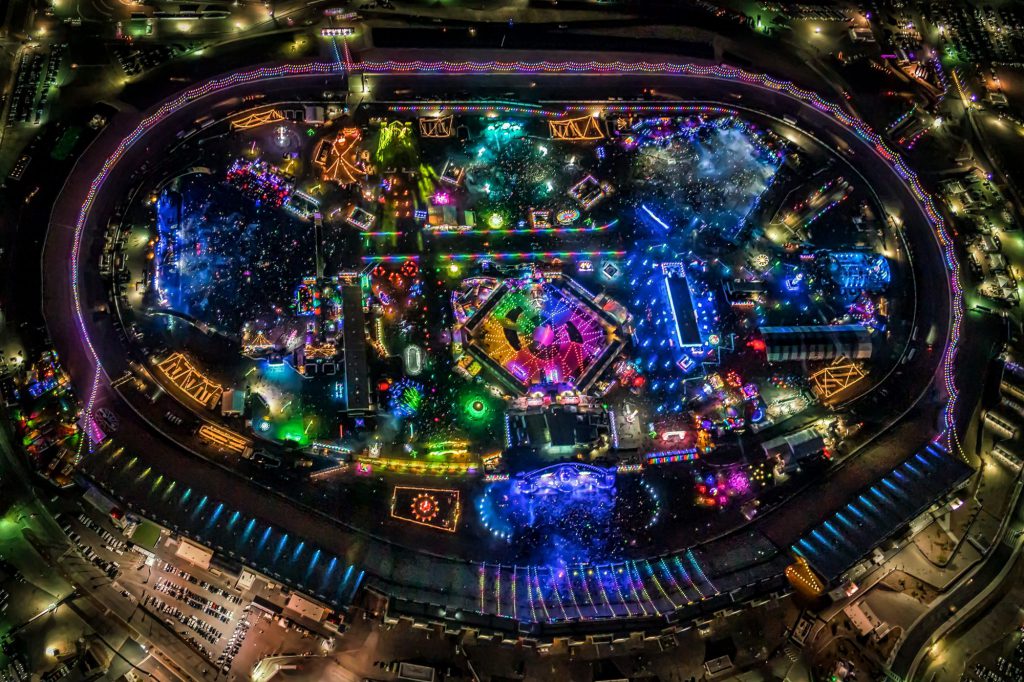 Since its arrival in Sin City, the Las Vegas Motor Speedway has become the mecca for dance music lovers.
In 2013, EDC Las Vegas reached production levels that compare to Tomorrowland in Belgium with larger-than-life stages. That year's setup led Insomniac to set the record for the largest structural stage at a North American festival. Since then, the stages have only become more elaborate, the talent more prestigious, and the crowds more expansive than ever. Additionally, this set the wheels in motion for international expansion to the UK, Brazil, India, Japan, China, Korea, and Mexico.
In 2014, Insomniac released Under The Electric Sky, a cinematic masterpiece that encapsulated all the magnificence EDC had blossomed into. Downtown EDC became a standout addition to the imaginative playground that EDC embodies, featuring a speakeasy, post office, schoolhouse, theater, and two wedding chapels where you can legally tie the knot.
Further, Insomniac continues to give back to the community who took them under their wing, partnering with over 50 local charities and organizations and launching the first-ever EDC Week Charity Auction in 2015, giving the public a chance to bid on once-in-a-lifetime EDC and artist-driven experiences while supporting local charities.
The week leading up to EDC has turned the entire Las Vegas Strip into one big rave, with A-list artists welcoming attendees to Sin City by performing at select pool parties and nightclubs. In 2017, Clark County and the city of Las Vegas commission a street on the Las Vegas Strip to be named "Electric Daisy Lane" during EDC Week. Camp EDC also made its 2018 debut, offering attendees a home on the Speedway and an entirely new world of exploration. The festival has continued to shape-shift and evolve with the times, and it doesn't end at the Speedway. This year, EDC has announced what may be its biggest move yet, its first-ever Hotel EDC.
Electric Daisy Carnival has become an elaborate, colorful world of the imagination that surpasses even the wildest of dreams. The evolution and growth seem insurmountable, yet each year surpasses the last in scale. From 3,000 attendees to half a million per weekend, Insomniac Events has taken EDC to the moon, and we don't see them ever coming back down. So, here's to dancing under the electric sky forever.
---
Follow EDC Las Vegas: