Insomniac continues its expansion to San Diego with the newly-minted NOVA SD and Pasquale Rotella sat down with us to dive into the details.
---
While Los Angeles helped solidify the rave scene decades ago, San Diego bubbled with its own events just a few hours South. Many promoters in America's Finest City have come and gone over the years, hosting their shows at venues like the Sports Arena (now Pechanga Arena) or on tribal lands outside the city. Nightclubs in the bustling downtown area have also played an essential role during different eras of the scene as well – and now Insomniac Events is looking to make their mark with the transformation of OMNIA San Diego into the newly minted NOVA SD.
After rumors of OMNIA San Diego's takeover began to swell early this year, today saw the official news finally surface from the Insomniac team. A new era for San Diego nightlife will begin on February 25, when NOVA SD opens its doors. RL Grime will be the first to take the stage at this new experience, while another icon, deadmau5, is set to play the following night.
As construction continues to occur at the venue to transform it into something new, which includes an expanded dancefloor and removal of bottle service tables on the floor, the excitement is building for what's to come at NOVA SD. Insomniac's Founder and CEO Pasquale Rotella swung by San Diego to check out the progress, and we jumped at the opportunity to catch up with him to learn more about his plans and history with this market.
"I've always wanted to expand to San Diego. I've been selling thousands of tickets down here for festivals for the past 25 years, and actually, some of the busiest retail ticket locations that I used to drop off tickets at were in San Diego," Pasquale said, reflecting on the past. "In PB, there was a store called Mileage, and in downtown an old store called Behind The Post Office, so I used to come down here often because it would sell out so fast. The support down here has always been so big. It just made sense."
Insomniac wasn't specifically looking to acquire OMNIA San Diego – they've been busy with their shows in LA and other expansions around the US and abroad.
According to Pasquale, they were "waiting for the perfect opportunity to open up" – which arrived after his longtime friend Jason Strauss and TAO Group/MSG Entertainment acquired Hakkasan Group. That acquisition brought the nightclub under their control, but the Vegas-style experience that carried over from its past owner never really meshed with the local scene.
The notion of putting the "music first" is evident with their plans to expand the dancefloor and the high-quality artists set to play during the first two months. Expanding on that, Pasquale mentioned that there would "definitely" be nights centered around Insomniac's sub-brands like Bassrush and Factory 93. "If you were to look at what we do at Academy LA, you could get a good perspective of what we might be doing here," he said.
Pasquale also addressed the strong, local scene in San Diego, saying that it "would be a crime" not to support the artists who have helped keep the community thriving. "We're all in this together," he said. "We want to do stuff with local San Diego people, and we also want to support new people that are still in their bedroom making beats or who have come through the Discovery Project and are good."
The opening of NOVA SD is only the beginning of Insomniac's deeper dive into the San Diego market. Last year saw the debut of Audiotistic SD at North Island Credit Union Amphitheatre, and Pasquale hinted that there would be "more stuff" arriving in the future – so stay tuned for future updates.
As for this new club, after the opening weekend featuring RL Grime and deadmau5, the shows in March will feature artists such as Jauz, Illenium, JOYRYDE, and Steve Aoki, among others. Tickets for all upcoming shows at NOVA SD will be available on February 1 via their website.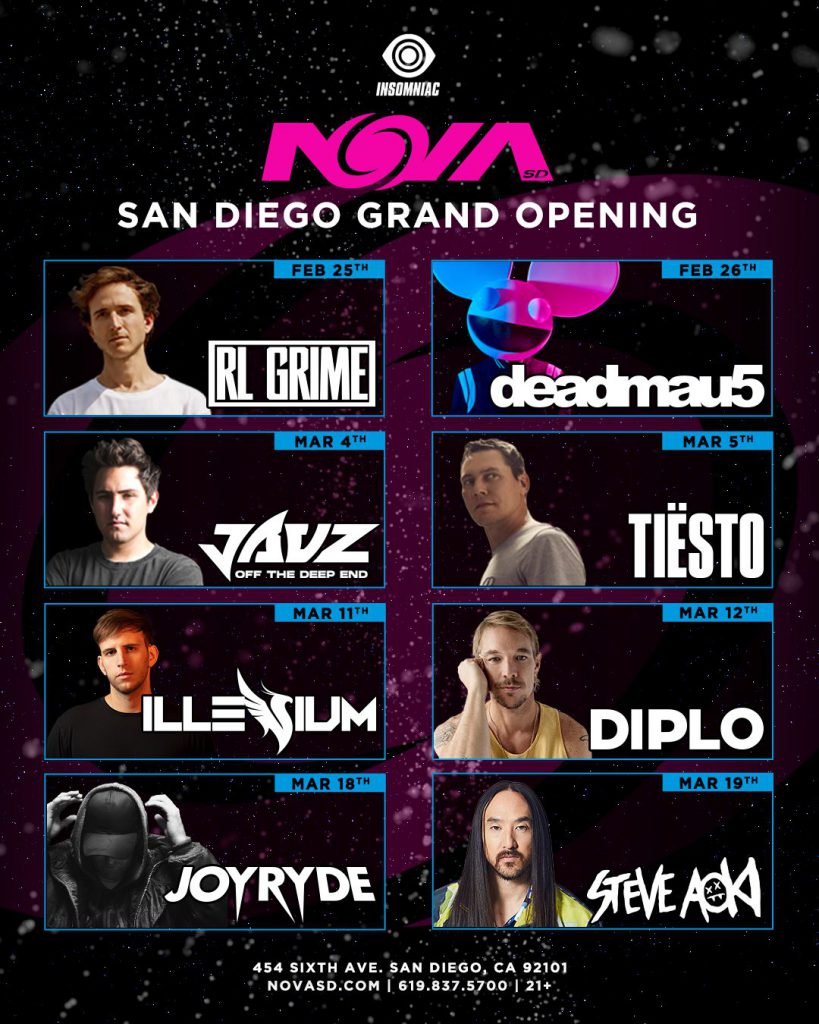 ---
Follow NOVA SD on Social Media: