Zeds Dead's Deadbeats Jamboree is returning to Denver this Fourth of July with a stacked lineup featuring TRUTH, Delta Heavy, and more.
---
As Zeds Dead's annual Deadrocks weekend has grown bigger over the years, a third day was added in 2021. Dubbed Deadbeats Backyard Jamboree, the show quickly became an essential part of the weekend held during the day on the Fourth of July at Denver Civic Center Park following the festivities at Red Rocks. While this show treats fans to a whole lineup of music, they also aim to give classic summer fair nostalgia with plenty more to offer besides the music.
Encouraged for fans of all ages, this show is great for younger fans who can't attend the rest of the 18+ Deadrocks weekend festivities and older fans who may not want to trek the marathon that comes with attending Deadrocks. With activities, food trucks, a festival glam station, and the chance to win prizes in a number of different fair-style games, there's a lot to explore in addition to the lineup. According to Deadbeats, this year's hot dog eating contest at the Jamboree has the potential to be the third largest in the US, so fans are encouraged to participate.
In the past, this show has featured one stage and a simple lineup, but in typical Deadbeats fashion, they're going for bigger and better every year. This year will feature not one or two but three stages, each with a different style. The Deadbeats stage will serve as the main stage and, of course, be headlined by Zeds Dead, supported by the likes of TRUTH, BLANKE, Rush Hour (Black Carl! + Saka), Vampa, SuperAve. b2b HEYZ, Jawns, and Twonski.
The second stage is focused solely on drum and bass and will have energy at an all-time high with performances from Delta Heavy, Kenny Ken, Kumarion b2b Liquid Smoak, Blossom, Bensley, and Joel Cruz. Additionally, Altered States is hosting the third stage with groovy house beats from Mary Droppinz, NOISES, Soki, and Pacifix.
Tickets for the Deadbeats Jamboree are on sale now via AXS, so be sure to grab yours if you plan on joining in on the fun this Fourth of July Weekend.
---
Deadbeats Jamboree 2023 – Lineup: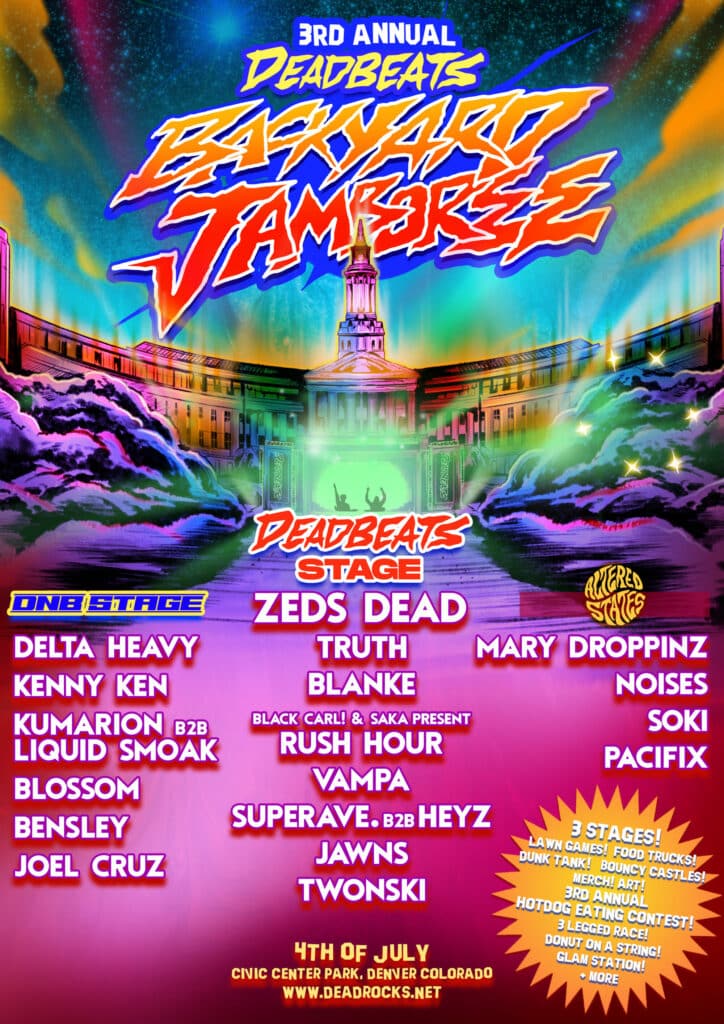 ---
Follow Zeds Dead:
Facebook | Twitter | Instagram | SoundCloud | YouTube | Twitch
Follow Deadbeats:
Website | Facebook | Twitter | Instagram | SoundCloud | YouTube | Twitch