Black Carl! and Saka captivate throughout the entire runtime of their latest project, Rush Hour – out now on Deadbeats.
---
Black Carl! and Saka have set the bar high when it comes to their individual talents in the bass community and continue to create their own unique sound anyone can appreciate. Saka is a force to be reckoned with and ignites listeners with his flawless blend of drum and bass, dubstep, and downtempo, which can be heard on his latest album, Anti-Hero. The other piece of the puzzle, Black Carl! never ceases to unleash hard-hitting beats and has a stage presence that's sure to hype up anyone who catches him performing.
Since the two first met, the thought of their resemblance to the main characters in the classic film Rush Hour brewed in their minds instantly. Little did they know that this idea would flourish the way it did, and three years after their friendship began, what once was just a thought has now become a reality. Back in September, Black Carl! and Saka set off on the Rush Hour tour and have crushed crowds at every stop. Now, as they head off to the final cities on the tour, they've released the short but sweet Rush Hour EP on Deadbeats for fans to feast their ears on.
An angelic voice guides you into the wonderment of the first track, "Heaven On Earth," giving an overall feeling of airiness as if you're being encompassed by a charging beam of light. The title track, "Rush Hour," arrives next and focuses on the complete opposite side of the spectrum as it smacks you in the face with riffs and recognizable vocal samples that'll transport you into a theatrical car chase via sound.
Leaving you weak from the "Brutal" reality that this much talent exists, the two prove once more that nothing will stand in their way of breaking barriers on the third track. The vocals, textures, and punchy bass present in this one will have you coming back for repeat listens. Just when you thought you'd heard all of the heaters, "Red Dragon" comes in to end the EP off strong. Gently leading you into a dark, echoing cave, you're willingly dropped into the sounds of the deep underground as you reach the final moments of this storyline.
From its heavy-hitting bass to its angelic melodies, Rush Hour is the first of hopefully many perfectly executed missions from Black Carl! and Saka. This is only the beginning of these two artists' influence on the music scene together, so stay tuned and keep your eyes peeled for what these trailblazers will have up their sleeves next.
Listen to Rush Hour on Spotify or your favorite platform, and follow Black Carl! and Saka on social media to stay in the know on their future releases.
Stream Black Carl! & Saka – Rush Hour on Spotify:
---
Black Carl! & Saka – Rush Hour – Tracklist:
Heaven On Earth
Rush Hour
Brutal
Red Dragon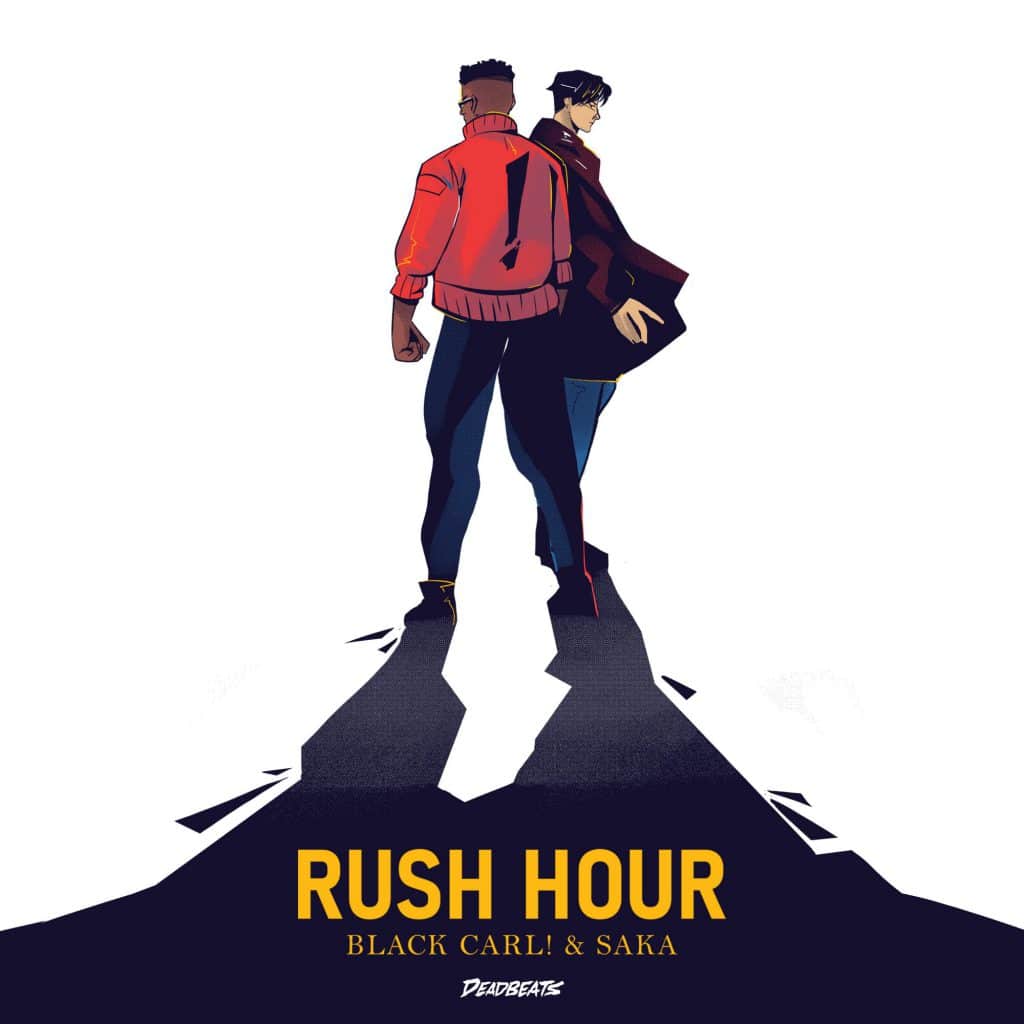 ---
Follow Black Carl!:
Facebook | Twitter | Instagram | SoundCloud
Follow Saka:
Website | Facebook | Twitter | Instagram | SoundCloud | YouTube | Twitch