Blossom is closing out the year in style with the release of her latest single, "On My Own," that's paired with her forthcoming tour in 2023.
---
London-born, Phoenix-based DJ and producer Blossom has carved out some significant space for herself in the scene over the past few years. Not only has she taken the stage at festivals like EDC Las Vegas, Splash House, and Lollapalooza, but she's also released some banging tunes that have landed on labels including Night Bass, Insomniac's IN / ROTATION, and Thrive Music.
This year has seen Blossom bloom into an even bigger artist in the scene with the release of tunes like "Need You," "Tremors," and "Surreal" with Abi Flynn, the latter of which marked her debut on UKF. But those releases and her performances at festivals weren't the only things that she had cooking up for her growing fanbase, as she just dropped off her latest single, "On My Own," on her newly-minted imprint Pink Planet.
"On My Own" marks a reset for Blossom as she embarks on the next phase of her career and acts as the lead single off her forthcoming EP. Featuring an energetic bassline and heavenly vocals, this track is one that will hit you right in the core while offering a futuristic soundscape to get lost in simultaneously.
Paired with the release of "On My Own" is even more news for Blossom's fans in the US – their chance to catch her on tour. This quick run of shows will kick off on January 20 when she takes the stage at Academy in Los Angeles before setting off for dates in San Francisco, Portland, Austin, Atlanta, and Denver.
Listen to "On My Own" on Spotify or your preferred platform, and make sure to snag your tickets for Blossom's tour when they go on sale Wednesday, December 7!
Stream Blossom – On My Own on Spotify:
---
Blossom's On My Own Headline Tour 2023 – Dates & Venues: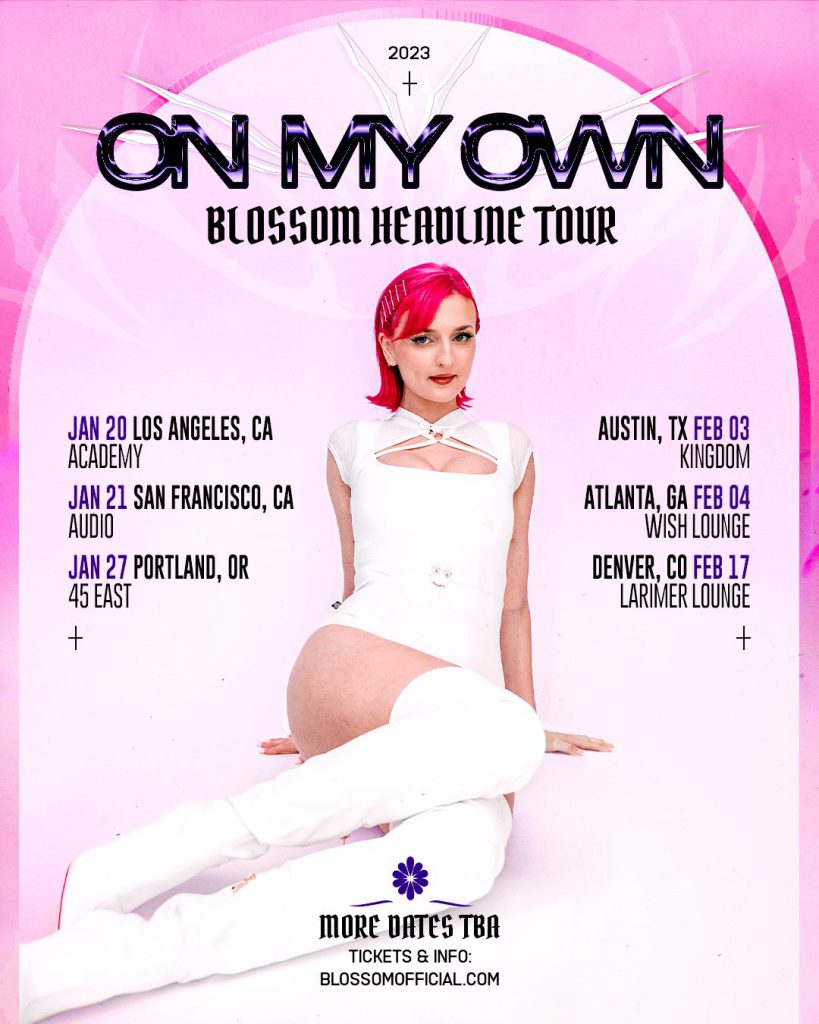 ---
Follow Blossom:
Facebook | Twitter | Instagram | SoundCloud | Twitch