We caught up with Murad Rezian, founder of B-Side Los Angeles, to discuss the future of the underground dubstep community and more!
---
For the past eight years, B-Side Los Angeles has been dedicating their mission to bring forth the most innovative names in dubstep to the stage. Founded by Murad Rezian and A Hundred Drums in 2014, the collective has curated jaw-dropping lineups for nights to remember, with Ternion Sound, Coki, TRUTH, Sicaria Sound, and Supertask to name a few recent lineup members. The collective also hosted Ivy Lab's Infinite Falling Ground A/V experience back in November, leaving the audience astonished by the event curation alone.
In a scene where some of the most special acts often get overlooked by the most marketable names, B-Side LA's mission is to highlight the up-and-coming acts in the local community that are defying the barriers of music and contributing to the benefit of spreading the good word of modern underground dubstep. Their shows also always include a well-renowned international act, paying homage to the scene's global impact and its potential to bring listeners from all over together to support the movement.
This year, B-Side LA has big plans to bring some heavy-hitting lineups to the city, starting with a bang for their 8-year anniversary. Hosting at their beloved resident venue, The Regent in DTLA, the sound systems will be graced with tunes from acclaimed Scottish act Mungos Hifi and dubstep icon Bukez Finezt, coming all the way from Germany. Joining them on the stage is rising star VEIL, Canada's WRAZ, and LA's very own LYQD.
We got to catch up with Murad Rezian to pick his brain on the passion behind the mission of the collective and his thoughts on the impact of the scene, as well as what it's like throwing shows of this magnitude. Read on to learn more behind the scenes of B-Side Los Angeles, and get tickets to their 8-year anniversary show before it sells out!
---
Hi Murad, thanks for chatting with us. Can you tell us a little bit about the development and story behind the B-Side Los Angeles vision?
The vision, in the beginning, was to bring a very underground and mostly unknown sound to well-known nightclubs in the greater LA area. Our vision was to book up-and-coming acts from around the world and have them play on the best sound systems LA has to offer. As the popularity of the genre grew, we continued to upgrade venues and overall production. 
Over the past eight years, are there any specific shows or artists you've worked with that stand out as special?
Mala from DMZ, Digital Mystikz, and owner of Deep Medi, is always an act that stands out from the rest. We've booked Mala several times; each has been a dubstep clinic and lesson. He teaches the audience the true meaning of meditating on bass weight.   
What's it like running a promotion company in such a high-traffic (literally and figuratively) city like Los Angeles, with all sorts of musical talent?
There have been times such as now when a lot of other crews do the same or similar types of events as us, but this was not always the case. When we came around, Smog, Pure Filth, and Mass LA had hung up their jersey, so we were the only ones in LA throwing deep dubstep shows for years! Moving to current times, we are extremely grateful for all the deep bass events happening in LA. The more events there are, the bigger our scene will get.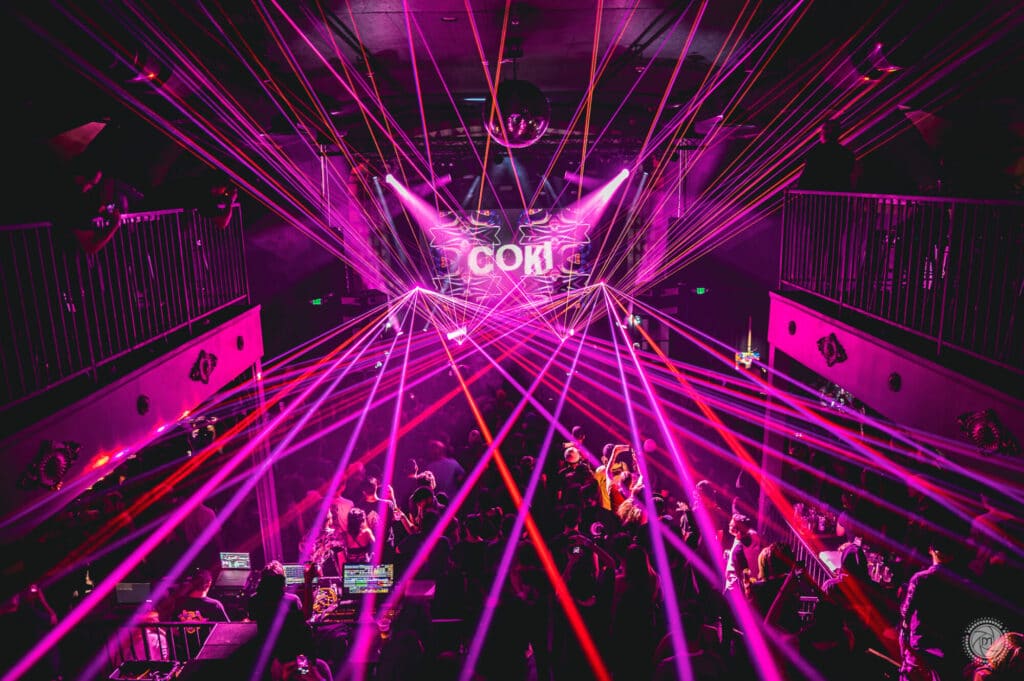 The Regent has recently been your home for the B-Side shows, with a rather unique setup with a slanted floor and cinematic-style balcony viewing area. What drew you to this venue to showcase your events?
We've always been attracted to venues that don't usually host bass music nights. Starting with our long-time home The King King in Hollywood, a historic House Music venue since the 80s. We like tapping into spaces that are fresh for our scene, and The Regent was just that. The overall look of the venue, including the stage design and balcony, was just a plus that came with it. We are extremely happy with The Regent for letting us grow at their venue. 
You feature many international and local artists together in one night. How do you go about curating artists to showcase from across the globe? 
We have put in a standard template on how we go about curating a night. We also usually curate our lineups according to a vibe we see fit instead of grabbing a tour that already has all its set support acts locked in. To start, we have a very talented resident roster team that we rotate for events, giving them the night's first 2-3 slots. We follow that with a strong support act, and this slot can be filled in with either international or local acts such as Distinct Motive or Ternion Sound. Next, we have a direct support slot, and we've been using this slot to venture out of the dubstep world a bit, such as the CHEE and Supertask bookings most recently. Finally, there's the headliner slot, and a big international act almost always fills this slot.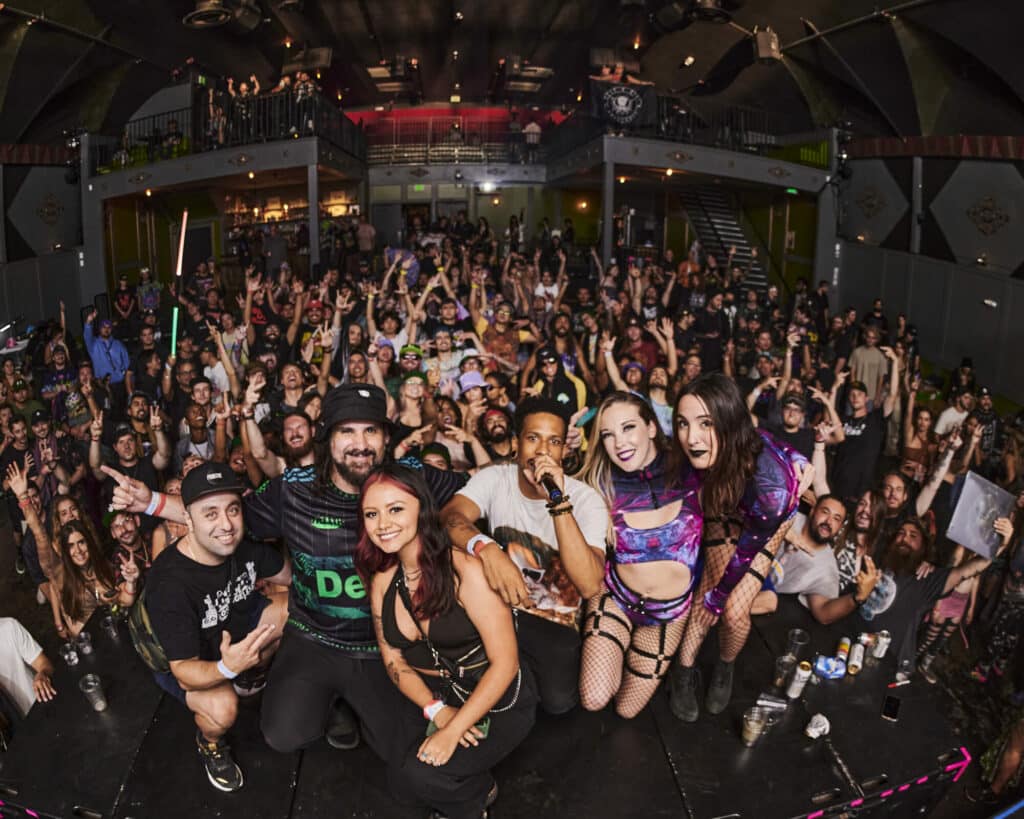 What are some of the difficulties maintaining the discovery and promotion of underground artists in the scene, and what has helped your brand grow the most?
We have never had a difficult time discovering new artists, as everyone on our team is very in tune with the scene and new artists coming up. Promoting underground artists over the years has been a task on its own though. We felt that we were helping our audiences discover new artists for several years. We knew once we got audiences through the door, they would love all the DJs and producers on the bills. This is one way LA's trust in us grew. 
Let's take a dive into the scene as a whole. What are your thoughts on the current state of the bass scene and its evolution over the past decade?
The current state of the scene as a whole is beautiful!!! The way our genre has blossomed from a strictly underground sound to one of the top genres at big festivals has been a blessing. It really has justified that all our hard work was for something greater than us. Locally we want to give a shout-out to System Error, Bass Waffles, Momentive, and Daisy Chain for helping move the scene forward. 
Looking forward, what do you see for the future of B-Side? What would you like to see in the future of electronic music and the dubstep underground as a whole, as someone who has been and seen the industry grow over its time?
We already have a lot of great plans for B-Side and are ready to take things to the next level with larger venues and larger events when the time is right. We will, of course, continue to maintain and sustain the roots and culture of bass music and sound system culture along the way. The main thing that we would like to see as a whole in dubstep and electronic music is for our scene to always have the music as the center of focus. Sometimes with social media, the sound, and culture get lost, and we feel keeping that alive is important. 
---
Follow B-Side Los Angeles: