House phenom John Summit helped usher in the spring months in San Diego with an Off The Grid takeover that brought plenty of energy.
---
Since catching fire during the pandemic, John Summit has become a true force to be reckoned with in the scene. Not only has he carved out significant space with his tunes that have ranged from "Deep End" and "La Danza" to "In Chicago" and "Revolution," but he's also continued to flex his might behind the decks and with his imprint, Off The Grid. Tune in to his Twitter or Instagram, and you'll find him trotting the globe, hitting a new venue in a new city each weekend with packed dancefloors vibing away to his tunes.
This year only saw this blossoming house maestro stake an even greater claim for the throne of the scene when he dropped "Where You Are" with Hayla back in March. Dashing the tech house style that saw him quickly ascend, he dropped a legitimate, progressive house-fueled anthem that, quite frankly, is the frontrunner for song of the year. And if it wasn't clear enough yet that John Summit is on fire, one look at his newly launched Discord server would show you just how rabid fanbase his fans genuinely are as they eat up every morsel they can from their fearless leader.
Although I had seen John Summit several times over the past few years, including his set at PROPER NYE/NYD, when he announced an Off The Grid showcase in San Diego, there was no doubt that I needed to be there. Not only would the man himself be playing, but he'd be joined by a solid crew of support that included legendary DJ Green Velvet, along with two fast-rising talents, LF SYSTEM and Ranger Trucco.
The early start to the show was one of the only downsides to Off The Grid San Diego.
Friday at 5pm is a tough time for anyone to make it to Petco Park, not only because of traffic but because it is so close to when many are ending their workday. While I did my best to make it there in time for Ranger Trucco's set, it wasn't until LF SYSTEM had taken the stage that I was fully inside the venue and ready to get my groove on.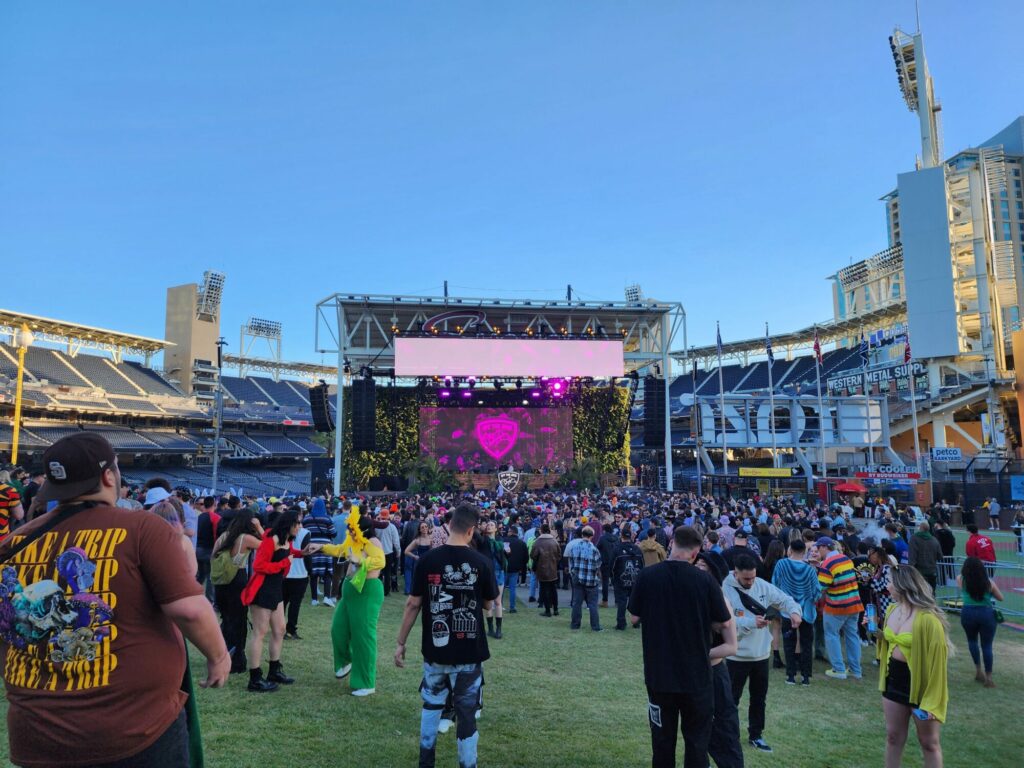 A limited crowd at the time allowed plenty of movement to dance, grab drinks, and briefly catch up with friends as disco house blared through the speakers of Gallagher Square.
LF SYSTEM dropped some serious heat during their set, and with it being their debut in America's Finest City, I was delighted to witness these Scots play live. The crowd began to swell quite a bit, leading me to move from the middle toward the back to avoid any potential mess, but it was fun seeing John poke his head out from the backstage area occasionally with a roar coming from everyone who saw him.
Green Velvet was on the decks next to kick the vibrant energy up another notch and get everyone prepped for John Summit.
While some might find it strange that such a legendary DJ was effectively playing in direct support of another, newer artist, his set hit all the right spots. Green Velvet is a master at controlling the crowd, and he did just that as it grew larger with each passing second. Running through heater after heater, everyone seemed to be losing their mind throughout the venue as I made my way up the hill to see better how packed Gallagher Square had gotten.
Then, it was time for John Summit to close the show and satisfy the crowd's desires.
The energy was palpable as John Summit took the stage with the crowd roaring again. He opened with Rebūke's "Glow," and it was off to the races from there. Not only did he drop some of his smashing tracks like "Revolution" and "Human," stunning remixes of "i miss u," "I Remember," and "Escape," but he also layered in Calvin Harris and Ellie Goulding's "Miracle," Eli Brown's "Be The One," and BLR, aname, and Robbie Rise's "Influencer."
And, of course, closing with "Where You Are" only further made this experience magical. The crowd belted out the track's emotionally stirring lyrics in unison as the soundwaves washed over them, almost as if we were all being baptized by Father John himself. Seeing everyone jumping up and down while having the time of their life wasn't just fun; it was refreshing and something I feel the scene truly needs.
Whether you love or hate him, John Summit is at the forefront of the scene's future.
John Summit hasn't always done or said everything right, and if you look on social media platforms, you'll find plenty of naysayers who are turned off by his party-forward style. But if one aspect of this blossoming artist in the scene keeps me returning repeatedly, it's the dynamic nature of what he does behind the decks. Sure, he runs through his hits, but he also plays to the crowd, digs for deeper tracks, and brings energy and a giant smile with him every time I've seen him play.
Strip back the dissonance surrounding John Summit, and you'll find an artist who I feel really "gets it" when it comes to what the dance music scene is all about. I'm glad that in an era where things seem all too serious far too often, and many people seem to be jaded above all else, there are artists like him who can help remind us why we fell in love with electronic music in the first place.
---
Follow John Summit:
Website | Facebook | Twitter | Instagram | SoundCloud | YouTube