Box Of Cats unleashed Box of Trax, Vol. 8, featuring six fur-raising beats from Kasto, Groove Aspect, Monista, and more!
---
It has been a year since the last time Box Of Cats graced house heads with Box of Trax, but last week the wait came to a close with the release of Box of Trax, Vol. 8. As expected, Box Of Cats curated prime talent smothered in frisky cattitude, culminating in six brand new tracks purr-fect for your next party. Whether you want to sunbathe with your favorite beverage (cream-based, of course) or pounce on your latest and greatest dance moves, this compilation has got you covered.
Kasto gets the fun going with "Panic," featuring the vocals of DANI. True to its name, the dancefloor will be spun into a tizzy as the bold and vibrating auditory details pierce through the air. There's nothing soft and fluffy about this track. It's the one you want in your tracklist if the goal is to incite a debaucherous riot on the dancefloor. After that opener, the kitties could all use a cool down and HeyDoc! responds with the glossy wobble of "What You Are." Each woozy detail pulls the listener one step deeper into a state of intoxication as reality fades with the setting sun.
But don't kick back for too long because Groove Aspect has arrived to turn the dial up on the energy. "The Mumble" features a healthy balance of silly vocals and serious drum elements, encouraging the listener to slap on a smile as the body pops and twerks to the beat. From here, Tálita slathers on the groove like a dose of sweet "Honey." This track lights up the senses with a subtle low-octave bassline pulse, pops of horn, and a random array of synths to keep things extra tasty.
The next track, "Bad" by Monista, is set to do some nasty damage to the dancefloor. Honestly, the name should be changed to "Badass." From the sexy vocals to the unusual top-end dissonance and what can only be described as gear clicking, "Bad" is untamed and infectious. Speaking of infectious, Kamal Imani's vocal presentation on "Kundalini" by BRN will be burned into your memory for the long haul. His distinctive voice is complemented by a lovely horn performance and a brassy synth pulse, closing out the party with loads of class.
Without further ado, it's time for you to enjoy the mew-sic. Grab your copy of Box Of Trax, Vol. 8 on your favorite music platform, stream the compilation on Spotify, and let us know what you think about the tracks on Twitter!
Stream Box of Trax, Vol. 8 on Spotify:
---
Box of Trax, Vol. 8 – Tracklist:
Kasto – Panic (Featuring DANI)
HeyDoc! – What Are You
Groove Aspect – The Mumble
Tálita – Honey
Monista – Bad
BRN – Kundalini (featuring Kamal Imani)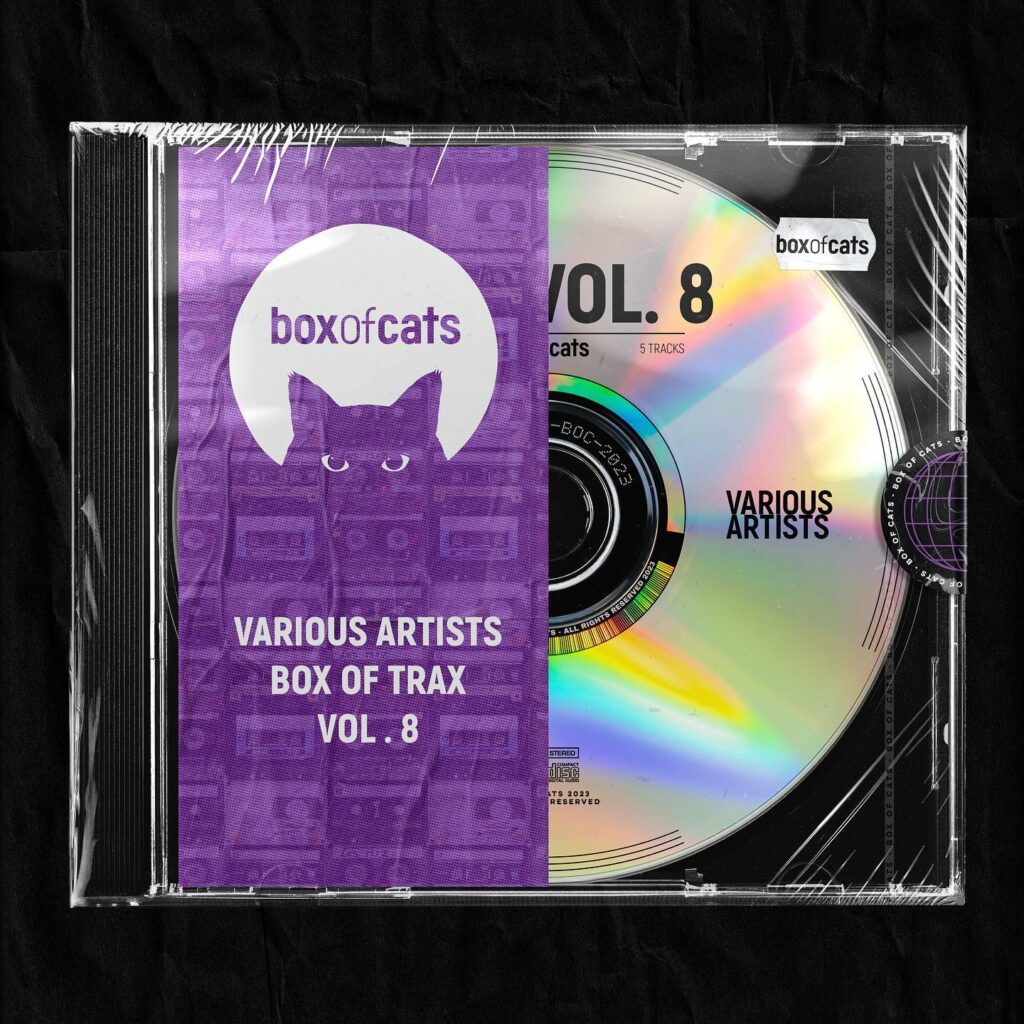 ---
Follow Box Of Cats:
Website | Facebook | Twitter | Instagram | SoundCloud