We caught up with COM3T at Ultra Miami to talk about her new music, her production process, science fiction, and more!
---
One artist that's been climbing the ranks of the scene as of late is COM3T. Her out-of-this-world, extraterrestrial aesthetic has captured fans' hearts, wishing they could escape with her into her space universe. From heart-racing tracks like "HELLO HUMAN" with LSDREAM, "TAKE ME TO A RAVE," and her latest release, "SPACE CAKES," COM3T's signature bass-influenced style and cosmic appearance is rapidly propelling her to the top of the dance music community.
Heavily impacted by a lifelong love of science fiction and a raver-first mindset, COM3T's love of electronic dance music accelerated when she first began attending shows as an aficionado of the scene. Fast forward to now, and she's taken her talents as a producer to festival stages nationwide, such as Audiotistic, Lollapalooza, Bonnaroo, and Ultra Music Festival, as well as completing a successful string of shows with Riot Ten. With the bass scene in her grasp and her stellar aesthetic, it won't be long before this Miami-raised, LA-based artist makes her way to the top.
Wanting to learn more about the intergalactic COM3T, we sat down with her after her debut set at Ultra Music Festival and chatted about her recent release "SPACE CAKES," her debut EP on the way, what drives her cosmic inspirations, and more. Read on below for our full interview with COM3T!
Stream COM3T – SPACE CAKES on Spotify:
---
Hi Dani, it's so great chatting with you today! This is your first time here at Ultra. How does it feel to be here so far up on that stage when you're performing? 
Oh man, yeah, it's my first Ultra ever, so to be playing and playing on the Worldwide stage literally meant so much to me. It's been a goal since the beginning. I'm from Florida, Miami specifically. So yeah, oh my god, I'm so happy. 
Jumping into your latest track, "SPACE CAKES," which is such a banger, it's so filthy. I love how you said it's a psychedelic twist on a 1950s housewife. Can you walk us through the production process and where you came up with the idea for it?
I feel like when making music a lot of the time, you start a track, and you start the actual musical part. Then halfway through, you start to get inspired by the sounds that you are attracted to using at that moment, so it starts going to this trippy place. I found this Betty Crocker sample, and I was just like, "Yo, this is so cool; it's from the 1950s." It just sounded so interesting. I put it in the track, and that just inspired the rest of it. I was just like, alright, Space Cakes, this is a vibe.
It's so dirty. Do you typically produce a track like that, or what's your process?
Yeah, I mean, every track, you get inspired by something else. So it's a little different every time. But yeah, I usually start with drums, then I go with the baseline, and then that ends up inspiring the next thing until you get to the vocal part, which ends up inspiring the story, and then you finish the track with that story in mind. It's so much fun.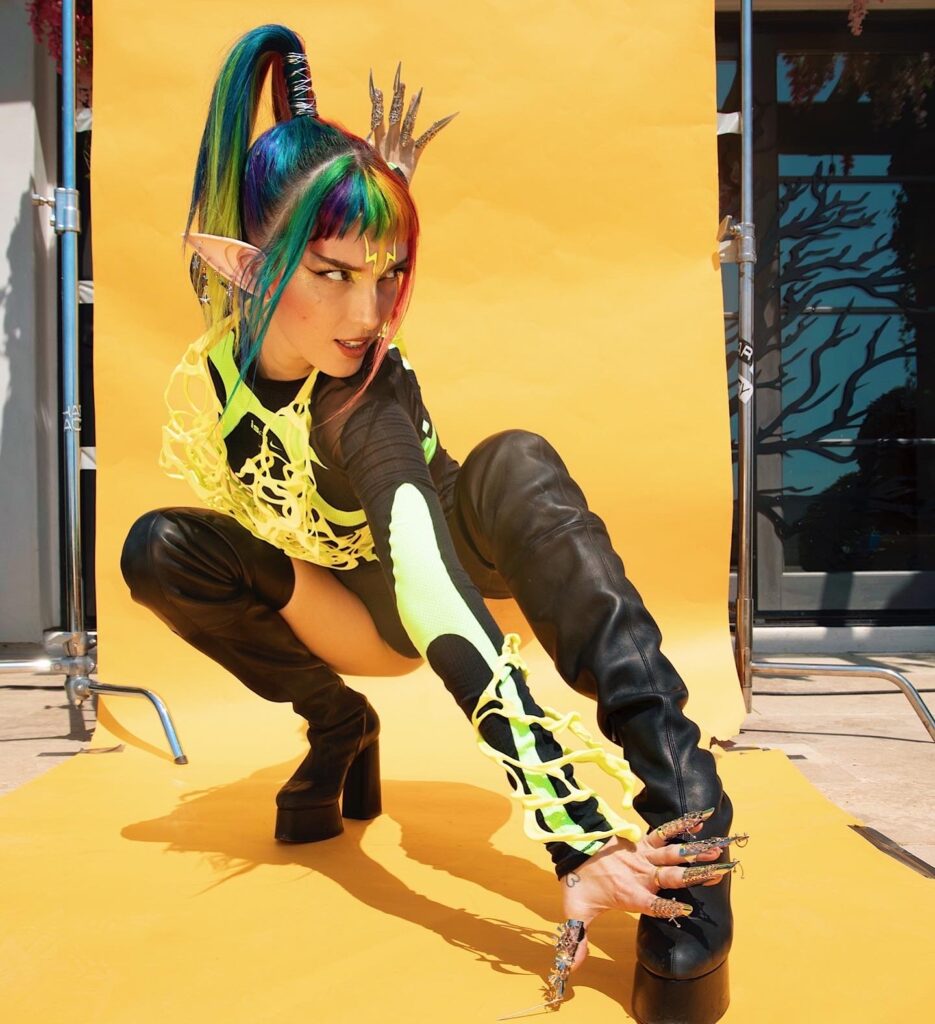 Speaking of telling a story, I know that your debut EP is coming out this year. Can you give fans a look into that and the story through the songs there?
I'm super inspired by old sci-fi from the 50s, the 60s, and even comic book style, so I wanted this EP to feel like each song was its own little comic book. It's called The Cosmic Adventures of Com3t, and each one is a little adventure. There's definitely a vibe throughout, but they are a little bit different from each other, which I love. I'm super excited. Our next one is releasing on Thrive on April 14, and the EP will be finalized and fully released by May, I think.
Oh, not too long until we get to hear that! I wanted to dive into the inspiration behind your space aesthetic. So, I know you're super influenced by sci-fi and watching movies with your dad, like Battlestar Galactica. You've had this lifelong love of science fiction. What do you love the most about it, and how do you find yourself translating that into your work?
What a great question. I love that so much. I mean, what's not to love about sci-fi; the endless possibilities of the twisting of reality, and then also the fact that, as we get more into the future, we realize how accurate some of it is. I love that. But yeah, growing up watching stuff with my dad – he was a huge science fiction nerd – I got so easily drawn to it. It inspired everything. 
I wanted to be an astronaut when I was a kid. Yeah, thank God I didn't do that. [Laughs] I much preferred music, but I grew up wanting to be an astronaut or a scientist, and that whole thing has just stuck with me my entire life. I really don't know why I'm so attracted to it. It's my entire everything.
Is your room decorated all space-like too?
To the tee. I love my room right now because it feels like a child's room. There's so much color and little stuffed animals and little aliens everywhere. It's my dream room.
That sounds amazing. You're also all about spreading positivity in your sets and just making sure that everybody's there to have a good time. What do you hope fans come away with after seeing your sets or even new people that come to check you out?
Ah, so I'm a raver first. That's how I got into this. That's how I fell in love with the music, and so I really just want people to walk away with a smile on their face going, "that's what the rave is about." Maybe make them fall in love with the rave if they haven't been there before; those are really special moments to me.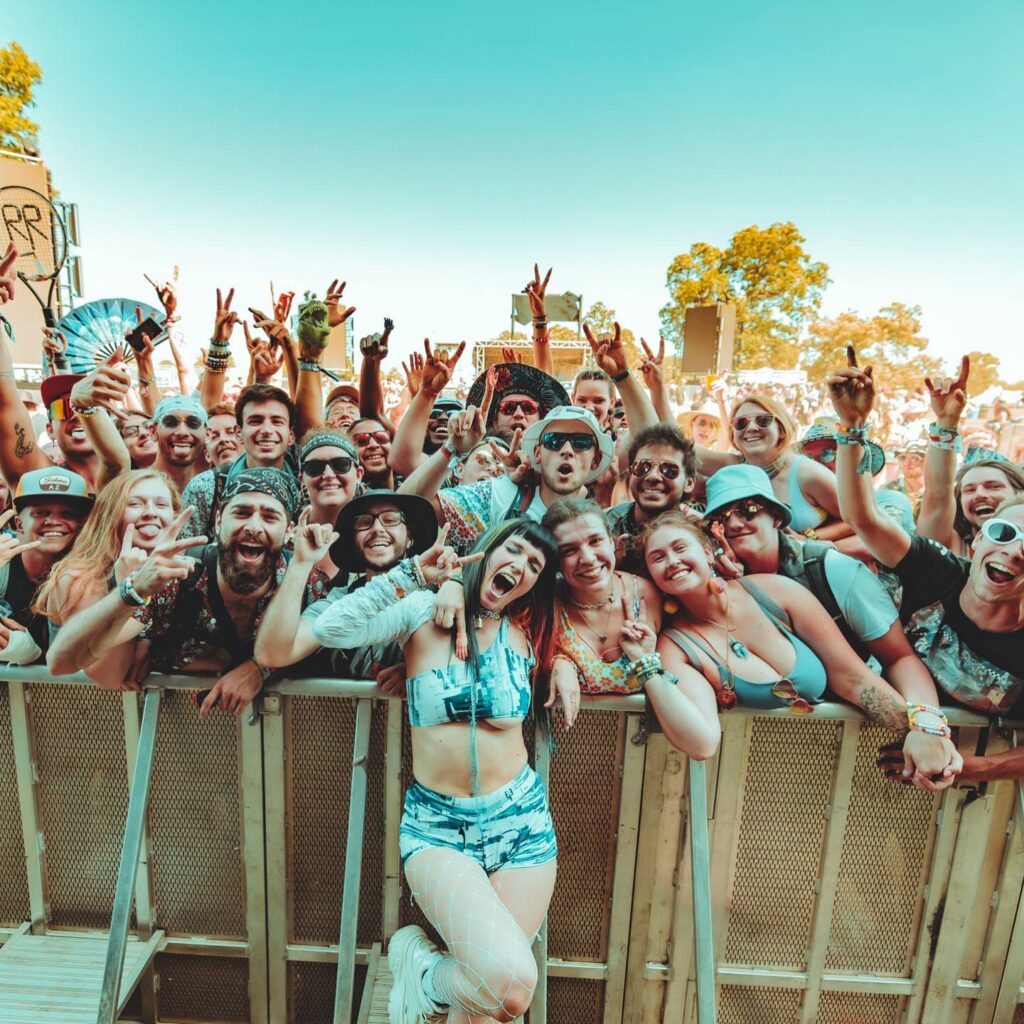 Exactly. And if you can convert someone into a basshead, even better.
Yes, exactly. As heavy as my sets are, I play many singalongs. I play different genres, sometimes house music. It's all about the energy for me. So yeah, I just want people to have a good time and be like, "Wait a second, I didn't even know I like this music!"
Are there any dream artists you'd love to work with?
Such a good question. I mean, obviously, at the top – who's always been an inspiration to me is – Skrillex. He's just such an incredible dude and artist. Everything about him is a huge inspiration. Crankdat's here today; I would love to work with him. He's currently my favorite DJ. I had heard his mix for Christmas, and I was like, "Yo, what the heck, this gets me." I love it. So yeah, Crankdat would be super fire as well.
Do you find that you're going to stick with the bass genre, or would you ever be open to producing other genres?
I am bass influenced, and so I like to call myself a bass producer because as much as I love dubstep, it's not the only thing you want to make all the time. Sometimes you like to dabble in other things. So as long as it has a bass influence to it, it can be any genre, any BPM. 
I am working on a fire-ass kind of mix. It's still in the 128, so it is bass house, but there is also a huge dubstep part of it. It goes back and forth between halftime head bangs into that four to the floor, so I'm pretty stoked about it.
I love bass house and dubstep, so I can't wait to hear that. Last question. It was your first time here at Ultra. You're done with your set. How are you going to celebrate after?
Oh my gosh, with a veggie burger. I'm a vegan, and I love food a lot. My favorite way to celebrate is with a good meal. Maybe some Netflix, but today I have another set after this at 9 PM playing an afterparty with NGHTMRE and SVDDEN DEATH. It's a stacked lineup, so even to be a part of that is so cool.
That's going to be insane, for sure. Well, that's all I have for you. Thank you!
---
Follow COM3T:
Facebook | Twitter | Instagram | SoundCloud | YouTube