Ultra Music Festival was an overall success as fans flocked to Downtown Miami's Bayfront Park for an unforgettable weekend.
---
If there's one festival that delivers year after year, it's Ultra Music Festival. With its jam-packed lineups stocked full of the scene's most heavy hitters, its alluring location among Miami's cityscape, and the immense draw of attendees from countries around the world, Ultra's energy is immensely palpable. When you add in their jaw-dropping stage designs, like those of the Ultra Main Stage and RESISTANCE Megastructure, the environment is set for a truly electric time.
This year was no different, as legendary artists like Afrojack, Hardwell, Swedish House Mafia, David Guetta, Eric Prydz, Carl Cox, Martin Garrix, Armin van Buuren, and Tiësto returned to Ultra Music Festival with new music and more to please the diverse crowd. The feeling of seeing these artists year after year on the UMF livestreams and then getting to witness all their glory in-person is unlike any other. I carried this excitement with me as I made the country-wide trek to Miami from San Diego and geared up for my second Ultra.
Artists brought their all to Ultra Music Festival, giving everything they've got for unique performances.
You can really tell the heart and soul that every artist brings to the table at Ultra. They know that these sets live long past the weekend, with fans tuning into the livestream recordings for years to come to relive the magic. Ultranauts can typically expect a plethora of IDs, and even new sounds an artist may be trying out to break their musical boundaries.
After a quick entrance into the festival on Friday, I headed to my first set of the day, Kasablanca. Their setup blows my mind every time, with their on-the-spot mixing and seamless flow of tracks fitting perfectly on the Live Stage. After enjoying sitting down in the Live Stage's amphitheater, I headed over to the Worldwide Stage to catch Armin van Buuren and Ferry Corsten for a back-to-back set that threw everyone into A State of Trance. Armin's ASOT label did a stage takeover on this day, with the likes of Blastoyz, ilan Bluestone, and Gareth Emery taking the decks for a blissful time.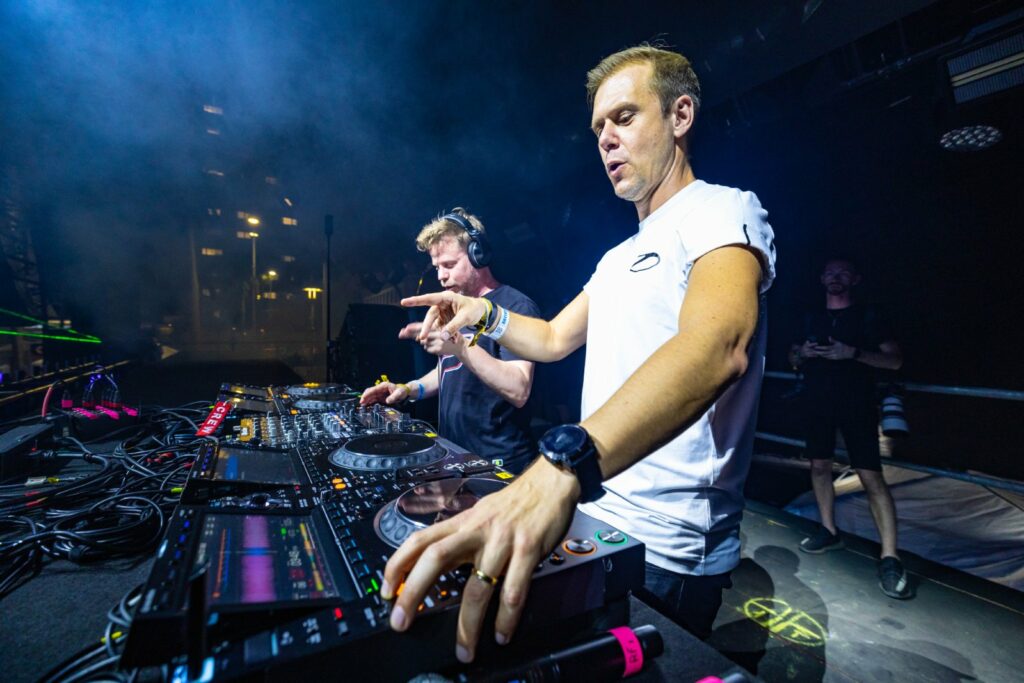 When it was time to hop over to the Ultra Main Stage, and I was in complete awe of the stage design this year.
I spoke to other festivalgoers who thought the stage this year reminded them of a combination of two previous Main Stage designs. The LED panels, bright lights, and lasers came together beautifully, adding to the experience for both artists and anyone who came into the vicinity. This stage is simply something that you have to witness for yourself; if you think it looks massive on the livestream, it'll blow your socks off in person.
Afrojack dominated the Main Stage heading into night one, incorporating big room techno, bass, house, and everything under the sun for a remarkable set. I left feeling refreshed to hear pure techno bumping through the speakers as well. It has been truly gratifying to see the sounds of the underground making their way to the forefront of the scene.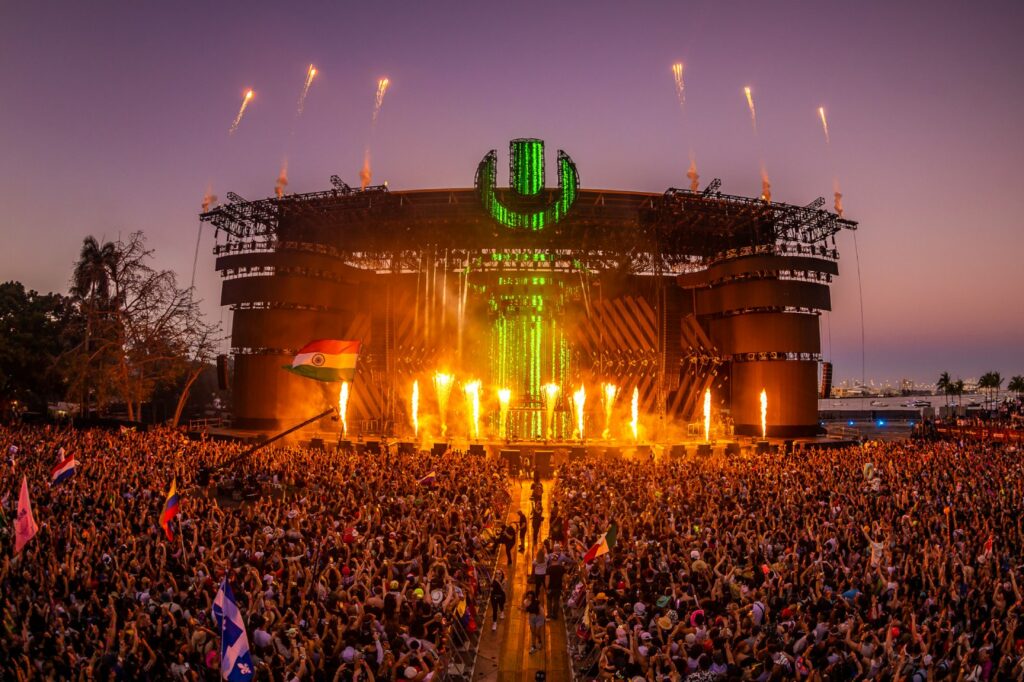 Making my way over to a water station, though, I was disappointed to be confronted with long lines, due to the fact that half of the spouts had been turned off and no one was around to tend to them. This seems to be a reoccurring problem, as I encountered a similar situation at last year's edition. With a festival of this size, obtaining free water at any time should not be an issue. After the hectic water situation, I took a breather again at the Live Stage, where Clozee threw down a dose of grimy bass, even debuting her new track "Tomboy" from her forthcoming album.
What came next was one of my favorite experiences of the weekend; Eric Prydz Presents Holo.
I had been itching to see Prydz' Holo performance for years! I couldn't believe the moment was finally here, and I definitely was not alone. The RESISTANCE Megastructure was packed to the brim, overflowing well beyond it; I only wish I had gotten there earlier, but I made my way as close as I could.
Prydz' giant, three-dimensional holograms and visuals are an experience that words don't do justice. Opening with a brand new image of a robotic arm holding a phone and "recording" the crowd, it was amusing that Prydz played off what the sea of attendees were doing for the whole show. Every single person had their phone up, making it difficult to see at times, but nevertheless, still worth the experience.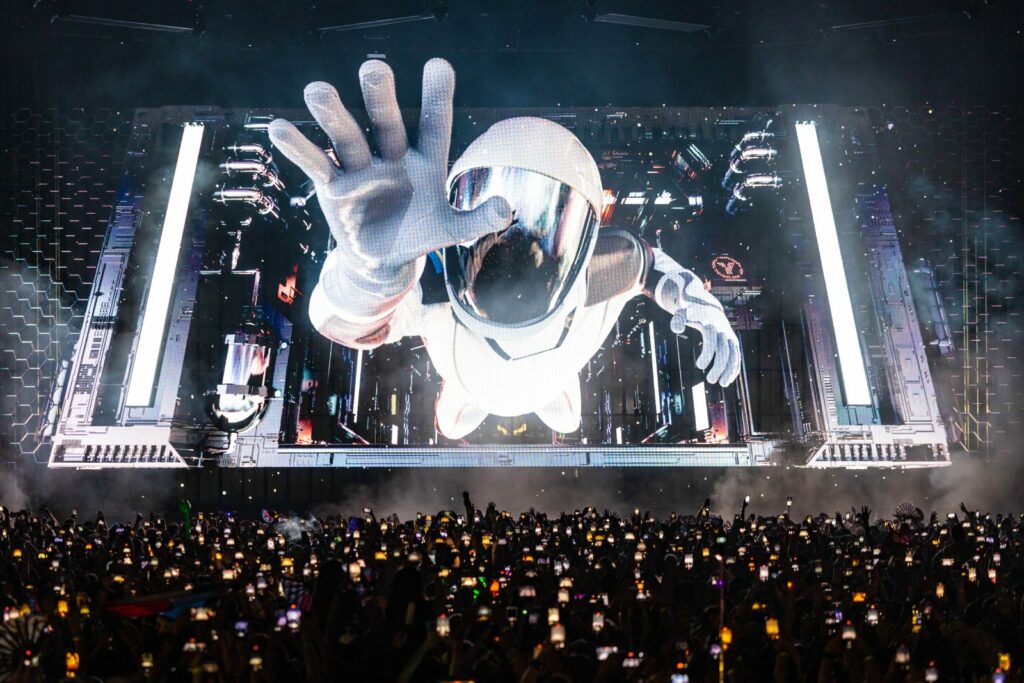 Memorable visuals of masked characters reaching out into the crowd, constantly searching for something made you want to know their backstory; it was mysterious, captivating, and purely existential. The extra combination of lights and smoke meshing with the holograms added an allure to the show, and I'm pretty sure my facial expressions showed that I couldn't believe what I was seeing.
Tracks like Prydz' remix of Anyma and Chris Avantgarde's "Consciousness" blasted through the speakers, along with a truckload of mystifying IDs. An epic closing of his "Every Day" and "Opus," and a colorful light display made for an emotional conclusion. I'll definitely be seeing this show again at the next opportunity, hopefully at Coachella right around the corner.
Day two brought heaps of house, techno, trance, and more to the Ultra Main Stage.
Kicking off my festivities the following day was a dance-fueled set from Dom Dolla and Vintage Culture as I made my way to the front of Main Stage. The energy was alive in the crowd as Armin van Buuren stepped up next for his second set, blending elements of future rave, trance, big room, and more as he geared up for the release of his album, Feel Again. I vibed along to classic tracks like "This Is What It Feels Like," newer releases like Armin and Punctual's "On & On," and even a remix of John Summit and Hayla's "Where You Are."
Tiësto played a big room treat, adding in unexpected twists of genres like hardstyle and drum and bass. Trance Tiësto made an appearance as well, playing Marlon Hoffstadt's edit of Marc Et Claude's 1993 release "I Need Your Lovin' (Like The Sunshine)." My favorite act of the night had to be Hardwell, though, as his monumental techno sounds had the crowd at an all-time high. Opening with a hard-hitting unreleased track and sprinkling in other crowd pleasers, like "I FEEL LIKE DANCING," another unreleased collaboration with Maddix titled "ACID," and a remix of Calvin Harris and Ellie Goulding's "Miracle," Hardwell knew how to control the crowd and had us in a tight grasp for his hour-long performance.
As the festival came to a close on day three, there was still no shortage of sights and sounds to take in.
To close out the festival with a bang, I opted to get a hefty serving of Main Stage sounds for the majority of the day; but first, I served myself a slice of Spicy Pie to fuel up for what was to come. The food options at Ultra are always plentiful, with a variety to satisfy. The last day was definitely the hottest of all, with Ultranauts trying to rest in any shade they could. I spent some time in the Shop Ultra merch area, which was heavily air-conditioned, before heading out to the Ultra Main Stage to catch a fun back-to-back house set from Oliver Heldens and Tchami.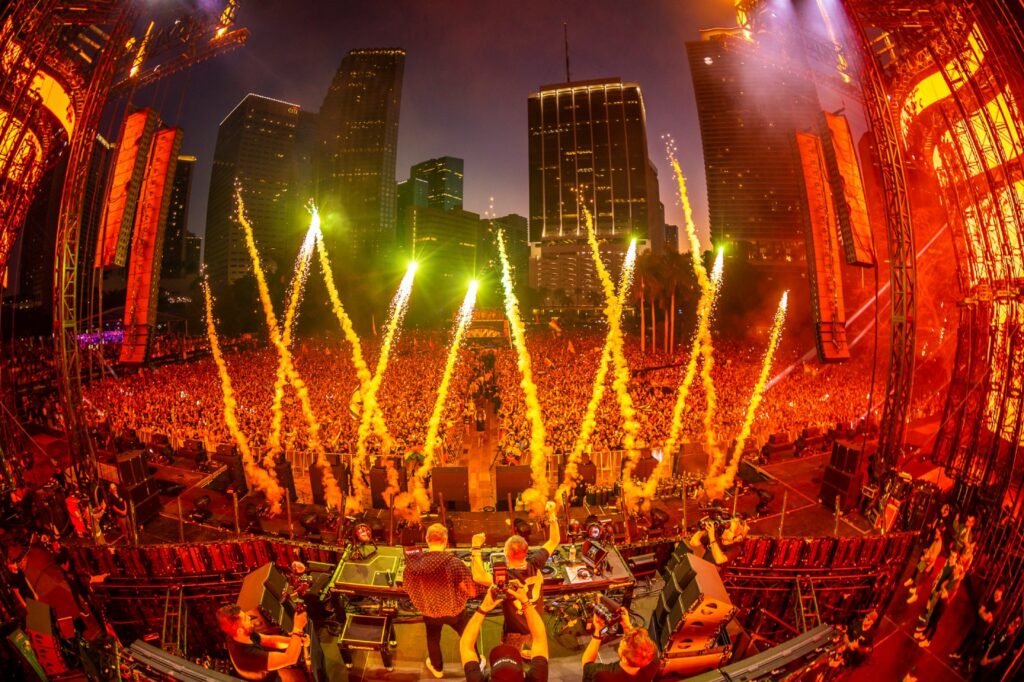 David Guetta's future rave performance was a highlight of day three, with releases like his and Morten's high-energy remix of "Titanium" and classics like "Memories" with Kid Cudi appeasing the crowd. He also brought out rapper Coi Leray as she sang his remix of her single "Players," along with the debut of their new track "Baby Don't Hurt Me" with Anne-Marie. While I loved his set and it was one of my favorites of the weekend, I do prefer the tracklist of his 2022 performance a bit more, as it was his long-awaited future rave debut at Ultra Miami.
What came next was the most uncomfortable I'd been the entire weekend as I attempted to make my way out of the crowd to catch Kx5 on the Live Stage.
There was a mass of people coming into Main Stage to see Swedish House Mafia, making for an incredibly hard and rather suffocating time trying to get out. I inched my way toward the back of the stage for a solid 20 minutes, and I was stuck in a smushed standstill of attendees trying to go every which way. I've never experienced this bad of a crowd surge, and I hope I never have to again. Navigating my way over to the Live Stage for my final set of the weekend, I caught a spectacular show of 400 drones lighting up the sky over the festival as many other fans stopped to watch.
Kx5 was the final cherry on top of an overall beautiful weekend. This was my first time seeing Kaskade and Deadmau5's new alias, and they did not disappoint. After meeting up with another friend in the crowd, I basked in the seats of the Live Stage and enjoyed my top tracks of theirs, like "Bright Lights" with AR/CO, "Sacrifice" with Sofi Tukker, "When I Talk" with Elderbrook, and more off their debut self-titled album, Kx5. Deadmau5 surely is comical, often bantering with Kaskade and making his way over to his separate platform with a Corona in hand. As the set came to a close with their track "Escape," I reflected over my magical time at Ultra, taking in my last few moments in Bayfront Park.
The energy at Ultra Miami is unlike anything I've experienced at other festivals.
The infectious electricity that can be felt throughout the festival grounds is the reason why I plan on coming back every year. While some may complain about the crowds, I've (for the most part) had good experiences and met some pretty dope people from all walks of life. Fans come to Ultra for its stacked lineup and larger-than-life stages, and stay for the fiery atmosphere of not only the festival itself but Downtown Miami. If you're not feeling where you are in a crowd, I suggest moving to a new location if you can and striking up a conversation with those next to you; you never know just who you'll meet.
This year's edition of Ultra Miami was another success for me, and I thoroughly enjoyed my time spent at each stage. I appreciated seeing artists bring their all and really cater to their fans. Even David Guetta had admitted that Ultra is the only festival that makes him nervous, as he really wants to bring the best performance possible. I can see this ringing true for every artist, and it's what makes the magic of Ultra so unique. With Ultra Miami already announced for March 22-24, 2024, I'll be counting down the days until next year.
---
Follow Ultra Music Festival: