The flock prepares to fly to Florida as Dirtybird CampINN announces Barclay Crenshaw, GRiZ, Maya Jane Coles, and more on the lineup!
---
On June 8- 11, Dirtybird CampINN will transform the Wyndham Orlando Resort in Florida into a wild and wacky musical paradise. Whether you're a fan of the bass house thump, looking to get your weird on with your tech house pals, have a taste for techno, or striving to dance your way into the underground with breaks and DnB guiding the way, you can expect to find exactly what you're feening for. This year continues to bring a dynamic array of beats, with the first phase of the lineup exhibiting the evidence.
When it comes to the bass-driven side of life, artists like Alix Perez, Of The Trees, and Liquid Stranger will be present and accounted for, in addition to the bird father's evil twin, Barclay Crenshaw, and a special DJ set from the saxophone master, GRiZ. To balance out the vibes, artists like VNSSA, Walker & Royce, and Maya Jane Coles will be serving up the groove to get all the birdies loose as a goose on the dancefloor, while the eccentric electronic anomaly Zhu turns to his Blacklizt project to unleash some serious techno action.
Of course, this is only just a taste of what's to come, and the music is only one piece of the puzzle. To make this experience complete, the flock will engage in a vast array of activities and games like the fan-favorite Great Bingo Revival, drag shows, talent shows, and twerk competitions while also trying their luck at Frick Frack Blackjack or taking a cool dip in the pool. But you have to be there to get in on the action, so grab your tickets and stay tuned as the next wave of artists is primed and ready to be revealed in the coming weeks.
Grab your tickets for Dirtybird CampINN 2023 now, including early arrival and extended stay options, and continue on for the phase one lineup!
---
Dirtybird CampINN 2023 – Phase One Lineup: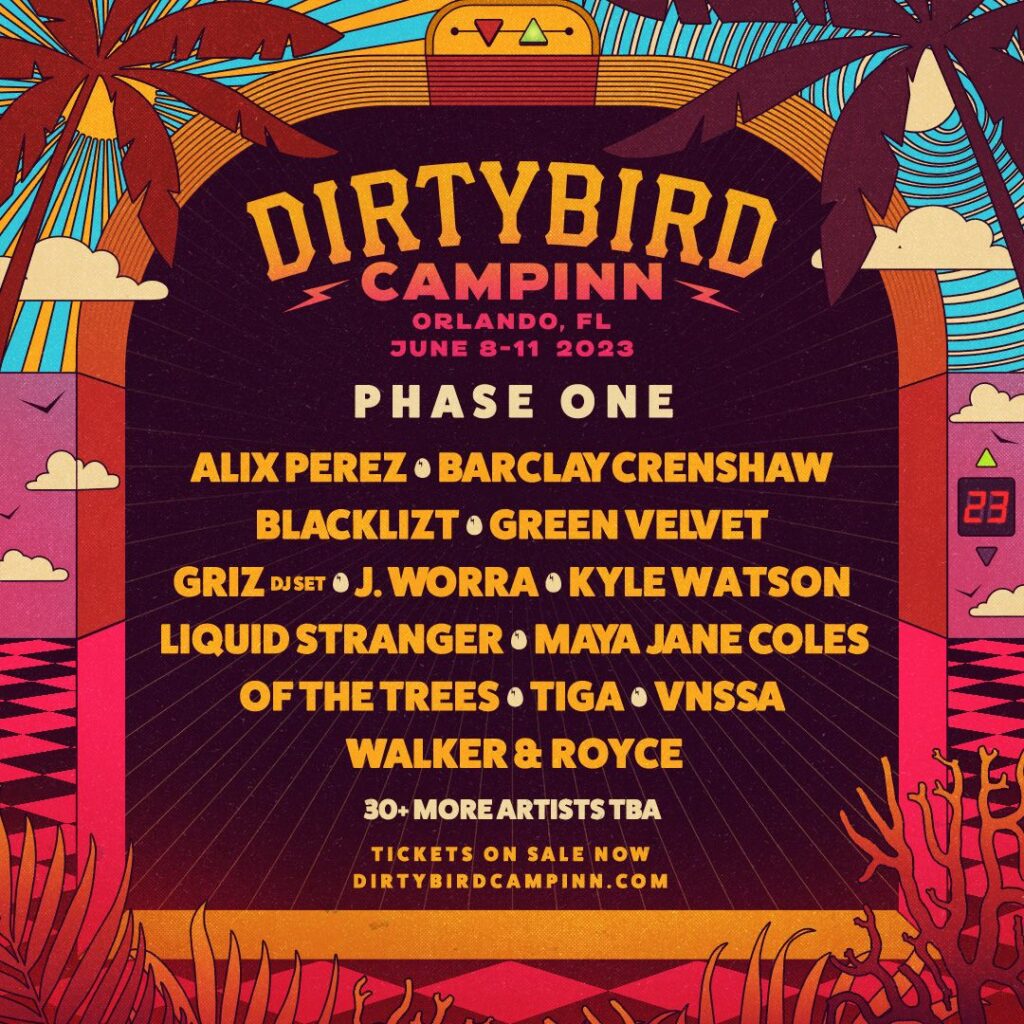 ---
Follow Dirtybird:
Website | Facebook | Twitter | Instagram | SoundCloud | YouTube | Twitch