Dateless swung by to chat about his new groovy house tune with pops of hip-hop flavor, kicking off Jamie Jones' new label, Paradise!
---
When it comes to spreading fresh house vibes all over the world, LA-based artist and Thanks For Sending owner Dateless has been making moves to ensure everyone knows his name. His career truly kicked off back in his Dirtybird days with quirky tunes like "A Whole Lot" and "Meditate" before he hit the ground running, making stops at Toolroom, Country Club Disco, Hot Creations, IN / ROTATION, Kȯlmē Records, and many more. Along the way, his sound matured, and he fell into his personal groove, which brings us to the topic of the hour, his brand new track, "Geekin."
For the party animal that craves something with a bubbly body and a smooth finish, then this track will surely get them "Geekin" out for a session under the lasers and lights. In order to quench the craving, Dateless incorporates a punchy tempo with an ear-pleasing guitar riff while spittin' sassy vocals that ooze with Dateless' clear and confident swagger. In fact, this track is such a bop that Jamie Jones quickly scooped it up to represent his brand-new imprint, Paradise!
With the official launch now written in the books, Dateless looks forward to the future and his upcoming gig for Paradise Miami at Factory Town on March 24, during Miami Music Week. He joins a lineup of industry tastemakers and leaders, including Jamie Jones, Joseph Capriati, Riva Starr, Loco Dice, Seth Troxler, Shermanology, and more, for a wild night of beats that'll push beyond the rising of the sun. So, make sure to grab your tickets if you want to be a part of the action!
In honor of the release, we got together with Dateless to chat about "Geekin," Paradise, Jamie Jones, and more. So, if you haven't already, grab your copy of "Geekin" on Beatport, stream the track on Spotify, and continue on for our chat!
Stream Dateless – Geekin on Spotify:
---
Hi Dateless, thank you so much for taking time out to chat about your single on Jamie Jones' new imprint, Paradise!
Thanks for having me!
First and foremost, talk to us about the process you went through in order to become the first artist to welcome Paradise to the world.
At the time of its creation, I was having trouble getting inspired by the house scene, so I found myself zoning in on the artists that were achieving something special, those artists being Anotr & Toman. With the inspiration I found from them, the ideas just started flowing like a river, and "Geekin," among a few other records, was born. The story of Larry Levan and The Paradise Garage was always a massive inspiration for me and, of course, even more for Jamie, so I feel the love we share for that vibe is what brings us to "Geekin" and Paradise.
Talk to us about how you deal with the pressure/anticipation of knowing that your music represents a brand-new imprint.
No pressure, really, more so excitement and relief, haha. I've been trying to prove to myself and the world that I have something unique to offer the dance community for a long time, and all of a sudden, that need has gone away!  Super excited for the next chapter of house music.
Can you speak to the impact that Jamie Jones' music has had on your career and creativity throughout the years?
The man is absolutely brilliant, and I've thought so for years. I was hooked the second I found out about Hot Creations. I don't believe I have met nor ever will meet a DJ that hasn't looked at Jamie as a muse at one point or another.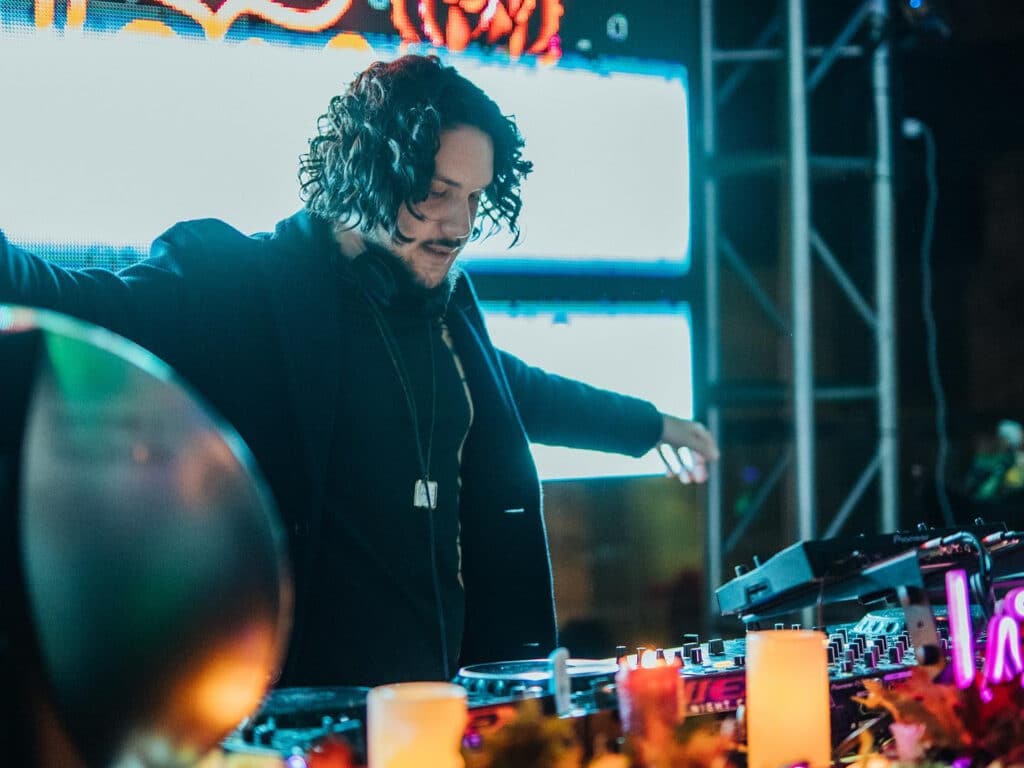 Now let's dig into the track "Geekin." In true fashion, you laid down the vocals on the track. Can you talk to us about the lyric development process for this piece?
So the track was taking shape quite nicely. Once the bassline was done, I found myself saying in the cadence of the vocal, "I've been fuckin round for a long time," and from there, I began to write the rest of the lyrics in my notes. 
What are some of the other elements that you think make this track really shine? 
I definitely think the vocal being kind of a modern hip-hop vibe blended into such a funky house groove gives off a refreshing feel, almost like the perfect blend of old school and new! I do also think the high-definition mix-down I was able to achieve played a major role as well.
In addition to the track release, you're heading to Factory Town Miami to work the decks at the Paradise event there! Can you walk us through your preparation process for an event of this caliber? 
A show like this is what I'd consider the UEFA champions league of house music. [Laughs] I take a show like this so seriously, and I only have one intention, and that is to dance the night away! So, if you like no-nonsense groovers, you know where to find me.
Of course, this isn't your first time playing in Miami. Talk to us about what you love most about the city when it comes to both music and culture.
With the majority of Latin blood in me, what's not to like? It feels like a home away from home! Miami's been a leader in the house scene forever, and it's always an honor for a DJ to get invited there!
Finally, while your new track paves the way for Paradise, you also have your own label to cultivate, Thanks For Sending, a platform for amazing emerging talent. What's in the works for the spring season? Any new artists you're taking on that we should pay extra attention to? 
Yes super excited to have TFS up and running and already have the year mapped out with so much new talent to help emerge onto the scene! We have releases coming out soon from Monica Venturella, A.D., Danner, and so many more!  Thanks for Sending is evolving nicely, and I can't wait to initiate phase two, which will be my event series Thanks for Coming.
Dateless, thanks again for the chat. Congrats on the new tune, and have a fantastic time at Paradise in Miami!
Much love, and thanks for chatting!
---
Follow Dateless:
Facebook | Twitter | Instagram | SoundCloud