Koven brings the bass on the second part of the Higher Ground EP, as they tell stories through melodic sounds and bigger drops.
---
Born out of friendship and a passion for bass music, English duo Max Rowat and Katie Boyle created Koven in 2014. Since they first stepped onto the scene, they have shared their stories through their music and their shows and have proven they will not slow down, continuously releasing EPs and singles. Since their album, Butterfly Effect Koven has proven themselves to be a force within the drum and bass genre, gaining fans and touring the world with their cinematic music and unique take on the genre itself.
The release of Higher Ground (Part 1) brought Koven to new heights as they continued their sonic evolution. This year has proven to be a massive one so far for this duo, already embarking on a European tour and now sharing more of their story through grander melodies and massive beats to the second part of the EP that's landed on Monstercat.
Koven's Higher Ground (Part 2) is available now on Spotify and across all streaming platforms! Take a listen, read on for a deeper dive into its tracks, and let us know your thoughts on Twitter!
Stream Koven – Higher Ground (Part 2) on Spotify:
---
Koven's opening track, "You Wanted," starts off strong, with static vibrations that slowly build up into a tremendous drop.
Katie Boyle's vocals match the static soundscape on "You Wanted," giving the track a vintage sound. You can feel the intensity that continues to build up throughout before it slowly builds up one more time as the final drop overpowers the senses accompanied by the singing before it slowly fades out. "14th Cannon" begins with vocals backed by a steady bassline before fading out and breaking into pounding disco-like synths. The beat fades out once again as it intensifies into a glitched rhythm, picking up the pace before the track comes to an end.
Then a collaboration with ShockOne, "Collecting Thoughts," glides in as twinkling synths play in the background, accompanied by Boyle's soaring voice. The drop gains speed with their forceful drum and bass before that beat brings us to the song's end. "Lions" is an empowering VIP with choral vocal backing blended with the break-beat. The song begins with strong percussion before piano chords begin really emphasizing the deep meaning of the track. The bridge brings fierceness which feels as though it's taking you into a movie scene as you feel each beat throughout your body as the choir and strings take over once again.
The title track, "Higher Ground" with Kairos Grove, brings on a different, more melodic sound to the album. Starting off slow and peaceful, the duet between a man and a woman evokes a sense of romance. With the subtle build-ups and massive drops, this collaboration sets itself apart from the rest of the album, dropping the drum and bass pattern and creating a standout track. Then, the final track of the album, "Get Through," once again brings back Koven's drum and bass roots. Accompanied by piano, backup vocals, and serene underlying synths surround the relatable lyrics. This song perfectly blends elegance with the fast pace rhythms of Koven's musical touch.
Higher Ground is a testament to the sounds and styles of Koven. They bring a certain magic to the world of drum and bass by blending melodic undertones and fast pace breakbeat that's refreshing, so make sure to give this EP a listen!
---
Koven – Higher Ground (Part 2) – Tracklist:
You Wanted
14th Cannon
Collecting Thoughts (feat. ShockOne)
Lions
Higher Ground (feat. Kairos Grove)
Get Through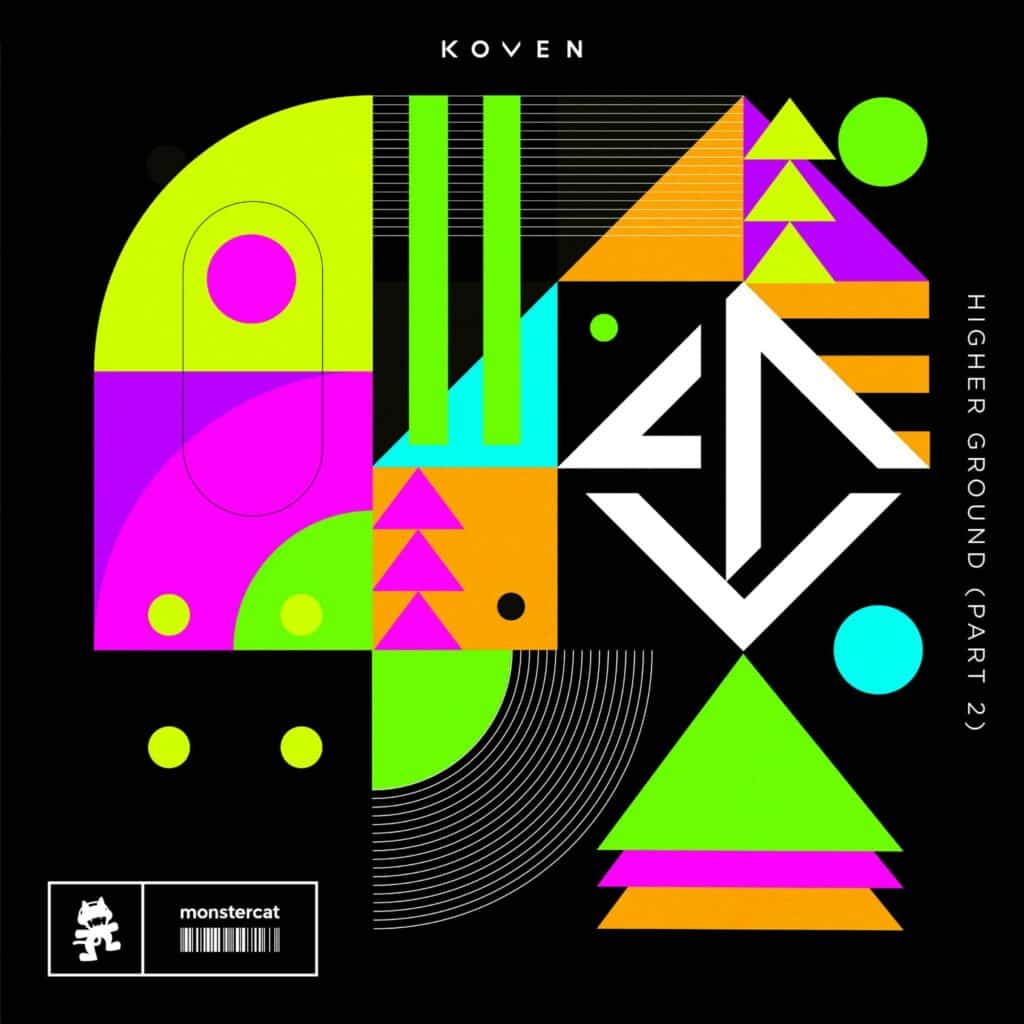 ---
Follow Koven:
Facebook | Twitter | Instagram | SoundCloud | YouTube