Eating is one of the most critical steps in staying happy and healthy at a festival, so here are five of our favorite easy meals to pack.
---
Surviving at a camping festival is all a part of the fun, but it can become a challenge if you're under-prepared. Eating is an essential part of staying fueled at an event, and you should never count on just vendors to keep yourself fed for a weekend. Cooking at camp doesn't have to be difficult, and it can save you a lot of money and time spent in line at the festival.
Related: Check out some of our other ideas for easy recipes to make at camp, and don't miss out on our essential items to bring!
Whether you're gearing up to attend Okeechobee this week or have camping festivals like EDC Las Vegas, Electric Forest, or Bonnaroo on the horizon, we compiled a list of five make-ahead meals to pack in your cooler that will keep you going all weekend long. Check out these meal ideas, and let us know your favorites on Twitter!
Five Meal-Prep Ideas for Your Next Camping Festival
---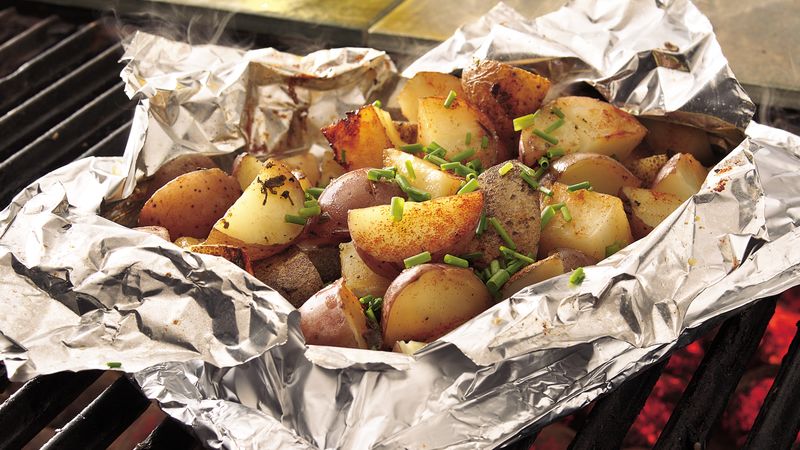 Potato Pouches
This one will require using a grill or campfire, but after prepping them at home, these will be ready in seconds at your campsite. The main thing I do differently from this recipe is cooking the potatoes at home so they can be heated up quickly on your grill, and you don't have to cook them fully at camp. Simply chop and cook the potatoes at home and let them chill in the fridge before wrapping them in serving-size portions with tin foil.
Add whatever cheese and seasonings you like, maybe even some chives and bacon bits, for a loaded baked potato feel. Easily make them vegan by skipping the cheese, or get creative by adding veggies like broccoli. These can live happily in your cooler until you're ready to heat them up by simply throwing the tin foil pouches straight onto your grill. Unwrap them and enjoy one of the easiest hot meals you can make at camp!
---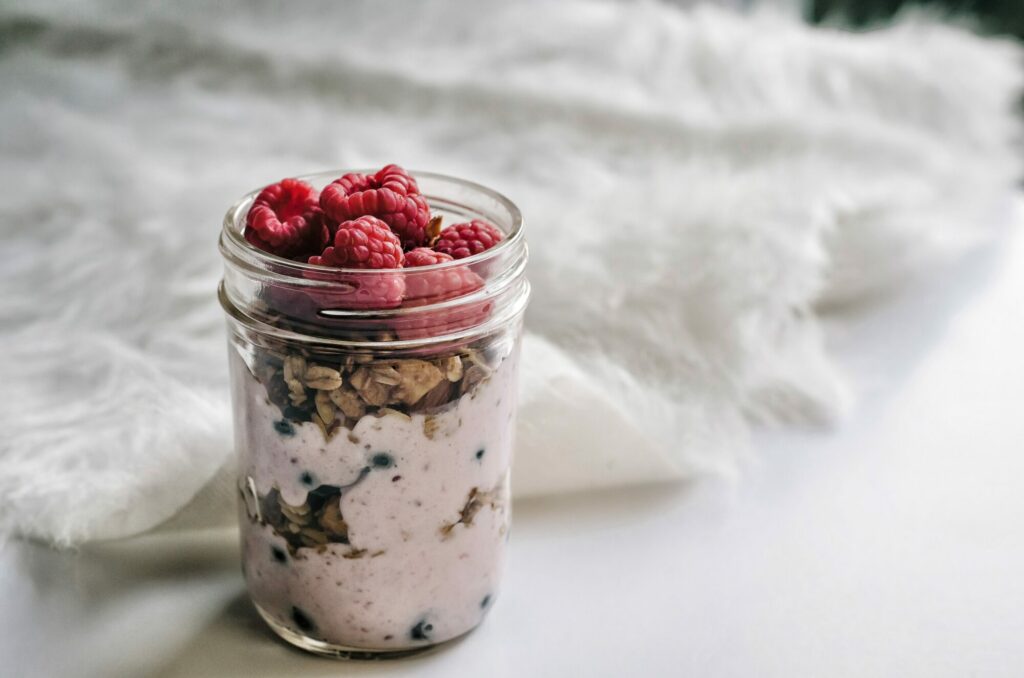 Overnight Oats
I felt like such a genius when I first thought of bringing overnight oats to festivals, as it's one of my go-to make-ahead breakfasts in my daily life. It's incredibly easy and doesn't have to be limited to just breakfast food, either. The recipe is super simple with equal parts of your milk of choice (stick to dairy-free for keeping inside of a cooler) and whole grain oats. My milk of choice for cold oats is lightly sweetened coconut milk, and I can't go without adding a hefty scoop of chia seeds; they add protein and make this meal even more filling.
I mix in some maple syrup for sweetener and raspberries on top to keep it interesting. If you want to get fancy with the flavor of your oats, you can get inspired by these recipes. Although they suggest yogurt, I would avoid using dairy yogurt for keeping in your cooler.
---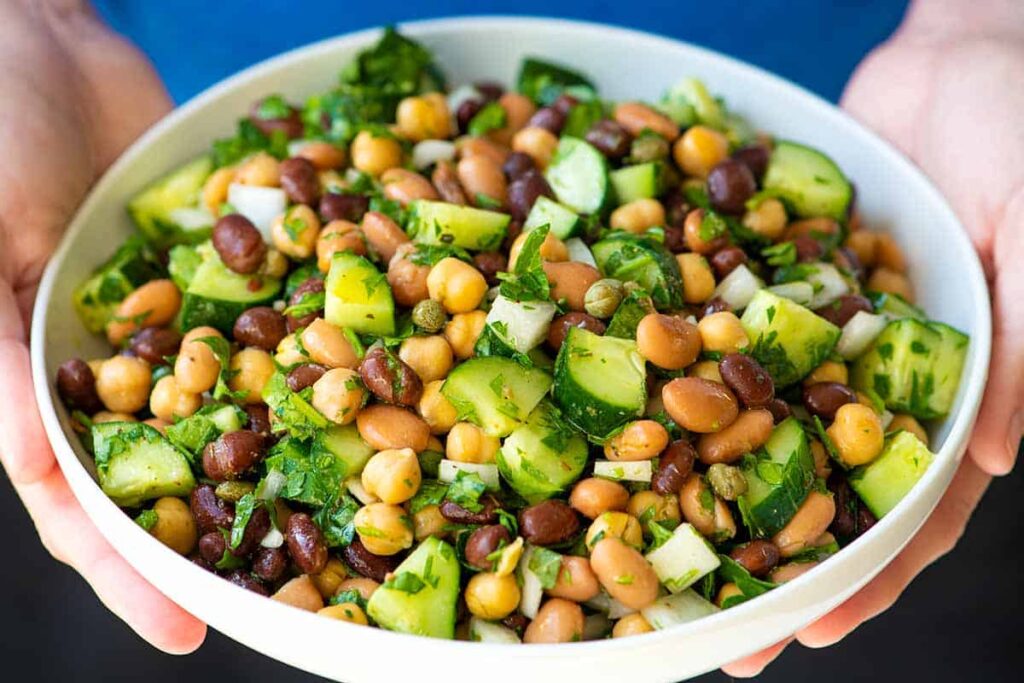 Bean Salad
This first meal is not only incredibly easy to make but packed full of protein and a variety of good veggies, which can be hard to come by in festival vendor foods. The name "bean salad" is seemingly an immediate turn-off for some people but don't knock it until you try it! A wise festival neighbor named Moonkat taught me this delicious vegan recipe. It can be altered however you like, is easily prepped beforehand, and lasts all weekend if your cooler stays packed with ice.
You can use as many or as few types of beans as you like; I like to do chickpeas, black beans, and cannellini beans in my salads. If you want a smaller batch, you might choose just one can of beans. Drain and rinse your beans and add in whatever chopped veggies you like. My must-adds in this recipe are cucumber, red bell peppers, diced red onions, and cilantro. I would avoid tomatoes; they would make this salad not last as long. I also like to buy pre-diced onions, so minimal time and tears are involved. Adding a dressing is optional. I enjoy it just fine with nothing but a squeeze of lemon, salt, and pepper, but I reference this recipe for the proper dressing.

---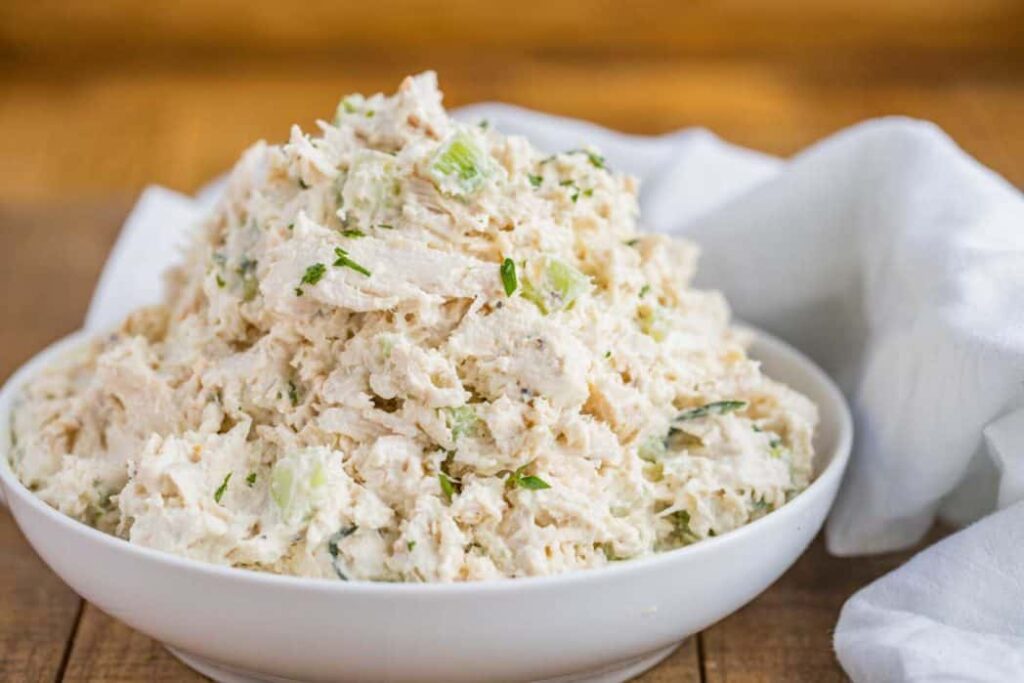 Chicken Salad
The chicken salad hack is one you can either be ambitious and make at home or purchase pre-made to make things extra quick and easy. While most grocery stores offer chicken salad from their deli, my favorite place to get a Buffalo-flavored version is the restaurant chain Chicken Salad Chick. Depending on how well your cooler is doing at your event, I'd advise this meal is best eaten on the first day or two of your trip.
There are a million ways to eat chicken salad which is another reason it's one of my go-to's. You can scoop it on your favorite crackers or pretzels for a quick filling snack, stuff some Hawaiian rolls with it for mini sliders, or make these chicken salad pinwheels with tortillas. There's no wrong way to consume chicken salad.
---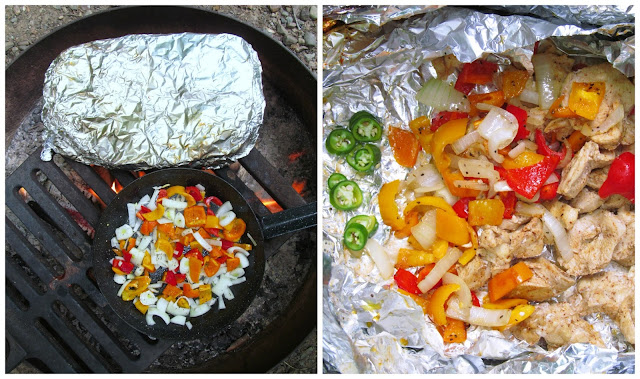 Quick Quesadillas
Our final recipe is another that you can make ahead of time and heat up at camp. For minimal mess and easy cleanup, we'd wrap these in tin foil to throw straight on the grill as well. I like to prep my camp quesadillas with already-cooked pulled chicken seasoned with taco seasoning. Once the chicken is cooled, wrap it up in your tortillas with plenty of shredded cheese and cover it in foil.
While quesadillas might be a self-explanatory dish that can be made with very minimal ingredients, this recipe can inspire you to get fancy with them. You can add black beans, peppers, or whatever your heart desires to add even more substance to this protein-rich meal.
---
What are your favorite go-to meals at festivals? Let us know!